The official website for the upcoming anime film adaptation of "The Tunnel to Summer, the Exit of Goodbyes" has released a 30-second teaser trailer for fans. The trailer gives fans a sneak peek into the upcoming film, giving them an idea of what to expect. In addition, the trailer also revealed the official release date for the upcoming film.
The film adaptation has also confirmed the names of the main staff behind the scenes and the voice actors for the two main characters. "The Tunnel to Summer, the Exit of Goodbyes" is originally a Japanese light novel written by Mei Hachimoku and illustrated by Kukka. In addition to the promo, a teaser poster visual drawn by Kukka has also been revealed.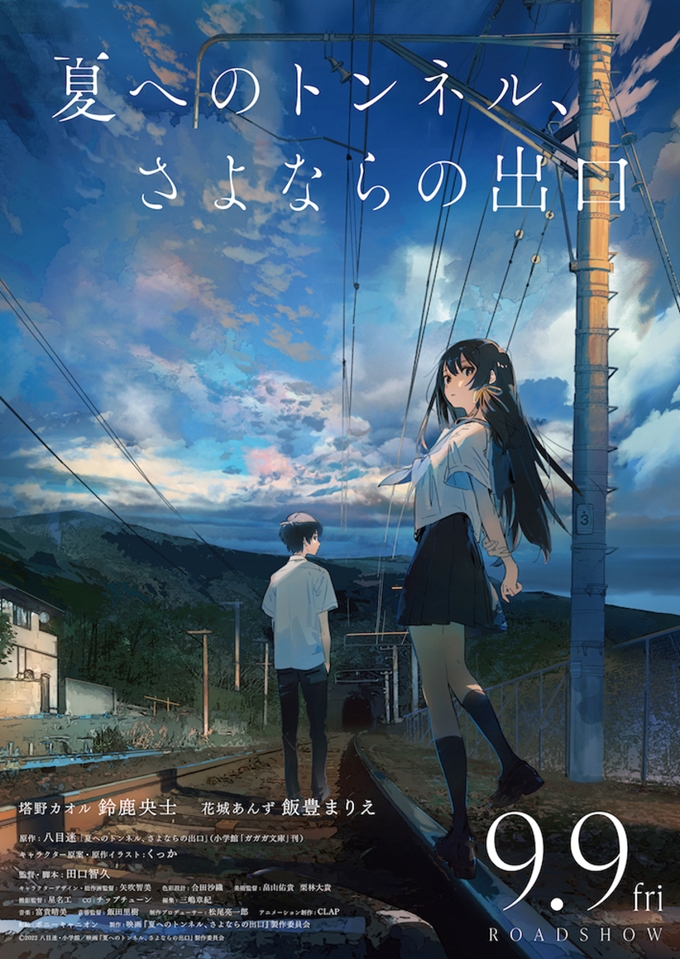 The Tunnel to Summer, the Exit of Goodbyes Release Date, Cast, Staff, and More
The upcoming anime film, "The Tunnel to Summer, the Exit of Goodbyes," will be released on September 9, 2022. It has also been confirmed that Tomohisa Taguchi will serve as the director at CLAP, alongside chief animation director Tomomi Yabuki. Check out a teaser trailer for the forthcoming series below:
Here's who will be joining the cast of the series as the main characters:
Ouji Suzuka as Kaoru Tono - A boy who lost his beloved sister in the past (Izumi Miyamura in the Horomiya live-action series)
Marie Iitoyo as Anzu Hanaki - A transfer girl (Ai Shindo in City Hunter: Shinjuku Private Eyes)
Main staff
Director/Screenplay: Tomohisa Taguchi
Character Design / Chief Animation Director: Tomomi Yabuki
Color Designer: Saori Goda
Art Director: Yuki Hatakeyama, Daiki Kuribayashi
Director of Photography: Takumi Hoshina
CG: Chiptune
Editing: Akinori Mishima
Music: Harumi Fuuki
Sound Director: Satoki Iida
Production Producer: Ryoichiro Matsuo 
Animation Production: CLAP
Distributor: Pony Canyon 
Production: "Natsu e no Tunnel, Sayonara no Exit" Production Committee
A manga adaptation, titled "The Tunnel to Summer, the Exit of Goodbye: Ultramarine" and illustrated by Koudon, started in Shogakukan's seinen manga magazine in 2020. Seven Seas Entertainment licensed the light novel and manga in North America. The platform officially describes the series as:
"Tono Kaoru heard a rumor: The laws of space and time mean nothing to the Urashima Tunnel. If you find it, walk through and you'll find your heart's desire on the other side…in exchange for years of your own life. On the night Kaoru just so happens to find himself standing in front of a tunnel that looks suspiciously like the one the rumor describes, he finds himself thinking of Karen, the sister he lost in an accident five years ago. To Kaoru's surprise, he's been followed by the new transfer student Anzu Hanaki, who promises to help him experiment with the mysterious tunnel–but what does she want from Kaoru in exchange? And what will he have left to give, after the tunnel's done with him?"
Read Next: My Stepmom's Daughter Is My Ex New Trailer & Visual Out