A man who tricked over 3,575 investors has been charged with multiple counts in the United States.
The person is now facing up to 40 years in prison and a fine of a maximum of $750,000.
The fraudster used obvious lies, but they still worked like a charm for a couple of years.
The U.S. Department of Justice has announced the charging of Roger Nils-Jonas Karlsson, 47, and his company, Eastern Metal Securities (EMS), with crimes relevant to a scheme to defraud 3,575 individuals of more than $16 million in cryptocurrency. The Swedish man has pleaded guilty to securities fraud, wire fraud, and money laundering charges, so he is now facing a maximum sentence of 40 years (20 + 20) in prison and a maximum fine of $750,000 (combined).
Karlsson was arrested on June 17, 2019, in Thailand and was extradited to the United States to face the charges. This is another practical example of the far-reaching potential of American law enforcement, the FBI, and international investigators. Considering that the first complaint against him was filed on March 4, 2019, that was pretty quick.
What the man did was to use various websites (easternmetalsecurities.com, hci25.com) to invite potential investors to purchase shares of a product called "Pre Funded Reversed Pension Plan" (PFRPP). The man set each share's cost to $98 and promised a payout of 1.15 kilograms of gold per share. That amount in gold was worth about $45,000 at the time, so the promise was a classic case of "too good to be true."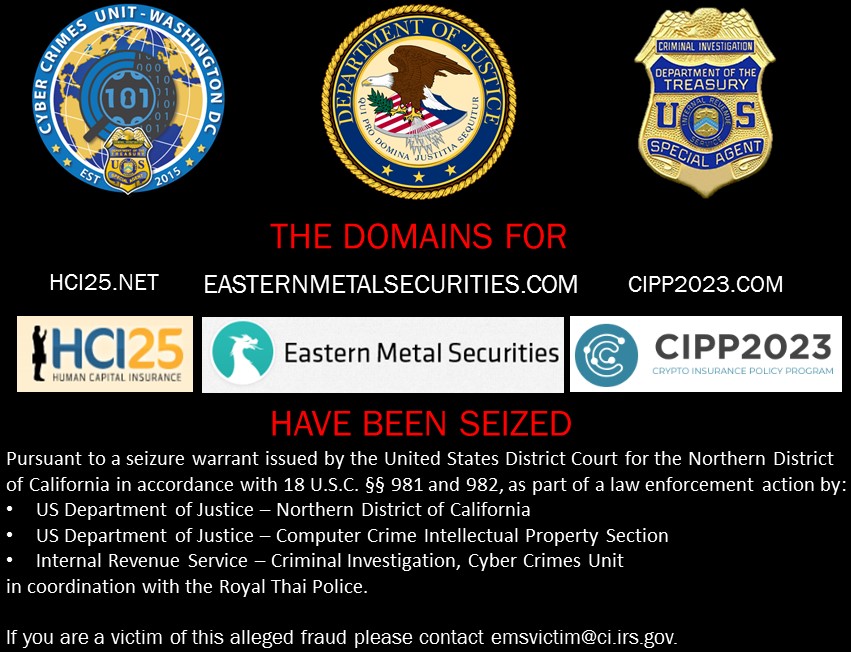 Karlsson also advised the investors that in the unlikely event that there was any problem with the gold payout, they would still get 97% of their investment back. As the investigators figured out during their review of the case, the fraudster didn't hold any accounts that would enable him to fulfill that promise. Instead, the Swedish man was confirmed to have transferred all the amounts to a personal bank account tied with a real estate firm in Thailand.
The scammer attempted to delay the generation of complaints and also reports to the authorities by telling investors that the gold payout to them specifically hadn't occurred only because releasing so much money all at once would allegedly harm the global financial system. So, he told the victims to remain patient and wait for their turn to come. To further obfuscate his identity, he used various names in his communications with investors, including Steve Heyden, Euclid Deodoris, Joshua Millard, Lars Georgsson, Paramon Larasoft, and Kenth Westerberg.