With the FIFA World Cup 2018 scheduled to begin in a few days, hundreds of illicit streaming websites are receiving warnings from Sony against unauthorized streaming.
Sony Entertainment Network owns the Sony ESPN network, which has the rights to broadcast soccer matches from the FIFA 2018 World Cup and the media giant is not taking piracy lightly.
The notices from Sony sent out to illicit broadcasters threaten them with civil and criminal action if found guilty of streaming the matches.
Sony Entertainment Network is not taking piracy lightly for the upcoming FIFA World Cup 2018. The media company is sending out notices to illicit pirate streaming sites not to broadcast any unauthorized streams during the World Cup. The notices threaten the illicit broadcasters with civil and criminal action if they infringe upon Sony ESPN's broadcasting rights.
Soccer is the most popular sport in the world with a fan base estimated at 3.5 billion people. With the internet being easily accessible across the world, streaming websites that broadcast matches illegally have increased in numbers drastically. Hundreds of unlicensed platforms exist on the internet ready to broadcast the World Cup matches for a nominal fee, or even for free with the help of ads.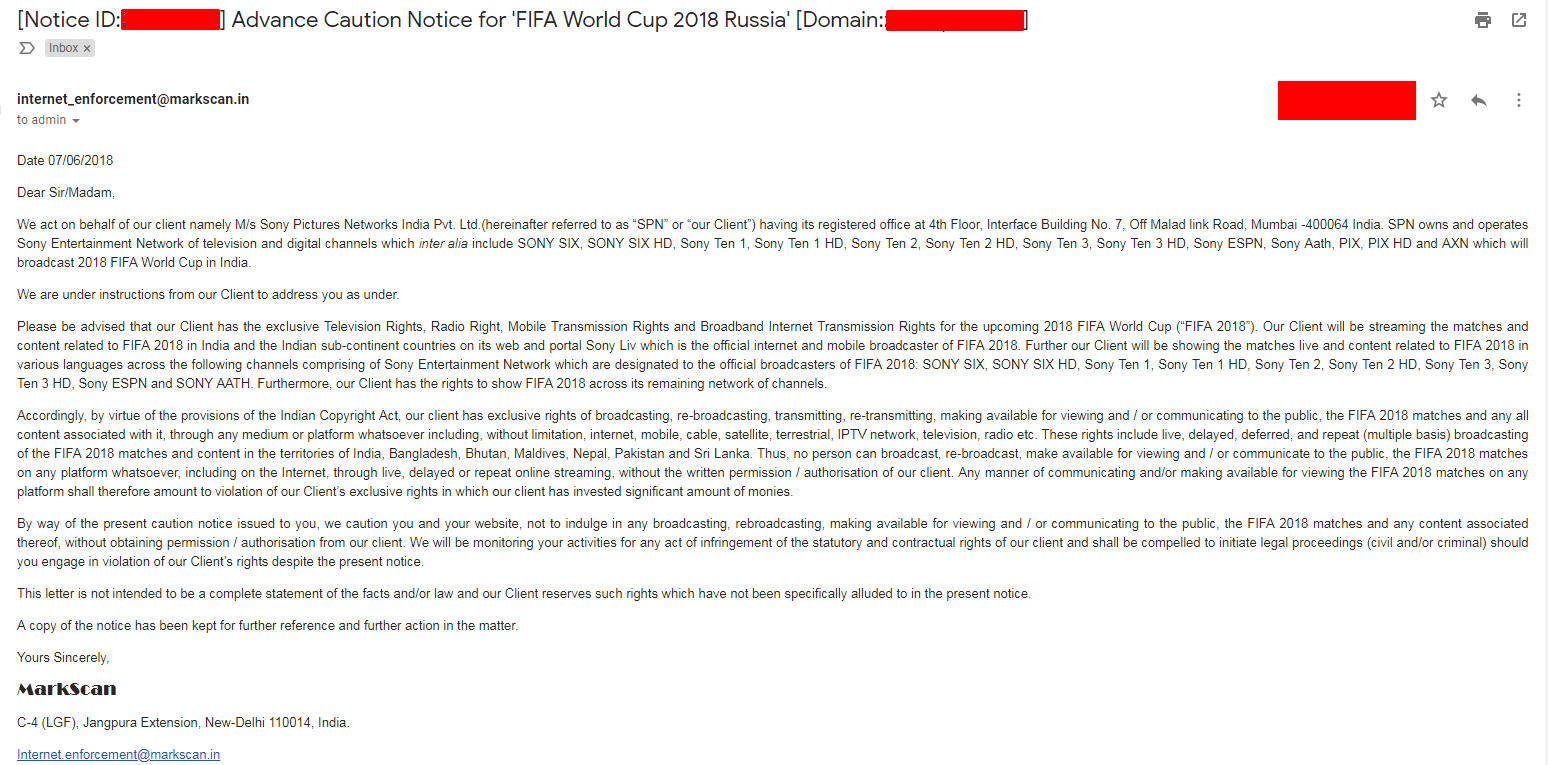 It is expected that anti-piracy companies will be taking strict action against websites that broadcast the sporting event's matches in the coming weeks. However, legal action has proven to be a weak deterrent when it comes to piracy. Once websites are taken down, replacement websites pop up in a matter of days or even hours. Sony has earned the broadcasting rights for Bangladesh, Bhutan, India, Nepal, Maldives, Sri Lanka and Pakistan and is ready to take illegal streaming sites to court.
Despite Sony's efforts, it is unlikely that all of the illegal services can be stopped during the world cup. Industry experts have predicted that this year's FIFA World Cup is likely to become one of the most pirated sports tournaments in history. It is unlikely that Sony's threats will have any effect on the streaming websites and they'll be in business as usual despite the media company's efforts to shut them down.