If you're thinking about finally cutting the cord and moving to the digital era completely by watching all your live TV online, then you've probably looked into a lot of platforms. If you're down to Sling TV vs Philo, we're here to help you out.
So, a while back we reviewed Sling TV, as well as Philo, and we wanted to see how the two compare and, in the end, which one comes on top.
First up, we're going to go through the most prominent features of these platforms and see how they compare in a quick breakdown.
Overview
Sling TV
Philo
Bundles
Sling Orange ($25/mo), Sling Blue ($25/mo), Sling Orange + Blue ($40/mo)>
40 Channels ($16/mo), 52 Channels ($20/mo)
Customization
Channel bundles: Kids, Sports, News, Lifestyle, Hollywood, Heartland, International, Espanol, Comedy

Premium channels: HBO, Showtime, Starz, Cinemax, Epix, CuriosityStream, Pantaya, UP Faith & Family, Dove Channel, Stingray Karaoke, Outside TV

None
Device support
Apple TV, Roku, Amazon Fire TV, Chromecast, Android TV, AirTV Player, Xiaomi, LG Smart TVs, Samsung Smart TVs, iOS, Android, Fire tablets, Xbox One, Chrome web browser
Apple TV, Fire TV, Roku, iOS apps, via Chrome, IE, Firefox, or Safari on computers, via Chrome on Android
DVR
Up to 50 hours, unlimited storage time. Expandable by another 50 hours with an extra feature
Unlimited
Free trial
Yes, 7 days
Yes, 7 days
Visit
Sling
Philo
Also, since these will come in handy, we're going to look at what scores the platforms received in our reviews, too.
| Criteria | Sling TV | Philo |
| --- | --- | --- |
| Channel bundles | 10/10 | 7/10 |
| Customization options | 10/10 | 2/10 |
| Supported features | 6/10 | 10/10 |
| Streaming quality | 10/10 | 10/10 |
| Supported devices | 8/10 | 4/10 |
| Usability | 9/10 | 9/10 |
| Overall Score | 8.8/10 | 7/10 |
Now that that part's done, let's go ahead and put the platforms head to head and see which one comes on top.
Sling TV vs Philo: Side by Side Comparison
The next step in this article is to compare the two services step by step and see which one prevails.
Channel Bundles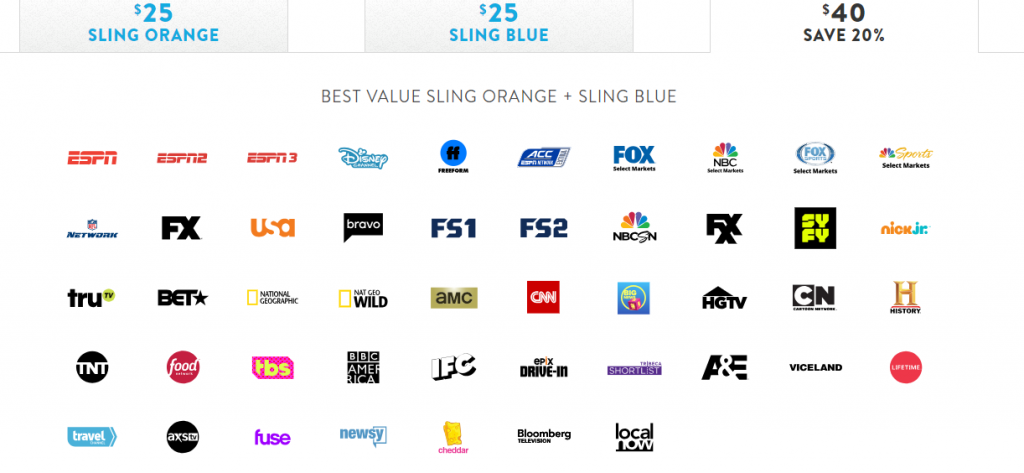 Which one of the two platforms have the best bundles of channels you can pick up?
Sling TV: There are three bundles you can pick from on Sling TV. Two of them cost $25 per month - Orange and Blue, and the third costs $40 per month - Orange + Blue. There are also several bundles you can pick from if you go for Sling Latino.
Philo - There are two bundles you can pick from here. The first features 52 channels (and the name reflects that) and costs $16 per month, while the second features 52 channels and costs $20 per month.
Winner: Sling TV takes this one home thanks to having more bundles to pick from, and a slightly better collection of channels.
Customization Options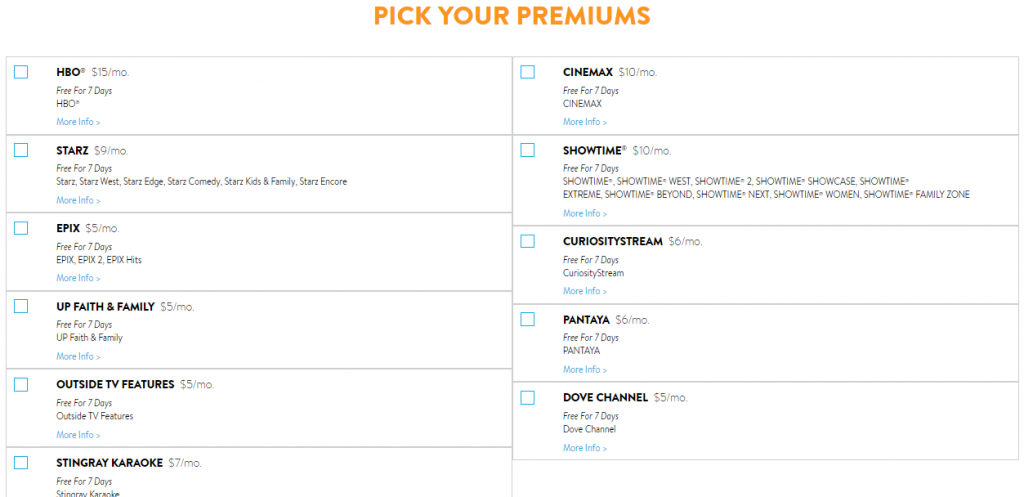 Will it be Sling TV or will it be Philo? Let's find out!
Sling TV: When it comes to customization options, Sling TV makes this its mission - numerous interest based channel packs are available, as well as a slew of premium channels, including HBO, Cinemax, Starz, Showtime, and Epix, to name a few.
Philo: Oops! There are no customization options available here. No extra channel packs, no premium channels. Nothing.
Winner: Sling TV wins this one easily since there's really no competition to be had.
Supported Features

Can you record any of your favorite shows if you're not home? What about multiple streams?
Sling TV: The first disappointing thing about Sling TV that we noticed is the fact that it carries no integrated DVR function. Instead, you have to pay an extra $5 to be able to record up to 50 hours of programs. When it comes to streaming content simultaneously on different devices, Sling TV makes things a bit weird. If you're going to pick the Orange bundle, you only going to get one stream, but if you pick Blue, which is the same price, you get three streams. There are four simultaneous streams for you if you pick Orange + Blue.
Philo: How much DVR space does Philo give you? Unlimited! And the recordings get to stay for 30 days before automatically getting deleted. Furthermore, you can watch Philo on up to three devices at once.
Winner: Philo wins this one by a landslide, especially for the DVR feature, but also for making things a lot less complicated when it comes to the simultaneous streams.
Streaming Quality
When you move to online TV watching, you have to make sure your Internet connection is sufficient to carry the load.
Sling TV: Sling TV allows users to watch high-quality content with as little as 5 Mbps on computers and TVs, but you'll need more if you want to stream to multiple devices at the same time.
Philo: The platform notes that you're going to need to have at least 5 Mbps for HD quality, more if you stream on more devices at the same time on the same network.
Winner: Well, it's a tie here! Both platforms have the same network requirements and they both acted great when we tested them out.
Supported Devices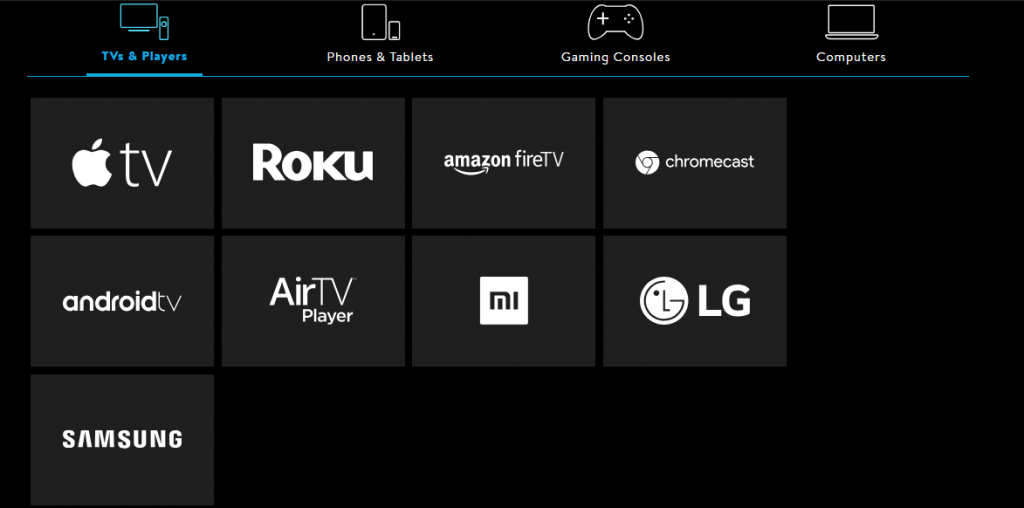 Will the service work on your favorite devices? Well, let's find out!
Sling TV: Sling TV has made it a mission to reach a large number of devices, from iOS to Apple TV, Chromecast to Android, Samsung Smart TVs to Roku. There's even support for Xbox, but no PlayStation.
Philo: Philo has some issues in the device support department because it only features a few - Amazon Fire TV, Apple TV, Roku, iOS, and the web, but there's no native Android app - you'll have to use Chrome to watch it. There's no app for smart TVs or game consoles.
Winner: Sling TV wins this one because it has a much wider list of apps you can watch your favorite shows on.
Usability
How easy can you find your favorite channels? Let's find out!
Sling TV: Sling TV makes it easy for you to jump from one channel to the other, to find your favorite channels, and to see what's up next.
Philo: It's quite easy to find whatever it is you want on Philo. That's mostly because the platform features a simplistic and intuitive interface, so you won't have any issues there.
Winner: It's a tie! Both platforms feature similar interfaces that are easy to navigate and you shouldn't have any problems in finding the guide, your favorite channels, or any other type of content.
Sling TV vs Philo: Which One to Pick?
Both platforms are great, each for something in particular - Sling TV for the customization options, and Philo for its simplicity. But in this battle, Sling TV wins the cake and you can go ahead and sign up for the platform.
Final Thoughts
We hope we've helped you decide between Sling TV and Philo and that we've made it easier for you to pick the perfect platform for you and your household.
We'd love to hear what you chose and why you did it in the comments section below, and please share the article online so others can find it too. Come have a chat with us on TechNadu's Facebook and Twitter pages.