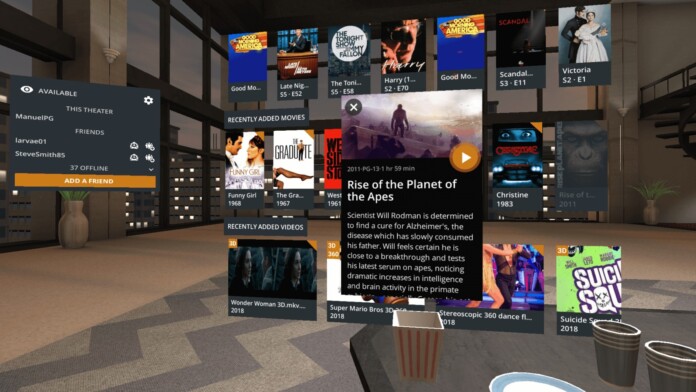 Plex VR received a major update recently that allows multiple Plex users to view their favorite content together with its new Watch Together feature.
The update also enabled cross-platform viewing with support for popular VR headsets including the Oculus Rift Go and Samsung Gear VR.
Virtual Surround Sound 5.1 is also available to Plex Pass users for an enhanced audio experience when viewing virtual reality content.
2018 has been quite the ride for Plex VR users with a host of new features being introduced. With the latest update to the platform that rolled out earlier this week, Plex users will now be able to watch videos, TV shows, and movies together with other users using their VR headsets. Watch Together parties can be seamlessly set up, and only one user needs to own a movie or TV show to be able to stream to all other party members.
The Watch Together feature is available to Plex VR users of all platforms and support for virtual reality has been extended to the Samsung Gear VR and Oculus Go headsets. Watch Together seeks to bring social features to the DVR platform through virtual reality. Plex Pass users are also receiving an all-new virtual surround sound (5.1) update that allows stereo headphone users to replicate the sound signature of professional home-theater speakers. The DVR company revealed no intentions of making the feature available to users who do not own Plex Pass anytime in the near future.
You can access Plex VR features without having access to Plex Pass and also access a one-week trial of Watch Together for free. Plex as a platform has grown significantly in the DVR market this year with new features like grid-style TV guides and support for virtual reality headsets. The addition of music content with a high-quality collection manager has made Plex all the more appealing to users who are looking for an all-in-one entertainment subscription. With its availability on almost all popular platforms and a host of features on offer, the service has solidified its presence as a leading DVR service.
What do you think about the new Plex VR update? Let us know in the comments below. To get the latest updates on tech, follow TechNadu's Facebook page, and Twitter handle.