The specs for the upcoming Nvidia 3000 series have been leaked, according to a few people over on Twitter. While this doesn't usually mean much, the Twitter accounts in question have a history of providing the correct specs in the past, so it's definitely not a complete stab in the dark.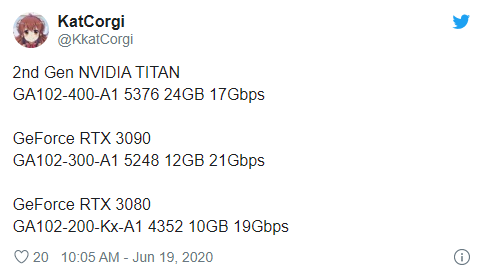 First off, we would like to remind you that Nvidia is banking on the Ampere architecture for this launch, which means that we are definitely not going to see another refresh based on old tech. On top of that, it was also revealed a few days ago that the "Ti" moniker will be dropped entirely.
Instead of the expected "3080 Ti" we will have the 3090, which will still be aimed at enthusiasts who want the absolute best in terms of specs. The rest of the line-up should be the same, however, which means that we will see a 3080 and a new Titan RTX. There's no word on the 3070 or the 3060 yet, but we are definitely going to get those as well, albeit not at first.
More Cores, More Memory
So what about the actual specs? Well, let's start off with the RTX 3090, which is Nvidia's flagship in terms of gaming performance.
The GPU chip itself is called GA102-300-A1, and it will feature 5248 CUDA cores, which is an extra 900 cores over the RTX 2080 Ti. That's ~20% more, but that doesn't necessarily mean that we are looking at a 20% improvement in performance. This is a completely new architecture, after all, which means that we are in for quite a few tweaks and tricks that could unlock a lot more performance.
As for memory, the 3090 is rumored to feature 12GB of GDDR6X, with a memory bus of 384 bits. For anyone keeping track, that's 1GB more than the 2080 Ti, so this is not groundbreaking news. There is also not a lot of info on the GDDR6X, so we'll refrain from making any predictions in this regard.
The 3080 is much more interesting, given the fact that it will come with 4352 CUDA cores, which is the exact number of cores found on current RTX 2080 Ti cards. However, we are going to enjoy 10GB of GDDR6X memory instead of the 8GB sported by the regular 2080, so that's a pretty major improvement.
Lastly, the RTX Titan is once again aimed at professionals who are not that interested in gaming and just want something to help them run various types of simulations or render complex 3D scenes. The 5376 CUDA cores should be enough to handle everything you throw at the GPU, but it's interesting to note that you are still getting 24GB of memory. That's the same amount as the previous Titan, even though the memory type is going to be based on the GDDR6X standard instead.
Here is a table to show you the complete specs compared to the current generation of Nvidia GPUs:
| | GPU | CUDA Cores | Memory | Memory Bus |
| --- | --- | --- | --- | --- |
| TITAN RTX (Ampere) | GA102-400 | 5376 | 24GB GD6(X) | 384-bit |
| RTX 3090 | GA102-300 | 5248 | 12GB GD6(X) | 384-bit |
| RTX 3080 | GA102-200 | 4352 | 10GB GD6(X) | 320-bit |
| TITAN RTX | TU102-400 | 4608 | 24GB GD6 | 384-bit |
| RTX 2080 Ti | TU102-300 | 4352 | 11GB GD6 | 352-bit |
| RTX 2080 | TU104-400 | 2944 | 8GB GD6 | 256-bit |
Release Date and Price
Even though there is nothing official when it comes to the release date, we are pretty sure that Nvidia is going to launch this new line-up sometime in September. This has generally been the case with most launches in the past, especially when a new architecture comes along.
On top of that, we can also say that the 3070 and the 3060 models won't be part of the initial launch since that's Nvidia's usual tactic. You can expect them to be announced a few months after the flagships hit the shelves, so you have to a bit more patient if you are more interested in the mid or low-tier models.
As for prices, we really have nothing to go on at the moment. Nvidia has been pretty greedy lately, so it would not be at all surprising to see slightly higher prices than what we got back when the 2000 series was launched.
On the other hand, the company did take mercy on us with the "Super" refresh, so we can at least hope that Nvidia is going to spare our wallets this time around as well.