Microsoft is planning to incorporate amazing new hardware on the next generation of their Xbox One controllers.
Two patents show two distinct new hardware systems that will take game immersion to the next level.
Xbox game developers will now have a multitude of new potential use cases that arise from the incorporation of these new systems.
Microsoft is apparently preparing a new Xbox One controller that will feature a much-improved feedback system and a pioneering mechanical tension unit for the left and right triggers. The controller with the upgraded hardware is depicted in two patents that were filed by the company back in June 2017 but were only recently disclosed to the public.
Xbox controllers have always been concerned the cream of the crop as far as build quality and ergonomic functionality are concerned. A bit bulkier than the competition from Sony's Play Station controllers, they achieve high levels of comfort and agility than anything else out there. To ensure even greater responsiveness and gameplay joy, Microsoft is looking to enhance the internals of their controller, adding one more reason for console lovers to choose their products against other options in the market.
The focus has been placed in the force-feedback system of the controller, now sporting multiple sensors such as posture, touch, and force sensors to actuate the force-feedback motor through a clutch and gear train, allowing a new range of inputs while delivering more accurate feedback. Moreover, the new controller will feature a motor-driven adjustable-tension trigger, hugely adding in the sense of realism for the players, while also opening up a whole set of new potential functionality for the games and the controller utilization.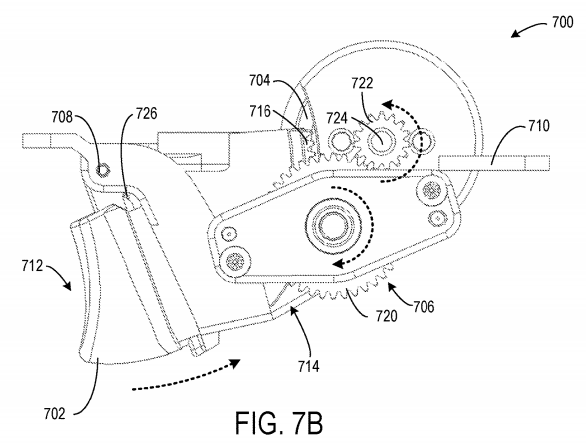 This essentially means that Xbox One owners will enjoy not only a more comfortable controller but also a much more immersive one. This is pivotal to the gaming experience, and systems like the adjustable tension of the triggers have never been implemented into a product of this kind before. For example, imagine playing a game that has your character using a bow to shoot an arrow. The trigger could get harder as the string of the bow is virtually stretched and strained, creating an unprecedented level of realism and immersion. On another example that is mentioned in the patent file, the trigger could be held at a retracted posture as part of an effect that indicates that the player's weapon has run out of ammunition.
What do you think about the new technologies that Microsoft plans to bring to their new Xbox One controllers? Let us know in the comments below, and feel free to also share your thoughts on our socials, on Facebook and Twitter.