Malwarebytes identifies a clear preference of cybercriminals towards the enterprise.
Ransomware, trojan, and Emotet on the rise, while malware against companies dropped.
Consumer targeting dropped in general, but Apple products were not forgotten by the crooks.
Is cybercrime going from bad to worse? According to the most recent report by Malwarebytes, it is, confirming a negative trend that has been going on for a long time now. Every quarter that goes by shows more alarming data as to how much cybercrime activity is going on out there, with organizations and companies being called to face and deal with an increasing amount of threats, coming literally from everywhere. The importance of these reports is to identify trends, see how profit and difficulty define malicious targeting, and how we can all take steps to make cybercrime largely non-feasible.
The main finding of the study is that crooks target enterprises more than ever before, which on a positive note also means that they have left consumers to have some relative peace of mind. This is obviously due to the fact that the enterprise sector is where valuable data, and so where all the money is. The rise in this targeting is expressed through ransomware, malware, and trojans. On the consumer field, cybercriminals focused on Mac and iPhone users, because again, this is where the money is. So, they refreshed their adware spreading tools, used specially crafted malware that tricks Apple's protection, and run quite a few phishing campaigns.
Here are some numbers to highlight the takeaway of the study:
Compared to Q1 2018, cybercrime against business went up by 235%
Compared to Q1 2018, cybercrime against consumers went down by 40%
Malware volume compared to Q4 2018 went down by 35%
Emotet is now wholly focused on enterprise targets, having a rise of 200% compared to Q4 2018, and 600% compared to Q1 2018
Ransomware against businesses has made a comeback, increasing by 195% compared to Q4 2018, and 500% compared to Q1 2018
Ransomware targeting consumers dropped by 10% compared to Q4 2018, and 33% compared to Q1 2018
Consumer-focused crypto mining is no longer a thing.
Mac malware infections increased by 60% from Q4 2018, while Mac adware increased by 200% for the same period.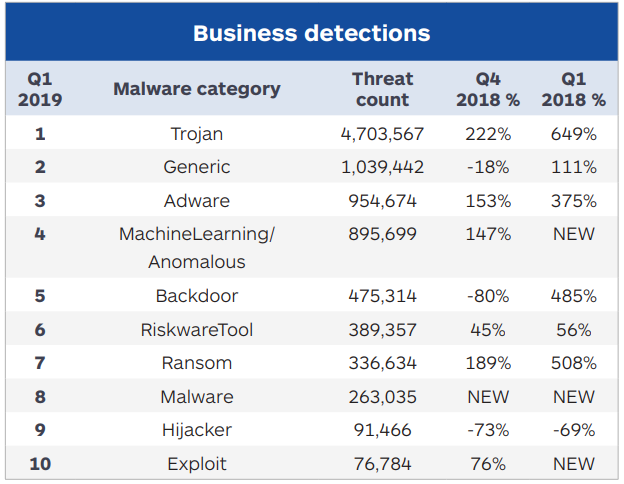 As expected, consumer trust to organizations who hold their PII data has dropped to a record low, but still, that doesn't seem to change the fact that companies get their hands to more and more data, gathering everything they can about their customers, and very often storing it in unsecured databases or sharing it with so many third parties that no one can keep track anymore.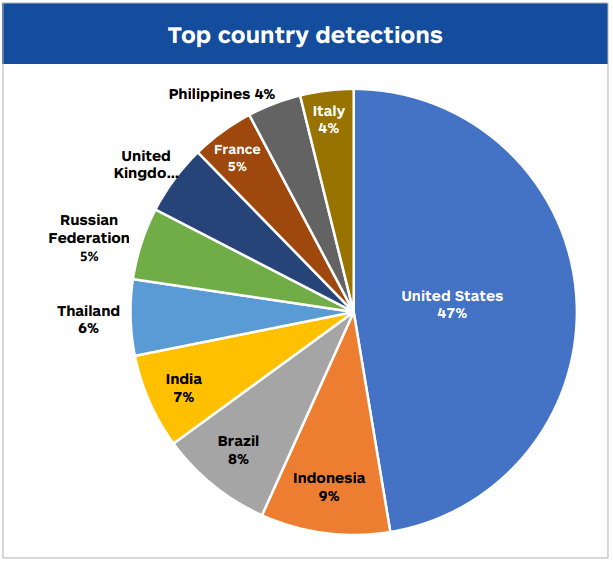 Finally, in regards to the regions that were the most targeted, the United States takes the lead with characteristic comfort, accounting for a staggering 47% of the total number of cyber-attacks. Indonesia comes second with 9%, Brazil third with 8%, India fourth with 7%, Thailand fifth with 6%, and Russia sixth with 5%.
What would be your predictions for Q2 2019? Let us know what you think in the comments down below, and don't hesitate to also leave your comments on our socials, on Facebook and Twitter.