A US court rejects a DMCA subpoena request by the creators of the 'London Has Fallen' movie.
The request targeted 33 BitTorrent pirates from the USA, who were using a Comcast connection.
The ruling indicates that the 15-year old court practice has not changed yet.
A few years after the last failed DMCA subpoena attempt, another company gives it a go only to discover that the rejection grounds are still standing. The request was submitted by LHF Productions to the Utah Federal Court, asking the court's clerk to sign it off and help them identify 33 BitTorrent pirates. The court responded that DMCA subpoenas are only signed when the targeted Internet services are hosting, directly storing, caching, or linking to the content that is infringing the designated copyrights. Since the pirates were using a Comcast connection and considering that Comcast does not store copyright infringing material, the request has been rejected.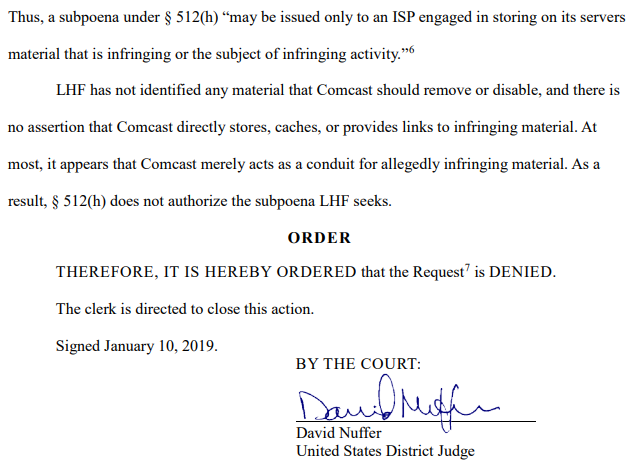 This is not an example of negligence from LHF's attorney, however, as the company is very well experienced with this type of cases. Instead, this was an attempt to reach their targets by following what would be a cheaper path than a full-fledged lawsuit. Moreover, LHF may have played the role of a 'copyright troll scout', checking whether something has changed in the way judges handle DMCA subpoenas on behalf of all copyright holders. Should the Utah judge ruled otherwise, it could mean that the door for low-cost pirate targeting campaigns opens for everyone.
DMCA subpoenas were a widely used shortcut in the early 2000s when the RIAA (Recording Industry Association of America) was trying to 'clear up' the remnants of P2P file-sharing users that continued to damage the music industry after the Napster service shut down. Those subpoenas were merely signed off by the court clerks until ISPs started expressing their objections with this practice since they were scrutinized without being responsible for the content that was allegedly infringing copyrights.
Bringing their objections to courts, they found the judges on their side, agreeing that ISPs were not responsible and pointing copyright holders to file regular lawsuits when targeting pirates. Many courts established this practice, and soon, copyright owners stopped submitting DMCA subpoenas. The last one to give it a try was Rightscorp in May 2015, trying to force Birch Communications to give away the identities of their customers. The request was submitted to and reviewed by the Atlanta court, and it was consequently rejected. With the LHF request finding no luck in Utah, it may be another few years before the next DMCA subpoena attempt takes place.
Do you agree with the current DMCA subpoena court handling practice? Let us know of your opinion in the comments section below, and also visit our socials on Facebook and Twitter to check what else is hot in the tech world today.