One of the dark web's most popular carding sites announced its shutdown.
The operator claims that it's time for retirement, giving users another month to spend their balances.
The carding activity will just move elsewhere, but it's unlikely to see a highly-specialized place similar to Joker's Stash.
The largest carding website on the dark web, Joker's Stash, has announced its shutdown, leaving a big hole in the underground carding community. Also, this comes at a time when the law enforcement authorities are undergoing a pretty notable crackdown that has closed several large and medium-sized darknet markets.
Of course, the shutdown of the marketplace doesn't mean that the trade of stolen credit card information on the dark web will stop now, but it is unlikely to happen on a central, active, and dedicated space like the Joker's Stash.
The Joker's Stash uploaded several "fresh" card packs last year, including one from Dickey's restaurant chain, one taken from a POS malware operation, and one that appeared to derive from ATM malware or skimmers. The particular marketplace evolved to what it was in October 2019, when it upgraded its infrastructure and the quality of its offerings, but this also drew the focus of the authorities upon them.
Last month, Interpol and the FBI managed to seize the blockchain domains of the platform. While this didn't stop Joker's Stash from continuing its operations, it was a sign of trouble. Another sign that things weren't going well was that the volume of compromised records posted on the marketplace was in decline after the summer of 2020, indicative of criminal vendors moving to other places for whatever reason.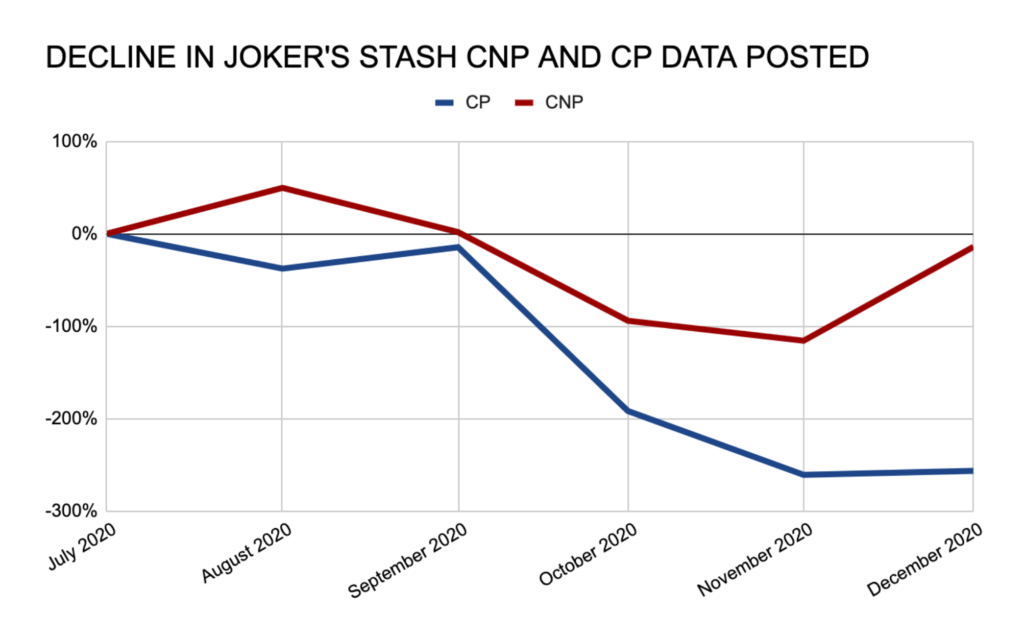 And now the announcement came, explaining that the "Joker" is going on a "well-deserved retirement" and is leaving forever. The platform will remain accessible until February 15, 2021, so that all users can spend their remaining balances.
Finally, the platform's operator warns that any new platform claiming to be an official continuation of the Joker's Stash will be just a scamming site created by imposters, and they are not planning to ever open again. On a closing note, the announcement urges other "cyber-gangsters" not to lose themselves in the pursuit of easy money, which is something that's not going to make them happy in life.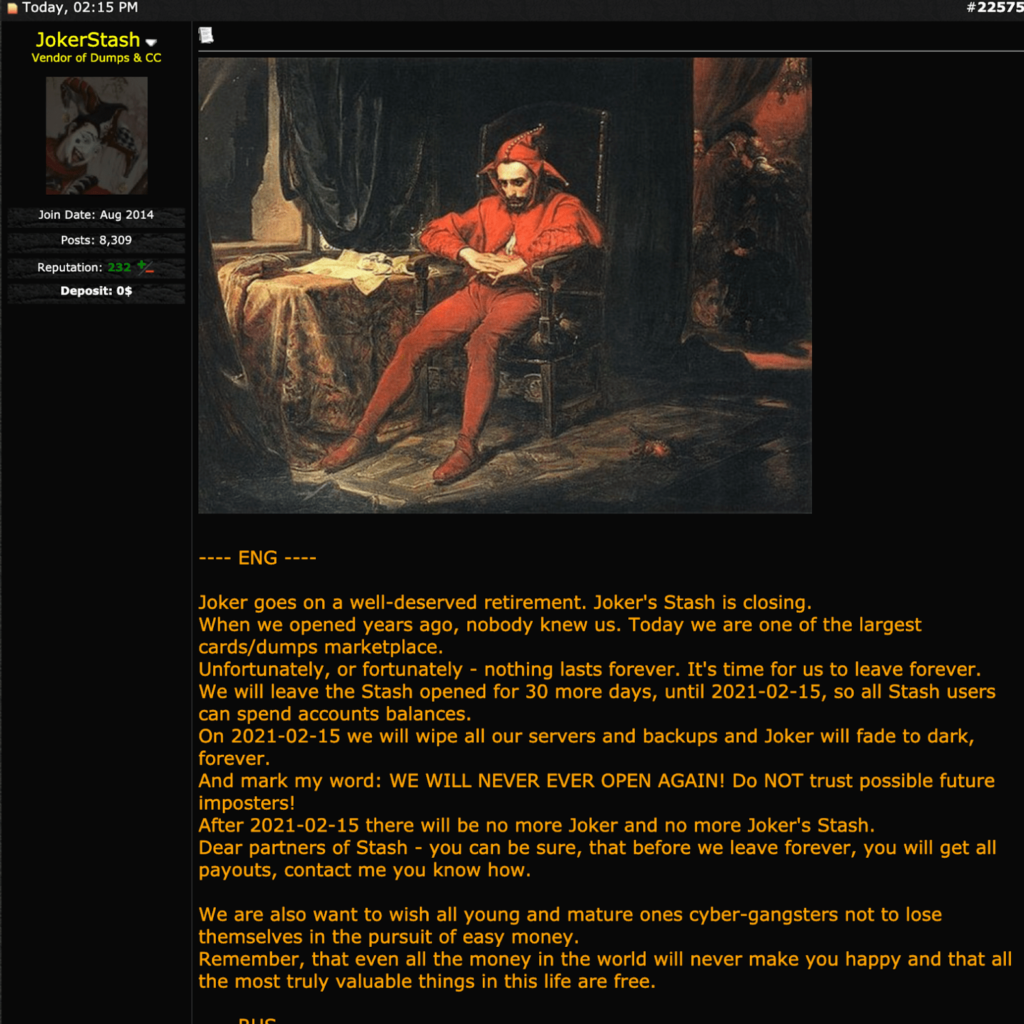 The underground carding economy will continue mostly unaffected by this closure, but we expect the transition of the criminals to be fragmented and not focused onto a single top-tier marketplace. Gemini Advisory has recently observed that high-profile hackers are dividing stolen card records into groups of four or even more packs, spreading them across multiple markets.