Apple's newest update gives users enhanced protection of their personal information.
The USB Protected Mode doesn't allow access via USB devices, which happens if someone wants to access it after it's in locked mode for more than an hour.
This setting is a step closer to protecting against hackers but also governmental institutions who often use USB devices to obtain personal data.
After the release of iOS 11.4.1, the most interesting feature is the USB Protected Mode. It's also interesting to note it's not mentioned in the release notes so that many users may miss out on the benefits. With this mode enabled, an iPhone is inaccessible even when using popular devices such as GrayKey.
While the iOS 11.4.1 version now moved away from being a Beta version, it could be necessary to continue improving it. This particular setting is quite confusing as users have to set it in the 'disabled' option if they want optimum protection.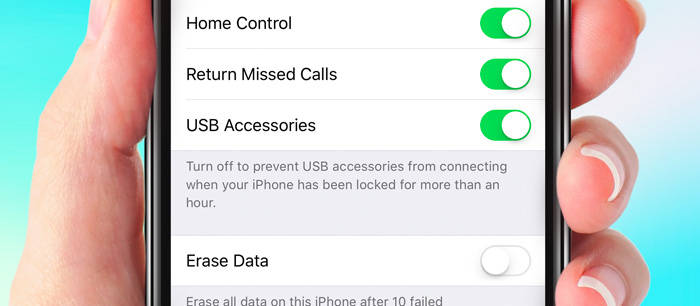 Perhaps the reason it doesn't appear in official release notes is that it may need an upgrade already. There are rumors that certain USB accessories can act as a buffer to keep the Apple device from locking. One of these accessories seems to be Apple's own invention, the Lightning to USB 3 Camera Adapter. Was this an oversight on Apple's part?
It's for certain that consumers will welcome this feature whether they're seeking privacy from hackers or the police. It's once again proof that Apple isn't afraid to prioritize people's privacy above the needs of the government. This was already clear in 2016 when the company refused to write software which could unlock a phone connected with terrorist action.
What are your thoughts on the matter? Let us know in the comments below. Also, to get instant tech updates, follow TechNadu's Facebook page, and Twitter handle.