After being fined by the EU, Google has decided to change its practices of allowing users to set a default search provider during Android device setup.
Search providers can bid to appear in the 'Choice Screen' for individual countries across the European Economic Area (EEA).
The auction ends in mid-September 2019, and winning bids will be confirmed by late October 2019.
It's been one year since the record-setting $5 billion fine against Google imposed by the European Union. One of the world's largest tech companies was found guilty of leveraging its mobile operating system by promoting the company's own services first. However, this wasn't the only case of how Europe's GDPR rules started to affect Google during the last 12 months. There was some talk about a potential $4 billion fine back in November 2018 and another fine related to unethical AdSense practices. And most recently, France has decided to join the bandwagon and forced Google to pay €50 million over another set of GDRP violations.
As seen during the company's I/O 2019 conference, Google has decided to improve the way it handles personal data. Numerous Google services now come with a better overview of privacy-related settings, putting more power under your fingertips. And now, as a direct result of the record-setting fine imposed by the EU, Google is being forced to take a step back and allow other search providers to reach more Android users. Without much fuss, the tech giant has published a guide on how Android's 'Choice Screen' will start allowing individuals to choose a search provider during the initial device setup.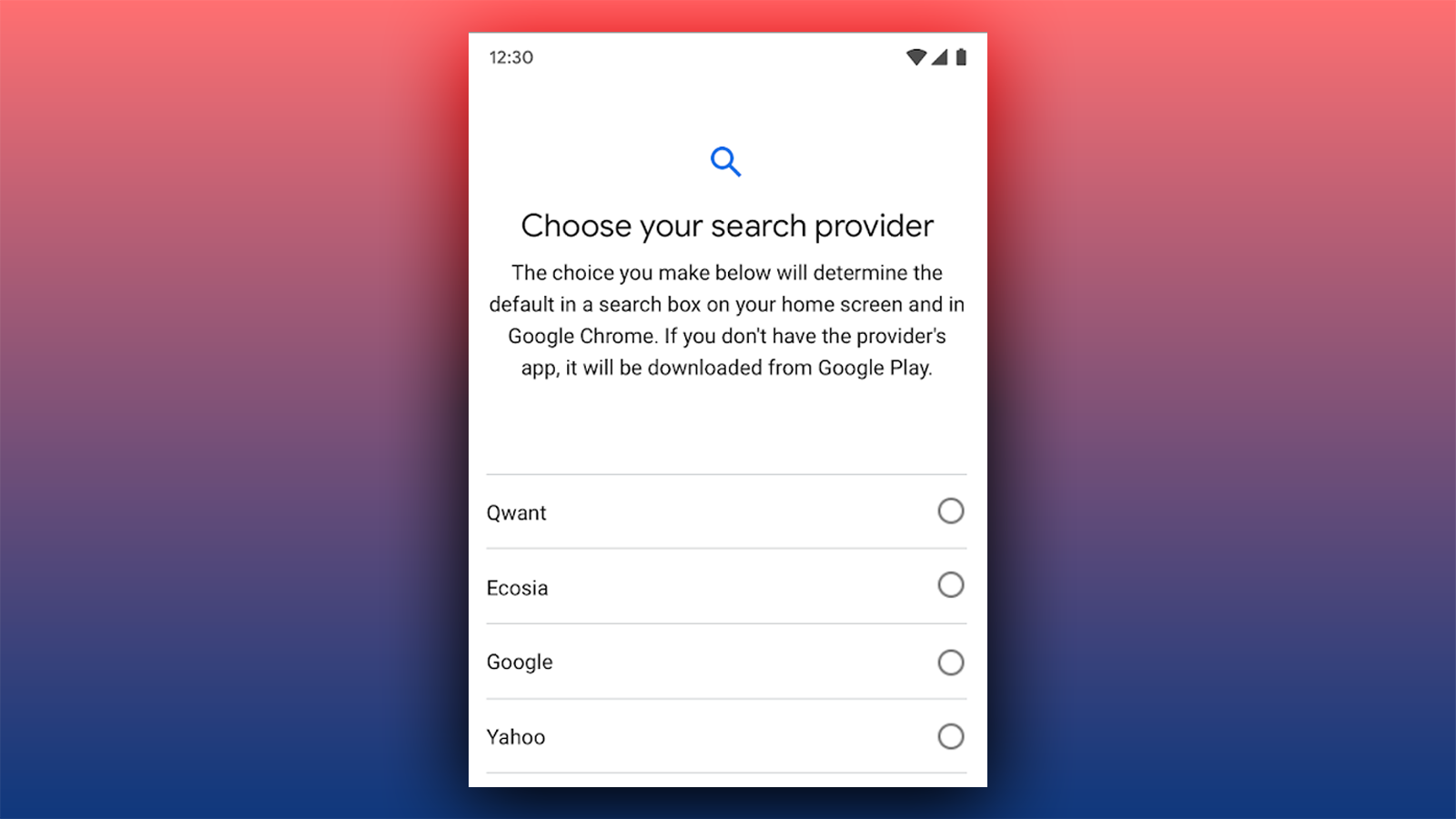 Starting in early 2020, Android users from the European Economic Area (EEA) will see a new device setup screen on smartphones and tablets. Instead of being forced to use Google Search by default, users will be able to select other providers, which has several important consequences, as explained below:
The chosen search provider will automatically become active in your device's home screen search box. This means that you'll get to access your favorite search provider from your home-screen widgets.
In case you install Chrome, the chosen search provider will appear instead of Google. This means that every time you search for something online via Chrome, you'll get to see the search results page of your chosen provider.
And finally, you will automatically receive the official search app of the chosen search provider – if it doesn't come already preinstalled.
When it comes to which search providers you'll see, well – that depends on how much they're willing to pay Google for this privilege. This means that the tech giant will organize a first-place sealed-bid auction to select the other general search providers for the period of January 1, 2020, to December 31, 2020.
In each county of the EEA region, search providers will state the price they'll be willing to pay each time a user selects them. In addition, there will be a minimum bid threshold as well. The three highest bidders that meet or exceed the bid threshold for a given country will appear in the choice screen for that particular country. And also, the auction winners will be ordered randomly on the 'Choice Screen.'
Search providers can already initialize the application process. The deadline for submitting bids is September 13, 2019, and winning bids will be confirmed by October 31, 2019.
Do you think that Google is playing fair, allowing its competition to gain some prominence? Let us know in the comments section below, and don't forget to follow us via our social media profiles, on Facebook and Twitter. Thanks!