Qualcomm and Google have managed to simplify framework vendor implementations, making OS upgrades easier.
The two tech giants announce an extended "Project Treble," which promises three Android OS upgrades.
The program will start with Qualcomm Snapdragon 888 devices launched with Android 11.
Qualcomm and Google announced the enhancement and extension of the "Project Treble" program, aiming to bring the latest version of the Android mobile OS to as many devices as possible. This has been an unfixable problem for Google, and one that has plagued the Android ecosystem since the cradle, but taking small but important and decisive steps is the only way to tackle it.
"Project Treble" is an Android re-architecture that breaks the system down to core components, so smartphone OEMs can grab these modules and push them through over-the-air updates. The result is faster OS updates, more up to date smartphones, and a lot more devices using secure core components even on an earlier Android OS version.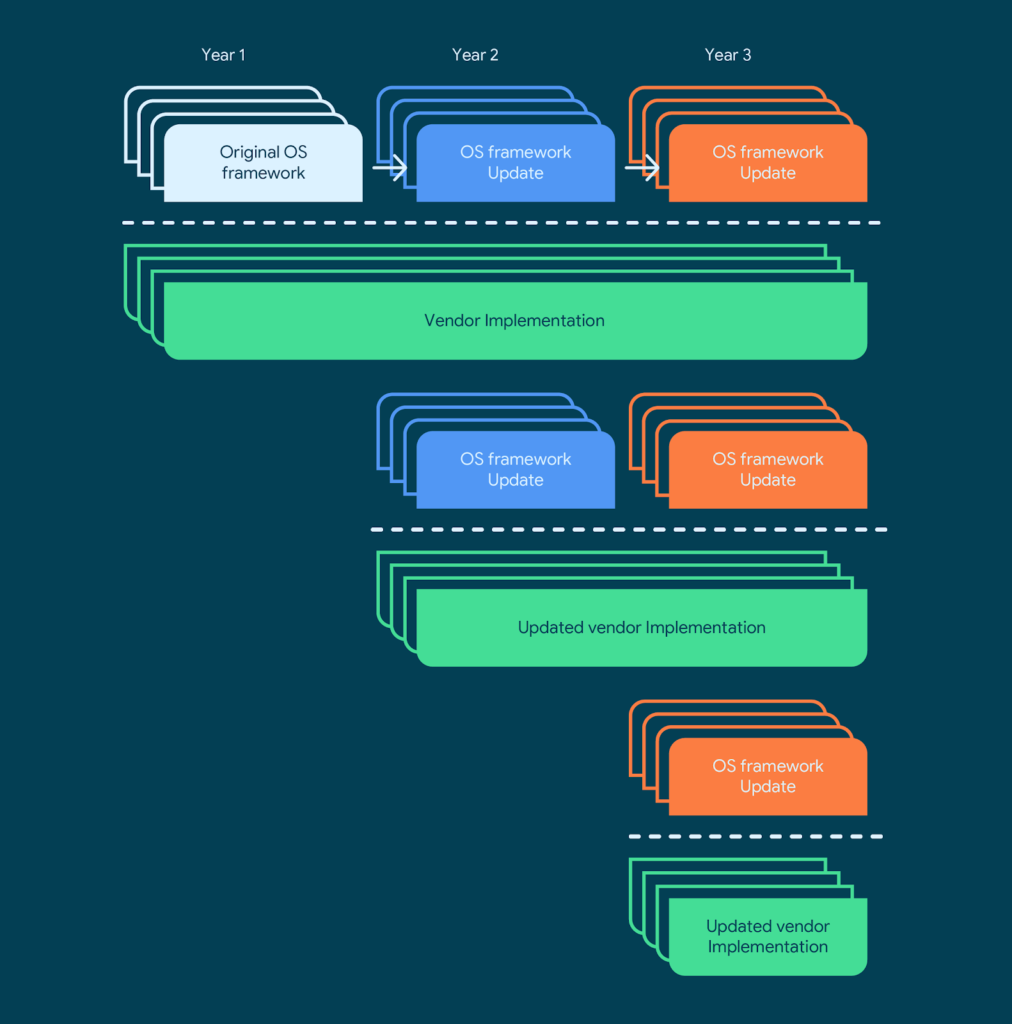 The partnership with Qualcomm has made it possible for the two companies to build a "retroactivity bridge" between the SoCs and the vendor's implementation, so the large number of different iterations that were previously practically impossible to manage is now rendered irrelevant, essentially overridden. This brings us to today's promise: three Android OS version upgrades and four years of security updates for all Android devices running on a Qualcomm SoC.
Additionally, Google will start reusing some OS framework software across a wide range of Qualcomm chips so that the number of different vendor implementations is dramatically reduced, leading to lowered requirements in engineering, development, and deployment costs. This will make the situation even better in the future, so the promise of three updates may be extended as well.
This is a significant development and one that should have Android fans celebrating. Sure, Qualcomm isn't the only chip maker out there, and some consumers would prefer MediaTek, or Samsung, or Huawei for their lower cost or specific optimizations. Still, we're sure that Google isn't going to stop with Qualcomm at that. Undoubtedly, Qualcomm will be reaping the market fruits until the others catch up, but we don't expect to see the competition accept their fate with their arms crossed.
One important thing to clarify is that the above applies to Qualcomm SoCs launching with Android 11 and later, starting with Snapdragon 888. Thus, whatever you are rocking right now, it isn't covered by the extended "Project Treble" program. That's unfortunate considering the abilities of current top-level SoCs and their true future potential, but at least you can think of the cost to upgrade now as more justified than it ever was. You will soon be able to buy an Android 11 that will keep receiving updates until 2024, ending with Android 14.