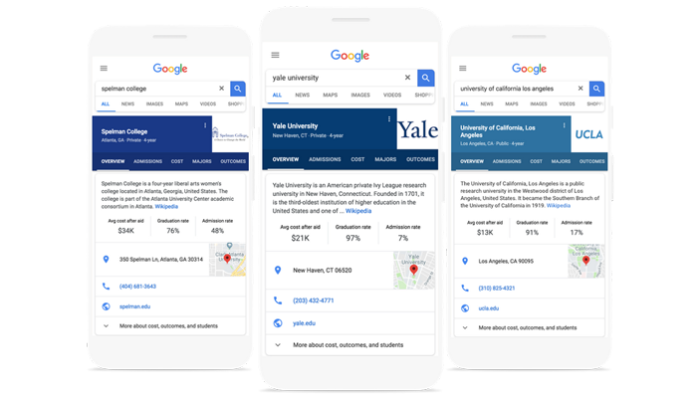 Google is looking to help prospective students with their college search by presenting its search engine in a more efficient manner.
The company has introduced a new feature called College Search so that students can make an informed decision.
The College Search feature will be available on mobile as well as desktop.
From the very beginning, Google has been making human lives easier. Initially, the tech giant helped people look up for valuable information about almost everything. Whether you are looking for information about the calories in your next meal or making a college search – Google can do it for you within seconds. Even students look up for their home works and assignments on the search engine as well. Everyone has become very much dependent on this service.
Talking about studies, prospective students are mostly confused when it comes to finding and choosing the right school or college. There is so much information available scattered all over the internet. However, there are not always clear factors available to make an informed decision. For that matter, Google is launching College Search – a tool that will help you find information that is most useful for your decision.
The reason why Google came up with such a tool is that nearly 63 percent of the prospective students feel lost or not content after institution enrollment.
The Product Manager, Jacob Schonberg, said in a statement, "We're bringing a new feature to Search to help you navigate the college search process. Now when you search for a 4-year U.S. college like UCLA or Spelman College, information about admissions, cost, student life and more will surface directly in Search, making it easier to explore educational options and find a college that meets your needs."
The new feature will roll out today on all mobile devices while some of the Google College Search features would be available on desktop searches as well. Try the new feature today and let us know about it!