An internal Facebook email that allegedly leaked to the press sets the strategy for future scraping events.
The social media giant wants to present these as a sector problem and attempt to normalize it.
The company won't issue more announcements on the matter, nor do they plan to inform users of the breach.
It seems that Facebook doesn't want the media to write about the recent data leak that involved the details of no less than 533 million users, so we at TechNadu see it as our obligation to revisit the topic today. More specifically, a journalist working on the Danish outlet 'Data News' claims to have received an internal email from Facebook by mistake, and this email contains some juicy stuff. So, essentially, Facebook just had another data breach - concerning the previous data breach.
Here's the full email that appears to be an internal memo discussing the recent data scraping incident.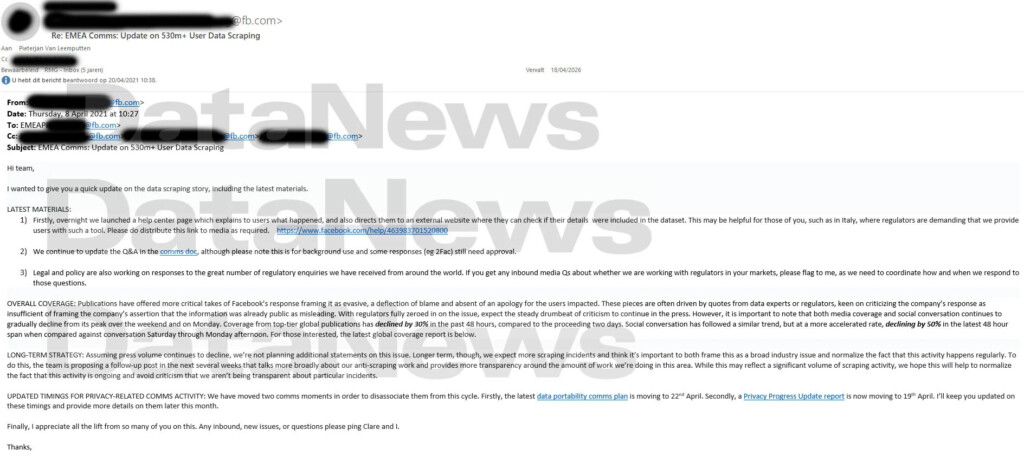 As explained in the email, the platform had to set up a personal checker because of regulations that apply in European countries like Italy, which is mentioned specifically. Maybe that €7 million fine the social media company received by the Italian Competition Authority in February had something to do with it.
Then we have the part that concerns the press coverage, with Facebook saying that the best strategy would be to just wait for the storm to pass. As the message characteristically mentions, coverage from top-tier publications has declined by 30% after two days and 50% after four, with similar trends followed in social conversations.
The long-term strategy that is presented in the message states that more scraping incidents are expected in the future, so it is important to frame them as a broad industry issue and normalize the fact that these data leaks happen regularly. In this context, the media team on Facebook will prepare a follow-up post in the next weeks, broadly discussing their anti-scraping systems and presenting the work they're doing in this area. Facebook hopes that by being transparent, they can avoid criticism when these events inevitably happen.
Now, if the above email is indeed true, its content is shocking even if not unexpected. It is another characteristic example of how huge entities like Facebook choose to deal with media criticism, protection of user data, and most importantly, how they see their responsibility to respond to events like this one effectively, sending out notices of a breach to the affected users.
It is crystal clear that no matter how much press coverage all these events enjoy and how many fines the regulators will impose on the company, as long as billions of people choose to use Facebook, the platform will be in a position to do as it pleases.