A recent study revealed that Twitter is lagging behind Facebook while dealing withe the fake news.
Fake news on social media has been on the rise and websites are often criticized for not efficiently dealing with the issue.
A study was conducted which accounts for 570 websites guilty of peddlers of fake news.
A study on the fake news in social media was published by Stanford and New York University authors who analyzed 570 websites including Facebook and Twitter. The authors analyzed the impact of misinformation on popular social media websites. Fake news posted from January 2015 to July 2018 were accounted for.
With social media figures and even journalists caught posting fake news and creating division among people, interaction on social media continued to rise in 2016. However, user activity dropped heavily on Facebook while interaction rose on Twitter after 2016. The ratio of Facebook engagements to Twitter shares dropped by 60% nearly. A similar pattern was not noticed in any of the other 568 websites that were analyzed.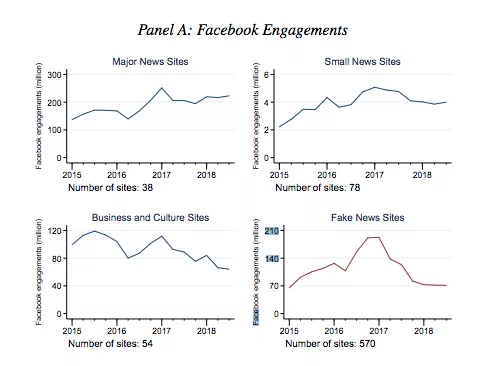 According to the authors, there are also a few caveats in the study. News publishers who post fake news keep popping up and disappear. The researchers chose not to focus on such websites and work on long-term sources of news and social websites instead. Fake news websites that intentionally try to mislead people change their domain names to confuse people even further and avoid detection.
According to the report "The results show that interactions with the fake news sites in our database rose steadily on both Facebook and Twitter from early 2015 to the months just after the 2016 election. Interactions then declined by more than half on Facebook, while they continued to rise on Twitter."
The more bad content is shared on a platform, the worse it is rated in the study. The authors revealed that Facebook is much better than Twitter at taking down fake news. However, the difference between both platforms is not much.
What do you think about the rise of fake news in social media? Let us know in the comments below. Also, to get instant tech updates, follow TechNadu's Facebook page, and Twitter handle.