Ups and downs of 2019 dark web market prices indicate the trends and difficulties.
Account credentials that are harder to get are now very expensive, while those that are harder to exploit are down.
Entertainment and shopping accounts have risen significantly, while payment and email accounts have dropped.
Researchers at the "top10vpn" have been monitoring the dark web market and taking note of the trade prices for various types of user account data. The price index has just been updated to reflect the latest trends in this market, indicating where the focus is shifted to, and which kind of accounts and credentials are considered the most valuable right now. The general takeout is that the value of the average online identity of a person is around $1045, corresponding to one's presence in all platforms (financial services, social media, shopping, travel, email, etc.).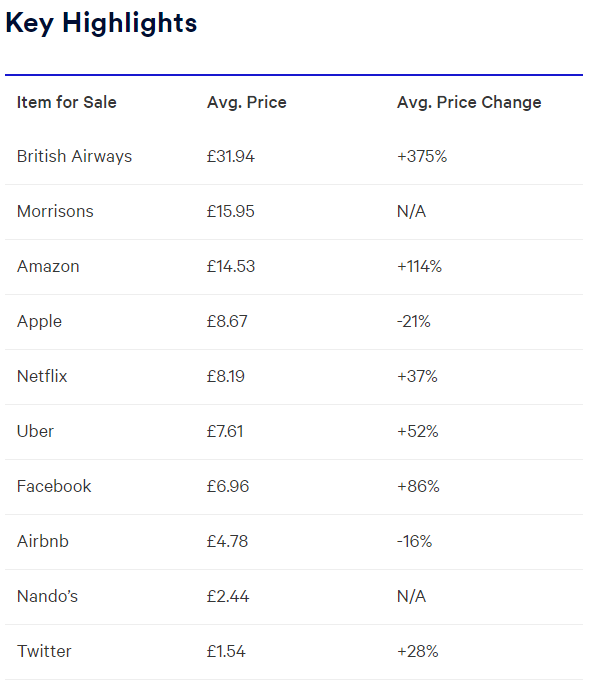 The largest price increase concerns British Airways accounts, which are sold at an average of $40, about 375% up from last year. Another notable price raise concerns Amazon (114% up), with the main reason being the ease and relative safety of using these credentials in Amazon Go stores. Facebook accounts cost went up by about 86%, being sold for $9, signifying the platform's resilience and company value in spite of the persistent bashing that it receives lately. Twitter is way lower, with accounts being sold for a mere $2. Other account types that have had their prices increased this year include entertainment-related platforms such as Netflix which went 37% up, reaching the cost of $10, and Fortnite accounts that are sold for about $12.
Personal finance accounts are getting harder to steal and even harder to exploit, so their cost was formed by two contradicting factors. PayPal accounts are now sold for an average of $18, as buying items on eBay is no longer an option for exploitation. The financial account type that is the most expensive is that of the full bank account data, with the average price set at $455 right now. Credit cards data are sold for $33, and debit card details for just $7.
Finally, email accounts that can lead to broader account theft on more online platforms are sold for a relatively low cost right now. The reason for this is the two-factor authentication that puts an obstacle for attackers, so they are not as easy to exploit as they were in the past. Gmail accounts are sold for an average of $6, while Yahoo mail accounts have plummeted to $1.5.
How does this year's price index look to you? Let us know in the comments below, and feel free to do the same on our socials, joining the community discussion on our Facebook and Twitter pages.