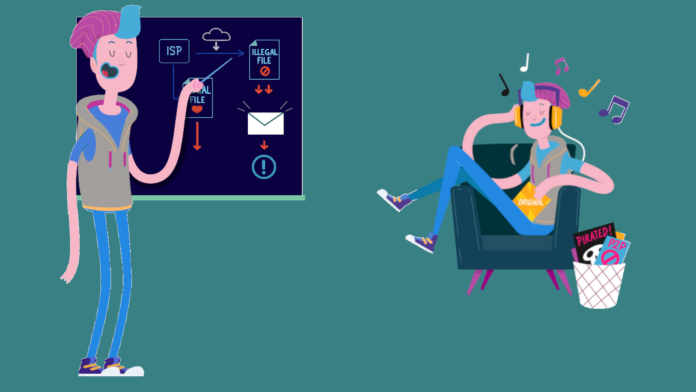 'Get it Right' piracy alerting emails reportedly result in a significant drop in piracy rates.
A million people have been warned over the last two years, most of which not using P2P tools again.
The campaign funding was renewed to last until 2021, but popularity in P2P networks is already declining.
In the context of the 'Get it Right' campaign, ISPs (Internet Service Providers) who detect pirate content downloading activities by their customers are expected to send a warning message to them. The emails educate people on the matters of copyright infringement, how creators are adversely affected by piracy, and what are the legitimate content sources that should be used instead. The data shows that over a million alerting emails have reached copyright-infringing material downloaders in the UK, helping to decrease piracy rates, especially from those who received them.
The UK media has been wondering about the extent and effect of this 'educational' campaign, and so far, the group of copyright holders who orchestrated and supported it has chosen not to disclose any details on that part. This silence was broken yesterday at the Hadopi Conference in France, where Ian Moss, the Director of Public Affairs at BPI (British Phonographic Industry), has finally presented some preliminary results on the effectiveness of these piracy alerts. By comparing those who received the messages to a control group of people, Moss deduced an approximate 26% reduction in piracy, which is pretty significant.
When people are met with a warning that insinuates their full online activity tracking, it is generally considered adequate to discourage them from risking it again in the future. These emails serve as practical proof that ISPs can easily pinpoint to those who perform copyright infringement acts, so taking it a step further to penalize or even prosecute them should be a trivial matter for the authorities. The fact that the campaign is not following an aggressive approach, but rather an educational one is a positive element in the whole case, as the users retain the benefit of a doubt that they were not informed about piracy and the sources that they used.
These first preliminary results are not concrete evidence of the effectiveness of the 'Get it Right' campaign, but it was more than enough to convince the UK government to renew their funding program. In December, they injected another 2 million pounds that will keep the campaign going until at least 2021. However, the fact that the campaign only targets peer to peer (BitTorrent) users is showing a somewhat anachronistic approach, as the pirating society has nowadays moved to greener pastures like pre-configured TV boxes.
Do you believe in the effectiveness of educational campaigns like the 'Get it Right'? Let us know of your opinion in the comments section beneath, and don't hesitate to do the same on our socials, on Facebook and Twitter.