The Brave browser will start using its own search engine as a default in US, UK, Canada, France and Germany.
Users will have a choice to replace their present search engines with Brave Search.
This option will be available on Windows, Android and iOS versions 1.31 or 1.32.
The Brave browser decided to replace the default Google Search engine in favor of its native Brave Search, calling it a move to give users more privacy and a viable alternative search engine in contrast to Big Tech options. Brave's search engine uses an independent index and does not track user activity, including searches and clicks. Present Brave users have to choice keep their default search engines or swap to the new Brave search engine.
All search engine queries made through Brave's address bar will be routed via the Brave Search engine from now on. In addition, Brave Search will also replace Qwant in France and DuckDuckGo in Germany with its own browser, and the company plans to replace more search engines in other regions with its in-house browser in the coming months.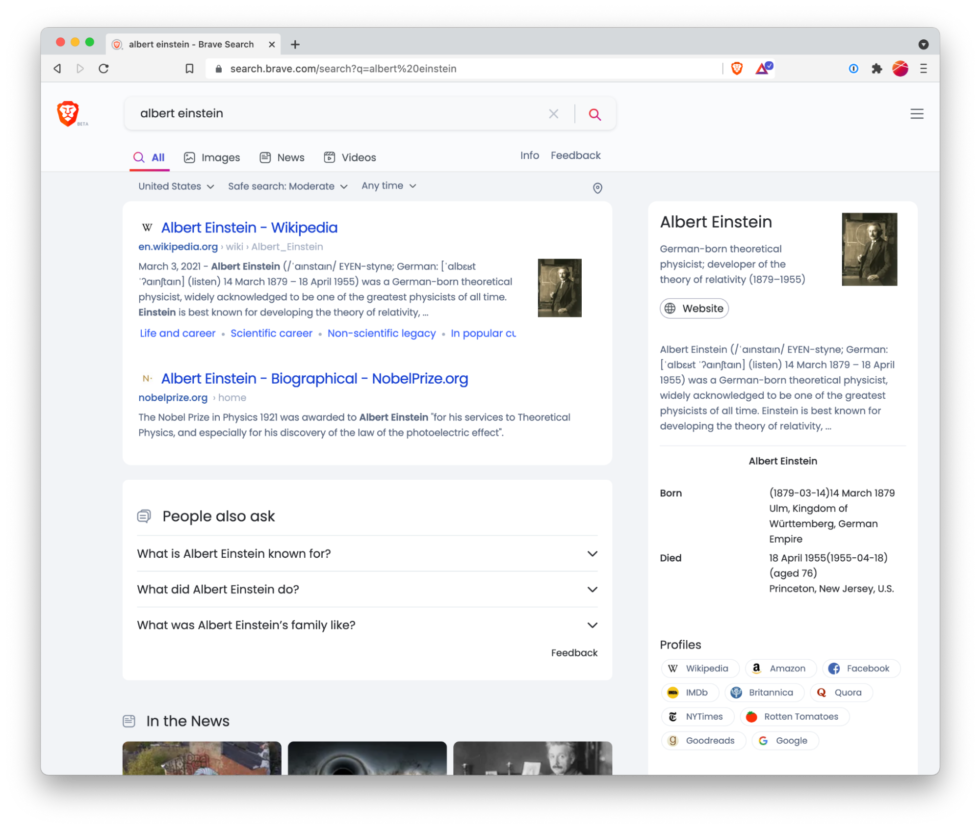 According to Brendan Eich, CEO and co-founder of Brave, the company's native search engine has grown a lot since its June 2020 release. It now has over 80 million queries per month. One of its biggest selling points is the privacy features along with the Web Discovery Project (WDP) that Brave is soon to implement using its novel STAR cryptographic protocol.
This is a privacy-preserving system that users can contribute to anonymously for helping Brave improve its native search engine. This will help it compete effectively with Big Tech options without compromising user privacy and security. This remains a completely optional feature, and it has direct user privacy and anonymity prioritization.
Brave is presenting WDP as a major step forward in retaining user-centric privacy and security policies while also building a robust search index. It bypasses atypical server-side aggregation used in Big Tech to generate user data without consent. The Web Discovery Project offers direct data anonymization to eliminate user linking and prevent user profiles from being sold to advertisers. This also minimizes the chances of theft or hacking.
This update is applicable on both Brave's desktop browser version and android app version 1.31 and the Brave iOS app version 1.32. All of these versions will carry fully localized English versions as well as non-English versions based on geography. The Brave search engine will also be available on other search engines via the search.brave.com URL. Users will soon be able to choose a paid version without ads which are set to go live very soon.