Just as in my home country, anime's popularity has been a slow burn in India over the decades. However, with better broadband penetration and the rise of streaming services, getting access to the best anime shows is getting easier for the average Indian citizen to achieve. While paid streaming services are relatively affordable, you don't have to worry about paying any money to watch many shows. As long as you're willing to put up with a few adverts, you can enjoy the best Japan has to offer without spending a cent. Which are the best services? We switched our VPN to India and set out to try them out.
Anime Planet offers legal anime streaming without the need to pay any money at all. However, we did have to sign up in order to watch any episodes. Furthermore, not all shows are complete. For example, ReLIFE only offered a handful of watchable episodes. Naruto Shippuden, on the other hand, has all 500 episodes listed.
You need to use the "Watch Anime Online" section to see series that can be streamed on Anime Planet since there are many shows listed here for information purposes only. That being said, it's a comprehensive database of shows that can help you put together a list of what you want to see. There are also great breakdowns of which characters are in a series and great keyword tags to find similar programs to ones you like.
Anime Planet also offers free manga chapters that can be read directly in your browser - although, of course, don't expect entire manga series to be available.
If you're new to anime, Anime Planet is a great place to start. Not only because you can start watching certain shows straight away, but also thanks to the wealth of information about anime in general that you can find on the site. It's especially helpful to use the watchlist tool on the site, which lets you keep track of what you want to watch and what you've already seen.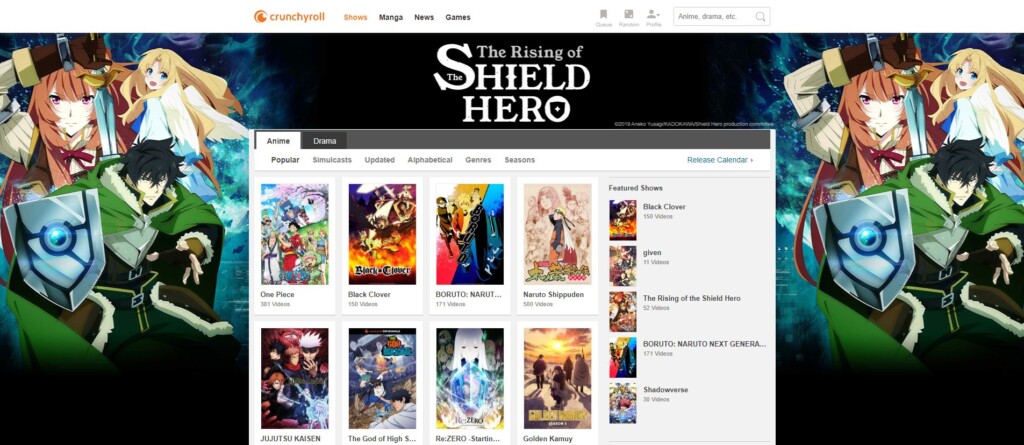 Crunchyroll is a world leader in legal anime streaming. Although the site started out with dubious legal footing, it's 100% legit today. So legit that Sony has bought the company for more than one billion dollars, which means that the same company now owns Funimation and Crunchyroll. However, unlike Funimation, Crunchyroll is available in most of the world. However, the library is different depending on where in the world you're accessing their content from.
A VPN can help solve this, but you may want to consider a VPN with a dedicated IP address. In my testing, Crunchyroll sometimes blocks connections via a VPN. It seems that they are banning entire ranges of IP addresses associated with VPN services. Your mileage may vary depending on which VPN you use and what country you're trying to spoof.
Read More: How to Watch Crunchyroll Online Without Geo-Blocks – Stream Anime From Anywhere!
As for Crunchyroll itself, they are really a market leader in anime streaming. The free tier of the service offers full series, mostly subtitled. The downside is that you have to put up with advertising. Also, you're always two weeks behind simulcast shows. Paying subscribers get to watch new simulcast episodes an hour after it airs in Japan.
The web interface is great, but we've always had a poor relationship with Crunchyroll's apps on every platform we've used them. While things are changing, the Indian regional library selection is still a little on the thin side, which is fine if you want to stick with the free service.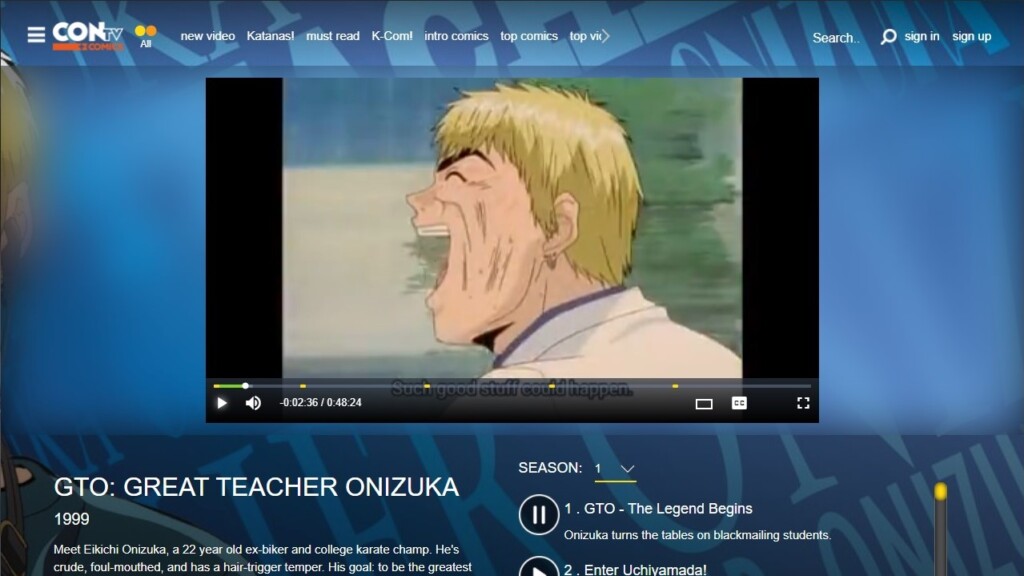 We had never heard of ConTV until writing this article, but based on what we've been able to find, it started as a service linked to Comic-Con. Wherever it came from, there's a lot of great free content on here.
You don't need an account to access anything and can start watching straight away. However, this is not an anime-focused site. So you might want to start by searching for the word "anime" to see what pops up. We got started on the first episode of the classic Great Teacher Onizuka within seconds.
Overall, ConTV is a nice place to hang out and will offer nerdy viewers with a wider interest than anime even more to enjoy.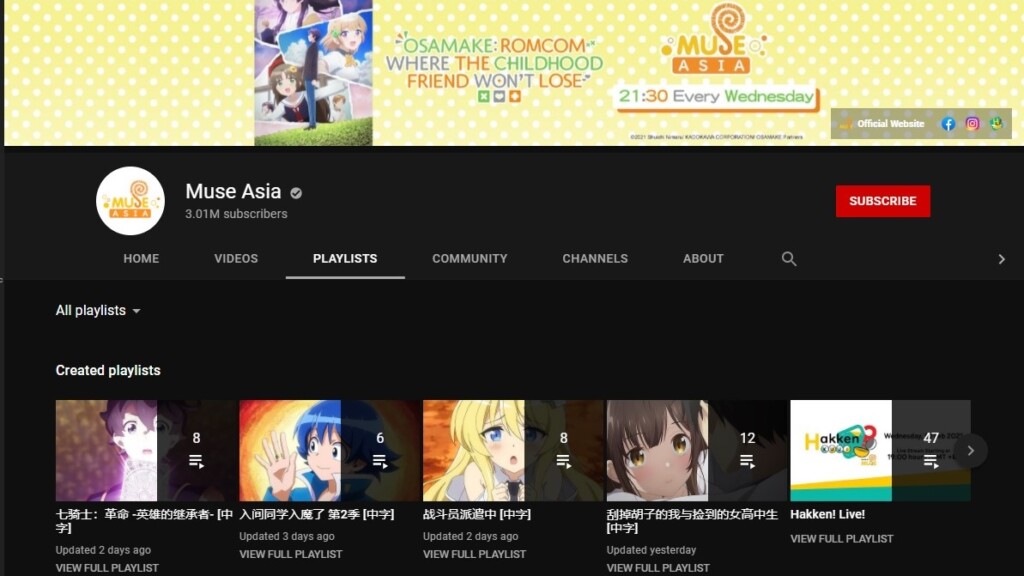 Yes, plain old YouTube can be a great place to catch up on full episodes of anime series. While some of these are going to be bootleg uploads that YouTube itself removes quickly, there are legitimate uploads as well.
For example, Muse Asia hosts complete playlists of hit shows like One Punch Man. Whether you'll see ads or not, of course, depends on whether you're using an ad-blocker or are paying for YouTube Premium. It can be tricky to find good quality shows if they are user uploads, but even the narrower selection of officially hosted programs make it worth checking YouTube out.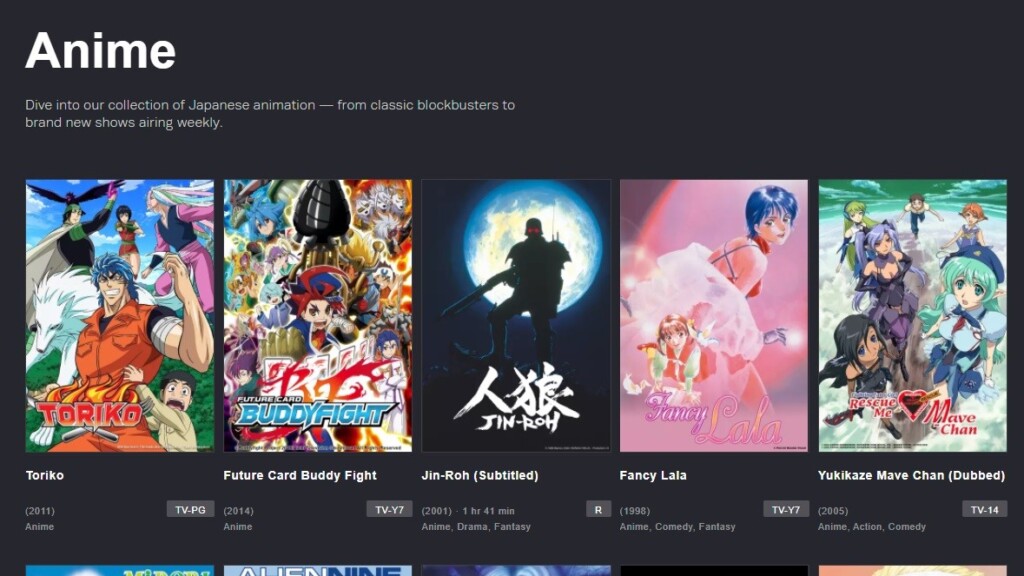 Tubi TV claims it has more than 20,000 shows, but what we really care about is the anime section. Here, we were pleasantly surprised. The shows are, of course, completely free, with ad breaks. There is no paid subscription option at all, so if you watch on Tubi TV, you'll always deal with them.
That being said, the selection of titles is delightful. There are a few recent shows, but the real value here is in classic titles like Bubblegum Crisis, AD Police, and Vampire Princess Miyu. The selection is small, but the quality is undeniable. From India, here's how you can get US content on Tubi TV.
Free Doesn't Mean Bad
These free options are great, and you'll have to really put in the hours to finish all the anime you can watch in India for free. For services like Crunchyroll, it may be worth paying for the basic tier that removes advertising if you want to tackle anime with 100s of episodes. You should also consider Netflix as another paid option if you do want to spend some money. It has a decent selection of original anime that is constantly growing.