Pluto TV has been around for a few years, and it has had plenty of time to build up a really cool collection of channels. Now, the coolest thing about it is that they're not channels like you're used to watching over on cable – they're channels that feature the content YOU love. 
While it's true that they offer some classic channels that you'll find on cable, too, like CBSN, CNN, Sky News, Fox Sports, MLB, and others, for the most part, they have their own channels focusing on specific shows or a certain type of content. 
Pluto has their own channels featuring content like cat or dog videos, shows like Tiny House Nation, Hell's Kitchen, or the many CSI series. These make it perfect for fans to binge on their favorites, focus on their favorite genres, like drama, paranormal, or reality content, and so on. 
The channels are all organized in nifty categories, so they're easier to navigate, like Movies, Crime, Comedy, Sports, or Music. As you can see, they have everything you could want, carefully split into all these categories for easy access. 
Best Channels on Pluto TV
Pluto TV has a ton of channels available and we're sure you'll find at least something to watch. Since it's easiest, we went with arranging them alphabetically, especially as everyone's tastes differ.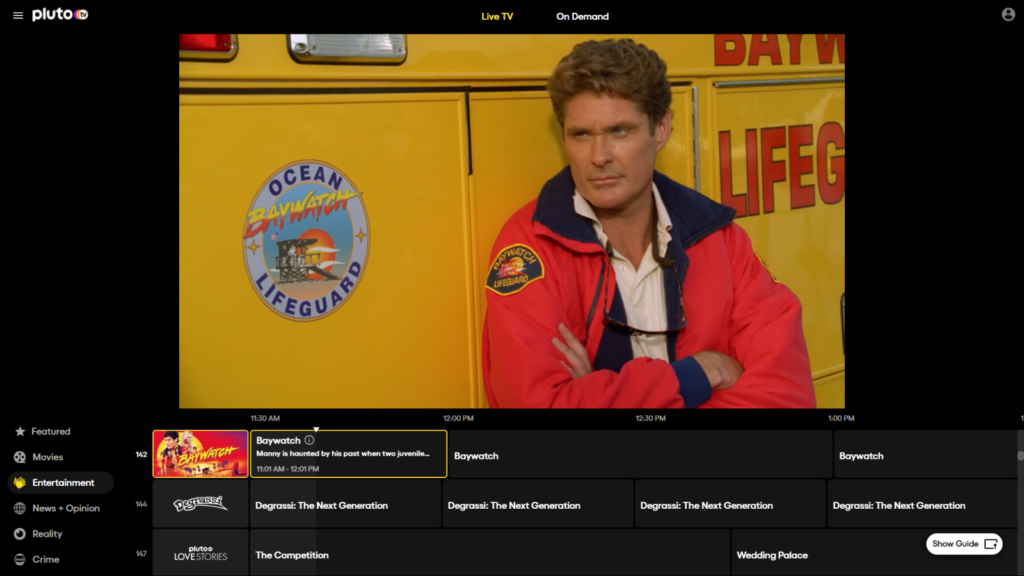 Baywatch, you ask? Well, yes! We know it's for those who are nostalgic about the show, and we wouldn't have even added it if the content hadn't been remastered. You can actually watch Baywatch in high quality, including young Pam Anderson and David Hasselhoff. The show ran between 1999 and 2001, and it's been a cult classic ever since.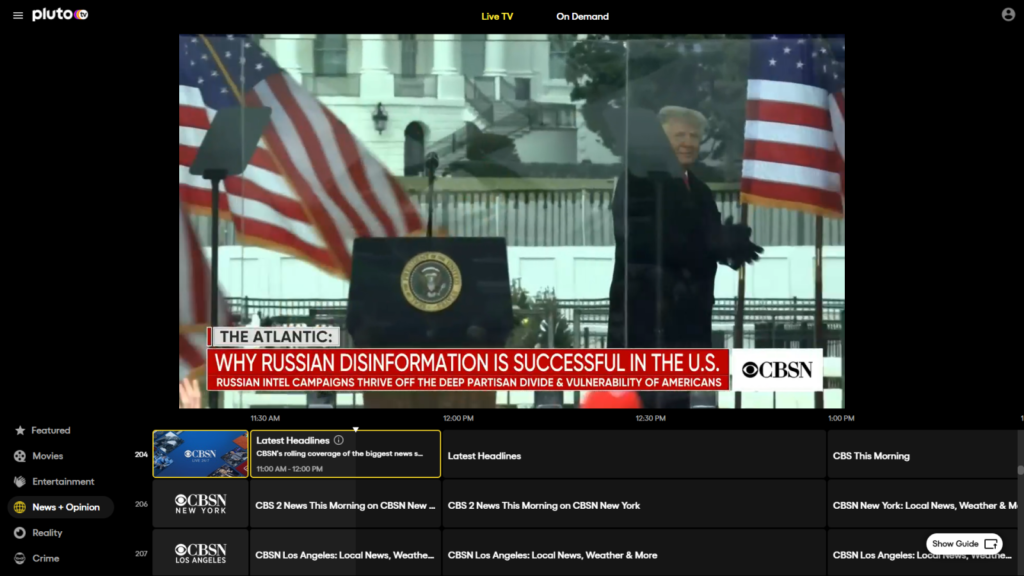 The next on the list we have the CBS News channels CBSN, which offers 24/7 coverage. If you want to stay on top of the latest news, this is the way to go about things as the channel will offer the latest news, analysis, and more.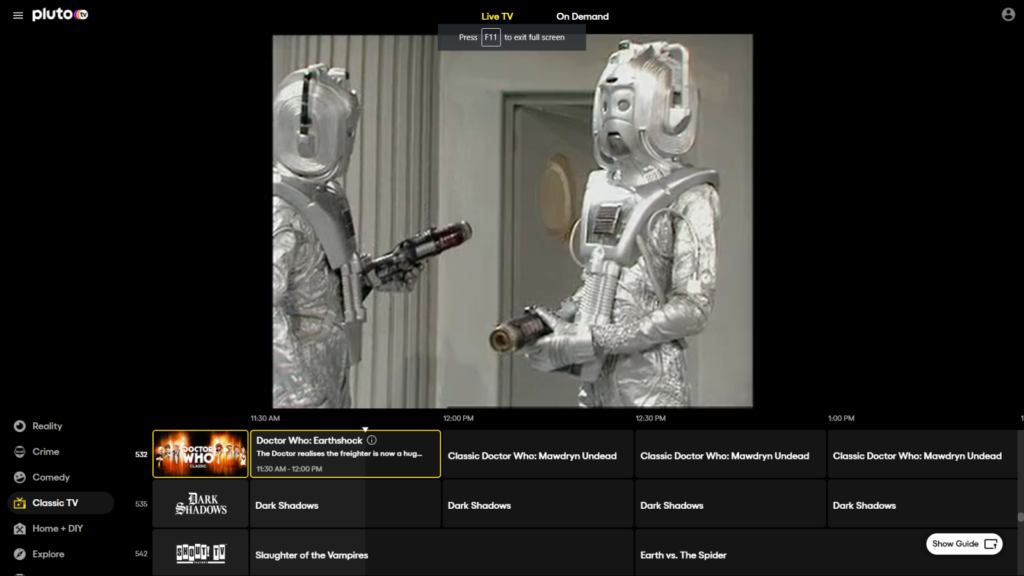 On Pluto TV, you'll find a bit of a treasure – classic Doctor Who episodes! All those seasons of Doctor Who that feature the Time Lord fight adversaries across time and space. The episodes in the Classic Doctor Who channel come from the seasons that ran between 1963 and 1989.
Next, we have a special Comedy Central channel made for Pluto TV. They feature shows like Reno 911 or Comedy Central presents where you'll enjoy stand-up shows from your favorites. It's a sure-fire way to laugh. 
There are what feels like a hundred CSI shows out there on spinoffs more successful than the next. These police procedural shows are available to watch on the Pluto CSI channel. For the most part, you'll be watching CSI, CSI Miami, and CSI New York, and it just depends on the schedule. 
Pluto TV also features a channel that features only Degrassi shows. The massive Canadian show has been on TV since the late '70s, running on and off over the years, with the latest run between 2016 and 2017. The series most fans are familiar with, however, seems to be Degrassi: The Next Generation, which ran between 2001 and 2015, one that features Drake. The Degrassi Pluto TV channel features episodes from Degrassi: The Next Generation, but also newer series. 
For many years now, Dora the Explorer has been a companion for kids everywhere, teaching them logic and Spanish and problem-solving. The Nickelodeon show is here to keep everyone entertained, especially as kids get to spend more time at home.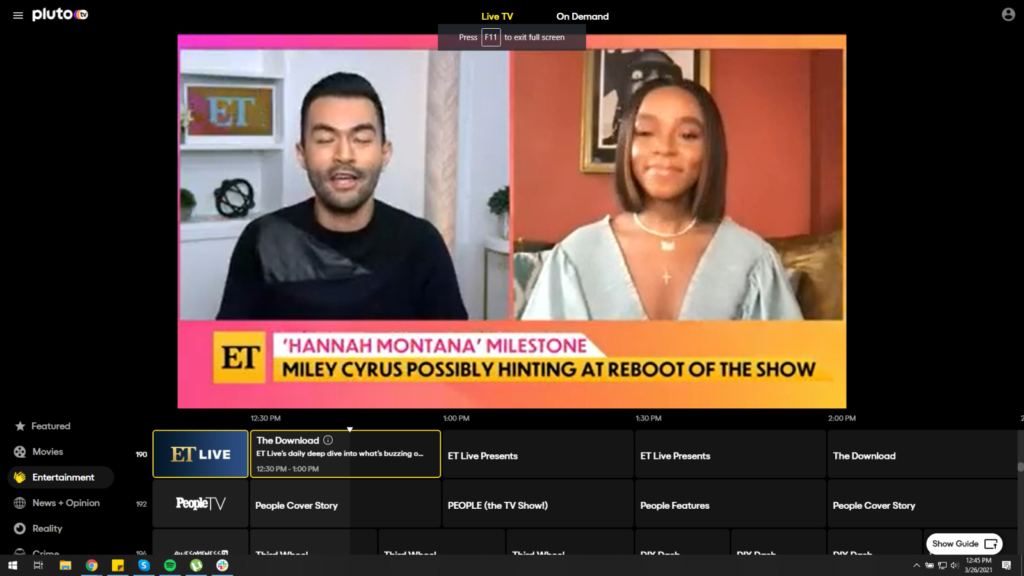 Eager to keep up with the latest entertainment news? Well, ET Live on Pluto TV is here to help keep you in the loop about what's been happening with your favorite celebs. You'll also get interviews and more content to enjoy at any time of day or night. 
Fear Factor stopped running years ago, but still, it's a cool show that everyone watched whether to face their own fears or see others face theirs. On Pluto TV, Fear Factor brings back all those episodes we all watched alongside Joe Rogan and Ludacris later on. 
So, who's a fan of Gordon Ramsay? If you're among the many who admire the choleric but endearing chef, then we have this dedicated channel on Pluto TV. You get to enjoy Hell's Kitchen around the clock, checking out various chefs try to rise up to Gordon's expectations.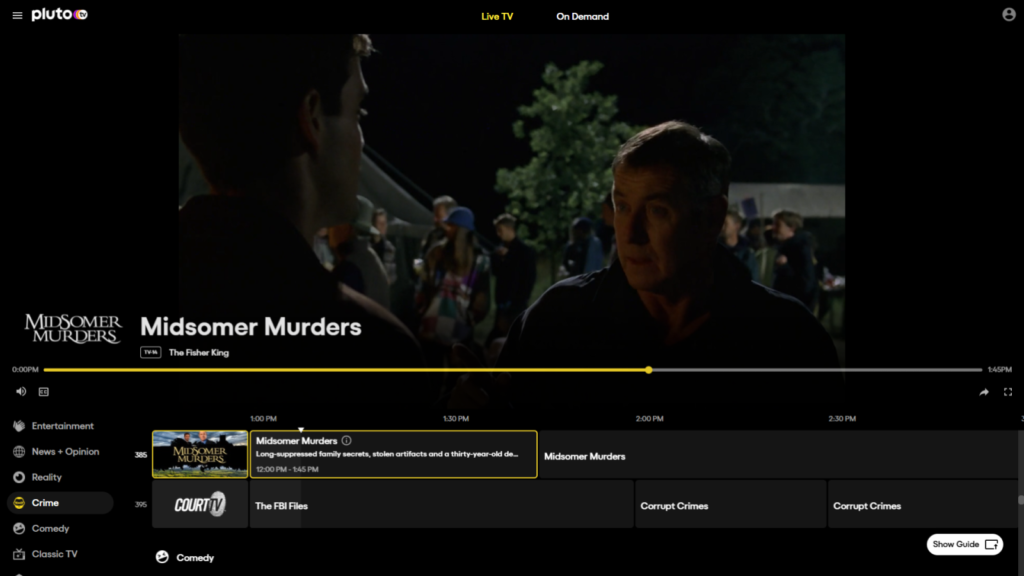 When it comes to British crime drama TV series, there are few shows that measure up to Midsomer Murders. Thankfully, if you want to enjoy the crime show that's set up in this quaint little town in the British countryside, follow along with Detective Tom Barnaby, then this is the right way to do it.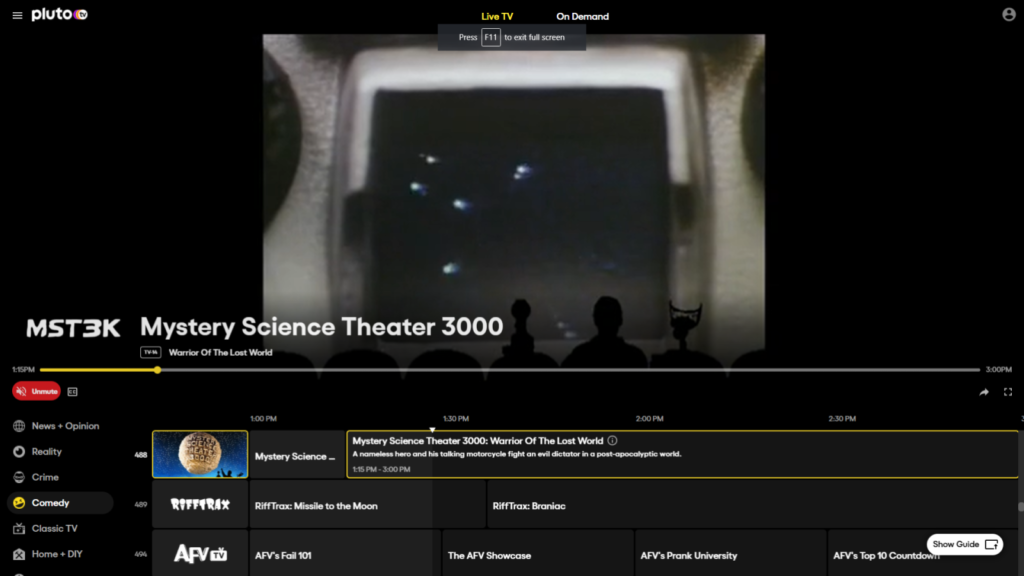 This classic American TV show from the '80s and early '90s can keep you going for a while. The show follows a human test subject who is imprisoned on a spaceship by mad scientists. Obviously, lots of crazy things occur, but it's fun to watch.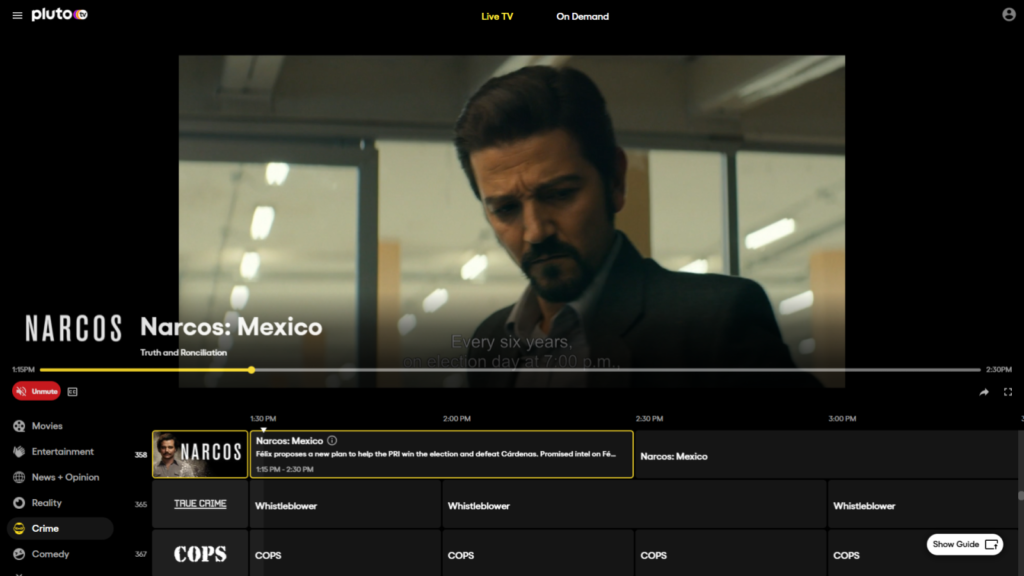 If you're a fan of this Netflix show, then you have the right place to watch it without any kind of subscription. The show tells a story about Pablo Escobar, a famed drug kingpin, while Narcos: Mexico follows up on the story following Escobar's demise.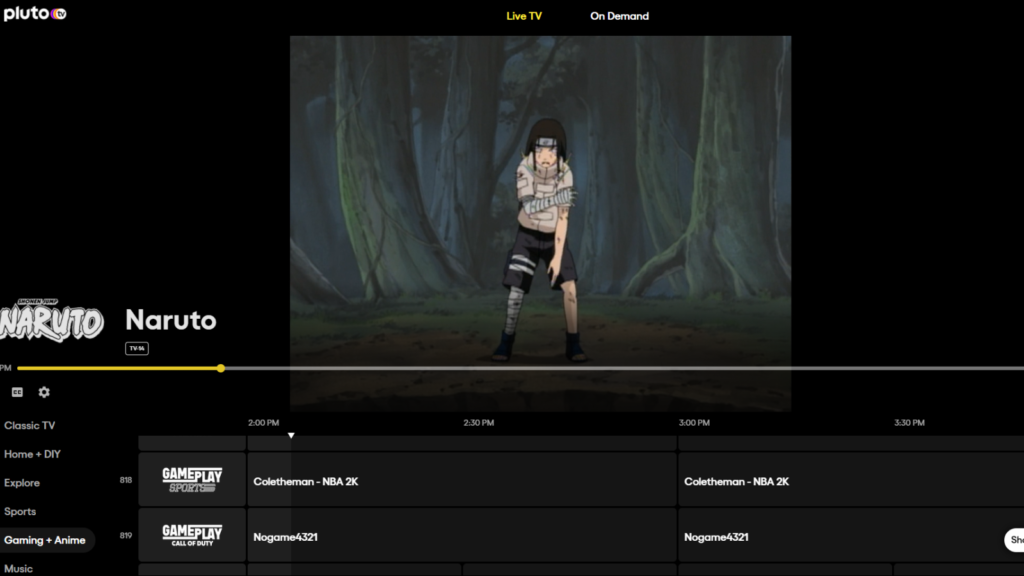 If you're a Naruto fan, then this is the right channel for you. Around-the-clock Naruto episodes from the extensive list of series they have available seems like the perfect way to chill out. Since we're on the Anime topic, they also have Tokushoutsu, Yu-Gi-Oh!, and other titles, too. 
If you want to keep up with some of the biggest NFL games, then this is the channel for you. Check out full games, replays, compressed games, news, and more. It's a fun way to get a quick handle on what's been happening in the NFL. 
If you want to keep up with Paramount movies, then this Pluto TV channel is the way to go. Don't expect to watch the latest flicks. However, if you're not afraid to enjoy older movies, then this is the right place for you. There are so many good movies from previous decades that you should really enjoy.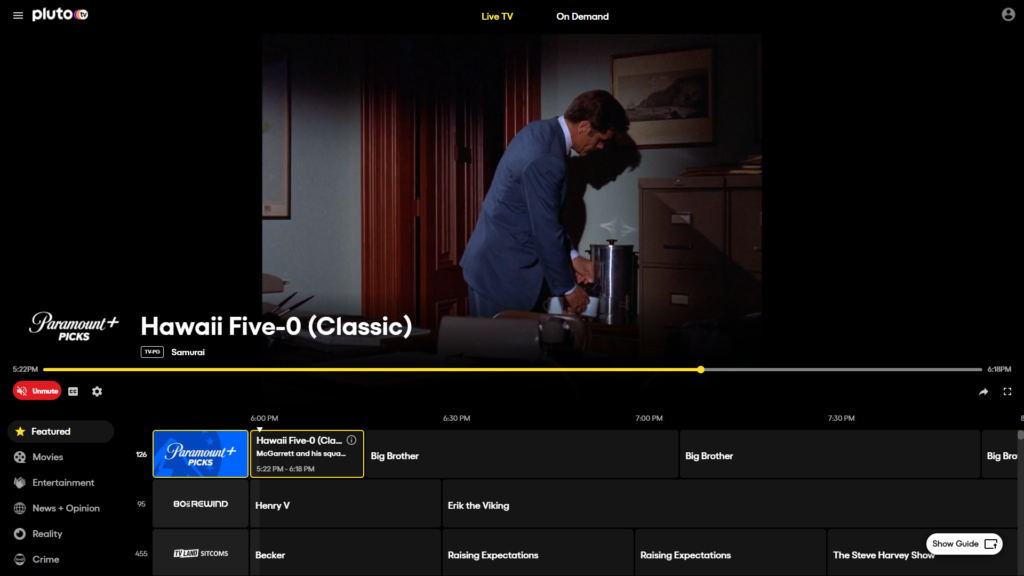 Paramount Plus is here and you can definitely subscribe to the service. If you don't want to commit just yet, they have a Pluto TV channel where you can watch select shows and episodes like Star Trek: Discovery or SEAL Team.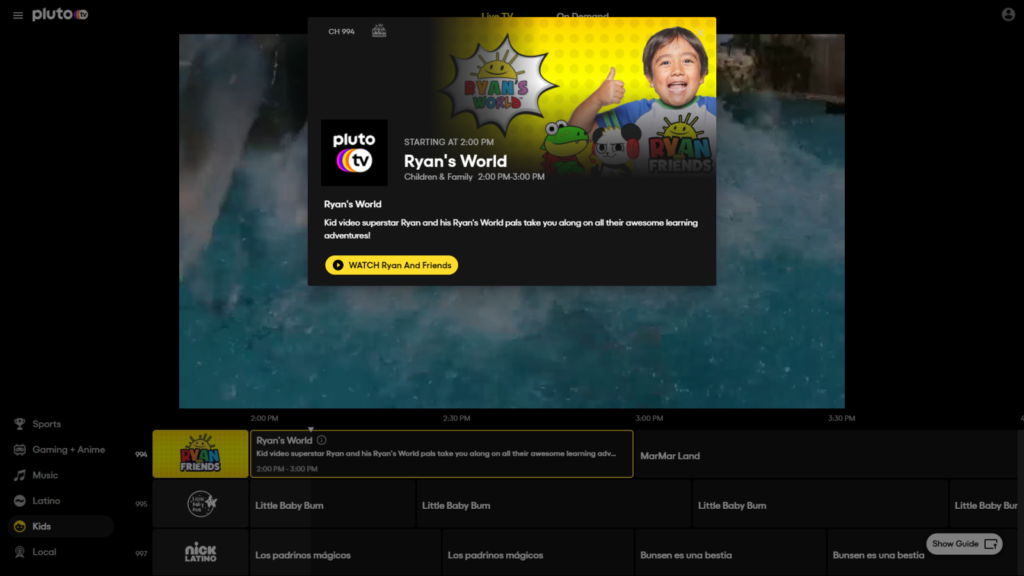 Look, we know that you may not be the biggest fan of Ryan and his parents, but the kid is an idol for millions of kids around the world. So, if you want to make your kids happy, perhaps allowing them to watch Ryan and Friends channel on Pluto TV is the way to go. 
Showtime is also a subscription-based service, but you can watch select shows and episodes via this Pluto TV channel. You can check out Ray Donovan, Billions, House of Lies, Californication, Brotherhood, or others. 
So, how about a channel that has you traveling the countryside? Yes, yes, we know how important it is to feel like you're traveling in these dire times when going out is dangerous. So, Slow TV takes you on train trips across the world, no narration necessary – just beautiful views.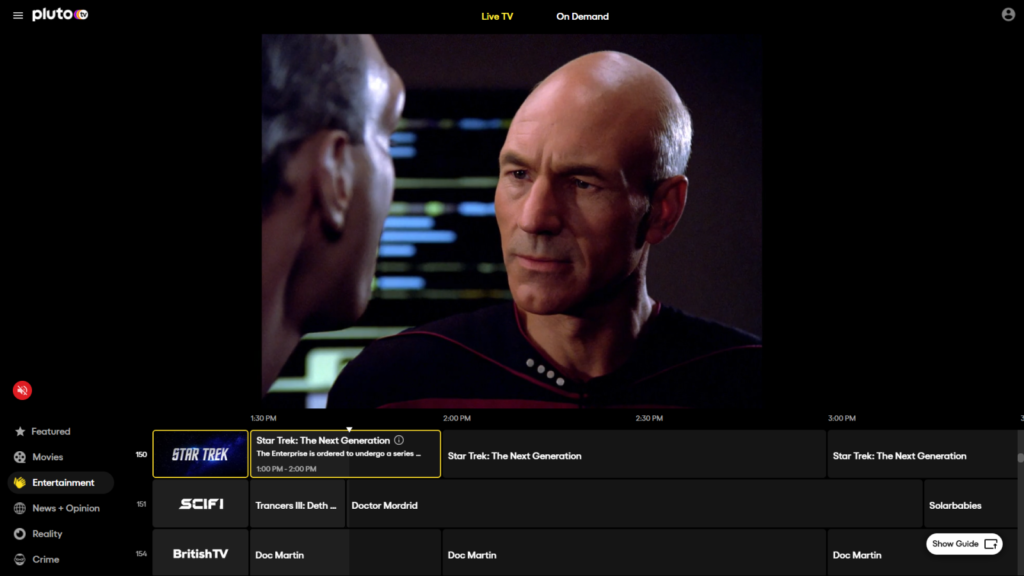 Who wants to watch some Star Trek? Well, this is the perfect place to go if you're a die-hard Trekkie then watching Star Trek around the clock is the right way to fill your time. You can enjoy the early seasons of Star Trek: The Next Generation, but more have been promised, so we're keeping our fingers crossed.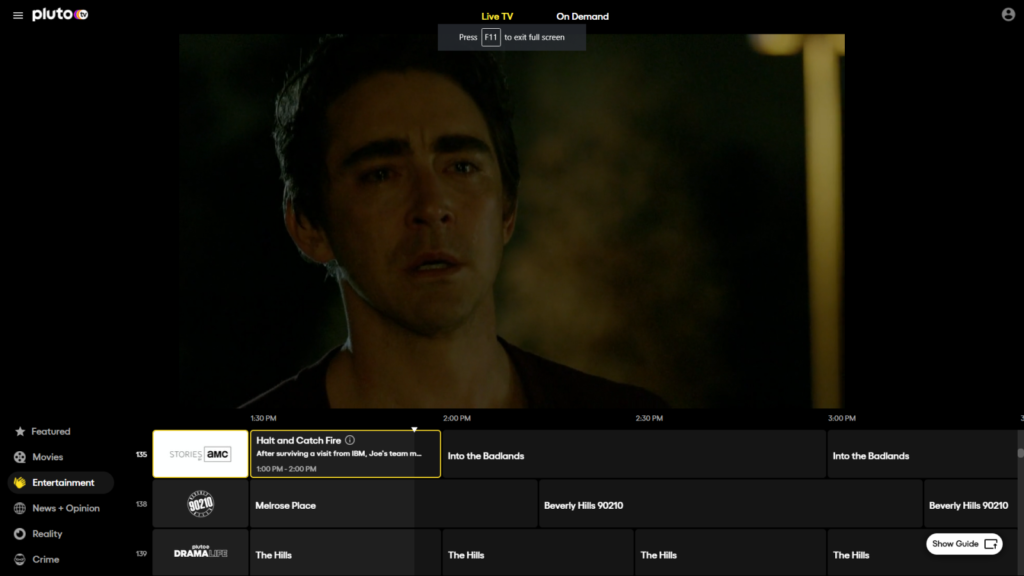 AMC fans can definitely enjoy watching some of the best series the network has to offer. Whether we're talking about The Walking Dead, Halt and Catch Fire, Badlands, or Hap and Leonardo, there's plenty of them available on this Pluto channel.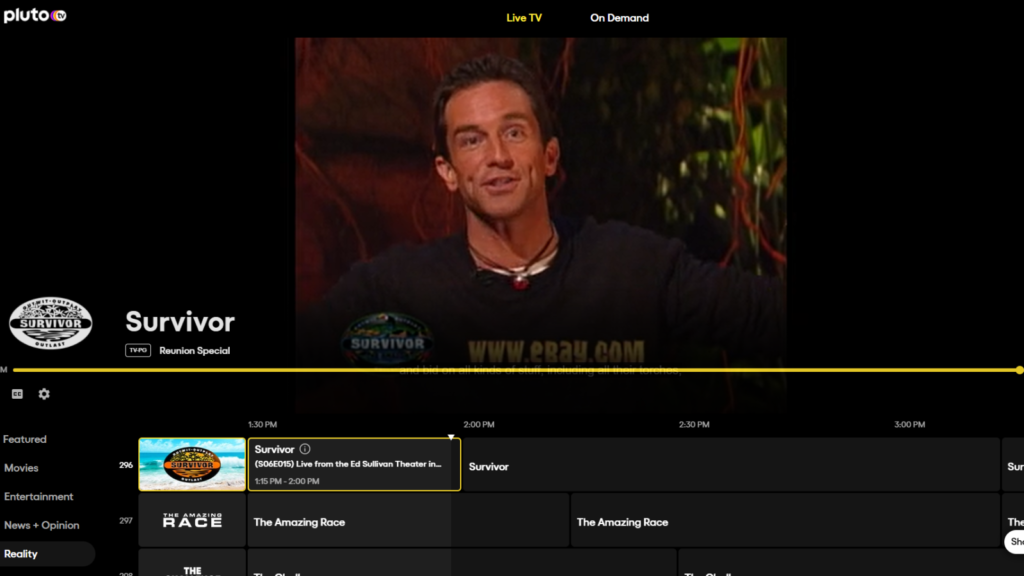 How about we watch some Survivor? Well, the show is incredibly popular and it's been around for a couple of decades already. That being said, there are dozens of seasons available, so there's plenty of Survivor to watch if you want to. 
Back in the '60s, a cult classic was born – The Addams Family. Many decades later, you can keep up with all episodes over on the dedicated Pluto TV channel, so you can enjoy the relationship between Gomez and Morticia, the adventures of Wednesday and Pugsley, Uncle Fester, Lurch, and Grandmama Addams. It's a great way to have some laughs.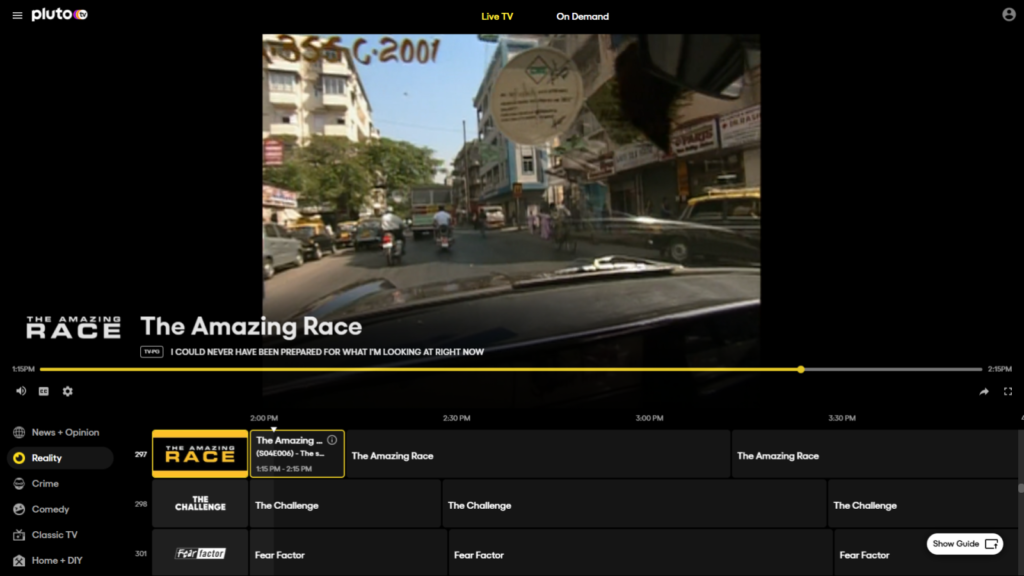 When it comes to reality TV, The Amazing Race is certainly a really cool service to watch, especially as you get to learn more about the world at the same time. You can enjoy the show around the clock, so let's go check it all out. 
Full Pluto TV Channel List
Movies – Pluto Spotlight (51), Action (54), Comedy (57), Drama (60), Pluto Fantastic (66), Romance (70), Pluto Crime Movies (73), Thrillers (74), Horror (75), Terror (76), Black Cinema (80), Pluto Staff Picks (90), Documentaries (91), 90s Throwback (94), 80s Rewind (85), 70s cinema (96), Paramount Movie Channel (100), Westerns (103), Classic Movies (106), Cult Films (109), Flicks of Fury (112), The Asylum (115).
Entertainment – Paramount+ Picks (12), Showtime Selects (127), TV Land Drama (130), Stories AMC (135), Beverly Hills 90210 (138), Pluto Drama Life (139), Leverage (140), Nashville (141), Baywatch (142), Degrassi (144), Pluto Love Stories (147), Pluto Suspense (149), Star Trek (150), SCIFI (151), British TV (154), Dr. OZ (156), Nosey (159), Judge Nosey (160), The Price is Right (163), Buzzr (164), Deal or No Deal (165), Game Show Central (167), Demand Africa (172), BET Pluto (174), BET HER Pluto (175), MTV Pluto (178), CMT Pluto (182), Logo Pluto (187), ET Live (190). People TV (192), AWesomeness (194), Complex (197).
News + Opinion – Pluto News (202), CBSN (204), CBSN New York (206), CNSN Los Angeles (207), CNN (209), NBC News Now (213), WeatherNation (217), Sky News (221), Bloomberg Television (224), Cheddar (226), CNET (228), BNC (230), Top Stories by Newsy (232), Today (254), Newsmax TV (236), Blaze Live (238), Americas Voice (240), OAN Plus (242), The First (244), TYT Network (246).
Reality – Reality (275), Lives (276), Rescue 911 (277), VH1 I Love Reality (282), Love & Hip Hop (283), VH1 Hip Hop Family (284), Black Ink Crew (285), Dog The Bounty Hunter (287), Spike Pluto (290), Spike Outdoors (291), Skills + Thrills (292), Hell's Kitchen (294), Survivor (296), The Amazing Race (297), The Challenge (298), Fear Factor (301), American Gladiators (303), Wipeout (305), All Reality (310), Dallas Cowboys Cheerleaders (315), Celebrity (320), MTV Dating (330), People Are Awesome (340).
Crime – Pluto Crime/Drama (350), CSI (355), Narcos (358), True Crime (365), Cops (367), Forensic Files (370), Cold Case Files (373), The New Detectives (376), Unsolved Mysteries (379), Crime 360 (382), Midsomer Murders (385), Court TV (395)
Comedy – Funny AF (450), TV Land Sitcoms (455), Wings (456), Slightly Off by IFC (458), Kevin Hart's Laugh Out Loud Network (462), Comedy Central Pluto (465), Comedy Central Animation (467), Stand Up (468), Tosh.0 (470), Wild' N Out (480), MST3K (488), Rifftrax (489), AFV TV (494), Failarmy (498)
Classic TV – Classic TV Comedy (501), Family Ties (504), Happy Days (505), Three's Company (508), The Love Boat (509), The Addams Family (511), The Beverly Hillbillies (512), Johnny Carson TV (514), The Carol Burnett Show (516), The Bob Ross Channel (518), Classic TV Drama (520), Mission Impossible (523), Western TV (526), The Rifleman (529), Doctor Who Classic (532), Dark Shadows (535), Shout TV (542), Classic Toons (548).
Home + DIY – Food TV (601), America's Test Kitchen (605), BBC Food (609), BBC Home (610), Frontdoor (612), Dabl (614), Lively Place (615), The Design Network (616), This Old House (618), Tiny House Nation (619), Antiques Roadshow UK (621), QVC (624), HSN (625), Pluto Best Life (630), Weddings (632), CAts 24/7 (636), Dogs 24/7 (636), The Pet Collective (637), Faith TV (643), TBN (644).
Explore – History (651), Smithsonian Channel (653), Military (655), Cars (663), Animals (666), Pluto Paranormal (669), Science (672), Adventure (675), Travel (678), Voyager Documentaries (681), AWE Plus (686), Chassy (687), Naturescape (692), Loupe (964), Slow TV (696).
Sports – CBS Sports HQ (702), Fox Sports (705), NFL Channel (708), MLB (709), MLS (712), PGA Tour (713), Pac 12 Insider (721), Pluto Sports (725), Fight (726), Boxing (728), Bellator MMA (730), Pro Wrestling (732), Impact Wrestling (724), Glory Kickboxing (735), beIN Sports Xtra (740), Stadium (748), Big Sky Conference (752), Pluto Backcountry (755), Pursuit Up (756), Pluto Action sports (759), WPT (770), Poker Go (772).
Gaming + Anime – Pluto Gamer (801), IGN (805), Gamespot (806), Minecraft TV (815), Game Play Roblox (816), Game Play Fortnite (817), Game Play Sports (818), Game Play Gall of Duty (819), Anime All Day, One Piece (834), Naruto (836), One Piece (834), Naruto (836), Yu-Gi-Oh! (840), Tokushoutsu (848).
Music – Live Music Replay (855), Classica (862), CMT Equal Play (867), MTV Block Party (868), MTV Spankin' New (869), MTV Biggest Pop (870), Yo! MTV (873), Vevo Pop (885), Vevo Geggaeton & TRap (888), Vevo R&B (890), Vevo Country (892), Vevo '70s (894), Vevo '80s (895), Vevo '90s (896), Vevo 2K (897), Hillsong Channel (898), Pluto TV (899).
Latino – Cine esterlar (901), Cine (902), Cine Accion (904), Cine Terror (913), Nuestra Vision (920), The Walking Dead Espanol (925), Narcos en Espanol (927), Forensic Files en Espanol (933), Unsolved Mysteries en Espanol (934), Investiga (936), Telemundo Telenovelas Clasicas (940), Novelas Romance (941), Novelas Drama (942), Novelas Thriller (943), Spike Aventura (950), Realities En Espanol (953), Cocina (956), Mundo (959), Naturaleza (962), MTV Latino (965), Comedy Central Latino (967), Combate World (970), Lucha Libre AAA (971).
Kids – Kids Animation (976), Nick Pluto (977), Nick Jr. Pluto (978), Totally Turtles (983), Dora TV (985), Kids (989), After School Cartoons (990), Tween (991), Pocket Watch (993), Ryan and Friends (994), Little Baby Bum (995), Nick Latino (997), Nick Jr. Latino (998).
Local – CBSN Bay Area (1021), CBSN Boston (1022), CBSN Chicago (1023), CBSN Dallas Ft Worth (1024), CBSN Denver (1025), CBSN Los Angeles (1026), CBSN Minnesota (1028), CBSN New Yrok (1029), CBSN Philly (1030), CBSN Pittsburgh (1031).