Apple has finally started to enforce the ATT requirements, blocking thousands of app updates.
One of the infringing SDKs has already been identified, but there could be more.
App developers and SDK vendors are feverishly working on code updates to get back into the App Store.
Apple's enforcement of the ATT (App Tracking Transparency) has just begun, as the developers of tens of thousands of apps are suddenly seeing their updates being rejected. From what seems to be the case right now, all apps using third-party SDKs relevant to data collection and device fingerprinting will be handled aggressively. The policy change has been announced quite a while back, and finally, we are now seeing the first signs of widespread enforcement.
Forbes claims that the blocked updates reached tens of thousands quickly, with Radish Fiction, Heetch, and an app from InnoGames confirming that they are affected. What these developers saw is a message warning them that their app uses algorithmically converted device and usage data to create a unique identifier in order to track the user. This violates the App Store's Guideline 5.1.2, and thus the updates are forbidden from reaching the end-users.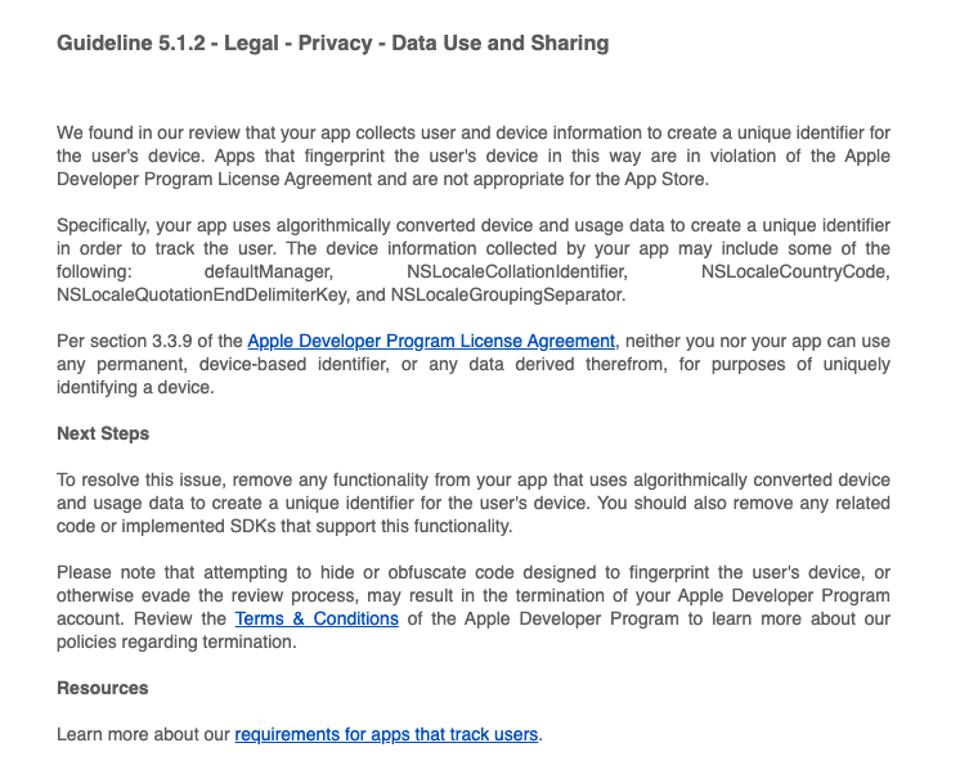 One of the SDKs causing problems to app developers is the widely-used 'Adjust,' which relies on probabilistic attribution. According to Adjust, over 50,000 apps are using its SDK, which would be around 18% of all App Store apps. Thus, Apple's new system would cause a real disruption to the app developers, Adjust, and those apps' users. The numbers are dizzying, but it goes to show that Apple is being serious about the ATT and really wants to turn the page on user tracking.
Probabilistic attribution relies on collecting various, seemingly unrelated data points to create a complete and hopefully unique fingerprint. While the tracked person's identity isn't directly discerned, if such a system has enough data, the tracking can be really persistent. This somewhat indirect form of tracking is still explicitly prohibited in iOS 14, so the SDK vendors need to fundamentally change their game now.
Adjust has immediately proceeded to several code-altering commits on Github, being an open-source project. Still, we will have to wait and see whether these updates will be enough to reopen the iOS door. The project also published a detailed post to share the plan for attribution after iOS 14.5.
For the users, this is where a new chapter begins as we expect the industry dynamics to change direction and new business strategies to take shape soon. Already, having been left with no other option, Google is planning to follow suit with a new privacy-respecting anti-tracking system for Android 12.