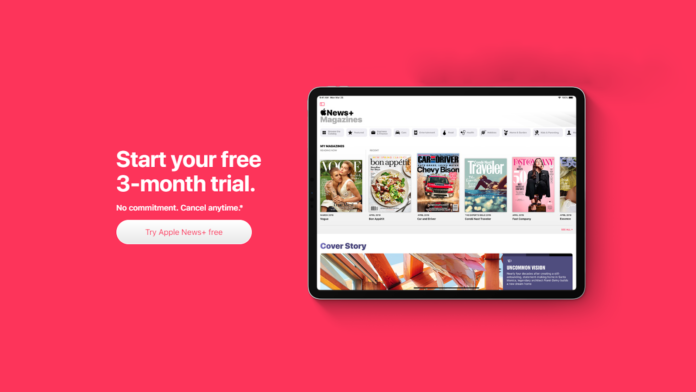 Apple offers a full three-month free trial period for first-time News+ subscribers for this weekend only.
The service offers access to curated news and stories from a selection of reliable agencies.
The trial period should be enough for new subscribers to appreciate Apple's amazing aggregator.
Apple is being generous with the people who would like to test out its News+ service, offering three-months free of charge to first-time subscribers. The offer is extended from one month to three months but only applies to users in the United States and Canada. This limited-time offer will be available until tomorrow, so if you're interested, you should grab it immediately. To do this, head over the App Store, download the "Apple News" app and subscribe to the service.
After the three months pass, you will be required to renew for $9.99 per month in the US or $12.99 per month in Canada. At this cost, you'll get access to hundreds of magazines and newspapers, news sources curated by "world-class" editors and many other information channels. All of the stories and sources in News+ have been verified to be trustworthy, so you'll get no fake news there. The offered package covers up to six family members and can be canceled anytime, without commitments of any type.
News+ offers the capability to pick your favorite news categories or sources and get alerts about breaking news that are published there. Moreover, this personalization also means that it's easier to discover what you're interested in, as News+'s automated feed recommends stories that match your previous and declared preferences. All of this happens with respect to your privacy, as Apple won't receive any information about what you like to read, and neither will publishers or advertisers. Finally, you can keep older stories and get back to them at any time.
The Apple News app is available for iOS, watchOS, and macOS, so you can enjoy it on virtually any Apple device. Right now, it's only available as a subscription-based service, and besides the US and Canada, it's also supported in Australia and the UK. First-time subscribers from the down under will only get a month of a free trial this time though. Wherever you are, it's a great time to give Apple News a try, as the service is really a comfortable "all in one place" news aggregator with smart features that were created to make the consumption of news stories more engaging and comfortable.
Are you already a subscriber of Apple News? What is your opinion on Apple's news service? Let us know of your thoughts in the section down below, or on our socials, on Facebook and Twitter.