One of the last Android P announcements in the recently concluded Google I/O conference was the inclusion of a Sound Amplifier feature.
Google revealed details about a Sound Amplifier and Dynamic Processing effect coming to Android P at launch.
The amplifier is designed to produce better sound in real life and can offer better bass, microphone noise suppression, and more intricate volume control.
Google revealed a new Audio Framework for phones and tablets which will make it into Android P. The new Audio Framework includes a Sound Amplifier and new dynamic processing effects. The new framework should lead to a better audio experience for users.
The sound amplifier should allow Android devices to produce better quality sound in real time. The amplifier not only works as a software-based audio enhancing tool, but it can also perform tasks like suppressing microphone audio or adjusting audio based on the ambiance.
The Android Open Source Project has already been updated to include the Dynamics Processing Effect which should make it into every Android P device from all manufacturers. However, some manufacturers may choose to include a third party or their audio enhancements. HTC was known for its Beats audio enhancements while Sony has had its audio enhancements under the Walkman branding on its Android devices.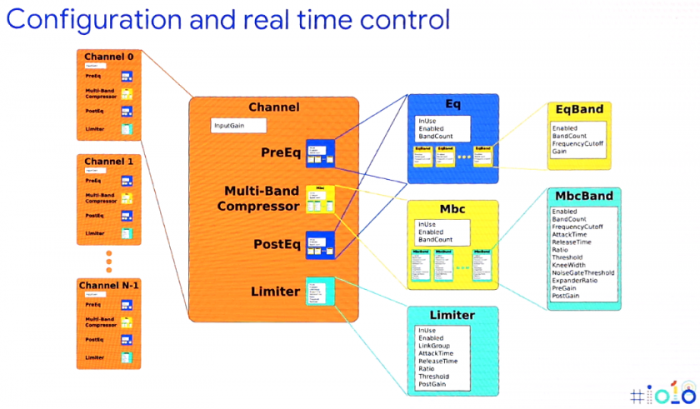 Android P's sound framework allows devices to be 5.1 stereo audio compliant and developers can tinker with the numbers to fine tune the audio for their apps. The framework includes both pre-EQ and post-EQ enhancements along with a multi-band compressor. The compressor allows devices to produce louder sounds through noise suppression technology.
Google mentioned in the developer conference that more than 100 options would be available to developers for fine tuning the audio using the new framework. All of the settings will not be accessible by end users. Phone and tablet owners will get access to much simpler controls that are limited in nature.
The 100+ controls are brought down to just two basic sliders for the end users with a volume slider and a filter slider available in the UI. The new framework should also lead to better microphone suppression, allowing devices to pick up a user's voice over the background noise and distortion.