AMD has brought the Ryzen 5000 Series for mobile on the table, which smokes the competition.
The Threadripper PRO is going to be made available to the consumers starting by March 2021.
The third generation of the EPYC chips, codenamed "Milan," was also teased by Lisa Su.
The CES 2021 is well underway, and AMD had some exciting news to share with its fanbase. First, the new AMD Ryzen 5000 Series mobile processors are here, and they are bringing the amazing energy-efficiency benefits of the "Zen 3" architecture to the laptop market. Secondly, AMD is finally opening the tap for the Threadripper PRO processors, so more retailers and online hardware shops will now offer the 64-core beast to consumers.
Moreover, the chipmaker has announced some new Ryzen 5000 desktop chips that have a reduced TDP, going from 105W down to 65W. And finally, the third-generation of the EPYC architecture was teased.
So, the new mobile chips consist of a high-performance "H" series and an ultra-thin "U" series, as expected. Compared to the previous generation, the best representation of "performance on-the-go," which is the Ryzen 7 5800U 15W, promises about 16% higher single-threaded performance and 14% improvement on the multi-threaded performance.
As for battery life, AMD promises up to 17.5 hours of general usage and 21 hours of movie playback. For comparison, the Ryzen 7 4800U had 17.4 hours of video playback, so we see an energy-efficiency bump of about 20%.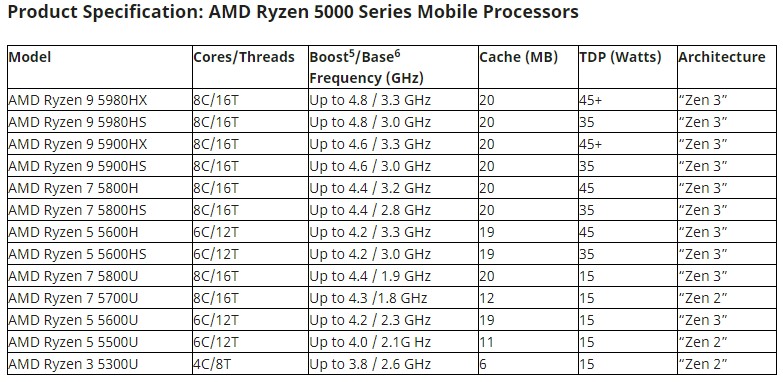 The H Series takes the TDP to 35W and, in the case of the "HX" models to 45W – still low for mobile deployment but powerful enough to offer uncompromising performance for gaming notebooks.
When placed against Intel's Core i9 10th-gen, the overall performance difference reaches up to an impressive 37%, according to AMD's bench tests. Even on single-thread performance, which used to be Intel's strong point, the new 5900HX beats the Core i9 10980HK by 14%.
The Ryzen Threadripper PRO will come in three versions of the same TDP but different core counts and cache sizes and shown in the table below. Making these products directly available to consumers is something that many people have been eagerly for, and AMD promised to have the first shelves filled with these beastly chips as soon as in March 2021.

Finally, the third-gen AMD EPYC has been teased, mentioning that they will be the world's highest-performance x86 server processors per-core and throughput, designed for cloud services. In terms of performance, AMD CEO Lisa Su presented the results of a benchmark test which had an Intel Xeon 6258R and a 32-core EPYC "Milan" run a six-hour weather forecast for the continental United States, and AMD's chip had a jaw-dropping 68% higher performance.