Three copyright owner representation groups account for about 25% of the total take-down requests to Google.
Google says most of them are non-indexed anyway, tooting the effectiveness of their proactive blocking system.
Top 16 copyright owner reporters add up to account for 50% of the total URL flag reports.
According to data published by Google, a small group of rights-holders accounts for a large amount of take-down requests that relate to copyright infringing links indexed by the world's most popular search engine. Google receives roughly two million requests of this type every single day, and while the volume of link flagging has dropped by about 25% since 2016, it still remains a huge hurdle to handle.
In 2018, Google received 3.8 billion URL take-down requests from 160000 copyright owners, but when looking at the numbers that correspond to the reports that come from the top three of them, they account for a total of 1 billion. More specifically, all three are music industry groups from the UK, Mexico, and Brasil, named BPI Ltd., APDIF Mexico, and APDIF Brasil respectively. BPI (British Phonographic Industry) is actually a non-profit organization that has developed their own automatic copyright infringing URL searching software that locates the URLs and sends DMCA notices to Google. The result of this automation is a reporting volume of 425 million URLs, while APDIF Mexico reached 252 million and APDIF Brasil 247 million. When accounting the top 16 reporters, the percentage of their reports against the total reaches 50%.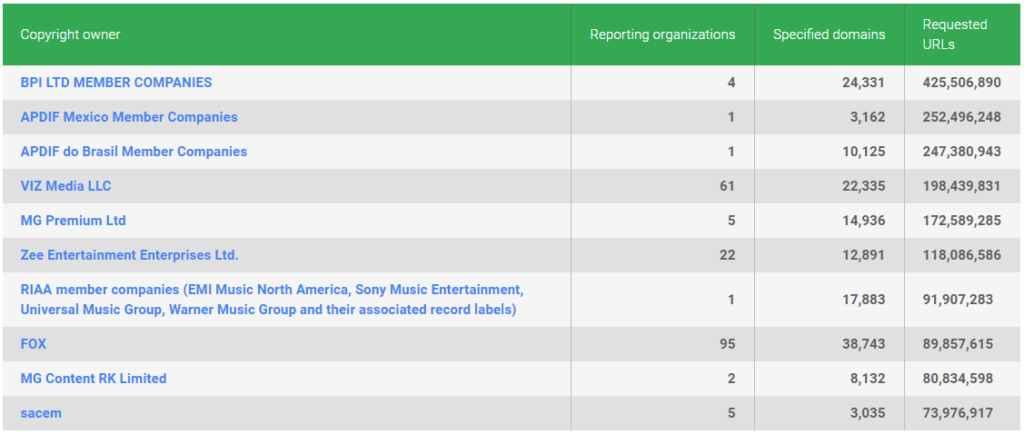 Google says that many of the reported URLs are not in their search engine results in the first place, as they have established a blacklisting system that accepts DMCA notices and blocks URLs proactively. Dealing with such volume of requests and the associated data, acting upon prophylactic take-down notices seems to have worked well for the tech giant. The current DMCA legislation has set the context to override the controversy of precautional URL blocking and has led to the reduction of the number of infringement reports and direct liability occurrences. Characteristically, Google claims that most of the URLs submitted in last year had non-index rates of 98%, which is indicative of the effectiveness of the methods described above.
What would you reckon the URL reporting number be in 2019? Do you see the decreasing trend continuing, or do you think that the tables will turn? Let us know of your opinion in the comments section below, and don't be afraid to also join the discussions on our socials, on Facebook and Twitter.