Our review of the ZoogVPN too is here. Due to increased instances of cybercrimes nowadays, VPNs are becoming popular as well as an important necessity among individuals and business houses. One should be aware of online security, which they can attain by using secure and fast VPNs services.
Criteria
Details
Prominent Features
Wi-Fi security, Bypassing Internet Censorship,
Unblocks Streaming Services & Websites,
Zero Log VPN, High-end dedicated servers
Number of Servers
27 VPN servers across 18 countries
Logging Policy
Zero log policy
Encryption Standards
PPTP, L2TP/IPsec, IKEv2,
OpenVPN UDP/TCP 443 with AES 256
Privacy
Zero Log VPN- no logs kept
Speed
260 Kbps download speed (baseline: 8.8 Mbps)
1.8 Mbps (US Server)
Device Support
Windows, macOS, iOS, Android, Blackberry,
Linux, Apple TV & Routers
Number of Devices
5 simultaneous devices
Price
$4.99
Our Score
8.8/10
Visit
ZoogVPN
By using the ZoogVPN tool, it is easy to unblock geo-restricted content on various portals and websites. People generally use VPNs to unlock restricted series and videos on Hulu and Netflix. It is important to note there is no unblocking in case of Kodi but a VPN in place prevents data leakage to the ISP which is definitely a very important aspect to consider of course. With the uses of a VPN, one can access inside content on the popular streaming services such as Netflix and Hulu. The observations of our tests conducted with the streaming services are given in the table below:
| Streaming Service | Result |
| --- | --- |
| Netflix | YES – Works on some servers |
| Hulu | YES – Works on some servers |
| Kodi | YES |
It is observed that the operations with Netflix and Hulu are highly unpredictable. Actually, Netflix and Hulu continually block new IPs so you might find IPs working today are no longer functional tomorrow. Hence as far as VPN operations are concerned this is a very sensitive area.
Selection of servers is also very crucial. One should select a server very carefully after properly testing the same through speed tests, etc, for, this affects the speed and performance of the network. The software also features an option to automatically choose the right server for you.
The following table briefs the main pros and cons of the ZoogVPN software, which can be used for ready reference :
Criteria
ZoogVPN
 Pros 

IP cloaking
Easy to use
Dedicated servers
Worldwide VPN span
Bypasses geographical restrictions

 Cons

Lacks Killswitch
No live chat feature
Lacks advanced features
Limited options for customization
ZoogVPN offers a number of great features which makes it special. However, the question remains: is this the right software for you? How does it fare in our tests? Is this the right choice for beginners in this space? Let's tackle all of these questions in our in-depth review coming up in the subsequent section, so stay tuned!
ZoogVPN Review
ZoogVPN is often touted as an amazing VPN tool that performs. The following is an in-depth review of this software based on our real-world tests on a Windows 10 machine. We evaluated version 4.0.13 of the software and the following sections present the results. From download and installation to speed tests, DNS leak tests, and privacy implications, we bring you all pearls of wisdom to help you make the final decision as to whether this is the right tool you've been looking out for.
Supported Devices
ZoogVPN is supported on all major OS platforms.Our Score: 10/10.
ZoogVPN can be installed on a variety of different OS platforms: you can install it on your favorite OS system including Windows, Mac, iOS devices, Android, etc. The tool can be installed on any number of devices but only supports maximum 5 parallel connections in order to conserve the critical VPN resource.
When installing the software, it is a great idea to ensure you had administrative privileges so that all requisite tools and drivers (TAP, for instance) are installed without a problem.
Installation & Setup
ZoogVPN features a simple and straightforward installation process.Our Score: 10/10.
ZoogVPN features an installation mechanism that is extremely easy to follow. You just need to head to the official website of the ZoogVPN tool and log in with the credentials. If you do not already possess your credential, purchase a subscription first to opt for the free version of the tool that comes with its own limitations.
Once you've logged into the online dashboard, download the VPN client for your specific OS. The file downloaded should take a few seconds on a steady internet connection. Double-click the installer file once downloaded to initiate the installation process.
Click on "Next" when you see the window above. You'll be taken to the next screen where you could change the installation directory.
If you're not sure of the right directory, we recommend leaving it set to the default option displayed by the tool. Click on "Next" once again.
As you can see, the tool begins installation- the process takes a few minutes.
Once the setup wizard completes the installation click on "Finish". That's all you needed to do. Simple, isn't it?
You now have yourself a functional installation of the ZoogVPN tool. One last step is needed before you can use it though. You need to login to your account using your credentials.
Prominent Features
ZoogVPN features basic VPN functionality that will best suit beginners.Our Score: 6/10.
ZoogVPN, when it comes to features, does not boast too impressive a portfolio of services. The software provides for IP cloaking, which ensures the user's IP address is effectively cloaked when browsing the internet so as to keep his activities protected from prying eyes in the real spirit of a VPN tool.
The software also allows users to bypass censorship issues, accessing blocked and geo-restricted portals and websites, which democratizes content in the interest of the community.
Wi-Fi security is another important feature that keeps your PC safe when browsing the internet on a public hotspot, which is prone to attacks. With a VPN in place, you know your data is in safe hands.
Dedicated, high-quality servers are provided to users, which are carefully chosen and placed in important locations. The choice of servers, as it has been stressed earlier, is an extremely important one.
Ease of Use
ZoogVPN is easy to use and has a minimalistic interface.Our Score: 10/10.
Consider the UI of ZoogVPN now. The tool sports an easy to use interface, which is quite minimalistic in design. The clutter-free interface facilitates easy movement across the tool without needing a manual to decipher the nitty-gritty details. In fact, there are no nitty-gritty details at all. Kudos to the developers for designing a VPN client that makes it so easy for beginners to access VPN functionality.
You can click on the bottom right to access the list of servers. Servers can also be starred for later reference. You choose a server that best suits your needs and easily located servers that support P2P as well. In addition, ZoogVPN also features the functionality of automatically choosing the right VPN server for you in the 'Auto' mode.
Let's now proceed to the settings section, which can be accessed by clicking on the cogwheel icon on the left panel. The options for fine-tuning the tool are severely limited though: there's an option to initiate the app on Windows startup, an option to automatically connect VPN when the app is started and a selector that lets you pick the OpenVPN protocol you wish to use. That's it.
The other options on the left pane too are largely ornamental. Beware the button on the bottom! Click on it and you'll be instantly logged out of the VPN. It's easy to click on it in a bid to explore the interface, so watch out unless you are in the mood for entering your credentials all the way again.
Server Locations
ZoogVPN has a global presence and a decent VPN network.Our Score: 8/10.
ZoogVPN features 27 VPN servers across 18 countries around the world. While the network is certainly not the largest when compared to those of its peers, it is also important to consider that it is crucial to have a network with well-optimized servers that are properly configured rather than a giant network with poorly-configured ones.
When using ZoogVPN, it is highly recommended to choose the server wisely, as with all other VPN. We recommend, and in fact, conduct speed tests ourselves in the subsequent section to reveal the difference the choice of server makes to the scenario. You can try testing several different servers before choosing a few best ones for permanent usage.
Speed
ZoogVPN performs moderately in our speed tests.Our Score: 8/10.
ZoogVPN isn't a top scorer in our speed tests. We tested the tool and its servers in order to compare it with the other competitors in the market. It is important to note, however, that speed tests are highly dependent on existing network conditions, which keep fluctuating. These tests are thus reflective of the performance of the tool with the set of conditions present and are in no way conclusive of the performance and ability of the tool.
Let's now run the speed tests. First, it's time to turn the VPN off to obtain baseline results.
Alright, let's now turn the VPN on and switch to the automatically chosen server. Here are the speed test results.
Well, the software is literally crushing the speed. Let's switch to the US server and run the speed tests again.
There's definitely some improvement, but it is still well below the baseline speed.
Security & Privacy
ZoogVPN has basic security and privacy tools and features to keep you safe online. Our Score: 8/10.
ZoogVPN has basic security and privacy features to help beginners stay protected online.
Encryption
ZoogVPN features AES-256, considered one of the most powerful protocols at present. The tool allows you to choose from multiple VPN protocols including OpenVPN, PPTP, and L2TP/IPSec.
Privacy
The tool cloaks your IP address lending it a virtual identity online. This ensures your location cannot be traced should your data be intercepted. The tool maintains a strict no logs policy and does not store any user data, which could lead to the identification of the user.
DNS Leak Test
ZoogVPN runs its own DNS servers on every server, which adds an extra layer of security. DNS leaks are common amongst many VPNs, but have serious security implications for DNS leaks can cause your DNS data to leak, which is an issue of grave concern.
As you can see, ZoogVPN does a commendable job of hiding our real IP address and passes the DNS Leak Test.
Customer Service
ZoogVPN has an online support channel for troubleshooting information.Our Score: 9/10.
ZoogVPN has an online support channel that can be used when facing problems with the software. The tool also allows for a user to reach out to support team in case of issues.
We contacted the ZoogVPN support team with our queries to evaluate their customer service response times, which, as the website states, is 24 hours. The team responded with a resolution to our query in some time.
Pricing
ZoogVPN offers multiple pricing plans to choose from.Our Score: 10/10.
ZoogVPN is very affordable, unlike most other VPNs that offer exorbitant pricing models beyond the reach of many customers. This makes the tool appealing to a variety of users who might not have extra cash to spend but require security online.
The following are the pricing plans offered by ZoogVPN:
ZoogVPN is a clear winner as far as cost-effectiveness is concerned. The tool offers basic functionality a beginner needs while maintaining affordability to be within the reach of everyone.
Final Verdict
ZoogVPN is an amazing tool that doesn't disappoint and is ideal for first-time VPN users.
Who Should Use This VPN? Beginners who are just starting out in the VPN space and do not need many advanced features.
Who Should Not Use This VPN? Those seeking deep levels of customization and advanced features might find the app limiting.
PROS: Easy to use; Ideal for beginners; Cost-effective; IP cloaking
CONS: Lacks advanced features, no deep customization options
Final Verdict: 8.8 out of 10!
Buy ZoogVPN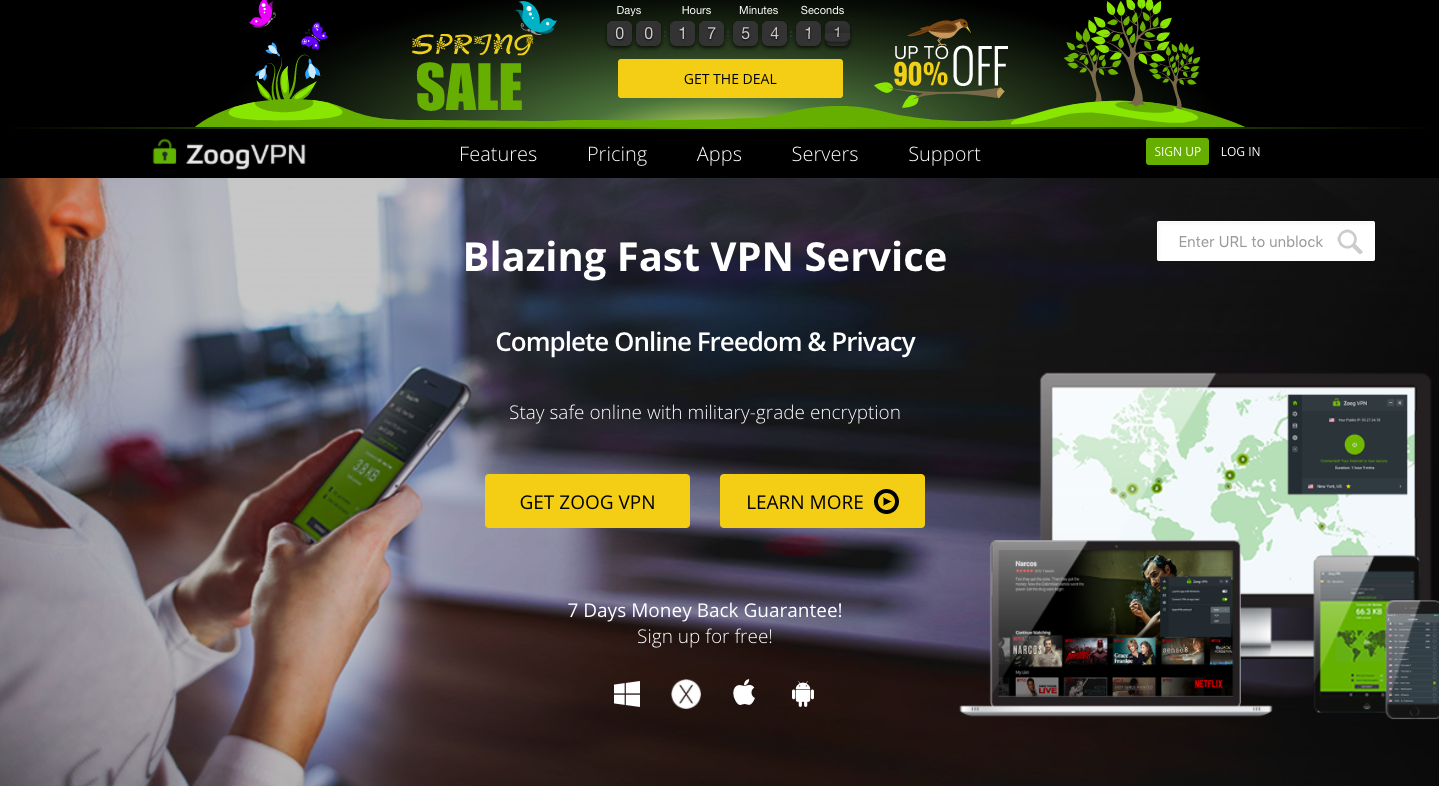 If you've made up your mind to purchase ZoogVPN tool subscription, head over to their website and buy a plan that best suits your needs.
Final Thoughts
ZoogVPN is an amazing piece of software that is ideally suited to beginners or those looking out for very minimalistic and basic VPN functionality.
With these, we complete our review of ZoogVPN, which is based on extensive tests of the software. We sincerely hope you've found the reviews useful to you. Please consider sharing the review in your social media circles.
Should you have any queries, please get back to us via the comments section and we'll respond at the earliest.