Update: The Wraith addon for Kodi is no longer working. Mr. Blamo, the man who created and distributed Writh, has decided to seize his work related to Kodi. However, there are numerous alternatives out there, so check out the best addons for Kodi right now.
You already know that there are hundreds of Kodi addons out there. However, all of them work in the same way. They act as sources of streamable video files, where the main difference is in the size of their content library. However, Wraith is a different kind of addon. It can be used as a gateway to other addons since it is combining their libraries into one. Keep on reading to learn more about the Wraith Kodi addon.
Disclaimer: We will be talking about software developed for Kodi – which is based on open-source code. However, the following software comes from unofficial third-parties. In addition, it is publicly available and free of charge. TechNadu doesn't claim any responsibility for how our readers decide to utilize the following software. Please note that we don't condone sharing pirated content and copyright infringement. TechNadu is not affiliated with the software mentioned in this article in no way. Make sure to carefully read the above-said disclaimer and ensure the proper use of the software.
Warning: Why you must NOT USE Kodi without VPN?
Here are the reasons that you should consider looking at it
without SKIPPING
.
Using ILLEGAL Kodi Addons are Dangerous without a VPN: Most of the Kodi users are installing the ILLEGAL Kodi addons on their system to access all the latest movies, TV shows, sports, music, and much more for FREE, than a legal Kodi addons where it has the least content in it. But do you know what? The video content on illegal addons are a scraped and copyrighted material. If you are accessing them on Kodi, then your activities will be monitored by your ISP by tracking your IP and gives all the information to the government or companies if they request for it. This will land you in trouble. To stay away from this, you will have to connect to a VPN where it hides your identity by rotating your IP address while streaming Kodi content. This is how you will be safe from the prying eyes.
Bypass Geo-Restriction: As you probably know, some official addons like BBC iPlayer, NBC Sports, Hulu, IceFilms have geo-location restrictions. This also applies to other addons like Acestream which fetches the data from torrents. To unblock these restrictions, you will have to DEFINITELY use a VPN no matter what.
The above are the 2 reasons that forcing us to recommend a VPN to the Kodi users for safer streaming. In fact, after testing several VPNs for Kodi, we finally came up with a one non-stop solution and that is
ExpressVPN, the top rated Kodi VPN
so far.
Limited Time Offer:
For our TechNadu readers, there is a
49% OFF on ExpressVPN
which includes
3 FREE Months
in it.
Everything You Need To Know About Wraith Kodi Addon
Wraith can be used as a gateway to your entire Kodi library of movies and TV shows. As such, it brings several services together. In the center, it pulls information from Trakt.tv and The Movie Database. By presenting movies and TV shows (in addition to their meta information), it shows which addons that you have installed can play those files. In other words, you will always find a working link. However, sometimes you'll have to work a bit more to find it. Still, this method seems much better than having to try individual addons one by one.
You should also know that the Wraith Kodi addon works the best if you already have a few addons installed. Therefore, we recommend you to take a look at TechNadu's list of the most popular Kodi addons and install a few of our suggestions.
This is a brand new addon brought to us by Mr. Blamo. This means that we'll first need to install this repository, and then use it to download Wraith. Don't worry, we'll be guiding you through every step of the way.
Important Note: By default, Kodi doesn't support third-party addons. Instead, it only allows you to install addons found in its official repository. We can change this by visiting the application's settings and making a very simple tweak. In other words, you have to enable unknown sources in Kodi. Use the provided link to get to our short and simple guide, and then keep on reading this article.
Steps to Install Wraith Addon on Kodi
Finally, let's jump to what you really want to know and that's how to install the Wraith Kodi addon. Without any further ado, let's begin the installation process.
Open Kodi and visit the application's Settings (click on the Gear icon found in the top-left corner);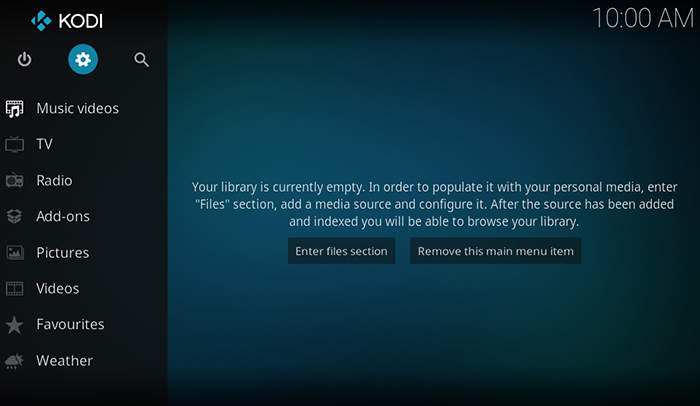 Next, double-click on 'Add Source' found on the left side of the screen. A new window will appear;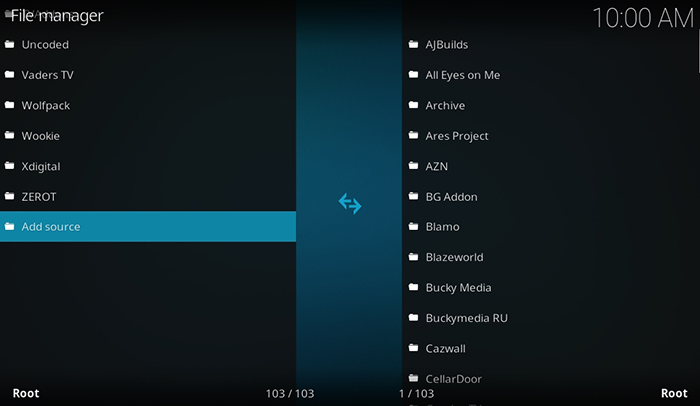 Within the pop-up window, click on '<None>' and then enter the following URL: http://repo.mrblamo.xyz/. Click 'OK' to confirm the entry;
Don't forget to name the new source. Type in 'Blamo' at the bottom of the pop-up window and click 'OK' to dismiss it.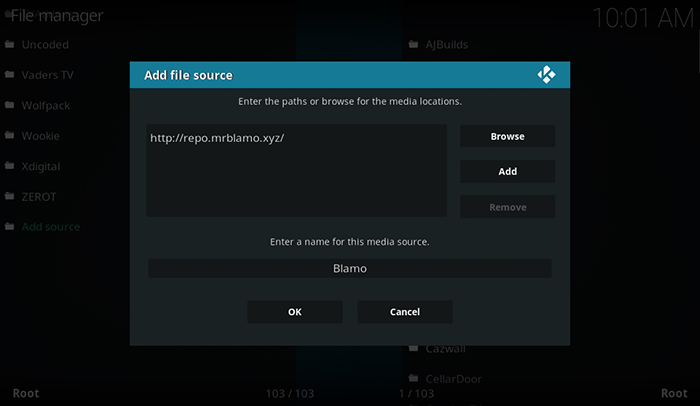 Return to Kodi's home screen and click on 'Add-ons' using the main menu;
Take a look at the top-left corner, and you'll see the Open Box icon. Click on it;
Make sure to select 'Install from ZIP file';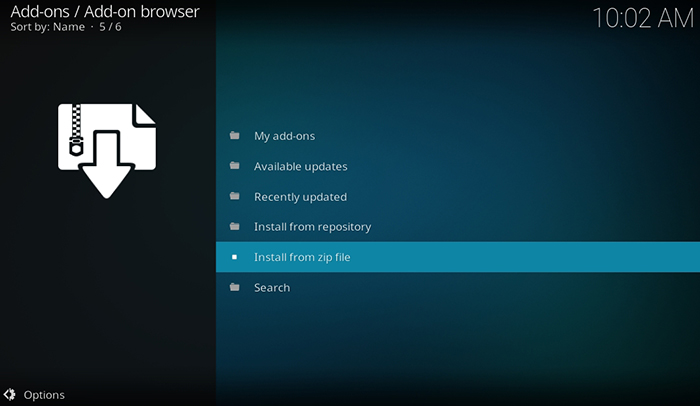 Next, navigate to Blamo where you'll see a file name 'repository.blamo-X.X.X.zip'. Click to install this file/repository.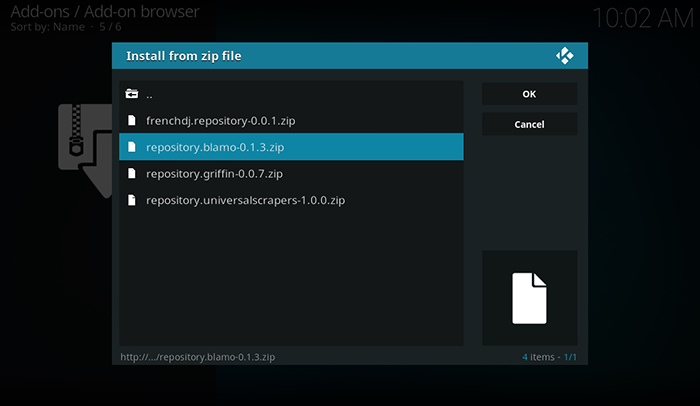 Now, select 'Install from Repository';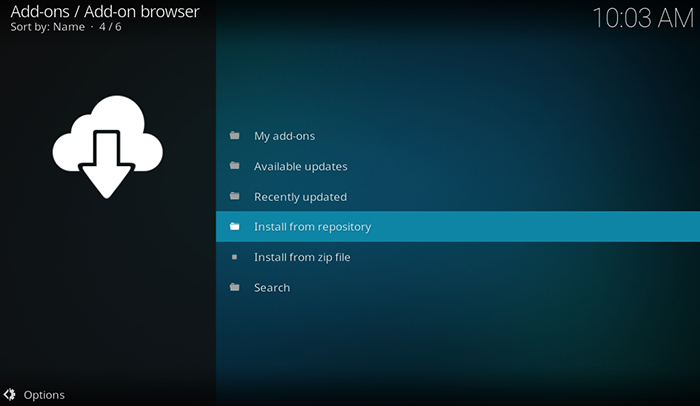 Go to Blamo Repo > Program Add-ons > Wraith. Finally, use the 'Install' button in the bottom-right corner.
That's it! After a few moments, Wraith will be installed. You can return to your Add-ons section and you'll find the newly installed addon in the Video Add-ons subcategory.
What to Expect from Wraith Kodi Addon?
With numerous options present on the home screen of Wraith, this addon might be a bit confusing. This is why we have decided to include a guided tour. Keep on reading to learn more about the currently present content categories.
All Movies: The first category brings a huge list of movie titles. This goes from the latest and hugely popular titles, up to pretty old movies. Click on a movie poster and you'll get to see additional information like a short synopsis and which addons contain that movie. Hit the 'Play' button and Wraith will find all available sources using all of your installed addons.
In Cinema Movies: Even though this category tells us that you'll find movies that are still in cinemas, it also displays titles that are available on DVD.
Library Categories (In Progress, Latest Added, Random): These three categories will show up once you import movies to your local Kodi library. This is a good way to check out additional details since the addon uses TheMovieDB to download metadata for these movies as well.
Popular Movies / Top Rated Movies / Trending Movies: As you can imagine, these are all different ways to check out newcomers. All of these rely on the Movie Database, except for the latest category. Trending movies come from Trakt.tv, which gives you a greater variety when it comes to choosing what to watch.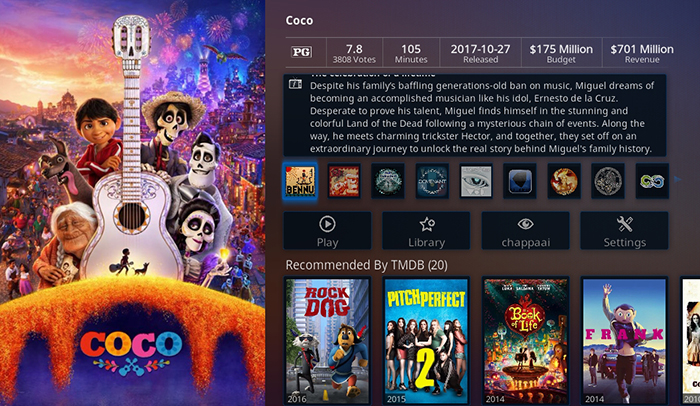 Upcoming Movies: As its name implies, this category is all about upcoming movies. However, this doesn't mean that you'll get to watch movies that are still not available on DVDs. Instead, these are fresh picks that are available on the Web.
Airing TV Shows: By downloading metadata from Trakt.TV, Wraith presents a list of recently aired TV shows. In case you want to check the latest episode of your favorite show, this is where you need to be.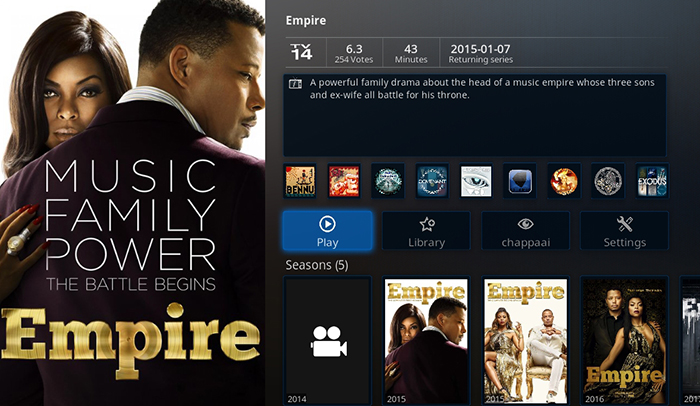 TV Shows Airing Today: Depending on your time zone, this category is great when it comes to watching episodes as soon as they hit the Web. It is very similar to the previous one, with one difference. These titles are downloaded from the Movie Database.
All TV Shows / On The Air TV Shows / Popular TV Shows: These three are listing all available TV shows, where the latter one is dedicated to currently popular and trending titles.
Premiere TV Shows: We're not sure what this category should bring because it's empty at the moment.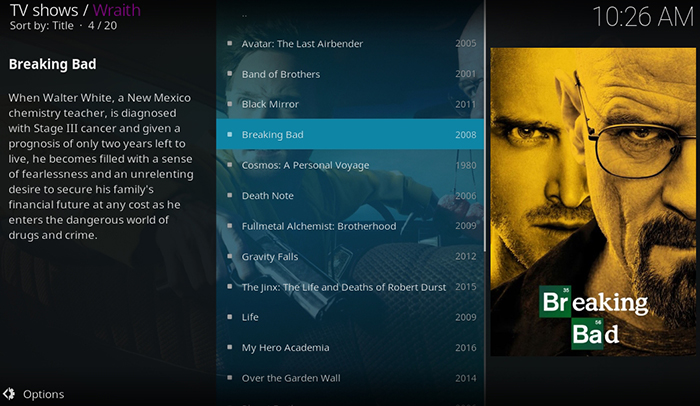 Top-Rated TV Shows / Trending TV Shows: Powered by The MovieDatabase and Trakt.TV, these categories are a good way to find something interesting. After all, you can't go wrong if you decide to watch a show that has a very high rating, right?
Channels / Playlists / Videos: The last three options here are all about YouTube. Even without signing in to your YouTube account, you can browse popular videos. By scrolling up and down, new ones will load. This allows you to explore the entire YouTube library.
Final Thoughts
The Wraith Kodi addon can be a bit much until you learn your way around it. So, the best advice is to install it and try it on your own. We are sure you are going to love it.
You can help us spread the word about this amazing addon by sharing this article online. Thank you!