Update: The Wookie build is no longer available. However, there are numerous great alternatives out there. Take a look at our list of the best builds for Kodi to see some of the most popular (and trending) builds that are still fully working.
TechNadu offers numerous helpful tutorials on how to install addons for Kodi. This is where you'll find in-depth information on different installation methods, along with screenshots that help every step of the way. However, we'll do something different today. We will be talking about one of the most popular Kodi builds that have the power to completely change Kodi's user experience. We will be talking about Wookie Kodi build. Continue reading to learn more about Kodi builds as well as about this addon in particular.
You may be wondering what are Kodi builds? Well, they serve as groups of addons that are installed all at once. In addition, they bring custom skins and turn Kodi's interface into something completely different. This can be very helpful in certain situations. For example, let's say that you installed Kodi on your Android TV. Even though Kodi works great on a large screen, it can be tedious to install a dozen of repositories and then install addons from those repositories. With custom builds, you get all those addons in one package and ready to be used in no time.
We chose the Wookie Kodi build for this article since we believe this is one of the most useful addons of this kind. It brings a polished interface and every single addon you'll ever need. For example, it comes with addons that stream movies, a special section of addons dedicated to live sports channels, and more. On top of all of that, installation of the Wookie Kodi build is incredibly simple. Continue reading to learn more.
Disclaimer: The following software comes from unofficial sources. As such, it is publicly available and built for Kodi, which is based on open source software on its own. However, TechNadu doesn't take responsibility for how our users decide to utilize the following software. Furthermore, please note that we don't condone actions such as piracy or copyright infringement. Finally, TechNadu is in no way associated with the software mentioned on this page. Please read the above-said disclaimer carefully and make sure to use this software properly.
WARNING: Before You Continue…
Do you know that everything you do within Kodi might be visible to your Internet service provider? Actually, this applies to pretty much everything you do on the Web. These days, ISPs collect all kinds of personal data and share it with third parties. However, there is a way to stop this. You can use a VPN application to make sure you're using Kodi as privately as possible.
VPN applications work by rerouting all your Web traffic through an encrypted tunnel. This makes your data unreadable by your Internet service provider. Also, VPNs get you a new IP address every time you connect to the Web. This means that your online presence and your physical location are both hidden. Finally, VPNs can keep malware away from your device and let you watch previously restricted content. We highly recommend using ExpressVPN.
Signing up for ExpressVPN has never been more affordable! Instead of paying $12.95 per month, you can opt for a special promotion and get this amazing VPN for only $6.67 per month! In addition, the annual plan comes with three additional months, free of charge. Sign-up for ExpressVPN and reap the numerous benefits it offers.
Wookie Kodi Build: Installation via ZIP File
We will be talking about two different methods of installation. First, we'll cover the easiest one where you use a downloaded ZIP file to install and activate this addon. Without further ado, let's jump right in.
First, we need to download a ZIP file that contains installation files. Use this link to download the file to your computer.
2. Now, open Kodi and navigate to the Add-ons Section. It can be found in the left-positioned menu, also known as Kodi's Main Menu.
3. Once inside the Add-ons Section, click on the Open Package icon. It is located in the top-right corner of the screen, just below this application's logo.
4. Among options present on the screen, click on 'Install from ZIP file'.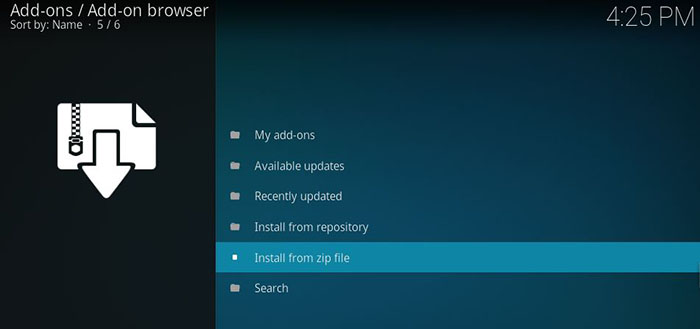 5. Now you need to locate the downloaded file. Continue reading to learn how both Windows and MacOS users can do this.
Windows Users: The majority of Windows users will find this ZIP file on their Desktops. This means that they need to navigate to C: > Users > 'Your Username' > Desktop > Wookie.zip; If you can't find the file on your desktop, it's probably located in the Downloads folder. Here's how to navigate: C: > Users > 'Your Username' > Downloads > Wookie.zip. Click on the ZIP file to download it.
MacOS Users: By default, this operating system saves downloaded files in the Download folder, accessible via the bottom-positioned Dock. However, we recommend you to drag-and-drop that file from the Downloads folder to your desktop. With this done, you can simply open Desktop > Wookie.zip. Another helpful tip: Safari unzips 'safe' files after downloading. However, we need this file in the ZIP format. To disable automatic unzipping, open Safari and go to Preferences > General Tab> Uncheck the option that says 'Open safe files after downloading'.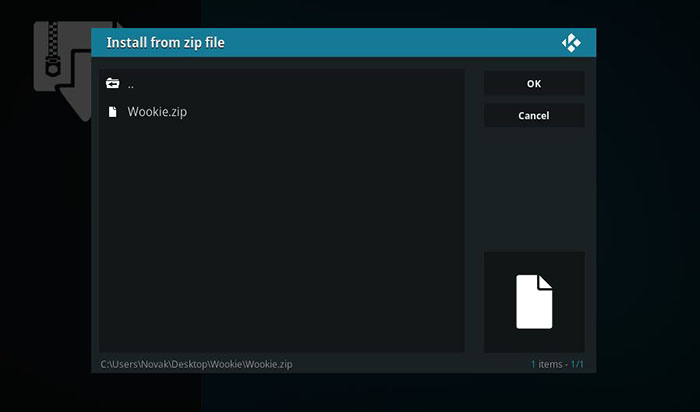 6. By now, you should have found the ZIP file using Kodi and installed the Wookie Kodi build. You'll see a notification in once the installation is done.
7. Go back to the Add-ons Section and find the Wookie Kodi build. Click on its icon.
8. Now you'll see Wookie installation wizard that consists of the following options: Install Wookie, World Addons, Community Builds, Tools, and Close.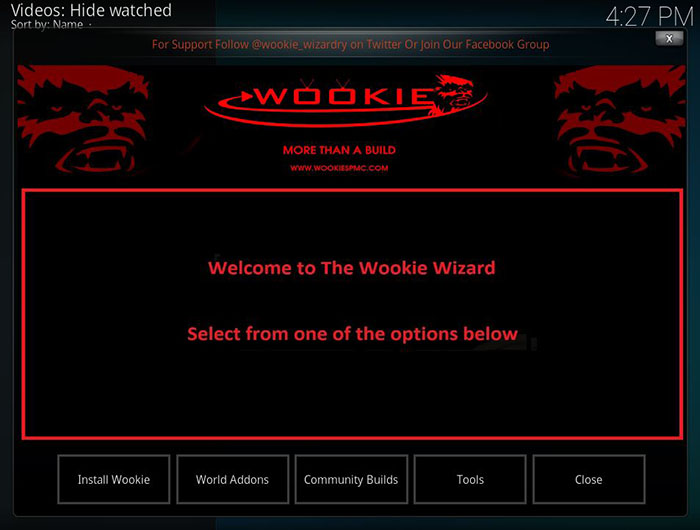 9. Use the first option, named 'Install Wookie'. You should see a list of available builds. If you have the newest version of Kodi (codenamed Krypton), click on New Look Wookie – Krypton.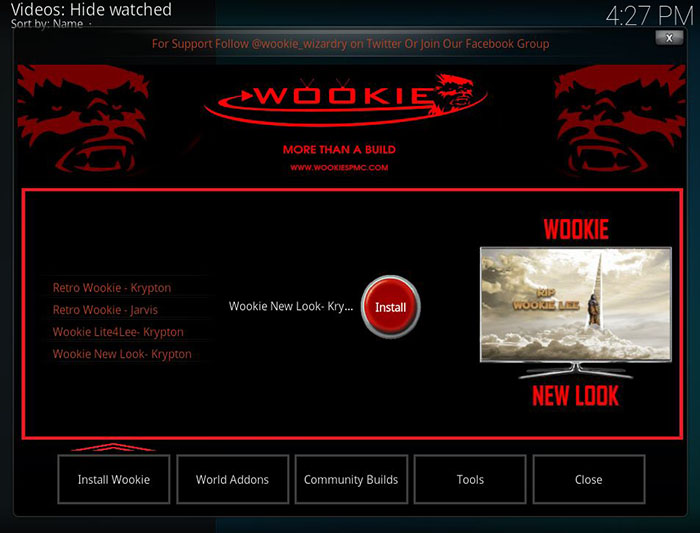 10. You will be asked to clean Kodi's cache memory. In case something goes wrong with the installation, next time go to Tools > Cache within the Wookie Wizard. This is where you can clear up the cache. However, the installation should go just fine even without this step.
11. Next, you'll see that a file around 300Mb is being downloaded. There's nothing you should do but wait for the files to be downloaded and applied.
12. Once the installation is completed, Kodi will shut down. Restart the application and you should see the Wookie Kodi build in its full glory.
Wookie Kodi Build: Installation via Repository
In case the previous installation method doesn't work for you, here's another way. Here, instead of downloading the ZIP file, we will use Kodi to download it from the Web and install this build. Here's how it is done.
Open Kodi and launch the System menu. You can use the Gear Icon in the top-left corner.
2. Now go to File Manager and double-click on 'Add Source'.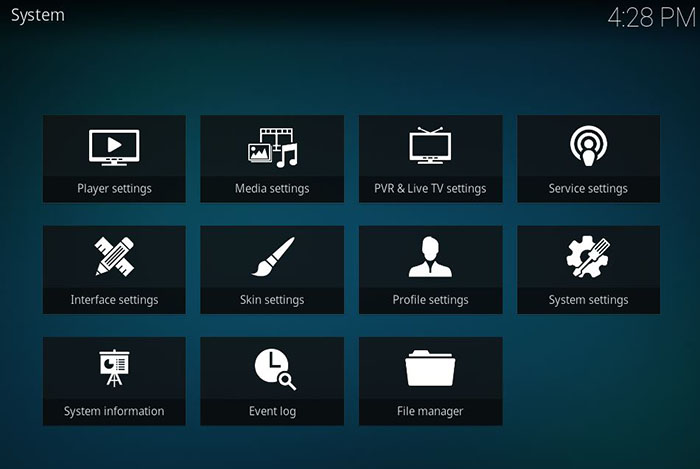 3. A new pop-up window will appear. Click on '<None>' and you'll be asked to enter an address. Carefully paste the following URL: http://wiz.wookiespmc.com. Name your new source 'Wookie' and click OK.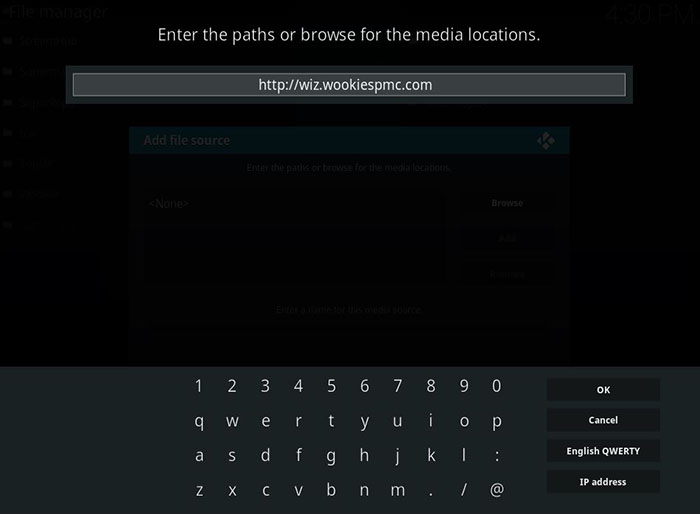 4. Now go to the Add-ons Section of Kodi, located in the left-positioned menu on Kodi's Home Screen.
5. Click on the Open Package icon, in the top-left corner. Now pick 'Install from ZIP file'.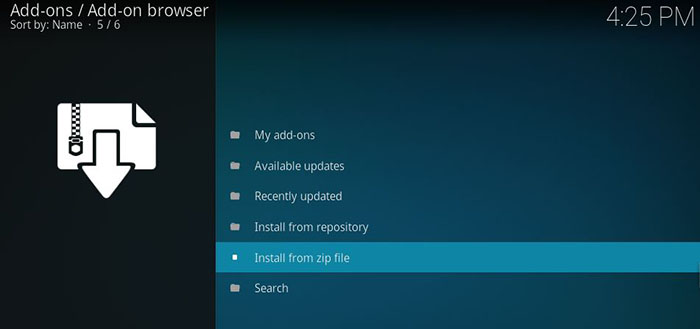 6. In the newly opened window, navigate to Wookie > "Click me – Succumb to The Wookie.zip'.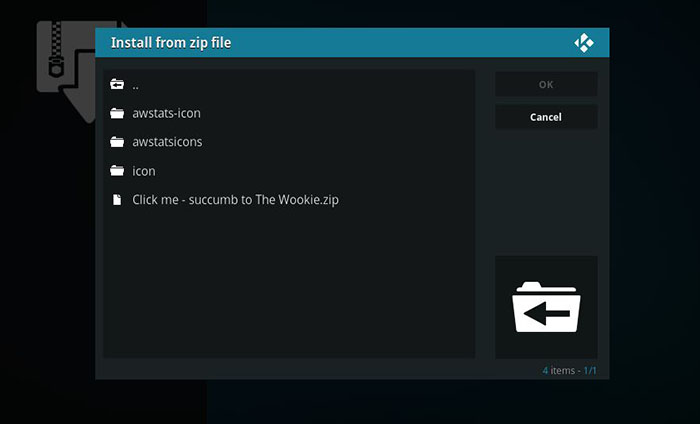 7. The Wookie Kodi build will now be downloaded and installed. You'll see a notification once the build is ready for use.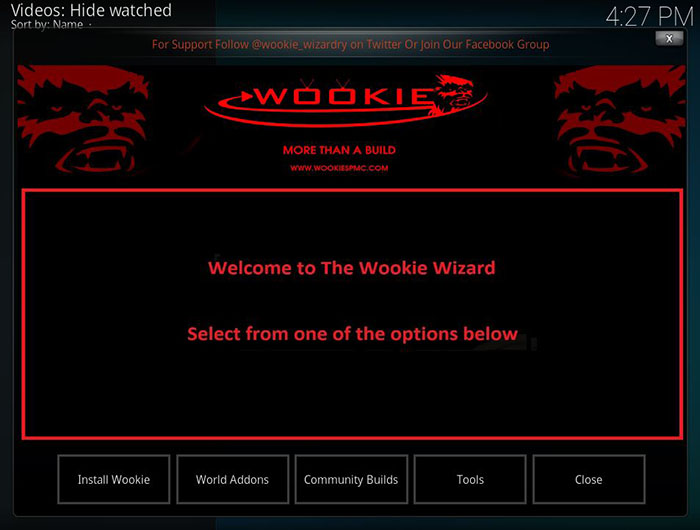 8. Go to the Add-Ons section and launch Wookie. You will be greeted by the Wookie Wizard installer. Go to Install Wookie > New Look Wookie > Install. As you'll see, some other options await as well, like Wookie Lite and Retro Wookie. As their names say, the first option is great for those who don't need dozens of addons. Instead, it brings a very simple but useful set of addons for watching movies and live TV channels. Retro Wookie is an older version of the build's interface.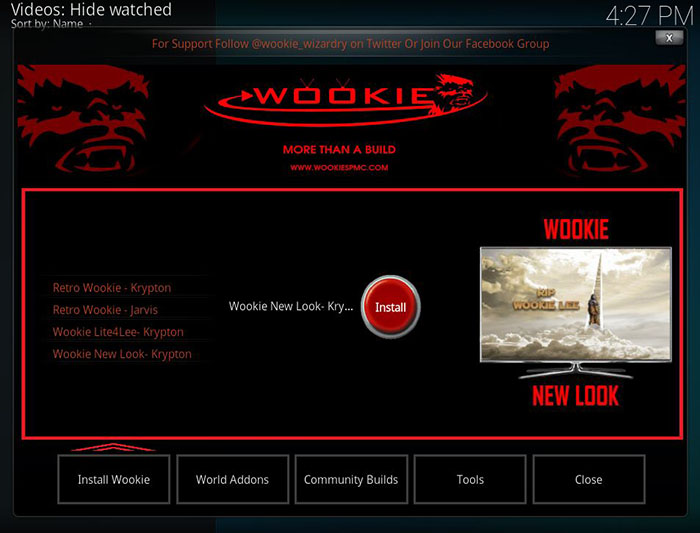 9. Once you select a version you'd like to install, you will be asked if you cleared up Kodi's interface. This should be a problem during the installation. However, if something happens, make sure to go the Tools section of Wookie Wizard installer. This is where you'll see an option that clears up the cache and deletes packages.
10. That's all you need to do! Wookie will download the needed files on its own and apply them to your Kodi installation.
11. Once the installation is done, Kodi will shut down. Simply re-open it and you should see a completely new interface – welcome to the Wookie Kodi build.
Wookie Kodi Build: An Overview
Now that you know how to install this amazing build, it's time to take you through Wookie's features. As you'll soon see, a lot of different content awaits. The Home Page of this build brings fifteen customized pages that are full of content. Since this can be overwhelming at times, we're here to bring you an overview and help you decide which one works the best for you.
Home Page
Wookie's Home Page brings a scrollable main menu consisted of different categories of content. Here's you'll find everything from a dedicated sports zone, streamable HD movies for Kodi, kids section, up to the build's settings.
Even though it might take some time to get used to this navigation, Wookie is known for its ease of use. You can scroll left or right to access different categories. Below the main menu, you'll find shortcuts for specific types of content. For example, once you get to 'Bennu' in the main menu, you'll see this addon's options below like movies, TV shows, and more. Let's take a closer look at each of the available sections.
BoB Unleashed
Under an item named 'BOB' in the main menu, you can find various types of content. This option actually opens a well-known addon called BoB Unleashed. Under this menu item, you can find several options and several sources like Caira, Valhalla, and Griffin. These are maintained by different groups and each of them offers movies and TV shows, both new and classic titles.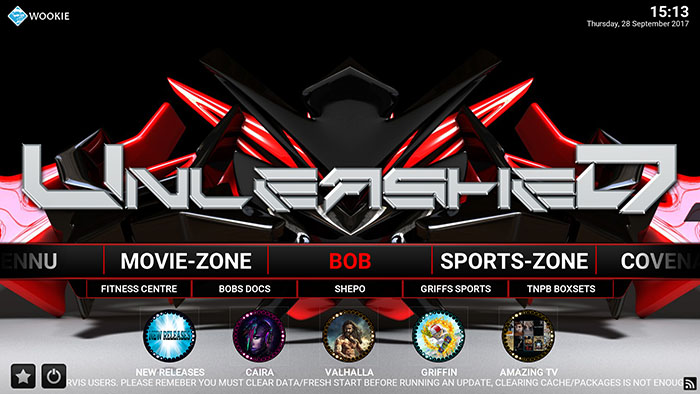 Sports-Zone
This option brings together several well-known addons like Sports World, Deliverance, and Halow Live. We have previously posted a guide on some of those addons, where you can find information on how to install them outside the Wookie Kodi build. No matter if you're using this build or not, these are essential Kodi addons for every user. They bring live TV channels, replays, and dedicated sections for different sports like boxing or major leagues like NFL, NHL, MBA, and others.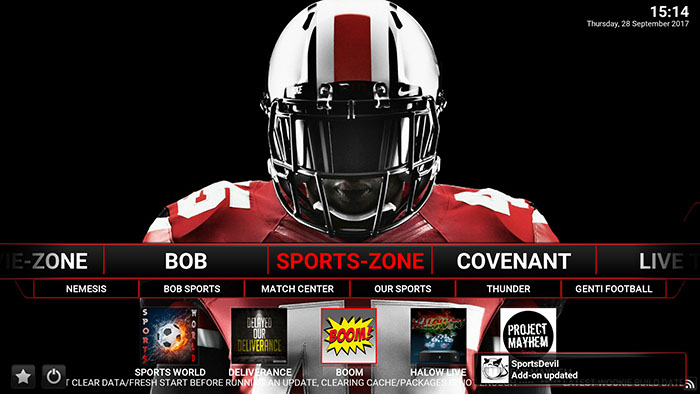 Covenant
Covenant is one of the must-have Kodi addons. It brings an incredibly polished interface that brings different categories of content. As you can see, it comes built into Wookie. Some of the shortcuts offered under the main menu are ways to get to the latest movies and TV channels.
Live TV
For many of us, the main reason for using Kodi is its access to hundreds of Live TV channels. Aside from the world's most popular ones, here's you'll find Chinese TV channels, as well as other region-specific content like streaming links from Korea.
TV Shows
Wookie can be especially helpful when it comes to TV shows offered via High-Definition streaming links. Lots of great addons can be found here, like Falcon TV, Elysium TV, and Poseidon TV. All three of those are known for bringing updated links and removing non-working links on time.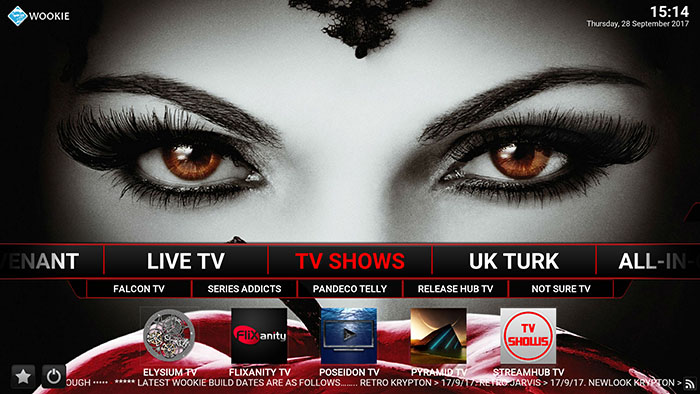 UK Turk
This is yet another well-known Kodi addon that combines a wide range of content. You can click on this item in the main menu to get to UK Turk's interface where you can filter the available content. However, you can also use the bottom-placed shortcuts on the Home Screen. Some of them will take you to movies and TV shows – and others will take you to more specific categories like stand-up comedies and publicly available CCTV streams.
All-In-One
This is perhaps the most popular section of the Wookie Kodi build. This is because here you'll find Kodi addons that will satisfy your every need. Two of our favorite addons can be found here: Elektra Vault and GoodFellas 2.0.
Elektra Vault is an amazing addon. It brings HD and 4K movies in addition to specialized types of content. We strongly recommend checking it out. You also won't make a mistake if you try GoodFellas 2.0. This addon is known for its well-maintained content library consisted of movies, TV shows, and live sports channels.
Wookie / Add-ons / System
This option allows you to fine-tune and optimize this build. In case of any issues, this is where you should look for a solution. The first step is to clean Wookie's cache memory which usually solves any streaming-oriented troubles. In case you have problems with the UI, you can reset this build.
Then, we have the Add-ons section. As we said earlier, Wookie brings dozens of amazing and fully-working addons. However, you can still install additional addons. This section brings that option.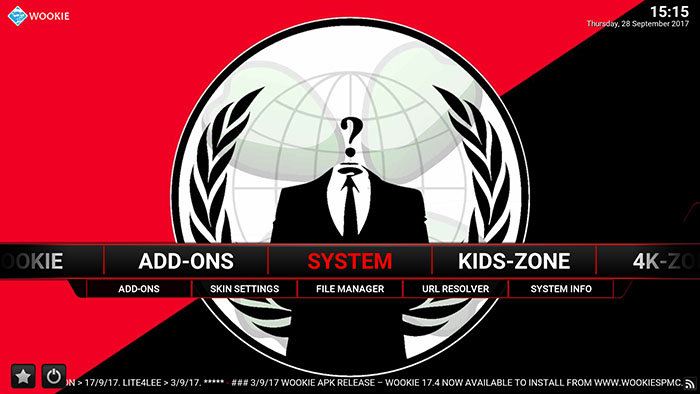 Finally, we have arrived to the System menu item. This is where you control Wookie's features and looks. We believe that Wookie's UI is a great example of content-oriented UI but not everyone will like it. If you wish to change it, go to System > Skin Settings.
Kids-Zone
Let's not forget about children. This section brings hundreds of children-friendly movies and TV channels. If you enjoy the classic Disney cartoons, this is where you can access Wookie's huge repository of titles. Other available options are Cartoon Crazy, Bobs Kids, and UK Turk Toons. As you can see, these are shortcuts to different addons and their children-oriented content.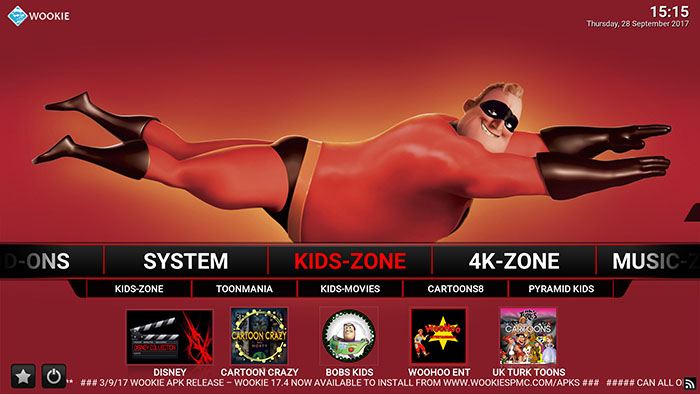 4K Zone & Movie Zone
These days, the majority of movies offered via Kodi come in 720p HD resolution or higher. However, not every addon brings 4K content. Those of you who have a broadband Internet connection will like this section in particular.
Some of the addons that offer 4K content within the Wookie Kodi build are Elektra Vault and Supra Box, among many other. As you probably know, Elektra Vault is our often-recommended option. You can rely on this addon for trouble-free streams.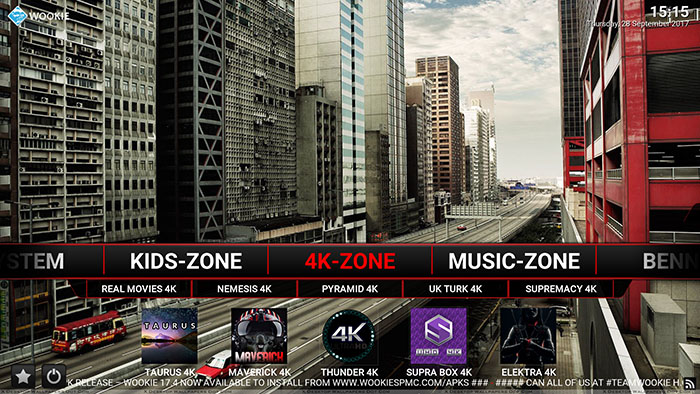 Music Zone
Kodi isn't all about video content. You can also use it to enjoy the world's most popular radio stations. However, you'll need an addon to unlocks that feature. This is where the Wookie Kodi build comes into play. You can listen to Top 40 charts, Now Music, Now USA, and more. The best thing is that you don't need a fast Internet connection to take advantage of this feature.
Bennu
We sincerely hope that you have Bennu already installed. This is one of the most popular third-party Kodi addons that bring a massive library of streamable content.
Bennu comes installed with the Wookie Kodi build by default. You can find it in the main menu, from where you can also access different shortcuts. These lead you to movies and TV shows, as well as repositories of content like Archangel, Taurus, and Cerus. TechNadu offers an in-depth article about Bennu where you can learn what each of those sources contains.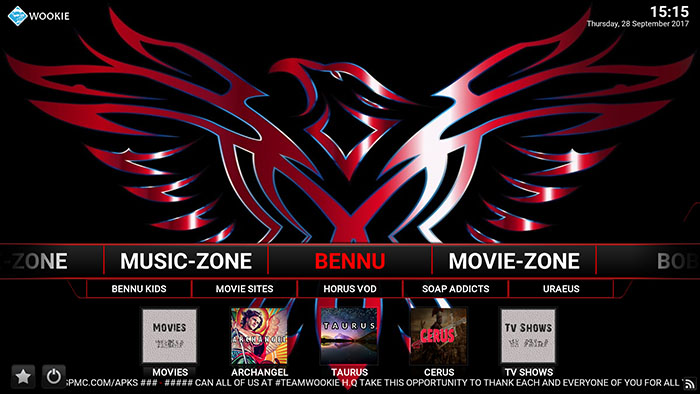 Wookie Kodi Build: Alternatives
We believe you'll hardly find a build as capable as the Wookie Kodi build. However, you might not like it for some reason. This is why we bring you a few alternatives.
Duggz Build: This is a nice alternative to Wookie. It brings a polished interface and an excellent navigation system. Almost any type of content can be found here. You can install Duggz Build by using its own repository.
Nemesis Build is a good alternative if you want to have a large library of movies. This build's interface similar to the Wookie's, where you can easily preview content groups and switch between them with ease. You can read more about the Nemesis Build in our previously posted article.
Titanium Build is offered via Supreme Builds repository. It comes equipped with various different addons that unlock movies, TV shows, sports content, as well as other more specific content types. Installation of Titanium Build is simple. You can be up and running in no time.
Conclusion
Kodi is an amazingly powerful software on its own. However, no one can deny that third-party addons are the best part of Kodi. On top of that, we also have different Kodi builds. What's great about them is their power to completely transform Kodi into a full-fledged streaming solution. With Kodi, you can forget about other popular streaming services and unlock a massive library of content on your computer or TV.
If you have something to add, make sure to post a comment below. We'd love to hear about other amazing Kodi builds, so please tell us your favorites.