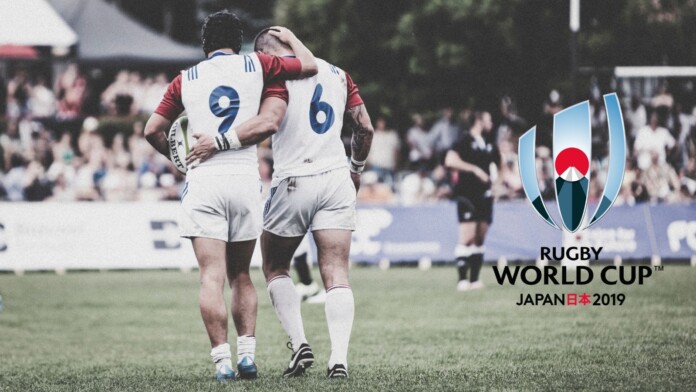 The Rugby World Cup is underway and the teams are already facing each other on the field, trying to gain the upper hand and win the cup.
This is the ninth Rugby World Cup to take place and it's organized over in Japan this year. The event started on September 20th and will run through November 2nd.
The participating teams this year represent Argentina, Australia, Canada, England, Fiji, France, Georgia, Ireland, Italy, Japan, Namibia, New Zealand, Russia, Samoa, Scotland, South Africa, Tonga, United States, Uruguay, and Wales.
Last year's winner was New Zealand, who is actually the team with the most tiles after winning three times over the years.
What's the Rugby World Cup Schedule?
Between September 20th and October 13th, you'll be able to watch a ton of games, as the teams try to accumulate as many points as possible. Then, on October 19th and 20th, the Quarter-Finals are scheduled between the winners of their respective pools and the runner ups of an opposite pool. On October 26th and 27th, the semi-finals are scheduled between the winners of the Quarter-Finals. The Bronze Final is scheduled for November 1st, while the big Final is to take place on November 2nd.
Check out the full schedule of the remaining games for this season. You can also check the official website to find out even more details, including scores.
Day
Stage
Teams
September 25
Pool D
Fiji
Uruguay
September 26
Pool B
Italy
Canada
Pool C
England
USA
September 28
Pool C
Argentina
Tonga
Pool A
Japan
Ireland
Pool B
South Africa
Namibia
September 29
Pool D
Georgia
Uruguay
Pool D
Australia
Wales
September 30
Pool A
Scotland
Samoa
October 2
Pool C
France
USA
Pool B
New Zealand
Canada
October 3
Pool D
Georgia
Fiji
Pool A
Ireland
Russia
October 4
Pool B
South Africa
Italy
October 5
Pool D
Australia
Uruguay
Pool C
England
Argentina
Pool A
Japan
Samoa
October 6
Pool B
New Zealand
Namibia
Pool C
France
Tonga
October 8
Pool B
South Africa
Canada
October 9
Pool C
Argentina
USA
Pool A
Scotland
Russia
Pool D
Wales
Fiji
October 11
Pool D
Australia
Georgia
October 12
Pool B
New Zealand
Italy
Pool C
England
France
Pool A
Ireland
Samoa
October 13
Pool B
Namibia
Canada
Pool C
USA
Tonga
Pool D
Wales
Uruguay
Pool A
Japan
Scotland
October 19
Quarter-Finals
Winner Pool C
Runner Up Pool D
Winner Pool B
Runner Up Pool A
October 20
Winner Pool D
Runner Up Pool C
Winner Pool A
Runner Up Pool B
October 26
Winner QF 1
Winner QF 2
October 27
Winner QF 3
Winner QF 4
November 1
Semi-Finals
Loser Semi-Final 1
Loser Semi-Final 2
November 2
Finals
Winner Semi-Final 1
Winner Semi-Final 2
Who Has the Rugby World Cup Broadcasting Rights?
The Rugby World Cup is broadcast in numerous countries across the world. In the US, the rights have gone to Universal NBC who uses NBC Sports to play the games. TUDN, UniMas, and Univision are also broadcasting certain games.
How Can I Live Stream the Rugby World Cup?
Watching the Rugby World Cup is pretty easy to do, no matter what corner of the US you live in, especially if you use an online platform. The best way you can watch is with fuboTV, which is a platform that offers subscribers a great way to watch TV. Start your 7-day free trial on fuboTV now! The platform features a single bundle of channels and it comes with hundreds of networks, including NBC Sports, TUDN, UniMas, and Univision.
fuboTV offers loads of way for people to customize their subscriptions, including channel packs and premium networks. You can also expand the Cloud DVR storage capacity and the number of devices you can watch TV on. The platform comes with apps for Chromecast, Roku, Apple TV, Android TV, Amazon Fire TV, iOS, Android, Chrome browser, and more. (Note: fuboTV is a platform that only works in the United States. If you want to watch anything when traveling abroad, you're going to need to use a VPN. Click here to learn how to do this.)
Here's everything you need to do to start your 7-day free trial on fuboTV:
First, you have to visit the fuboTV website and tap the "Start free trial" button on the website. Then, you'll get redirected to a page where you have to set up an account by using your email address and password or the social login buttons from Facebook and Twitter.
Choose the fubo Standard plan, where you'll find all the channels you need. Alternatively, you can also pick one of the Family, Family Deluxe, or Premium packs that also feature extra channel packs and premium channels at discount prices.
Choose any other packs you want to add and customize your subscription.
Wrap things up by providing your card details. You won't get billed until the trial period is over.
Other Ways to Watch Rugby World Cup
Sling TV – On Sling TV, you'll find that NBC Sports is present in the Blue and Orange + Blue bundles. The other channels aren't part of the deal, though. Start your Sling TV subscription by saving 40% off your first month.
Hulu – Hulu is also a great option since the platform features NBC Sports. TUDN, UniMas, and Univision are missing from here too. Start your 7-day free trial on Hulu!
How Can I Watch Rugby World Cup Outside of the United States?
If you often travel, you probably found that you can't access some sites due to your location. Live TV platforms and streaming services all have the same issue and you can't watch anything if you are outside of the United States. The solution to this problem is to use a VPN to change your IP address and trick the site into thinking you are still in the United States. On TechNadu we only recommend ExpressVPN which is one of the best on the market.
Here is everything you need to do to set up ExpressVPN to watch the Rugby World Cup outside of the US:
First, you have to visit the ExpressVPN website and subscribe to the service in a few steps. Keep in mind that they offer a 30-day money-back guarantee so you can ask for a refund if you don't like the service.
Then, you have to download and install the app on your device. Follow up by launching the tool and logging into your account.
Next, you have to find a server that is located in the United States and to connect to it.
As soon as the connection is established, you can load fuboTV, switch to NBC Sports and watch the games.
How to Watch the Rugby World Cup if You Live in the UK, Australia, Canada, or New Zealand
If you live in the UK, you can watch the games on ITV.
For the folks who live in Australis, you should head over to FOX and TEN.
If you live in the land of the Lord of the Rings, better known as New Zealand, you can watch the RWC on Spark Sport.
Friendly rugby fans over in Canada can watch on TSN.
Can I Watch the Rugby World Cup on TV Network Websites?
The NBC Sports website comes with a live stream that you can enjoy if you sign in to an account. You can do this by using credentials from your TV provider, whether a live TV service or a cable provider. (Note: Keep in mind that NBC Sports is also geoblocked so you'll need a VPN to overcome the issue when traveling abroad. Click here to learn how to do this.)
We'd love to hear back from you so you can tell us which team you're rooting for at the Rugby World Cup. Drop us a note in the comments section below the article. Share the guide with friends and family and follow TechNadu on Facebook and Twitter for more tech news, guides, reviews, and interviews.