IMPORTANT UPDATE: As announced by DAZN in March 2020, this media streaming service is now available across more than 200 countries and territories. Therefore, the chances are that you can access DAZN without a VPN and subscribe without any issues.
However, in case you encounter any issues trying to access DAZN, make sure to consult this article, where we reveal the steps to unblock DAZN from anywhere while giving you recommendations on the best VPNs for that purpose.
DAZN is often called the "Netflix of Sports," and for good reason. You can watch tons of live events and sports on the site - from basketball, football, and hockey to combat sports (UFC, MMA, Golen Boy, etc.), tennis, and professional wrestling (WWE).
But just like Netflix, DAZN has a problem - geo-blocks. It's not that you can't watch DAZN outside specific countries. The site became available worldwide on December 1st, 2020. Instead, the issue is that some games, matches, and live events are only available in certain countries. For example, you can only stream live English Premier League content in Spain, Canada, and Japan.
Annoying, right?
Well, don't worry - we'll show you how to easily unblock any DAZN content you want no matter where you are in the world.
How to Watch DAZN Content in Any Country You Want (4 Steps)
Step 1 - Pick a VPN from our article (we suggest trying ExpressVPN).
Step 2 - Download and install the VPN app.
Step 3 - Run the app, and use it to connect to a VPN server. It has to be located in a country where the DAZN content you want to watch is available. For example, that means using a Canadian, Japanese, or Spanish server for the English Premier League.
Step 4 - That's it! Head over to DAZN, log in or register, and start watching whatever you want.
Top 5 VPNs for Watching DAZN From Anywhere
We spent tens of hours stress-testing over 60 VPNs to see which ones work best. According to our findings, these are the best five VPNs that really unblock DAZN content abroad.
1. ExpressVPN - Best Way to Watch DAZN Abroad in General
With ExpressVPN, you get everything you need to unblock DAZN content and enjoy it too. The provider offers high-speed servers (over 3,000), unlimited bandwidth, and very user-friendly apps (any newbie can get the hang of them in seconds).
Besides that, you also get decent encryption, support for up to five simultaneous connections, and the ability to use split tunneling (force the VPN to only route DAZN traffic to get better speeds).
Other than that, ExpressVPN comes with a no-risk no-questions-asked 30-day money-back guarantee and professional 24/7 support through live chat.
If you'd like to learn more about ExpressVPN, check out our hands-on review.
2. CyberGhost VPN - Best Option for a Risk-Free Buy
CyberGhost VPN is a great streaming option - you get smooth speeds, unmetered bandwidth, and up to seven parallel connections (perfect if you want to watch DAZN on multiple devices at the same time).
What's more, the provider has easy-to-use apps for most platforms, private dedicated IPs (which makes it a bit harder for DAZN to detect your VPN IP), and a decently-sized server network (6,300+).
What makes this VPN a "risk-free buy," though?
Well, the fact that you get a free one-day trial. So you have plenty of time to see if CyberGhost VPN is right for you or not. Also, once you buy a long-term subscription, you're covered by their 45-day refund policy (it's 14 days for the monthly plan).
And if you ever have any issues with the service, you can quickly get a solution by reaching out to their support reps over the live chat (they're available 24/7).
Here's an in-depth look at CyberGhost VPN if you'd like to learn more about their service.
3. Private Internet Access - Best Pick If You're Obsessed With Server Count
PIA offers you access to a huge server network - over 17,000 and counting! Safe to say, you'll have no trouble finding a server that's near your geo-location to get optimal speeds. Plus, you'll be able to watch DAZN content from any regional library.
But that's not all! With PIA, you also get very enjoyable streaming thanks to their smooth speeds, user-friendly and cross-platform compatible apps, unlimited data, and split tunneling. Oh, and you can use PIA on up to ten devices simultaneously - very handy if you have a large family or live on campus.
Finally, you should know that PIA offers 24/7 support through live chat for existing customers, and a decent 30-day money-back guarantee.
To find out more about how PIA performs, please read our review.
4. Surfshark - Best Option If You Love Simultaneous Connections
Unlike most VPNs, Surfshark offers not five, not six, not seven, not ten, but unlimited parallel connections!
That's right - you can use your Surfshark subscription on as many devices as you want - in your home, at work, at your in-laws' house, you name it. It also means you can share a subscription with a few friends to save money (not that you'd really need to since Surfshark is very cheap).
On top of that, the provider offers 1,700+ speedy servers, unmetered bandwidth, and apps for the most popular platforms (which all have a nice, clean design).
And like all the VPNs on this list, Surfshark has 24/7 support through live chat and a very generous 30-day money-back guarantee.
If you think this might be the right VPN for you, and you'd like to read more about it, please follow this link to see our in-depth review.
5. NordVPN - Best Option for Secure Streaming
All the VPNs on this list offer powerful encryption, but NordVPN goes the extra mile. On top of high-end encryption, you also get traffic obfuscation, access to a colocated network (servers owned and operated by NordVPN staff), and support for Tor over VPN traffic.
What's more, you can also pair up your NordVPN subscription with two more secure services: NordLocker and NordPass. The first one is a very capable file encryption platform, and the second one is a reliable and user-friendly password manager.
Really, you have everything you need to protect your online data. But the perks don't stop there!
NordVPN also lets you enjoy great streaming by offering very fast speeds, a large network (5,650+ servers), and intuitive apps for all platforms. Also, they offer 24/7 support (live chat is available) and a 30-day refund policy.
If you're interested in reading more about this provider, be sure to check our full review.
How Do VPNs Let You Watch DAZN?
You probably know they "hide your IP," but what does that even mean?
Basically, VPNs stop DAZN (and any other site) from seeing your IP address. They do that by routing your traffic through a VPN server that acts as a middleman between your device and DAZN. So your connection will look like this:
How a VPN Connection to DAZN Looks Like
Device --> ISP Network --> VPN Server --> DAZN
Because your traffic takes that path, DAZN's web servers will think your connection requests are coming from the VPN, not your device. Since those requests contain IPs, DAZN will only see the VPN server's IP address.
So, your IP is "hidden" from the site.
FAQ
Here's a list of common questions that we saw people asking about DAZN, VPNs, and using the two together. If you want to learn more, let us know in the comments below.
What Is DAZN?
DAZN is an online streaming site that lets you watch tons of sports. Overall, users get access to 8,000+ live events per year.
To use DAZN, you have to register an account and pay a monthly fee. The pricing is pretty fair, and you can cancel your subscription whenever you want.
Where Is DAZN Available?
DAZN used to only be available in the US, Italy, Spain, Canada, Germany, Austria, Switzerland, Brazil, and Japan. But, on December 1st, 2020, it launched its service worldwide in 200 countries.
However, content on the site still varies from country to country. Some live events might only be available in a few countries due to licensing regulations.
What Can You Watch on DAZN?
Lots of content. You can find the following:
NFL Game Pass
NFL RedZone
NFL Sunday Ticket
UEFA Champions League
UEFA Europa League
KHL Hockey
ATP 250 Tennis
PDC Darts
Snooker
And much, much more.
What Devices Can You Watch DAZN On?
DAZN works on most desktops through web browsers - Chrome, Opera, Firefox, Edge, Internet Explorer, and Safari. It also has apps for tons of platforms:
Smart TVs and connected devices
Android (phone and tablet)
iOS (iPhone and iPad)
PlayStation 4 and PlayStation 4 Pro
Xbox One and Xbox One S

Can Free VPNs Unblock DAZN?
Not really. Paid VPNs struggle to do that, so free VPNs don't really stand a chance. DAZN will detect their IPs very fast, meaning the site will blacklist them often.
Since free VPNs don't have enough money to constantly refresh their servers' IPs, their users will have to deal with intermittent access to DAZN. Besides that, they also have to put up with capped bandwidth, slower speeds (due to overcrowded servers), and little to no support. Oh, and ads - lots of them.
If you really want to try unblocking DAZN with a free VPN, at least make sure you use our list to find a good one.
Why Do I Get the u0022DAZN Isn't Available in Your Countryu0022 Message?
When using a VPN with DAZN, you might sometimes end up on this page: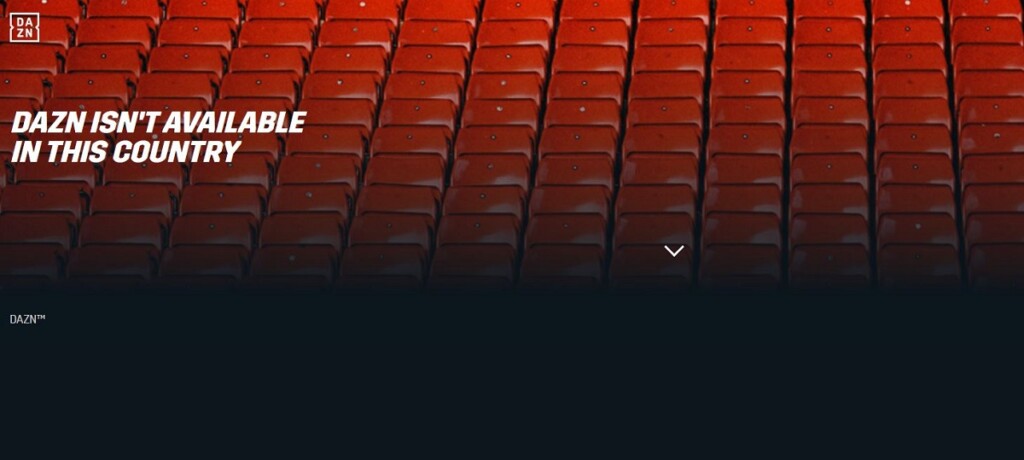 This will sometimes happen if the site detects you're using a VPN. Think of it as the equivalent of the Netflix proxy error. But it can also happen even if you don't use a VPN. Sometimes, you might see it on one device while being able to use the site on a different device simultaneously.
DAZN has a troubleshooting guide for this error, but it's not really helpful for those of you who use a VPN. The first tip recommends disconnecting from the VPN or proxy you're using.
What we found to work really well is changing your DNS address to Google Public DNS (8.8.8.8 and 8.8.4.4). Once we did that, we no longer ended up on that page.
Will My VPN Speeds Be Too Slow for DAZN?
No, that shouldn't really be a problem. DAZN doesn't require very fast speeds to begin with. According to this article on their site, the minimum required speed is 2 Mbps (SD quality), and the maximum required speed is 8 Mbps (HD, in highest video quality).
Even if your original speeds are a little low (like 30-40 Mbps), you shouldn't experience noticeable slowdowns when using a VPN.
But if you do, don't worry - there are ways to optimize your VPN speeds. We actually have a guide covering this topic. If you're in a hurry, though, just try this:
Connect to nearby servers.
Use lightweight protocols (L2TP/IPSec, WireGuard, IKEv2).
Use wired connections instead of WiFi.
Final Thoughts
Even though DAZN is available in around 200 countries nowadays, content on the site can be geo-restricted to certain regions. So a live event that can be streamed in the US might not be available in Europe.
To fix that problem, just use a VPN (like ExpressVPN). Connect to a server that's in a country where the content you want to watch is available, and you'll get instant access to it. Yep - it's that easy!