Even though VPNArea isn't one of the big-name VPN services, this doesn't automatically make it any less powerful. Actually, while testing dozens of VPNs and narrowing down our list of the best VPNs right now, we've encountered a few hidden gems that are definitely worth your attention. Even though many of those are relatively unknown, they bring a strong set of features, website unblocking, and powerful privacy protection – at a low price. So, could VPNArea be one of those hidden gems? We're here to find out. Welcome to our hands-on review of VPNArea!
Just like we do in our every VPN review, we'll start by introducing you to the basic information about this VPN service. The following table will give you a glimpse of what to expect, so make sure to take a quick look.
Next, you should know that we've tested VPNArea with a number of worldwide popular streaming platforms. So, in case you need to unblock any of those, you'll find some useful information in the following table.
If you don't want to read our in-depth and hands-on review, we've prepared the most prominent highlights. Check out the final table in our introductory segment.
And now, let's dive deep into everything VPNArea offers. We'll be inspecting various aspects of this VPN, so make sure to stick with us until the end of this review. Let's begin, shall we?
VPNArea – TechNadu's Hands-On Review
To make sure we're being objective throughout all our VPN reviews, we've come up with a uniform structure. If you'd like to learn more about this process, here's how we review and rate VPNs.
Background, Jurisdiction & Reputation
VPNArea is based in Bulgaria and it comes as a 'no-logs' VPN. There are also no previous leaks or data breaches. Our Score: 10/10.
Just like any other business entity, VPN services need to respect the laws of their home country. In some cases, this means having to log certain types of data. So, let's what you need to know about VPNArea.
Jurisdiction & Applicable Laws
First and foremost, you need to know that VPNArea is headquartered in Bulgaria, a member country of the European Union. The company behind this VPN is called Offshore Security LTD, found in Varna (Bulgaria). Now, you must wonder if an EU country like Bulgaria is a good place to base VPN operations, and we have to say that it does seem so. This country does not share all of its laws with the rest of the European Union, and it's outside of the 14-Eyes intelligence treaty.
It's also interesting to note that Bulgaria protects private data via its Electronic Communications Act (created in 2007, amended in 2016), as well as that the previous Bulgarian data retention law (imposed by the EU) was declared unconstitutional in 2015. With all of this said, it's understandable why VPNArea is a 'no-logs' VPN and how it can manage to sustain such user-friendly privacy policy.
Previous Data Leaks
We're happy to report that VPNArea comes with no previous leaks or data breaches. This is an indicator that this VPN is doing a good job of protecting their servers and continuously improving their services. It's also an indicator that getting a long-term subscription to this VPN seems like a good idea.
Supported Platforms & Devices
VPNArea is compatible with a healthy number of devices – and it supports routers as well. What's missing here are Web browsers and some media streamers. Our Score: 8.5/10.
VPNArea can be used on 6 devices at the same time. To see what kinds of devices and platforms it offers, check out the following table.
As you can see, VPNArea is compatible with all major and currently popular desktop and mobile operating systems. What's also nice to see is its broad router compatibility. As you can imagine, using VPNArea on a router counts as a single device, no matter how many devices you connect to it. This leaves you with 5 additional empty slots, so you can protect yourself on the go as well.
There's also another nice feature. VPNArea says that account sharing is permitted. This means that you can share a single subscription with your family, friends, or colleagues – as long as you're within the limit of 6 devices per one account. The only thing that's missing here is Web browser extensions and native support for media streaming devices (even though you can sideload the Android app for this purpose).
Installation & Initial Configuration
Getting started with VPNArea couldn't be simpler. This VPN has done an amazing job of helping even the most inexperienced VPN users out there. Our Score: 10/10.
The first step toward running this VPN is to get a VPNArea subscription. Once you select a payment plan and fill out your information, you'll get your user credentials. You need these to log-in to your account page on the official website of this VPN. We have to praise VPNArea for creating such a user-friendly account portal, which is where you can review your details, check out the server status page, contact this VPN's support team, and more. This is also from where you can download VPNArea apps.
The process of installation depends on your operating system. However, it doesn't deviate from what you're accustomed to, as there are no bundled offers or anything suspicious. Simply go through the installation process and you'll see this VPN's log-in screen.
In general, installing a VPN on your router can be somewhat tricky. To make this process as simple as possible, VPNArea is offering a nice set of guides that give you detailed instructions. There's even an installation guide on making this VPN compatible with a custom Kodi installation, which is something we don't see often.
Prominent Features
VPNArea comes with plenty of features (both basic and advanced) designed to protect your privacy and make sure you're free of any data leaks. Our Score: 10/10.
We'll now check what kinds of data protection this VPN brings, and whether you'll find some extra features as well. So, let's see what kinds of features VPNArea has prepared for us.
It's clear that VPNArea comes with an incredibly strong set of features. It takes care of your privacy in the best way possible and protects you against DNS, IPv4, and IPv6 leaks. Thanks to a built-in kill switch, you can stay safe even if you disconnect from a secure server (by accident). And also, VPNArea battles against digital ads, various types of trackers, and even malware.
Finally, let's not forget to mention that getting a premium subscription will grant you full access to this VPN. This means that you'll get unlimited server switches, bandwidth, and data. You'll also get additional features like manual port selection and custom DNS servers – so, it's safe to say that VPNArea is a fully-featured VPN solution.
Server Count
You'll get only 250+ servers – but they are strategically placed around the globe. There are 100+ locations and you get unlimited switching. Our Score: 5/10.
Ideally, you want a VPN with plenty of servers around the globe – and you'll also want to know whether you'll get to use physical or virtual servers. So, here's what to know about the server network of VPNArea.
At the moment, VPNArea offers more than 250 servers, all of which are physical units – which means there are no virtual servers here. This VPN takes great pride in its server network, and rightfully so. It might not be the biggest server network out there but comes with strategically placed servers. You'll find plenty of options across North America, Europe, Asia, and Oceania.
Even though 250 servers might seem like plenty (especially for average home users), you should know that there are VPNs offering more than 5,000 servers across the globe. This means that you can easily find a better option if you care about having plenty of servers at your disposal. After all, VPNArea is still a relatively new VPN service and its server count shows that.
Ease of Use
Even though it doesn't have the most polished UI, VPNArea is easy to use. It also comes with a high level of customization and fine-tuning. Our Score: 9/10.
The home screen of VPNArea bring you all the tools you need to select a server and secure your Web connection. At the top, you'll see different filtering options for the available servers, and this includes: all servers, recommended, favorites, P2P, special, and dedicated IP. These categories are self-explanatory, except for the 'special' category. This is where you'll find servers that allow you to re-route your traffic via two servers at the same time (so-called 'double VPN') and you'll find various servers optimized for media streaming. At the bottom of the list, you'll get to rearrange the list of servers by their distance, speed, and by their current load.
To connect to any server, you can double-click on its name. You can also see the prominent blue button in the central portion of this VPN's UI. Once connected, you'll see the status of your secure connection, your virtual IP address, as well as whether you've enabled the ad-blocker and malware prevention.
To fine-tune this VPN to your liking, click on the 'Settings' button at the top of the window. This will take you to a comprehensive list of options, found across the following categories:
Settings: This section allows you to input your user credentials, enable the ad-blocker and malware prevention tool, open VPNArea on start-up (and automatically connect as well), and you can also choose how this application behaves (in terms of sound and notifications).
Server Settings: VPNArea allows you to use custom DNS servers, you can select from different protocols, and choose a custom DNS port.
Connection Log: In case of any technical issues, you'll be asked to send your connection log. This option allows you to copy the relevant information to your clipboard, so you can send it over the Web.
Kill Switch & Anti-DNS Leak: We recommend you keep these two options enabled. This will protect your Web traffic even if you somehow disconnect from a secure server, by accident.
Auto IP Changer: Finally, you can also manually update the list of servers along with your virtual IP address, which can be helpful when it comes to website unblocking.
We have to say that VPNArea doesn't have the most polished UI out there. However, it's easy to use and brings you numerous settings that you can fine-tune. With this said, we believe that both novices and experienced users are going to love it.
Media Streaming & Torrenting Support
VPNArea works with Netflix, and it also supports Hulu and BBC iPlayer. Torrenting is also on board – so the only platform missing is Amazon Prime Video. Our Score: 8/10.
Want to unblock different versions of Netflix? Or maybe you want to stream Hulu even while outside the United States? Well, let's see if VPNArea can help you with that.
VPNArea brings dedicated servers optimized for Netflix US, Hulu, and BBC iPlayer – and we managed to verify that all three of these streaming platforms work. Unfortunately, the same can't be said for Amazon Prime Video – and we were told that VPNArea is currently working on a solution for this.
In terms of downloading torrent files, this VPN comes with numerous optimized servers spread across the entire globe. You can also use pretty much any server available here to download torrents (not just the P2P-optimized ones), but keep in mind to check your chosen server's load – as you want to avoid having your Web connection throttled.
Security & Privacy
VPNArea is doing a marvelous job of protecting your privacy. It prevents leaks and hides your personal information, without creating any logs on its servers. Our Score: 10/10.
The primary role of any VPN is to keep you protected online – so, let's not forget about their core mission. In this segment, we'll explore security- and privacy-related features that this VPN brings.
Supported Encryption Protocols
VPNArea relies on AES-256 encryption – which is perhaps the strongest available encryption protocol. In terms of the available VPN protocols, you'll get to use OpenVPN and IKEv2. Both of these are secure, with OpenVPN being the industry standard.
It should be also noted that VPNArea can be used even in China, which testifies to its website-unblocking capabilities. Therefore, we highly recommend this VPN if you leave in a country with a high level of censorship.
Logging Policy
As per this VPN's privacy policy, VPNArea doesn't collect any personally identifiable information. It doesn't track your online activities and it doesn't create logs of what you do online. This means that the information such as login dates, timestamps, incoming and outgoing IPs, or any other related data is never stored on the servers operated by VPNArea.
The only information that's stored is related to your user account. However, you don't have to hand over your personal email address – you can use a fake or disposable one instead. With this said, we conclude that VPNArea respects your privacy in the best way possible.
DNS Leak Test
Finally, we've also tested VPNArea for DNS leaks. As you can see from the image above, no leaks were detected. This means that your real IP address, hostname, ISP, and your county of origin are never leaked to any third-party online.
Speed & Performance
Unfortunately, VPNArea comes with a disappointing performance. It's quite below the average result, as it slowed us down by around 72%. Our Score: 3/10.
Now, let's check what kind of performance you can expect out of VPNArea. Just like with any VPNs, you can expect some throttling – but the best VPNs out there keep this at 10-15%. Here's how VPNArea ranks in this aspect.
To begin with, we've tested the speed of our Web connection – without having this VPN enabled. As you can see from the screenshot above, we got 147.73 Mbps for downloads and 9.85 Mbps for uploads. Next, we checked the speed of a nearby server.
Based on the input made by VPNArea, we connected to a server in a neighboring country (we're located in Europe, by the way). As said earlier, VPNArea gives you a list of fast-performing servers based on your location. After running a speed test, we got 59.66 Mbps for downloads and 9.05 Mbps for uploads.

Finally, we also connected to a remote server, found in the United States. This time around, we got 23.73 Mbps for downloads and 4.08 Mbps for uploads. So, let's put all those numbers into a table and see the final result.
On average, VPNArea slowed us down by around 72%. We have to say that we're disappointed by this result, especially after knowing that this VPN comes with an incredibly powerful set of features.
Customer Support
VPNArea offers numerous customer support channels, all of which seem to be very active. You can be sure that your issue will be resolved in a timely manner. Our Score: 10/10.
In case of any troubles or if you have additional questions, VPNArea offers several communication channels. So, here are all the ways you can approach VPNArea:
Live Chat & Skype: We've talked to this VPN's team via live chat, and we always managed to have our questions answered in a timely manner. Surprisingly enough, VPNArea also has a Skype channel – so you can send a message via Skype and even set up a video/audio call.
Email & Support Tickets: This VPN offers a range of email addresses that you use to contact the company. You'll find email addresses to several different departments, and there's also a way to open a customer support ticket. No matter which path you take, you can expect a response within 24 hours.
Community Forum: In case you'd like to consult other VPNArea users, there's an active community forum to exchange ideas, tips, and to resolve technical problems.
Frequently Asked Questions: Finally, there's also a comprehensive FAQ section explaining often-used VPN terms and more.
Pricing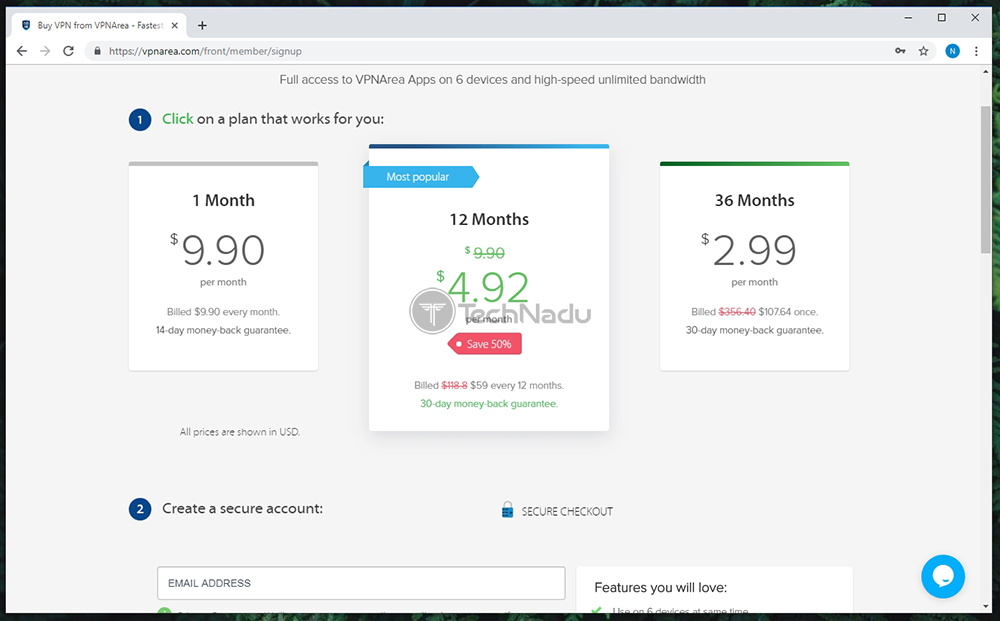 VPNArea comes with competitive pricing plans, and we strongly recommend you to think about investing in one of its long-term plans. Our Score: 9/10.
At the moment, VPNArea comes with three subscription plans that bring the same set of features. Their only difference is in their duration and their price, so let's take a look.
Even if you decide to subscribe to VPNArea via its monthly plan, you'll end up with a nice deal. However, you'll find the biggest savings in its long-term plans. By knowing its past and how fast this VPN is developing its features, we think that investing in long-term plans comes with practically no risks. You'll find the biggest savings in its 36-month plan – bringing the price down to only $2.99.
Finally, keep in mind that VPNArea offers money-back guarantees (30 days for its 12-month and 36-month plans, and 14 days for its 1-month plan). Also, you can pay via PayPal, credit cards, numerous other payment processors, and Bitcoin is supported as well.
Do We Recommend VPNArea?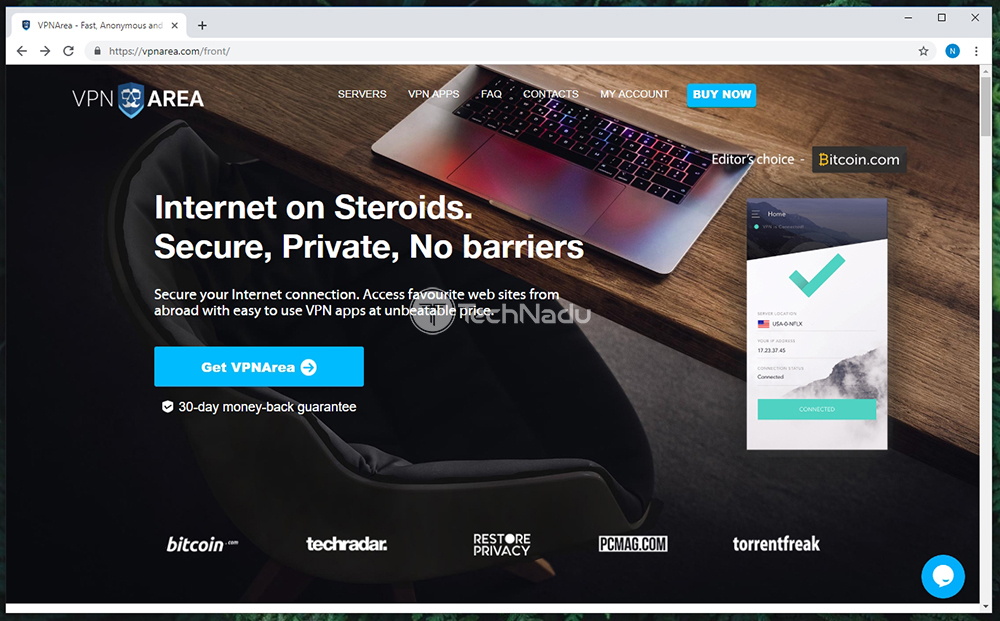 Sadly, this isn't the fastest VPN out there – and this VPN's performance is probably its weakest selling point, right now. However, VPNArea is truly a hidden gem. It can keep you absolutely safe online, and it allows you to unblock plenty of websites. Therefore, we think you're going to love this VPN – but only if you have a fast Web connection, to begin with.
PROS: Easy to install; Easy to Use; Capable VPN protocols; Keeps no logs; Specialized servers; Helpful customer support; Affordable.
CONS: Small server network; Somewhat problematic performance.
OUR SCORE: 8.4 out of 10!
We believe that many of you will be perfectly happy with this VPN service. It certainly has a lot going for it, so why not check out VPNArea for yourself? Even if you're not sure about using this VPN, remember that you can take advantage of its money-back guarantee, which means that you can try this VPN out, with no risks.
So, that would be all for our review of VPNArea. We'd like to ask you to share this article online, and you can also follow TechNadu on Facebook and Twitter. Thank you!