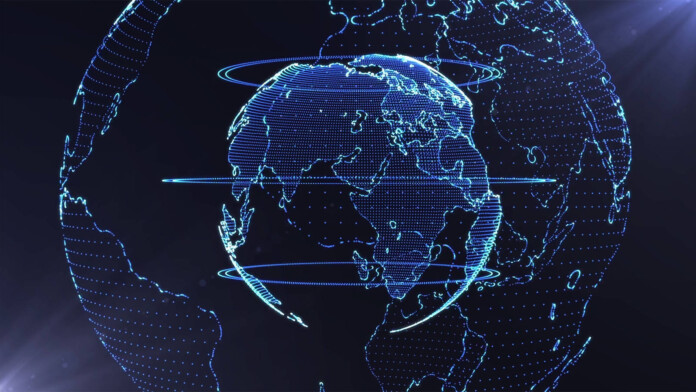 Important Update: We regret to inform you that Anonymizer is no longer available as a commercial VPN service. Ntrepid Corporation, the company behind Anonymizer VPN, has decided to shift its focus toward enterprise users by offering a new set of business-related intelligence tools. With this said, we recommend reading our VPN Unlimited review, or you can expand your options by visiting our up-to-date overview of the best VPNs right now.
There's a wide variety of VPN services on the market that all may sound the same in principle. In practice, they can be very different when it comes to their individual natures. The two VPNs we're comparing in this article demonstrate this perfectly. On paper, their feature sets are more or less the same, but thanks to different values and philosophies from each provider they could not be more different. So, welcome to our VPN Unlimited Vs Anonymizer comparison.
VPN Unlimited is a provider based in the United States. Keepsolid is the company behind the brand and Unlimited is one of the newest VPNs on the market at only four years of age. Anonymizer is one of the oldest VPN providers, having been around since 1995. Anonymizer is also based in the United States, which is funny considering their focus on privacy in a context of poor US Internet privacy laws.
In this comparison, we'll be looking at a set of criteria each of these VPNs were assessed under in their individual reviews. Here's a quick tabulated summary.
| | | |
| --- | --- | --- |
| | VPN Unlimited | Anonymizer |
| Device Support | Windows, MacOS, iOS, Android, Linux, Windows Phone, Browser extension. | Windows, MacOS, Linux, Android, iOS. |
| Prominent Features | Easy to use; Personal IP; Personal server. | Unblocks content on the Web; Pretty barebones. |
| Server Network | 400+ servers in 70+ locations. | Only 2 servers in 2 locations. |
| Logging Policy | Keeps log files of session web traffic. | Zero-logs privacy policy. |
| Encryption | AES-256; AES -128; IKEv2; Camellia 256-bit. | Proprietary protocols. |
| Privacy | Cloaks IP but keeps logs of sessions. | Keeps no records of their users' activities. |
| Speed | Average; Some throttling can occur. | Below average; Can fluctuate quite a bit. |
| Number of Devices | Up to 5 devices for free, and up to 15 more (additional charge). | Up to 6 devices. |
| Visit | VPN Unlimited | Anonymizer |
In the table found above, you can directly compare the most important features of these two VPNs. Next, let's take a look at how VPN Unlimited and Anonymizer scored in their respective reviews, both of which can be found on TechNadu.
| | | |
| --- | --- | --- |
| | VPN Unlimited | Anonymizer |
| Supported Devices | 10/10 | 2/10 |
| Installation & Setup | 10/10 | 5/10 |
| Prominent Features | 7/10 | 3/10 |
| Ease of Use | 10/10 | 4/10 |
| Server Locations | 8/10 | 1/10 |
| Speed | 8/10 | 2/10 |
| Security & Privacy | 8/10 | 8/10 |
| Customer Service | 6/10 | 1/10 |
| Pricing | 8/10 | 3/10 |
| Overall Score | 8.3/10 | 3.2/10 |
Finally, we can start to dig deep into what these VPNs have to offer. If you continue reading, you will get to learn more about each of the important features of VPN Unlimited and Anonymizer.
VPN Unlimited Vs Anonymizer: A Direct Comparison
Taking a look at the tables found in the introduction gives you a helpful first glimpse at these services. However, this isn't where you should stop. So, let's take a closer look.
Supported Devices

These days, you can freely expect from a reputable VPN to offer native apps for all major desktop and mobile platforms. So, let's take a look at how VPN Unlimited and Anonymizer have met this requirement.
VPN Unlimited: This VPN provider supports all popular platforms natively while also adding support for Linux, Windows Phone, Chrome, and Firefox. There's also OpenVPN support for routers, but unfortunately, only users who are annual subscribers are allowed to get the config files for DD-WRT routers. This is the only downside to an otherwise stellar platform compatibility.
Anonymizer: When it comes to native support, Anonymizer only seems to have clients for Windows and MacOS. The only way to get it on your smart device is by downloading the OVPN file from the dashboard and configuring it manually. In theory, this means that you can use this VPN on a wide variety of devices. However, you can expect somewhat complicated installation methods that require using third-party apps.
Winner: We don't have to think hard about the winner of this category. With numerous platforms natively supported, VPN Unlimited takes this round.
Installation & Setup
Next, let's take a look at how easy it is to get started with these VPNs. We have tested their installation methods to see how effortless this process can be.
VPN Unlimited: Our first impression of VPN Unlimited was very good. Signing up was easy and downloading the client no harder than that. It works the same as almost every other Windows app installer has for decades. This means that you'll face a familiar installation method that doesn't require any special knowledge. All in all, you can start using this service within minutes.
Anonymizer: Signing up for Anonymizer, on the other hand, was nothing but trouble thanks to a payment glitch where it would not accept our credit card. We still don't know what the problem is since Anonymizer's support stopped talking to us after the first email. Which is why we ended up using the trial account for our testing.
Winner: Once again, VPN Unlimited takes the lead. You can start using this service in a matter of minutes after you sign-up for a new account.
Prominent Features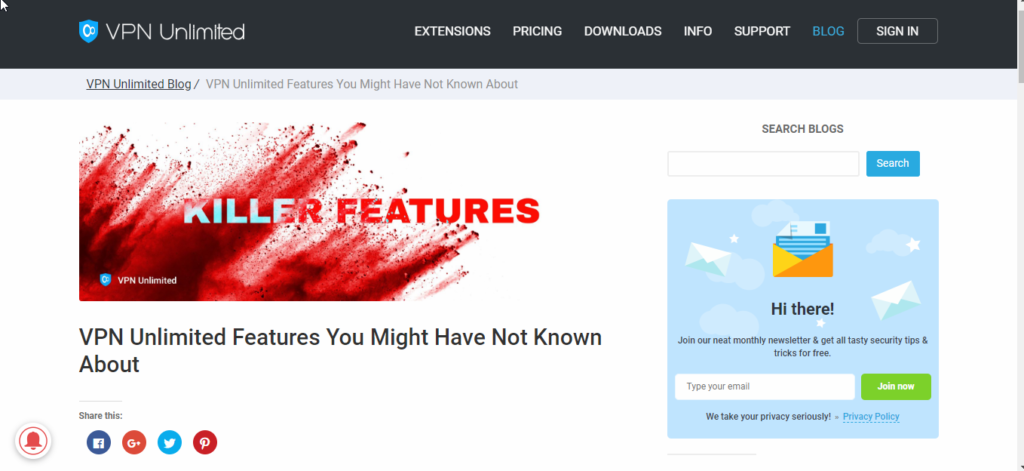 Aside from keeping you secure on the Web, are there any extra features you can count on? Keep on reading to find out.
VPN Unlimited: The basic package also offers the same privacy and security technology as Anonymizer, but of course with many more exit nodes. However, it loses a lot of marks because it lacks that kill-switch function and we hope they add it soon. If you're willing to pay for more than just the basic package, there are some truly innovative optional extra services available here. The ultimate VPN solution must surely be your own private VPN server and for a bit more money you can rent one from VPN Unlimited. If that's too rich for your blood, then you can at least add a dedicated IP address that will help unblock services that run VPN blacklists.
Anonymizer: This provider technically does everything it claims to on the tin, but as it turns out, it's not much beyond the bare minimum. This is a product that isn't interested in competing with newer VPN providers who offers ways for modern Internet users hungry for content to stick their noses where the media companies don't want them to. Instead, they keep out of that business altogether. We also have to note one major omission – there's no kill switch. This can be a big drawback in case your VPN connection drops and your data become exposed to third-parties.
Winner: Anonymizer is very thin on features beyond the most basic VPN functions. While VPN Unlimited isn't flush with features on the standard package, compared to Anonymizer it's pretty fleshed out.
Ease of Use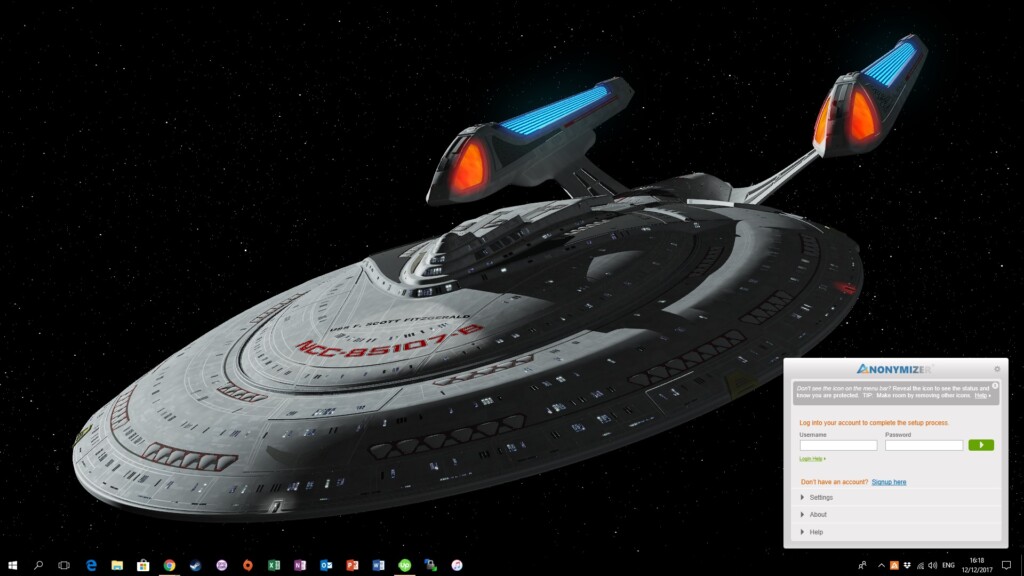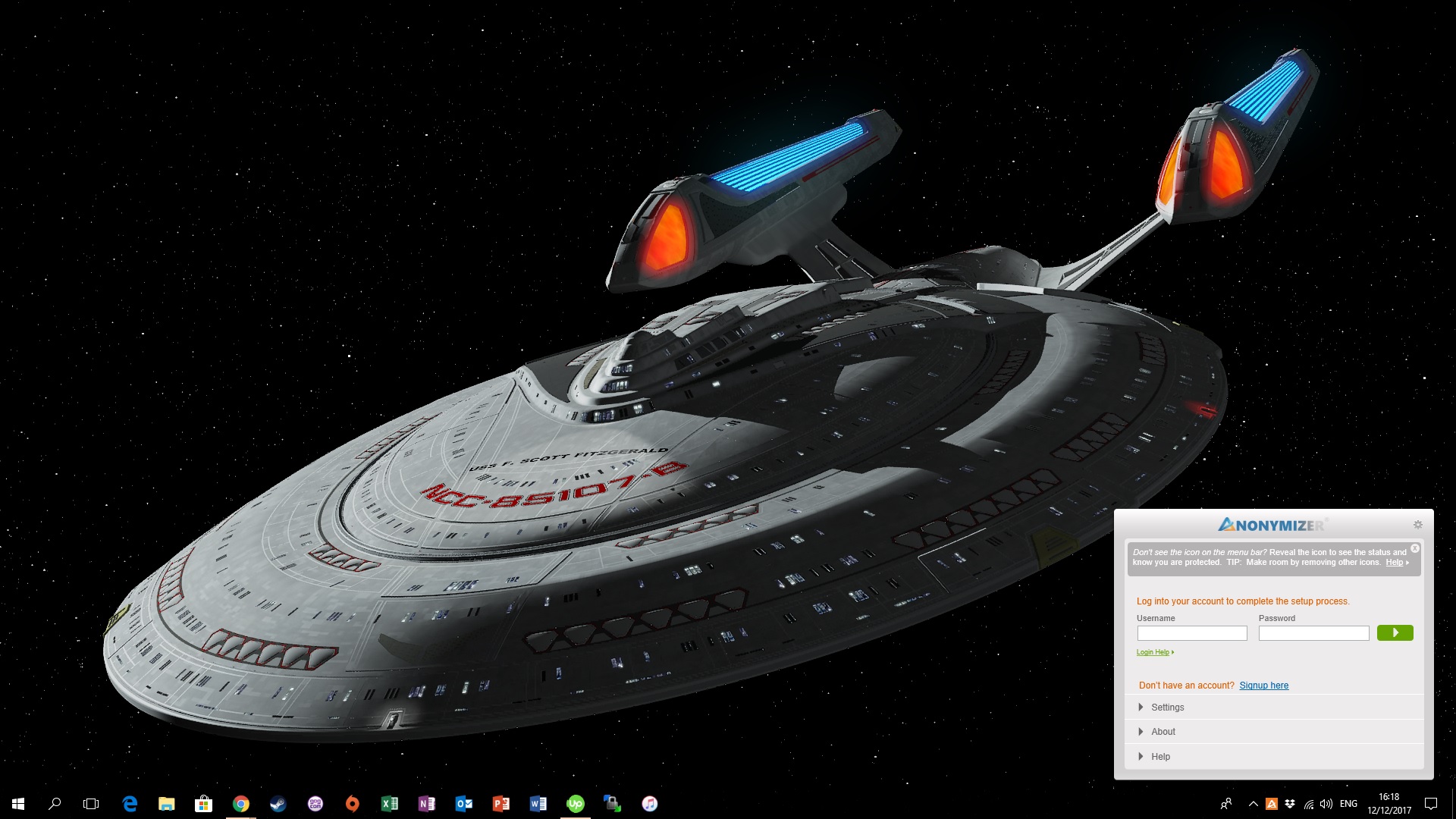 Having access to advanced features is pointless unless you can easily access them. This is why our VPN Unlimited Vs Anonymizer comes with an explanation on what kind of ease of use you can expect.
VPN Unlimited: VPN Unlimited is not only a revelation compared to Anonymizer, this is one of the best VPN clients that we have ever used. It's divided into intuitive sections with easy navigation and none of the claustrophobic cramped spaces we saw with Anonymizer. There's nothing you can't do when it comes to this client, and everything from switching servers to getting help or buying more VPN time is dead simple.
Anonymizer: Anonymizer's client feels pretty old-school and the developers have made some strange decisions if you ask us. For one thing, it's not a free-standing movable window. Instead, they've decided to anchor the client window just above the tray icons. If you happen to click outside it, the whole window disappears and if your tray icon has moved to the overflow area, be prepared for a frustrating loop of pointless clicks until you figure out that the icon should be dragged to the main tray to work properly. The client itself is functional, but not fun to use. It consists of a set of stacked drop-down menus and you really just want to get in and get out.
Winner: These two clients aren't just in different classes, they're from different planets. VPN Unlimited offers one of the very best client experiences we've ever seen.
Server Locations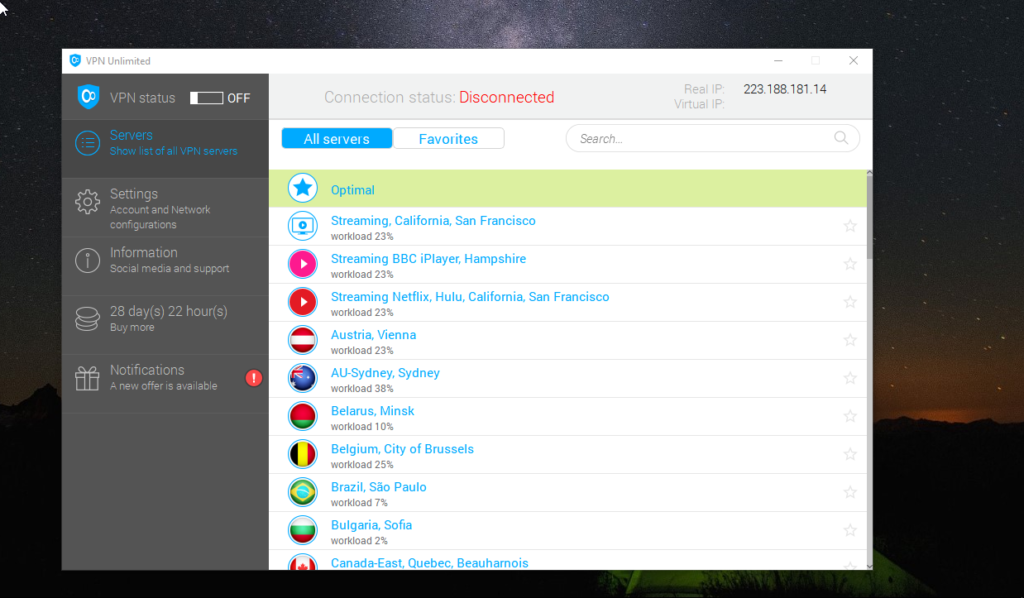 If you care about unblocking websites, you need to pay attention to how many servers you'll get to use. This is also where you'll find the biggest difference between VPN Unlimited and Anonymizer.
VPN Unlimited: In the bigger scheme of things, VPN Unlimited has a network more towards the low end of the size scale, but 400 servers and 70 global locations are obviously much preferred to Anonymizer's paltry selection.
Anonymizer: Anonymizer doesn't say how many actual servers they have, but we do know that they only have two locations that house those servers: Amsterdam and San Diego. This is a doubling of their initial offer, which was only in San Diego. Either of those locations will anonymize your browsing, but unless you only want either locations or live nearby anyway, don't expect them to be fast.
Winner: VPN Unlimited has 100s of servers and dozens of locations. Anonymizer has two exit nodes. It's not a hard choice.
Speed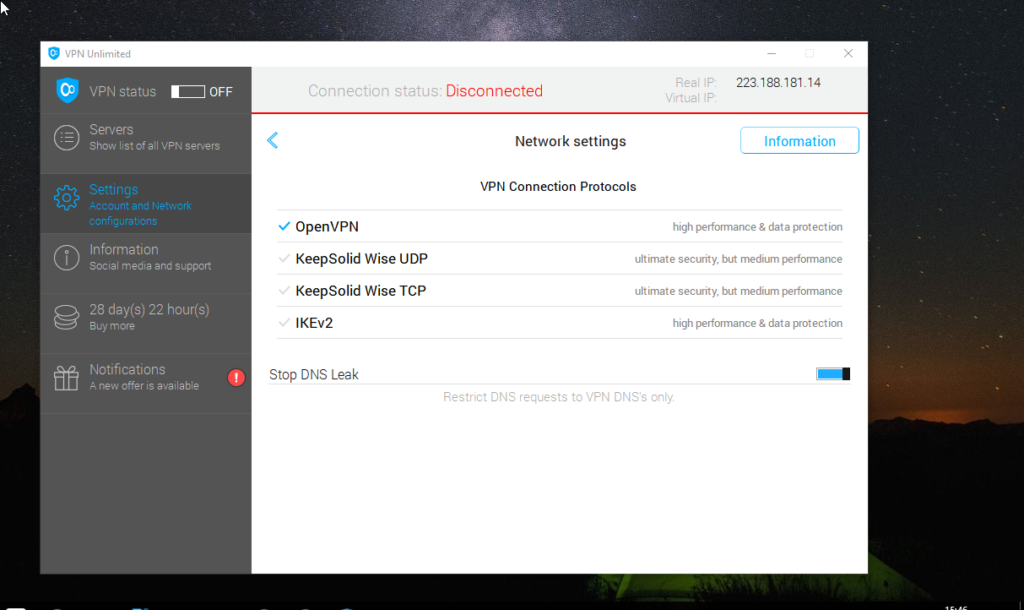 Because your data needs to travel longer than usual, it's not uncommon for VPNs to throttle your connection a bit. However, most respected VPNs minimize this throttling up to a point where you even can't notice it.
VPN Unlimited: To help you get the best possible Web connection speed, this VPN provider help you with picking the best server. In the majority of cases, this will be a server that's closest to your location. However, your speed won't dramatically drop even if you connect to a remote server that's quite far away. All in all, VPN Unlimited brings above average performance.
Anonymizer: You can read Anonymizer reviews online where some people praise its performance, while others are shocked by how bad it is. This tells us that you can never know what to expect. In our case, we were faced with terrible performance. Anonymizer throttled our connection in a big way, where browsing the Web became a frustrating experience.
Winner: It looks like you never know what kind of performance you'll get with Anonymizer. However, the winner of this round is clear – and that's VPN Unlimited.
Security & Privacy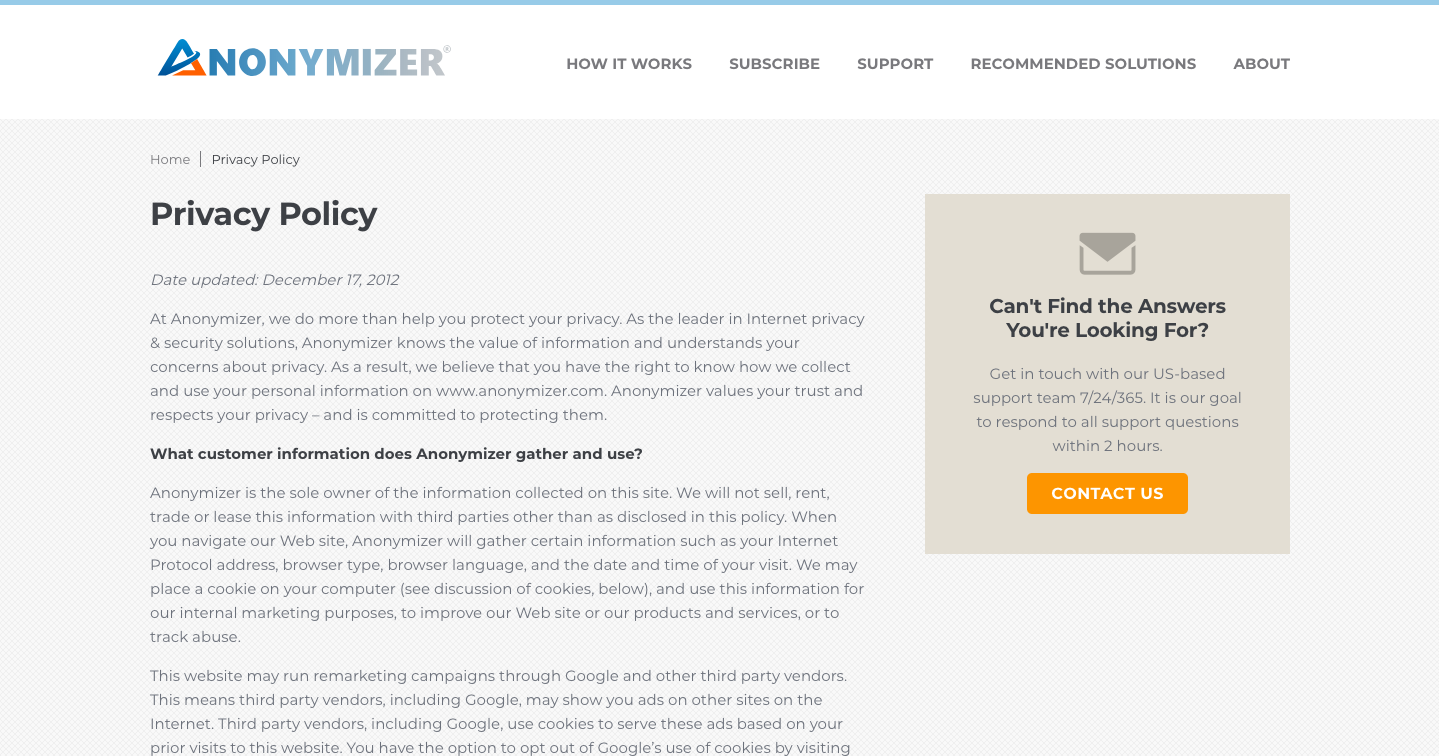 Our VPN Unlimited Vs Anonymizer comparison wouldn't be complete without taking a look at their privacy policies. Here's what you must know.
VPN Unlimited: If you take a look at VPN Unlimited's privacy policy, you'll see that this company is dedicated to keeping you safe online. However, they do collect a certain type of logs that help them optimize and maintain their servers. Also, these seem to be nonidentifiable bits of data, which is a good thing. After all, this VPN provider offers a transparent policy and it isn't trying to trick us into thinking it's one of the no-logs VPNs.
Anonymizer: We have many criticisms about Anonymizer's shortcomings. However, the company never advertised itself as a better overall VPN offering. What they do claim is that they provide a VPN service that provides better levels of privacy than the competition. The key fact behind that claim is related to the extremely limited number of exit nodes that Anonymizer offers. Unlike most other VPNs, Anonymizer completely and totally owns and operates its own servers. Since they control every aspect of their own network they can say with certainty what certain types of privacy invasion can't happen.
Winner: Anonymizer's no-nonsense approach to privacy and security provides it with a rare win in this category.
Customer Service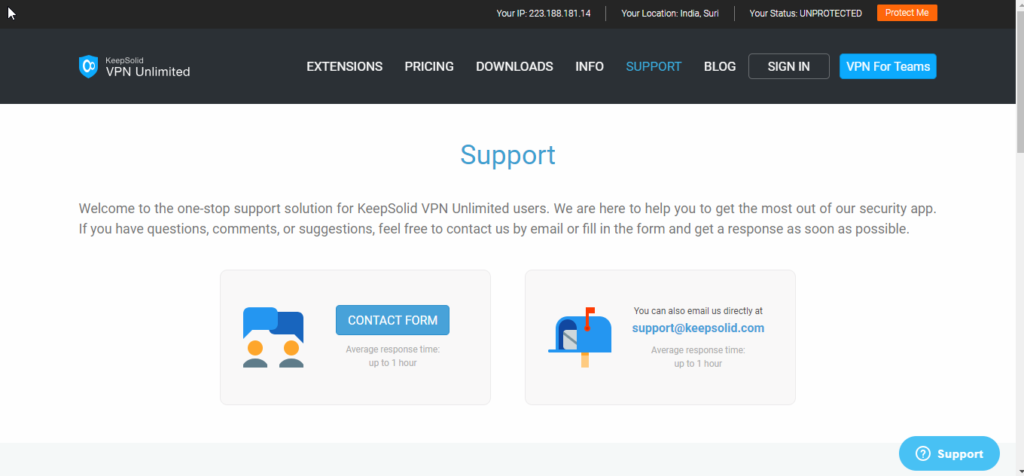 You can expect to get stuck at some point, which is when you need a reliable support team to assist you. So, here's what to expect from Anonymizer's and VPN Unlimited's support teams.
VPN Unlimited: VPN Unlimited has no live chat either. However, you can count on a helpful e-mail based support to resolve your issues. The only downside is that you'll have to wait for an answer and solution. Still, this is one of the most affordable VPNs out there, so this kind of support is something you can expect.
Anonymizer: Anonymizer has no live chat either. It promises that their US-based support team aims to get back to you within two hours of receiving a query. We ran into payment issues related to a credit card and contacted support to get it resolved. They got back to us quickly and said management would be consulted for a solution. That's the last we ever heard from them.
Winner: VPN Unlimited doesn't have live chat – but we still like that we managed to get an answer from this team in a timely manner. Anonymizer doesn't have a list chat either and they also dropped the ball big time when we needed help.
Pricing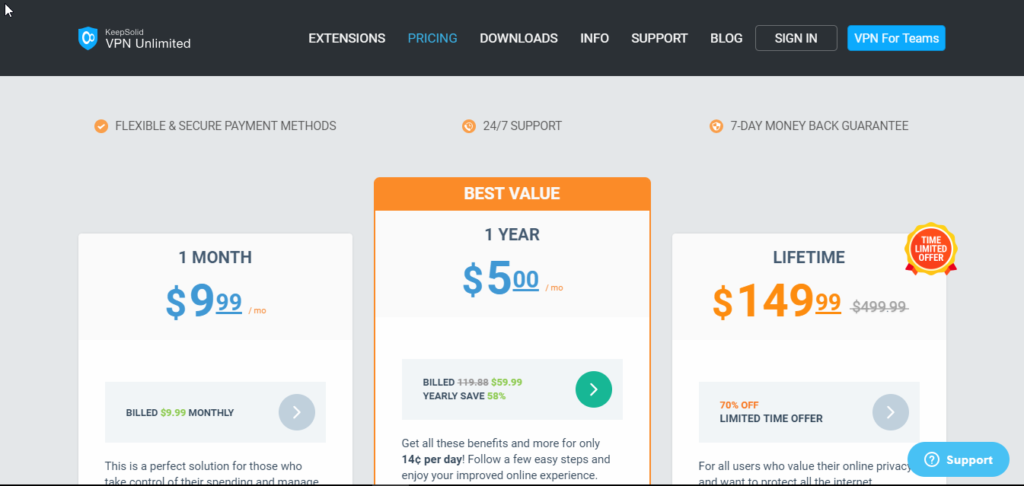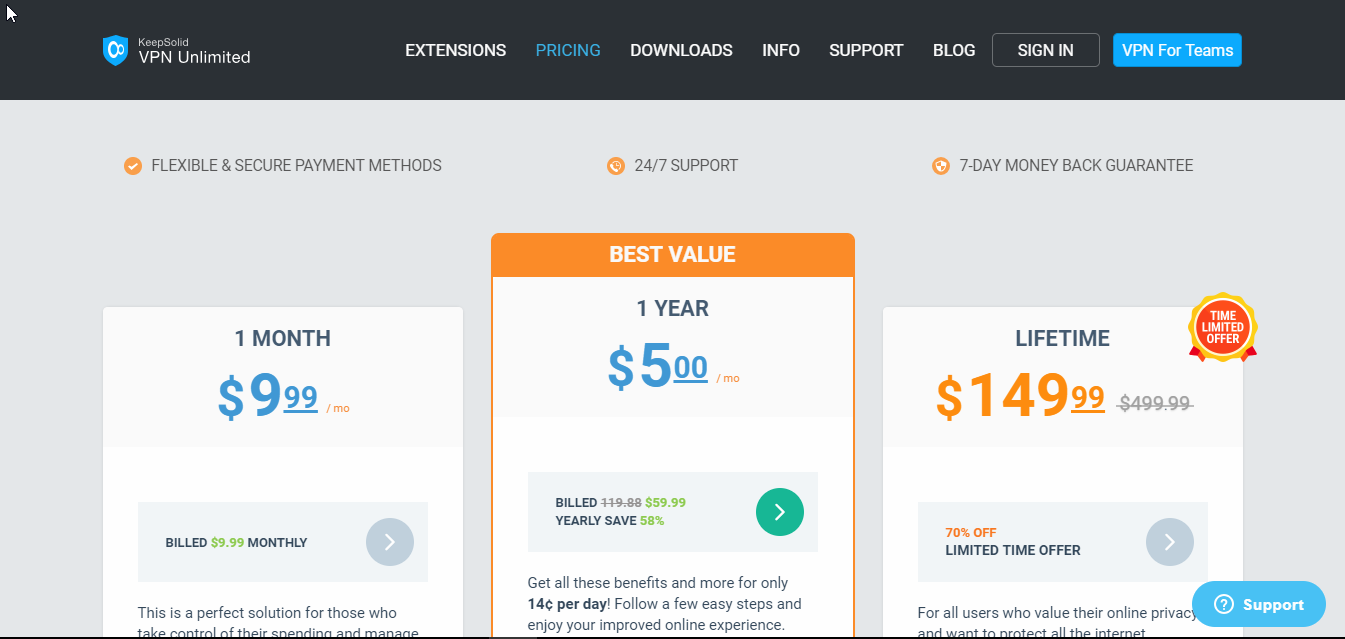 Finally, let's check out how affordable these two services are. Let's take a look at how much it costs to secure your connection with a VPN layer.
VPN Unlimited: VPN Unlimited has a better offer in terms of price on every level. The Anonymizer annual plan works out to just under $7 a month. A month-to-month VPN Unlimited subscription will run only three bucks more at $9.99 and on the annual plan, it's much cheaper at only $4.17. Best of all, VPN Unlimited offers a lifetime subscription tier, where you pay five hundred bucks once off and then never have to pay again.
Anonymizer: I have no idea what the folks from Anonymizer are thinking with their approach to marketing and selling their VPN service. It seems that in the 22 years the company has been around, they haven't moved with the times. They only offer one pricing level and that's an annual plan for $79.99. That makes sense when you want to sell your services to small businesses, but it's not that attractive to users who don't have that sort of cash flow. In their defense, they do offer a 14-day trial, but that limits you to the Amsterdam exit node, which doesn't let you test things like US-unblocking.
Winner: Anonymizer's idiosyncratic pricing structure does it no favors and the reasonable pricing and flexibility of VPN Unlimited win the day here.
VPN Unlimited Vs Anonymizer: Which One to Pick?
We don't need to think too hard to select the winner of this comparison. Even though Anonymizer has its strengths, it falls short in more ways than one.
VPN Unlimited also has certain downsides but it's a complete package. You can count on it to keep you safe online, unblock websites, and give you a piece of mind when browsing the Web. Therefore, we highly recommend it. You can go ahead and check out VPN Unlimited for yourself.
Final Thoughts
When Anonymizer first entered the market more than two decades ago, we could never have imagined that people would use VPNs the way they do now. However, it feels like Anonymizer never really left that era and is now a little out of place. On the other hand, we do think that VPN Unlimited doesn't do anything to spectacularly stand out from the crowd. VPN Unlimited is hardly a bad product and most people will be perfectly happy with it. In the context of this comparison, it wipes the floor with Anonymizer.
Finally, we'd like to ask you to share our VPN Unlimited Vs Anonymizer comparison in case you found it helpful. Also, don't forget to follow us on Facebook and Twitter. Thanks!