UTunnel is not a typical VPN service. Instead of offering an already prepared solution, this VPN lets you fine-tune and customize your VPN environment. With that said, it's designed for business organizations primarily – and definitely deserves a more in-depth look. With that said, welcome to our UTunnel VPN review!
We're sure you have plenty of questions about this VPN, and rest assured that we'll answer all of those questions and then some more. Let's start by listing the basic set of information about UTunnel. This should come in handy if you need a quick comparison between this VPN and its competitors. Take a look below.
Quick Facts
| | |
| --- | --- |
| Jurisdiction | The United States of America. |
| Logs | Data collected by third parties. |
| Number of Servers | 18+ locations / Depends on your set-up. |
| Parallel Connections | Up to 50 VPN accounts. |
| Encryption Standards | AES-256; OpenVPN, IPsec/IKEv2. |
| Average Speeds | 270 Mbps to 350 Mbps. |
| P2P Support | YES |
| Live Chat Support | NO |
| Supported Platforms | Windows, macOS, Linux, iOS, Android, routers. |
| Price | Starting at $5.00/month. |
When it comes to media streaming, keep in mind that this feature depends on your VPN set-up. We've used a handful of servers provided by UTunnel's partners with great success, as you can see below.
Media Streaming Support
| | |
| --- | --- |
| American Netflix | YES |
| Hulu | YES |
| BBC iPlayer | YES |
| Amazon Prime Video | YES |
| Kodi | YES |
And finally, we'd like to give you a handy overview of this VPN – produced after completing the review. So, if you're in a rush and only want our conclusions, you'll find them below.
The Bottom Line
| | |
| --- | --- |
| Pros | Customizable set-up; Plenty of flexibility; Powerful VPN protocols; High-end encryption; Numerous advanced features. Fast performance. |
| Cons | Not the most privacy-friendly solution; Can be too complex for regular users; |
| The Final Verdict | UTunnel looks like a solution for business organizations. Despite some drawbacks, its unique set of features make it attractive. |
| Our Score | 8.1/10 |
And now, let's dive into the specifics. If you keep reading, you'll learn all there's to know about this exciting and (in many ways) unique VPN service. Let's get started with our hands-on UTunnel review.
UTunnel Review (2020) – TechNadu's Hands-On Review
As you're about to see, we'll dive pretty deep into everything UTunnel offers. In case you'd like to learn more about our approach to testing VPN services, here's how we review VPNs.
Table of Contents
Background, Jurisdiction & Reputation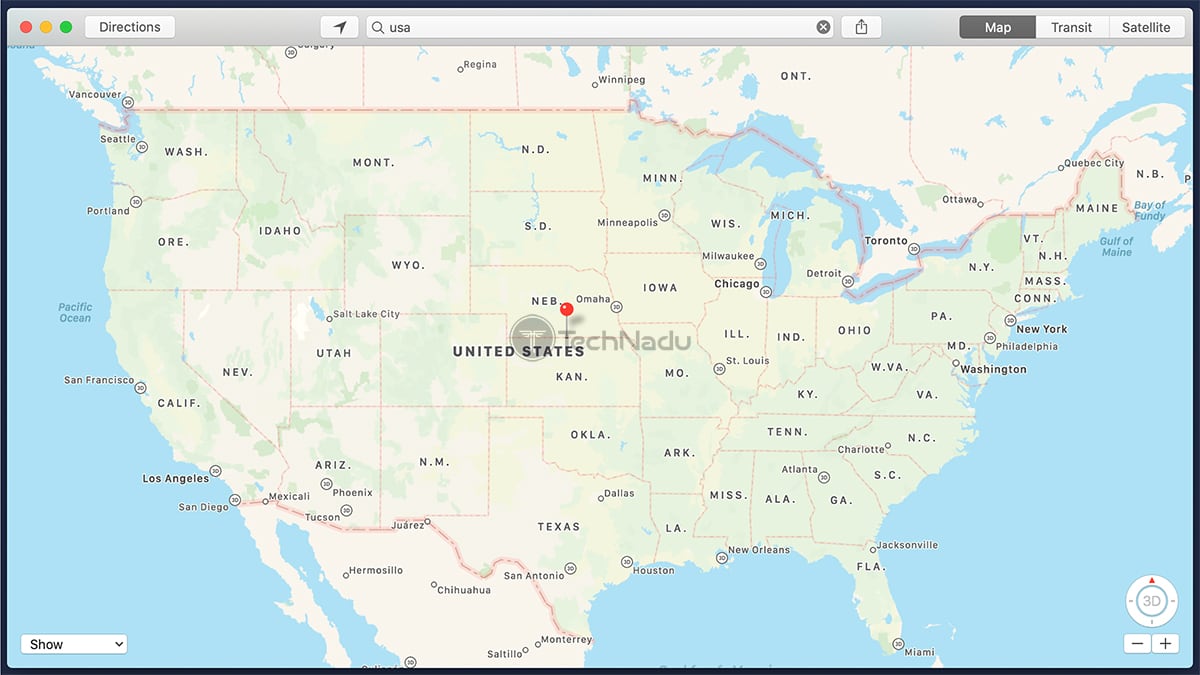 UTunnel comes from the US, which isn't a positive first sign. This is also a very complex VPN, useful for online privacy – but not for total anonymity. Our Score: 6/10.
It takes a bit of research to find out about the company behind UTunnel. Its Privacy Policy mentions a company named 'SecuBytes,' but doesn't give any additional information. In terms of VPNs, some secrecy is imperative. However, going for a fully transparent option is always a better way to go.
Upon additional research, we've discovered that SecuBytes comes from Pennsylvania. Therefore, this is a US-based company. This isn't a positive first sign, as the USA is part of the 5/9/14-Eyes Alliance. Still, we can't judge UTunnel only based on the location of its headquarters, as this is a complex VPN service that includes third parties as well.
What complicates this whole situation is UTunnel's integration with cloud providers. You can also use your existing cloud partner or set-up a VPN at your premise. Therefore, this means that the company controlling a server you're using is in charge of your data.
As you'll see later on, UTunnel isn't designed for the ultimate anonymity. Instead, this is more of a business-oriented solution. Privacy is still important in this case – but the same can't be said for total anonymity.
Previous Data Leaks
We're happy to report that UTunnel and SecuBytes haven't been associated with any data leaks in the past. Therefore (and despite its country of origin), there's no reason not to believe that UTunnel won't preserve your privacy.
Supported Platforms & Devices
UTunnel covers the most popular platforms. However, using it on a router costs extra, and you won't find the most complete range of apps. Our Score: 6/10.
Today's VPNs come with apps for pretty much any device imaginable. Therefore, a capable VPN should bring highly polished software for computers, tablets, smartphones, routers, and even media streaming devices.
Platform Compatibility
| | |
| --- | --- |
| Desktop Platforms | Windows, macOS, Linux. |
| Mobile Platforms | Android, iOS. |
| Web Browsers | N/A |
| Routers | YES |
| Other Devices | N/A |
The best way to interact with a VPN is via a polished interface of its native software. That's the case with UTunnel as well, providing apps for all widely used platforms.
We should also mention that UTunnel is compatible without routers. However, its basic plan doesn't support this feature. This means that you'll need to get a higher-priced plan, which comes with numerous other benefits as well (explained in the 'Pricing' section below).
Finally, let's note what's missing here. As you can see, Web browser extensions aren't on offer. You also won't find apps for media streaming devices. Therefore, despite the marketing messages on its website, UTunnel is primarily a business-oriented VPN.
Installation & Initial Configuration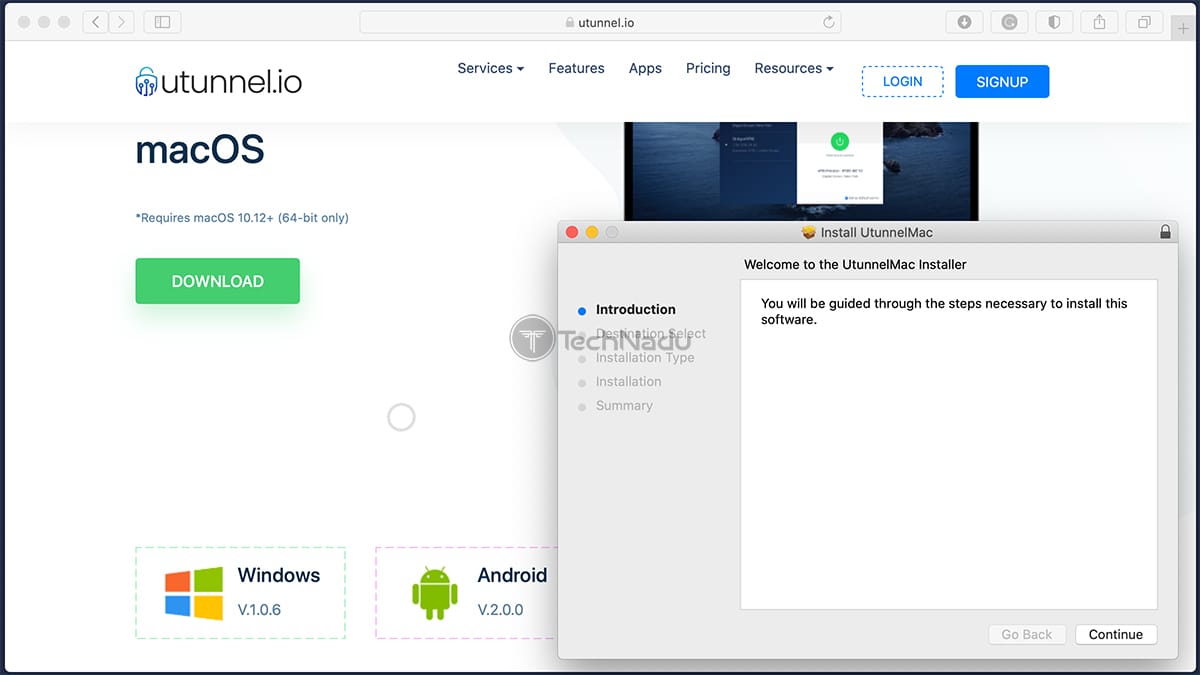 UTunnel works with just about any cloud (server) set-up. It can be as complex as you want it to be. However, this also means that you'll probably need some help to set-up everything correctly. Our Score: 7/10.
In general, you install a VPN by downloading it from its website. Once you have the application locally installed, you open it, connect to a server, and that's about it. However, in terms of UTunnel, this is only the final step of this process.
First, it's crucial to explain how UTunnel works. It doesn't offer its own servers, but instead, it allows you to pick any of the following three options (and even combine them, if needed).
Integrated Cloud Providers: UTunnel comes with integrations with cloud providers such as Digital Ocean, Hetzner, Upcloud, and Linode. As such, this is perhaps the fastest way to set up your VPN network.
Third-Party Cloud Providers: If you already use a cloud solution, you can utilize those servers by using UTunnel. For example, it's possible to set-up a server in AWS VPC or Azure, GCP, and similar.
Servers at Your Premise: If there's an existing network of servers (or a single server), UTunnel can help you integrate those servers into your VPN network. This means that you could use servers that you already own.
UTunnel says that you don't need any technical knowledge to set up your VPN network. This maybe applies to automated integrations. If you'd like to set up your system from scratch, you'll want to hire someone with technical knowledge on how this is done.
Once you set up a network, this is where UTunnel's clients come into play. You and your employees can download these clients on Windows, macOS, Linux, Android, and iOS. Once you sign-in, you'll see the servers available in your network.
Prominent Features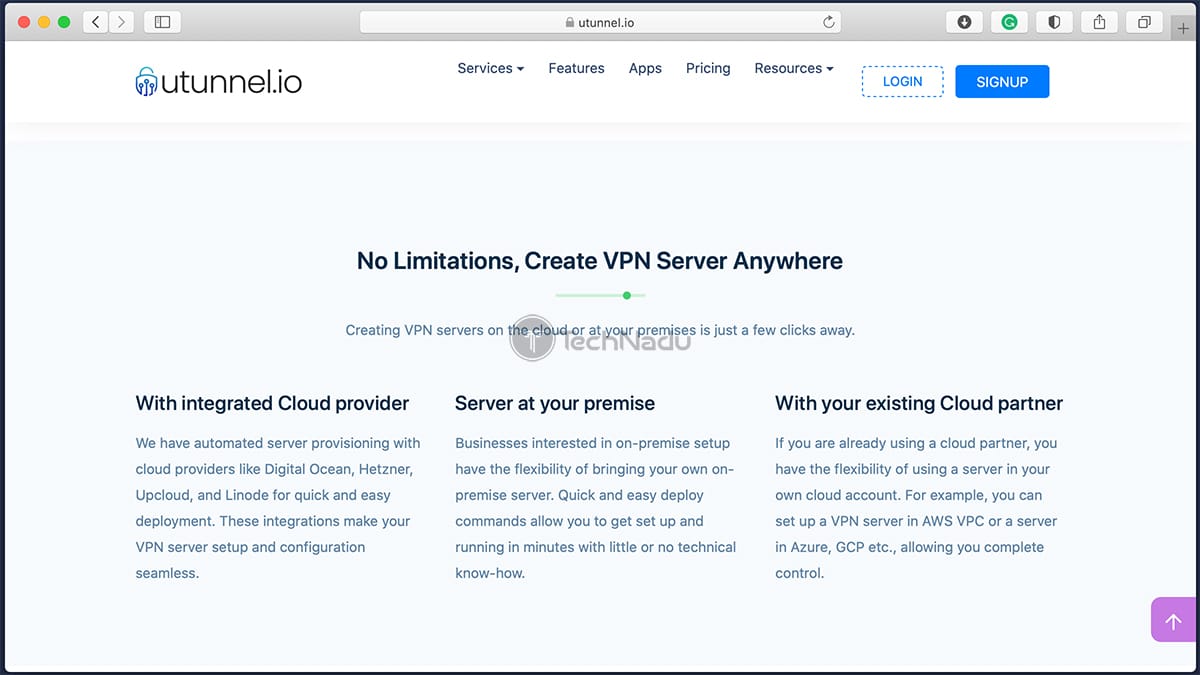 UTunnel has done a great job of coming up with a host of features. The basics are covered well, in addition to plenty of unique and advanced options. Our Score: 9/10.
We've come to one of the most critical segments of this review. Let's talk about what kind of feature does UTunnel brings. Check out the table below.
VPN Features Checklist
| | |
| --- | --- |
| DNS Leak Protection | YES |
| IPv6 Leak Protection | YES |
| Kill-Switch | YES |
| Ad-Blocker, Anti-Malware | NO |
| Unlimited Server Switches | YES – but depends on your set-up. |
| Unlimited Bandwidth | YES – but depends on your set-up. |
| Unlimited Data | YES – but depends on your set-up. |
One thing is sure – UTunnel comes with a comprehensive set of features. Even more so, the sheer number of these features can be a bit overwhelming for inexperienced users. So, let's take a quick look at some of the most important groups.
Built-In Firewall: UTunnel's firewall allows you to blacklist websites, whitelist domains or IP addresses, and set-up country-wise access controls. You can enable and set-up these rules for individual servers and then expand them to your entire network.
Access Control & Security: Here, you'll find role-based access control, which means you can manage how individual users access your network. Also, 2FA is on board, helping you secure your VPN network. In the near future, UTunnel will also integrate external SSO providers to allow a better user management experience.
Secure Remote Access: Instead of using dynamic IPs, UTunnel gives you static IPs. You can also use split-tunneling, optimizing how your network's servers are used. And you can even use external DNS servers.
Custom VPN Features: Lastly, UTunnel allows you to track user activities, enable manual connections, and more. That means that you'll get control over your VPN network, allowing you to check its performance and stats in real-time.
We want to mention that UTunnel does an excellent job of enabling plenty of the features mentioned above by default. This goes for those who wish to integrate supported cloud providers, that is.
Useful Resource: The Best VPNs for Businesses Right Now
In case you'd like to create a custom server network (with servers you own, for example), it takes a bit of skill and time to set everything up. Therefore, using a professional seems like the best way to go.
Server Count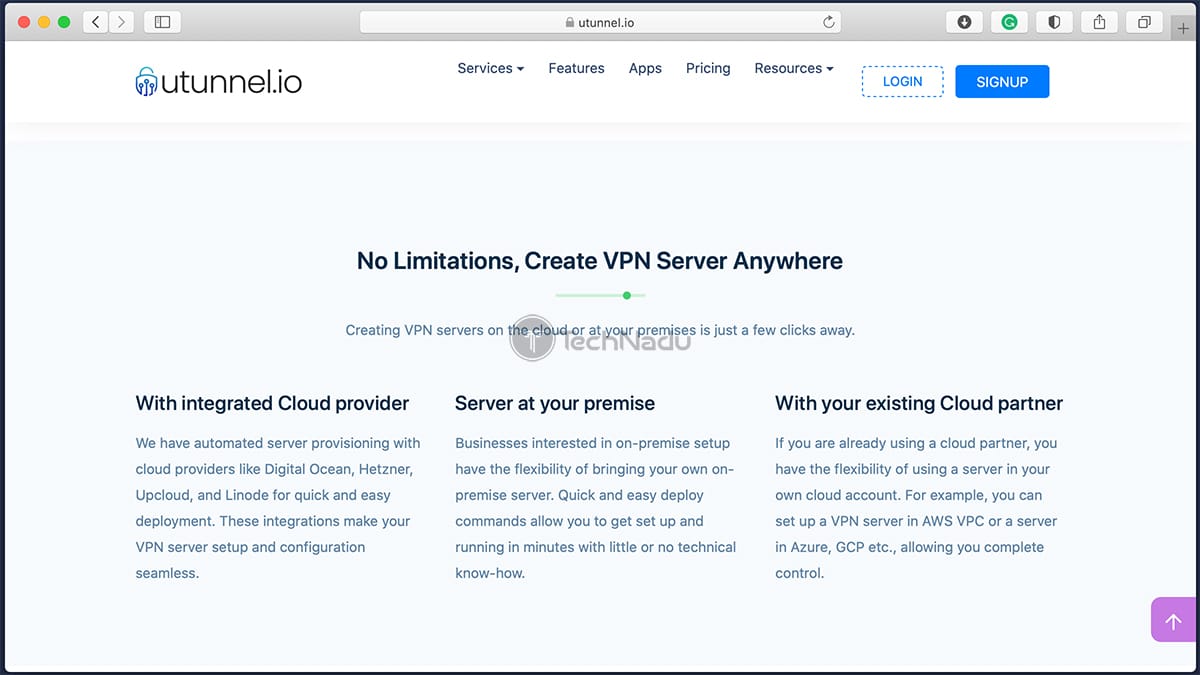 It's impossible to compare UTunnel to traditional VPNs. The most significant benefit here is that you can build and fine-tune your own server network. Our Score: 8/10.
Businesses need a reliable VPN network. This is especially true for large organizations, with offices spread across the globe. So, let's meet what kinds of customers will UTunnel make happy.
Server Count Info
| | |
| --- | --- |
| Number of Servers | N/A – depends on your set-up. |
| Number of Locations | N/A – depends on your set-up. |
| Number of Cities | N/A – depends on your set-up. |
| Specific Cities Selection | YES (in some instances). |
| Unlimited Switching | YES (in many cases). |
As noted above, UTunnel isn't a standard VPN service. Once you get a subscription, you don't get an army of servers at your disposal. For example, if you use the VPN's native integrations, you'll get to pick from around 18 locations.
Considering that are so many combinations and set-up schemes available, we can't compare UTunnel to 'traditional' VPN services. That's because you can be in charge of setting up your server – and this entirely depends on your cloud provider.
For example, let's talk about data transfer limitations. If you own a server, you can decide to remove any caps and allow unlimited data transfer within your VPN network. However, many cloud providers charge based on how much data you need. Therefore, you'll most likely encounter certain restrictions, which helps you keep your expenses under control.
Ease of Use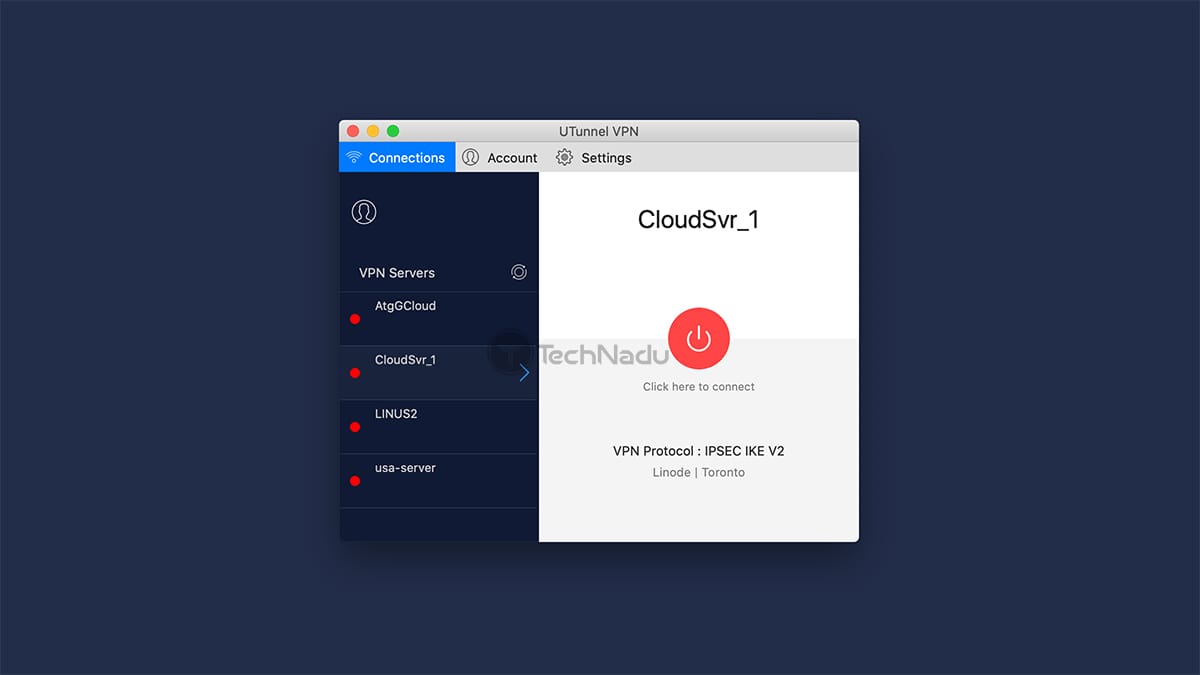 This VPN gives you an in-depth look into your network's structure and real-time usage. That applies to its backend. Even though it comes with a somewhat rudimentary client (for the frontend), it gets the job done. Our Score: 9.5/10.
There are two equally important sides to interacting with UTunnel. When it comes to admins, they have full access to your network's backend and frontend. Once you start using your VPN network, you'll interact with UTunnel through its client.
In terms of the backend, this is visible on the Web. Visit the VPN's official website, click on 'Log In,' supply your credentials, and you'll access your dashboard. This is where you'll see your servers, recent activities, necessary information about your network, and more.
Then, you can dive deeper into individual servers, customizing their features and options. UTunnel goes in-depth here, letting you fine-tune server settings, DNS, routing, connection logs, security, and more.
Then, you can also keep your eye on your network. UTunnel gives you an in-depth overview of the network's activity, including any active or past sessions. You'll see how your individual servers are used, which users are online, and more – all of this in real-time.
In terms of UTunnel's client, this is a straightforward application. Once you log-in, you'll see a list of servers, including some basic information. You'll also get to review your account information (based on your role) and update the app. That's about it.
Media Streaming & Torrenting Support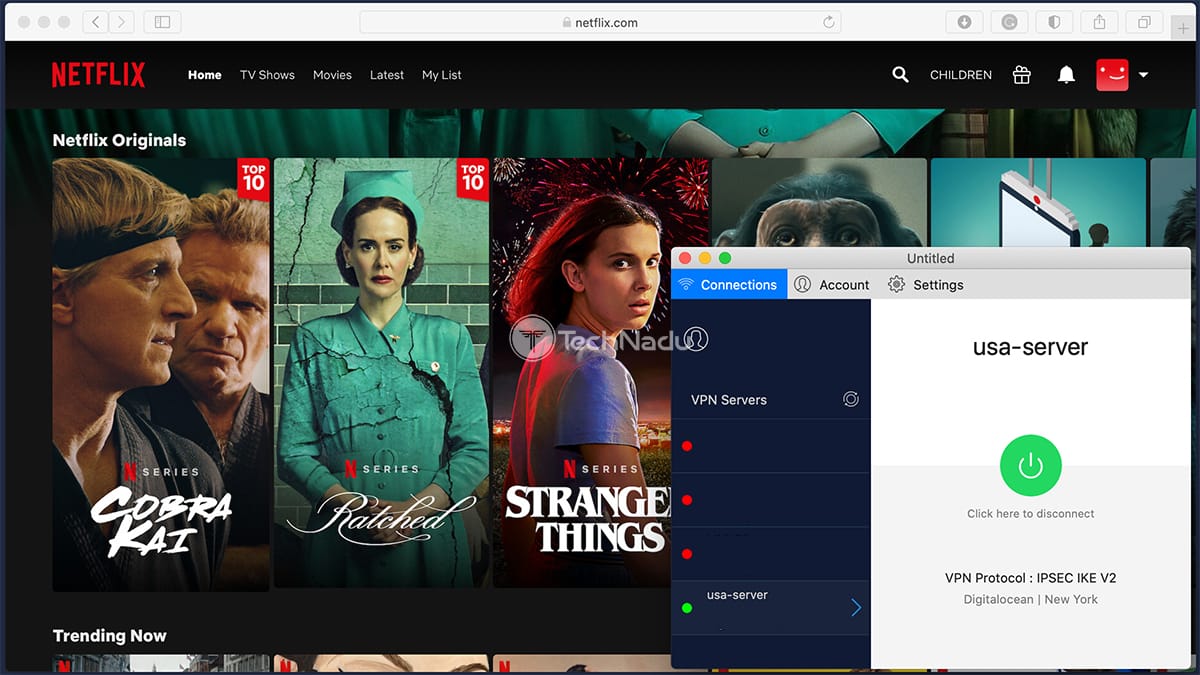 UTunnel gives you media streaming and access to P2P files. However, this greatly depends on the way your server network is set-up. Our Score: 9/10.
UTunnel is saying that both businesses and families can greatly benefit from this VPN. Therefore, we wanted to check its media streaming capabilities, which has become hugely important when choosing a family-friendly VPN.
Media Streaming & Torrenting Support
| | |
| --- | --- |
| Netflix US | YES (depending on your set-up) |
| Hulu | YES (depending on your set-up) |
| BBC iPlayer | YES (depending on your set-up) |
| Amazon Prime Video | YES (depending on your set-up) |
| Torrenting (P2P) Support | YES (depending on your set-up) |
What's crucial to understand here is the following. The ability to access media streaming services will depend on your chosen cloud provider. For example, when using a server located in New York (powered by Digital Ocean), we could unblock a whole slate of US-based services.
Further Reading: The Best VPNs for Netflix / Your Full Guide to the Netflix Proxy Error
The same applies to torrent files. This depends on your cloud provider's policies, so make sure to use one that has no problem with P2P traffic. Of course, we're talking about home users here, even though some businesses use P2P as well.
The bottom line is that UTunnel allows you to access media streaming platforms. Besides, it can be used to download P2P files. However, this greatly depends on your chosen cloud provider and the way you set-up your server network.
Security & Privacy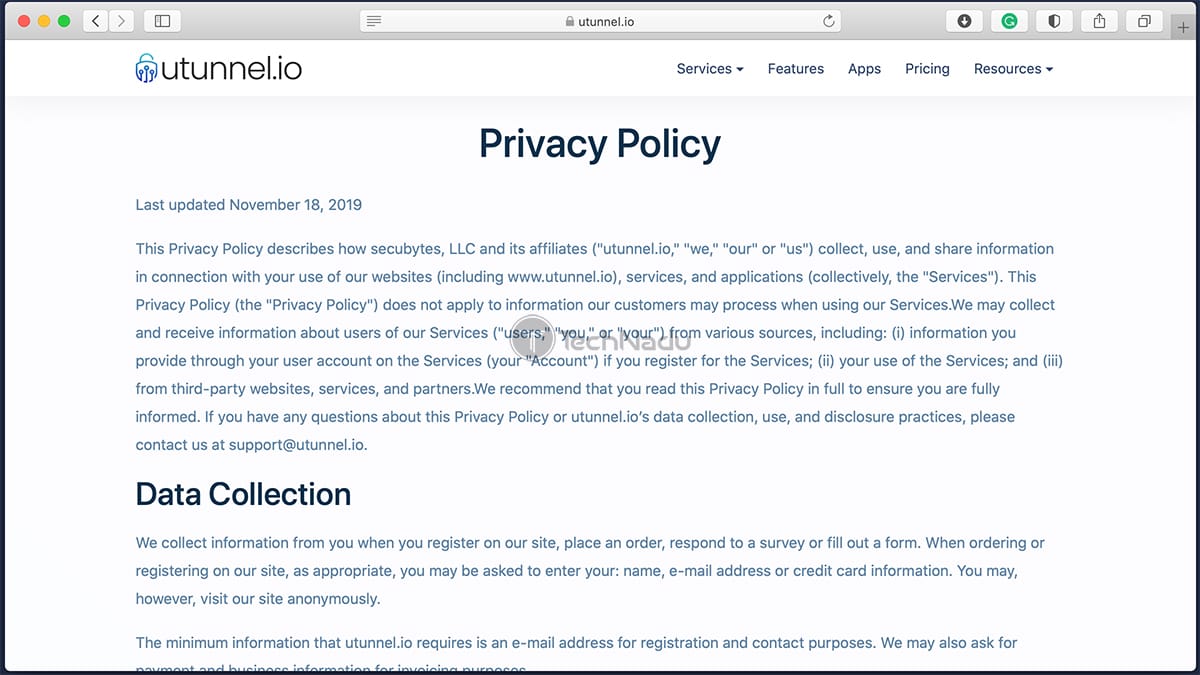 UTunnel isn't designed for total anonymity. However, if you're careful about which cloud provider you pick, you can create a safe environment for your data. Our Score: 8.5/10.
The main reason why businesses use VPNs is to create a safe environment for their data. With this said, it's crucial to inspect how UTunnel handles this aspect.
Support Encryption Protocols
In terms of encryption, UTunnel offers AES 256-bit. This is on par with what the majority of today's VPN offer. Also, this is a highly secure type of encryption that truly takes proper care of your sensitive data.
When it comes to available protocols, UTunnel brings OpenVPN as well as IPsec/IKEv2. In general, OpenVPN should be your first choice, as it's one of the most robust protocols available today. However, IPsec/IKEv2 is also a powerful combination, and we're happy to see it supported.
It's worth noting that many VPNs have already adopted a new protocol, called WireGuard. It brings better performance than any other protocol, without any noticeable drawbacks. This tells us that UTunnel is not at the forefront of this evolution. Still, it brings just about anything that an average business operation will need, for now.
Further Reading: TorGuard Adds Support for WireGuard / NordVPN Implements NordLynx
Logging Policy
Business-oriented VPNs aren't designed to give you total anonymity. Instead, they're focused on providing the much-needed protection for your business' data, which is where UTunnel excels.
The main issue here is that UTunnel relies on cloud providers. This means that you need to know what kinds of data those third parties collect. The VPN's privacy policy clearly says that "it is possible that your use of the cloud provider services can expose your personal information."
Therefore, when it comes to family-friendly VPNs, this is yet another proof that UTunnel isn't the best choice. Instead, you should go for a no-logs VPN service.
DNS Leak Test
In terms of UTunnel, it's not only this VPN's duty to protect you against DNS leaks. The same applies to your chosen cloud provider. Since we have multiple "moving parts" here, this translates into a higher chance of your private data leaking.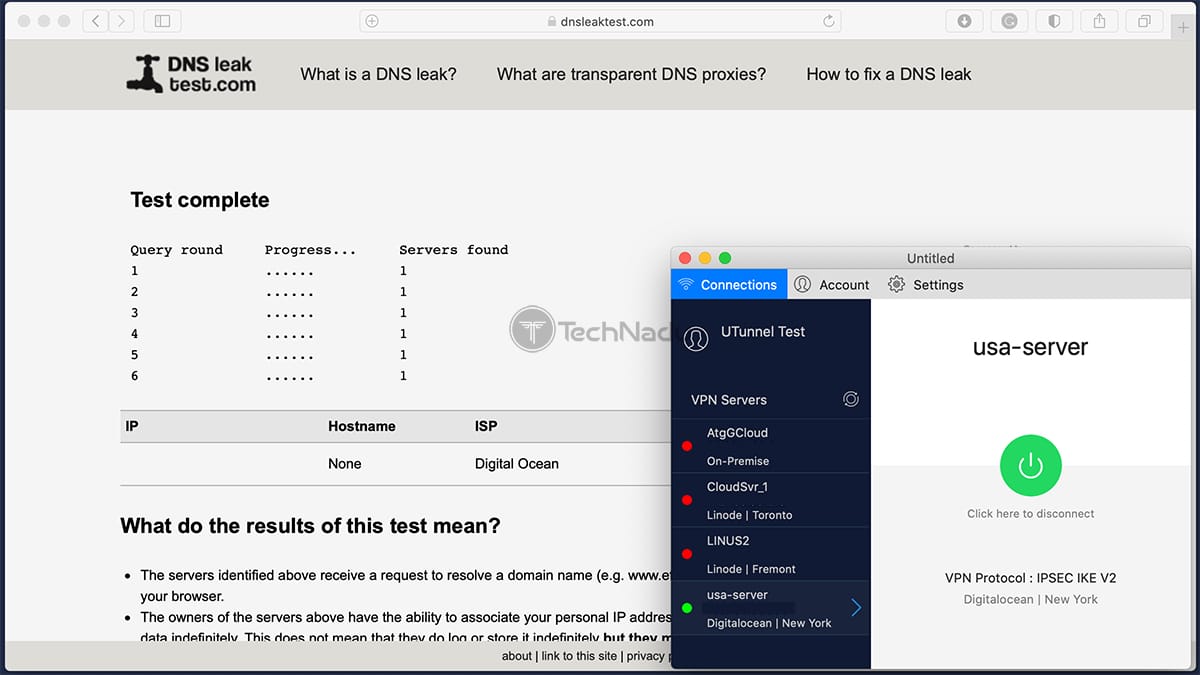 However, once tested UTunnel with a host of servers that were at our disposal, we conclude that no DNS leaks were detected, whatsoever. Therefore, this implies that UTunnel is capable of creating a safe environment for your data.
Speed & Performance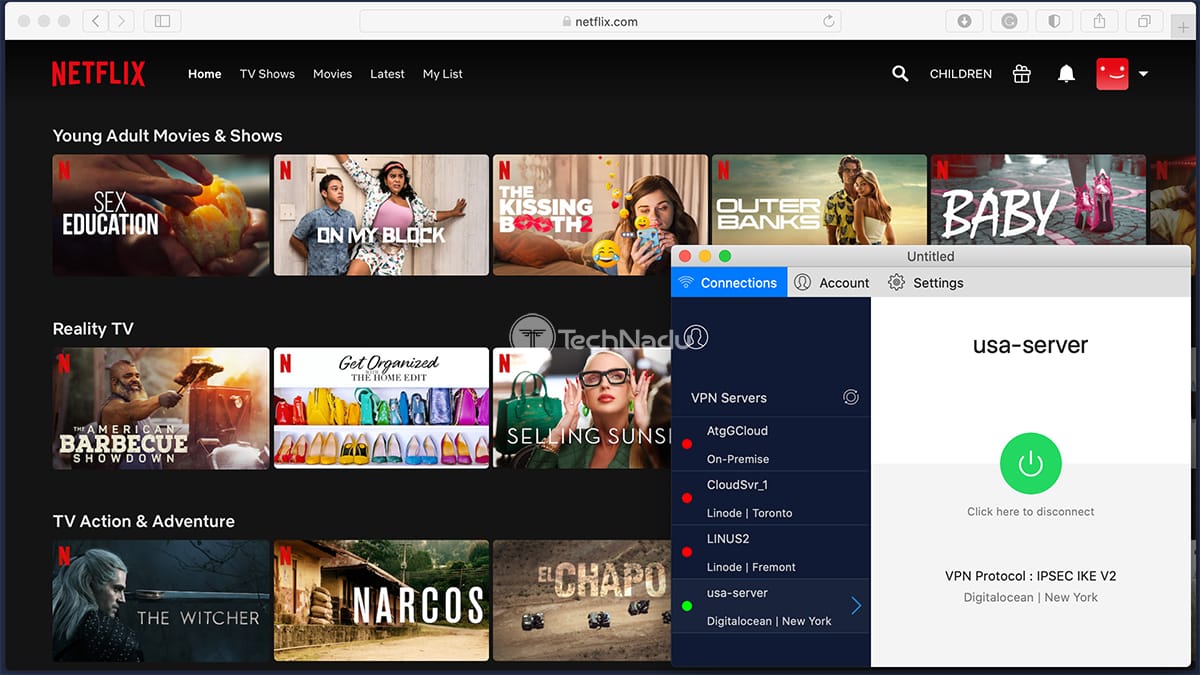 We were very surprised by this VPN's performance. Even when using remote servers, everything ran smoothly, without any issues. Our Score: 9/10.
Typically, we test both nearby and remote VPN servers when reviewing VPNs. However, in the case of UTunnel, we've had access to servers in Canada and the United States.
Essential Reading: The Fastest VPNs You'll Find Today
Keep in mind that we're located in Europe. This means that if you're located in North America, you can expect better overall performance. All of that depends on the proximity of the server that you're using to create a VPN connection.
Above, you can see our Web connection's stats. After testing its performance, we got 422.96 Mbps for downloads and 47.62 Mbps for uploads.

Once connected to a server in the USA (on the east coast), we got 269.99 Mbps for downloads and 44.07 Mbps for uploads. We do have to note that those numbers are quite impressive.

We also tested a server located in Toronto, Canada. We managed to get 350.94 Mbps for downloads and 27.18 Mbps for uploads. Once again, terrific numbers.
Speed Tests & Performance
| | | |
| --- | --- | --- |
| Server / Location | Download Speed | Upload Speed |
| Baseline Stats (Europe) | 422.96 Mbps | 47.62 Mbps |
| Remote Server (USA) | 269.99 Mbps | 44.07 Mbps |
| Remote Server (Canada) | 350.94 Mbps | 27.18 Mbps |
The conclusion here is the UTunnel is capable of bringing incredibly fast performance. In many ways, we've experienced a much smoother overall experience than with the majority of previously tested VPN services.
IMPORTANT: Keep in mind that UTunnel comes with numerous options for creating your server network. Therefore, the numbers above can fluctuate – based on your location and your chosen cloud provider.
Customer Support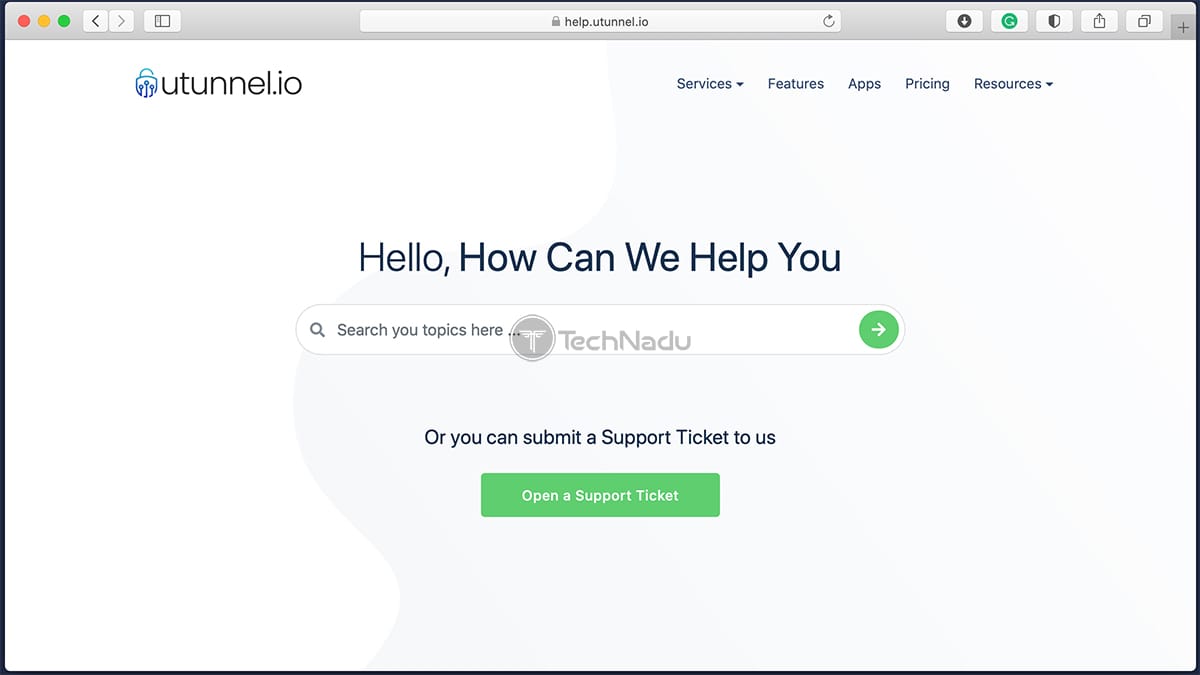 In terms of customer support, UTunnel deserves praise. The VPN's team responds in minutes, which has become an incredibly rare thing to see. Our Score: 10/10.
When running a business, you don't want any downtime – especially when it comes to VPNs and server networks. With that said, here are all the ways that UTunnel will assist you in case of any technical issues.
E-Mail Support: You can contact the company via e-mail, which seems like an effortless method of getting help. We were surprised by the effectiveness of UTunnel's team, responding after only a couple of minutes.
Support Tickets: If you decide to create a support ticket, you can do so by visiting your Web dashboard. Once again, we managed to get replies from UTunnel's team within minutes, which is impressive.
Set-up Instructions: The VPN also offers an excellent range of support material. There are articles explaining how to create a server network, optimize your workflow, use native clients, and more.
There's no need to hide the fact that UTunnel is a highly technical solution. When it comes to simpler set-ups, you should be able to get help on your own. More complex server networks will probably require an expert.
Pricing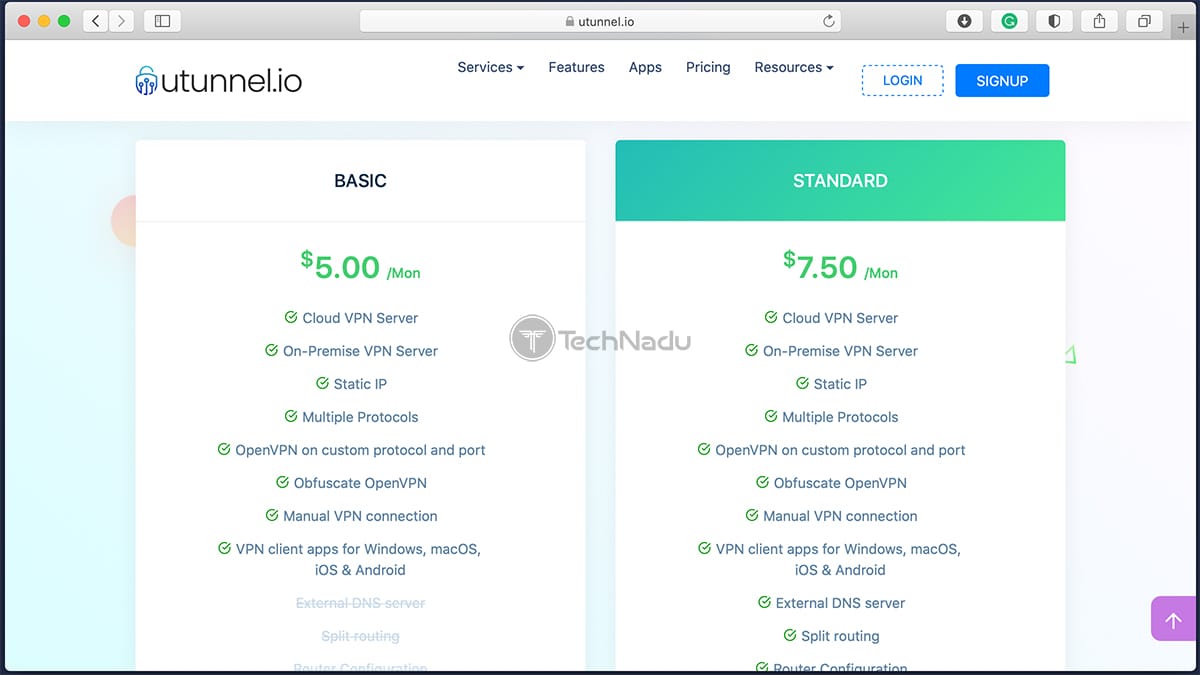 UTunnel lets you optimize your expenses by choosing a server set-up you need. However, be prepared to pay more than you would for a 'traditional' VPN. Our Score: 7/10.
UTunnel comes with two subscription plans, called 'Basic' and 'Standard.' However, this is just the core of your VPN network, as you'll need to pay for a cloud solution (if you don't already have a server). And also, you can pay for additional VPN accounts.
Pricing
| | | |
| --- | --- | --- |
| Subscription Type | On-Premise Solution | Cloud Solution |
| Basic | Starts at $5.00/month. | Starts at $10.00/month. |
| Standard | Starts at $7.50/month. | Starts at $17.50/month. |
As you can see, UTunnel comes with plenty of flexibility. If you already have an on-premise solution (if you're using your server), the prices start at only $5.00/month. This goes all the way up to $17.50/month if you need a cloud provider, in addition to using UTunnel's most comprehensive plan.
It's also important to mention the differences between the two plans (Basic and Standard). The most significant difference here is in the set of features that the Standard plan offers. You get the ability to implement an external DNS server, split routing, router configuration, the ability to enable logs, check everything in real-time, and more.
Besides, payments to UTunnel can be made using credit cards. There's no word on the VPN's website about money-back policies. However, considering that it brings monthly subscriptions only, it most likely doesn't offer a way to refund money.
Do We Recommend UTunnel VPN?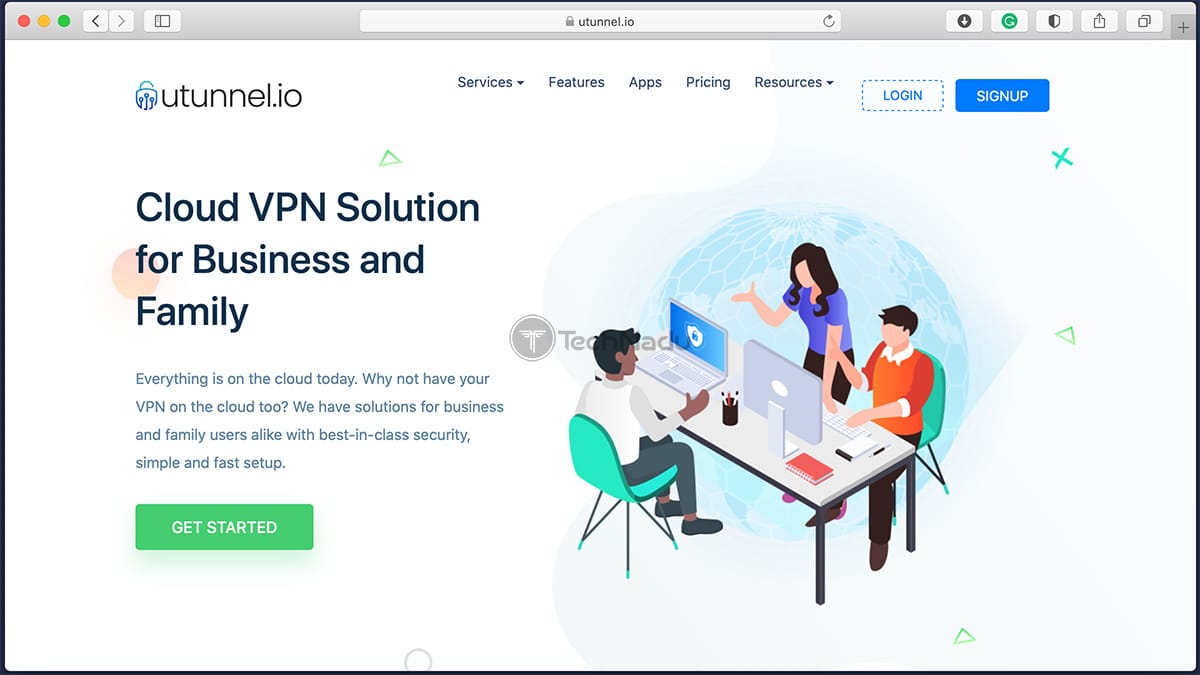 Yes, we recommend UTunnel VPN, overall. However, before buying a subscription, it's crucial to understand what this VPN is all about. It's quite different from traditional VPN services, so you'll need to adjust your expectations a bit.
UTunnel VPN Alternative: TechNadu's Review of Perimeter 81
With that said, we do recommend UTunnel to businesses (small to medium). In that sense, the VPN offers a unique set of features, designed to be configurable and scalable.
PROS: Plenty of customization; Different server set-ups; Incredibly fast performance; High-end encryption; Capable VPN protocols; Helpful customer support.
CONS: Not the best solution for total anonymity; Can be too complex for inexperienced users (organizations); Some server set-ups require an expert (additional expenses).
OUR SCORE: 8.1 out of 10!
In case you believe that UTunnel could be a perfect fit for your business organization, make sure to learn more about it. With that said, your next Web destination should be the official UTunnel website.