Those of you who enjoy binge-watching TV shows and movies know how hard it can be to find something to watch. In case you're like the author of this article, you're probably spending a lot of time browsing the Web and searching for other people's suggestions and recommendations. Lucky for all of us, there are numerous online communities where this kind of information can be found. I am sure that you've probably heard about IMDb's lists of popular movies that can be filtered by genres, ratings, and in other ways. However, there is an excellent alternative that allows you keep track of the movies and TV shows you have previously watched. Furthermore, it also provides recommendations based on your preferences. This service is called Trakt.TV. If you continue reading, you will get to learn more about the Trakt Kodi addon.
I have been using Trakt.TV for several months now. It quickly became one of my favorite add-ons for Kodi. In fact, I can't imagine using Kodi without this tremendously helpful extension. It does everything on its own, without a lot of manual work. Of course, you'll have to create a list of your previously watched movies and TV shows before allowing this tool to begin tracking your habits on its own. From there on, you will be able to use it to get very helpful and personalized recommendations.
Disclaimer: We will be talking about Kodi – which is based on open-source code, in addition to third-party add-ons. In addition, this software is publicly available and free of charge. TechNadu doesn't claim any responsibility for how our readers decide to utilize the following software. Please note that we don't condone sharing pirated content and copyright infringement. TechNadu is not affiliated with the software mentioned in this article in no way. Make sure to carefully read the above-said disclaimer and ensure the proper use of the software.
WARNING: Before You Continue…
TechNadu recommends connecting to the Web using a VPN application. The majority of Internet Service Providers (ISPs) are able of tracking your Web browsing habits and collecting information. This kind of personal data can be forwarded to government agencies or sold to marketing companies. One of the consequences of these actions can be copyright infringement notices that some users of Kodi reported receiving. The only way to stop this from happening is to use a VPN.
VPN applications encrypt your Internet connection. As such, your personal data stay hidden and inaccessible by your Internet Service Provider.
VPN applications guard your online anonymity. Websites often use cookies to track your browsing habits. By altering your IP address, VPNs preserve your anonymity no matter if you visit websites or use Kodi to stream media.
VPNs unlock restricted content. Using this kind of application, your computer will receive a new IP address that points to a completely different physical location. This is how you can watch region-restricted movies and TV shows.
VPNs can improve your Internet connectivity. A reliable VPN application can de-block throttled connections and achieve better overall performance.

Based on our experience, TechNadu would like to recommend IPVanish. This has been our VPN of choice for a long time, making us happy with its features and performance.
IPVanish is capable of keeping your connection highly secure, making it one of the best VPN services for Kodi. It can be also used to watch region-restricted movies and TV shows. Finally, this application doesn't affect Internet connection speeds. On top of that, it's very affordable. Sign up for IPVanish and try it out for yourself.
Trakt Kodi Addon: An Overview
Before going any deeper, you need to know two things: what is Trakt.TV and what is 'scrobbling'? This will let you understand the capabilities of this add-on before we continue with our in-depth installation guide. Don't worry, we'll take you through the entire process step-by-step. This means that we'll also talk about different configuration options and compatibility with different add-ons made for Kodi.
What is Trakt.TV?
This service has several equally important roles. The primary role of Trakt.TV is to keep track of your activities within movie addons for Kodi. It is compatible with different devices, platforms, and applications. For example, you can integrate this service with Kodi, as well as with other popular media players like Plex, VLC, Netflix, and many others. In addition, this service brings wide compatibility with different platforms.
You probably already know that you can install Kodi on Windows and Mac, in addition to Kodi for Linux. Mobile users aren't left out either. There is a version of Kodi for Android and a way to sideload Kodi to iOS. The same goes for Trakt.TV.
Another interesting role of Trakt.TV is content discovery. There are many different ways to discover new movies and TV shows. For example, this service will analyze your previously watched content and provide tailored suggestions. Once you find something interesting, you will get to see where that content can be streamed from. For example, if it's available on Netflix, Hulu, HBO Now, YouTube, Amazon Prime, or iTunes.
I am sure you'll agree if I say that it's always interesting to know what other people are watching. This is why Trakt.TV gives you information on the popularity of certain titles. You become an active participant by providing your opinions. When it comes to this, you can count on hundreds of thousands of active users. During last week alone, Trakt.TV users have watched close to 100,000 episodes of TV shows and over 60,000 movies. Just imagine what kind of insight this provides.
What is 'Scrobbling'?
We can't talk about Trakt.TV without mentioning scrobbling. In case you don't know, scrobbling is an Internet slang term that is used to describe data shared by a group of users with similar interests. In terms of Trakt.TV, scrobbling is this service's capability to automatically track your habits and process that data. As a result, you'll get personalized recommendations that are quite helpful.
Here's an interesting bit of information about scrobbling. The first service that used this feature was Last.FM. This service scrobbled information about music. It's still active and has a vibrant community of users.
Create and Customize Your Trakt Account
In case you don't have a Trakt.TV account, it time to create one. Go to this service's official website. In the top-right corner, you'll see an option that allows you to sign in or to create a new account. Enter your email address and other information, and proceed.
Before you're allowed to take full advantage of this service, you'll need to set up your account. You'll be asked about your favorite genres and about movies and TV you've already watched. Try to be as precise as possible since this will be used to generate recommendations. Once you get to your dashboard, it's time for the fun to begin.
Tailor Your Profile
We recommend that you add previously watched movies and TV shows as soon as possible. It can be a bit daunting to recall all the content you have watched, but Trakt.TV will be able to help. You'll be presented with posters of movies that Trakt.TV thinks you've probably watched. It's amazing how accurate this service can be, at least in my case.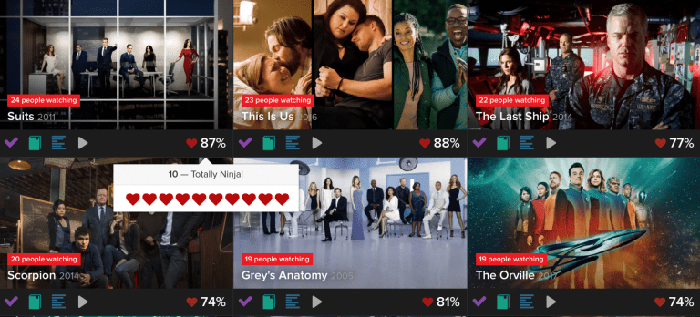 It's also important to note that you can add titles to your Watched History or Collections. What this means is that you need to tell Trakt.TV whether you've watched a title or you have a copy of it. While adding titles, you can also rate them. Don't forget to add some movies that you didn't like, so this service can know what to avoid recommending.
Keep Track of Your Activities
Once you've set up your account profile, it's time to allow this service to scrobble your information. This means that you'll need to download an add-on and install it. Since we are talking about Kodi in this article, we'll focus on installing and setting up the Trakt Kodi addon. However, we'll talk more about that later in the article.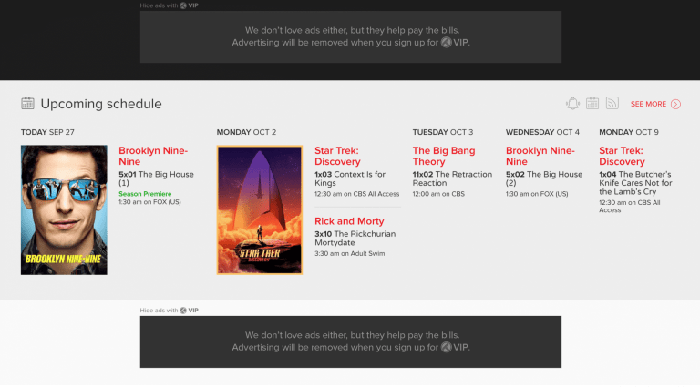 Once you've added your favorite shows, Trakt.TV will present a nicely designed calendar. It will contain information when the next episodes will air or become available on a streaming service. There are different ways to browse this information. For example, using a simple calendar or an in-depth calendar with rows of dates.
Custom-Tailored Recommendations
We have finally arrived at one of the most popular features of this service. Once you've set up everything, you will begin receiving custom-tailored recommendations. It will take some time until these lists start getting more accurate. Remember that it's important to add as many movies and TV shows as you can remember watching. This will greatly help this service to show the content that you might actually enjoy.

In case you don't want personalized recommendations, you can take a look at other top lists. There are pulled from all over the Web including IMDb, Rotten Tomatoes, Reddit, and elsewhere.
Visualize Your Habits
As you can see by now, Trakt.TV will learn a lot about your habits when it comes to watching movies and TV shows. This data will be transformed into infographics with colorful charts and bits of information. For example, you'll see how much time you've dedicated to this activity, as well as what are your favorite genres shows through percentages. This is a fun option that can be somewhat intimidating at times. After all, you'll probably see that you've spent weeks or months in front on your computer or TV. Still, just remember that you've spent that time relaxing and enjoying. This doesn't sound that bad, right?
Privacy Concerns
The truth is that Trakt.TV collects a lot of different information about you. However, this is understandable considering the main role of this service. Still, you should be concerned about your privacy no matter if you use Trakt.TV or any other similar application.
When it comes to this service's privacy policy, you'll see that Trakt.TV can hand over your personal information to government agencies if the need arises. However, you should know that no reports of that happening have ever surfaced. This is one of the reasons why we have previously told you about VPN applications. This is a good way to keep your personal information protected while enjoying the full benefits of using this amazing service.
Trakt Kodi Addon: Installation Guide
Installing the Trakt Kodi addon couldn't be any simpler. You can download and activate it in under one minute. However, we will also guide you through connecting your Kodi installation to your Trakt.TV account. Then, we'll finalize this guide by telling you how to customize this service and use it with other popular third-party addons.
Install the Trakt Kodi Addon
To help you go through this process, we'll explain it step-by-step. You will also find helpful screenshots which can be used to explain this process in a visual manner.
Open Kodi and click on the Search Icon. You can find it in the top-left corner, just under Kodi's logo;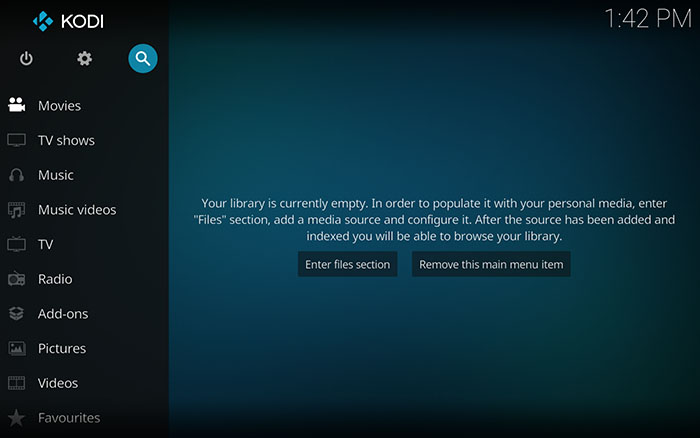 A new pop-up window will appear. Pick 'Search Add-ons';
Now you will be asked to enter a search string. You can go with 'Trakt.TV';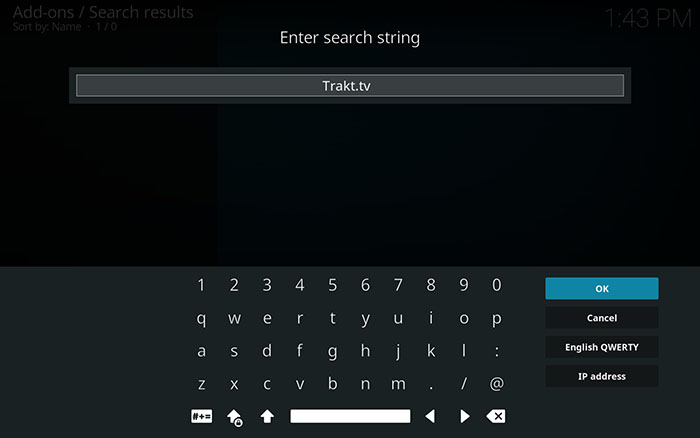 Based on how many repositories you have installed, you'll receive a number of search results. You need to find an entry named 'Script – Trakt'. Click on it;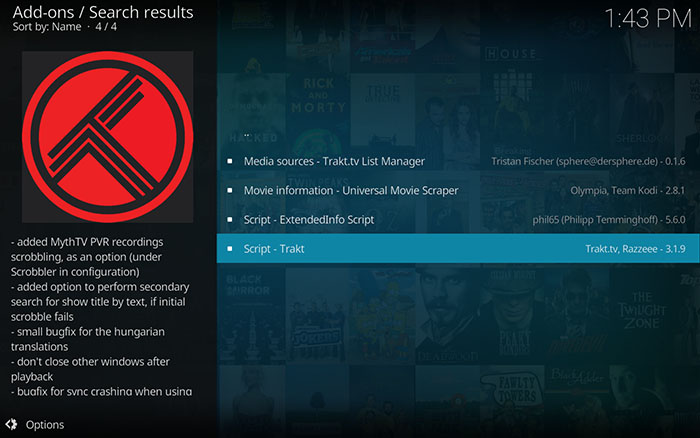 An overview of the add-on should appear at this point. Use the 'Install' button to finalize the procedure;
Wait a few seconds until the installation is done. You'll receive a notification in the top-right corner that says 'Add-on Enabled'.
That's it! You're ready to configure the Trakt Kodi Addon and begin using it.
Connect & Use Your Trakt.TV Account
The next step includes authorizing your Trakt.TV account and using it within Kodi. Follow the guide found below to do this.
After you install the Trakt Kodi addon, you should see a pop-up window with instructions. If that doesn't happen, right-click on this add-ons icon and pick 'Information'. Now go to Configure > How Do I Authorize…;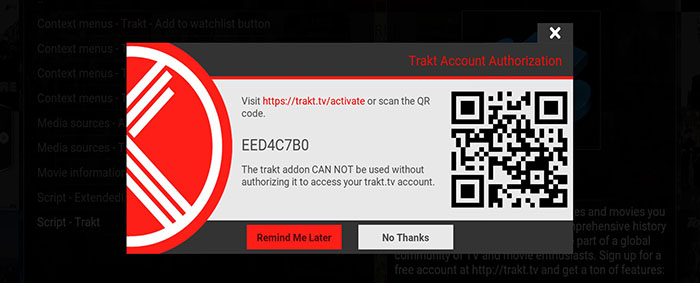 You will see a new pop-up window with a custom code that needs to be used to authorize your account.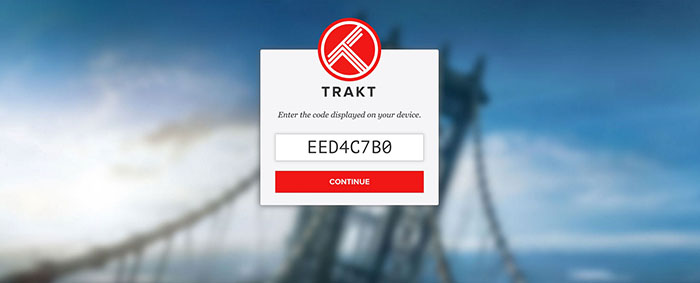 Before proceeding, you need to go to https://trakt.tv/activate. You can access this page on your computer, smartphone, or tablet. First, you'll need to sign in to your account.
You will be asked for a custom code found in Kodi. Make sure to type it in, and then click on 'Continue';
Click 'Yes' below the dialog box asking you to allow the Trakt.TV Kodi addon to use your account;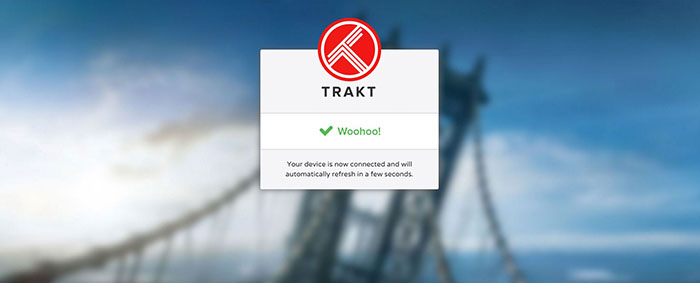 That's it! You will see a confirmation and you're ready to go.
Trakt Kodi Addon: Configuration Guide
After you've installed the add-on and activated it, it's time to configure it. This will allow Kodi to use this add-on to track your activities.
General Configuration
Let's take a look at how to configure this service within Kodi. After this, Trakt.TV will be able to track your content library stored within Kodi. This means that you can continue using Kodi normally. Feel free to add content and watch it. This service will run in the background and do the rest.
Here's how to get to settings of this add-on. Go to the Add-ons section within Kodi and navigate to 'Program Add-ons'. You should see the Trakt Kodi addon on the right. Right-click on it and pick 'Information'. Finally, click on the 'Configure' button.
The general settings come with five buttons on the left-hand side. These are General, Exclusions, Scrobbling, Synchronize, and Rating. Let's take a closer look.
General: This is where you can switch between different users. However, remember that you'll always need to authorize a new user as we have explained earlier in this article.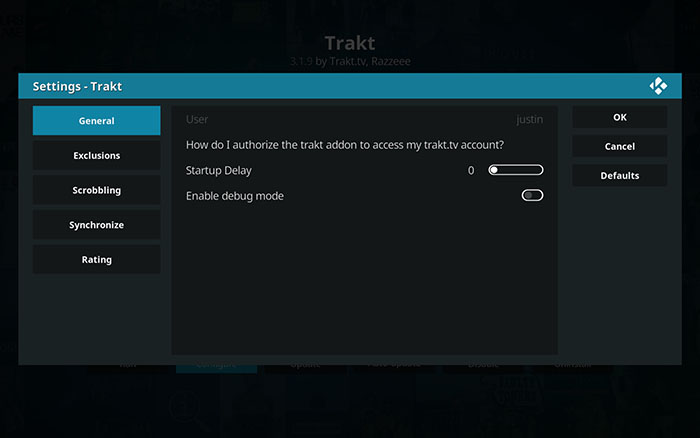 Exclusions: This set of options allows you to exclude certain content sources from being tracked. The available options are self-explanatory. You can exclude Live TV add-ons, HTTP sources (streaming content), or paths (your locally stored media).
Scrobbling: Choose what kinds of files are allowed to be scrobbled. You'll also see that you won't receive any notifications once data is sent to Trakt.TV. It's wise to enable this option, so you know when and how your data is being transferred.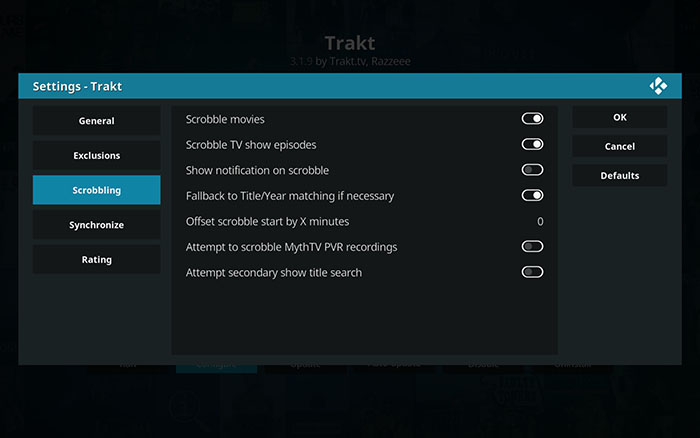 Synchronize: Kodi and Trakt.TV are deeply integrated. Once you've finished watching something via Kodi, that information will be uploaded to this service's website. If you make any changes to the website, these changes will be visible in Kodi.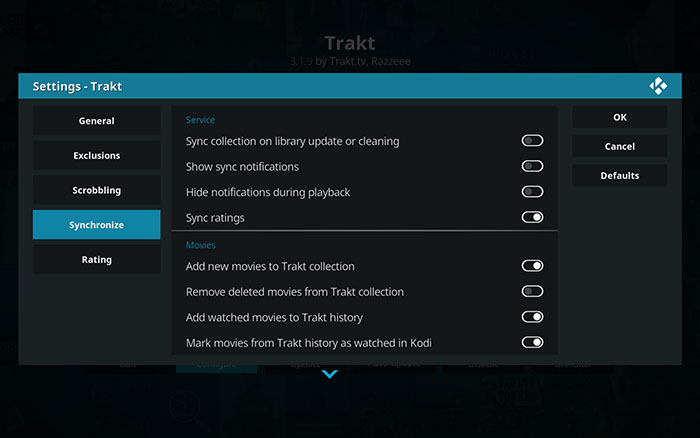 Rating: By default, you will be asked to provide a rating for everything you watch. If you don't want to do this, disable this option,
Trakt Kodi Addon: Additional Integrations
Aside from using this add-on within Kodi, you can also integrate other popular Kodi add-ons with Trakt.TV. Some of those applications are Exodus, Covenant, Genesis Reborn, and SALTS.
Integrate Trakt.TV with Exodus
Continue reading to learn more about how to setup Trakt for Exodus. However, please note that the following procedure also applies to the most popular Kodi add-ons like Covenant and Genesis Reborn. This is because all three of these add-ons share the same code. They come with similar interfaces, which means that you can use Trakt.TV with these add-ons in the same manner.
Open Kodi and navigate to the Add-ons Section;
Find Exodus and right-click on its icon. Choose 'Settings; This is where you'll see different kinds of options related to your use of Exodus.
Click on 'Accounts' in the left-placed sidebar. You'll find an option that says Trakt > Authorization. Click on it.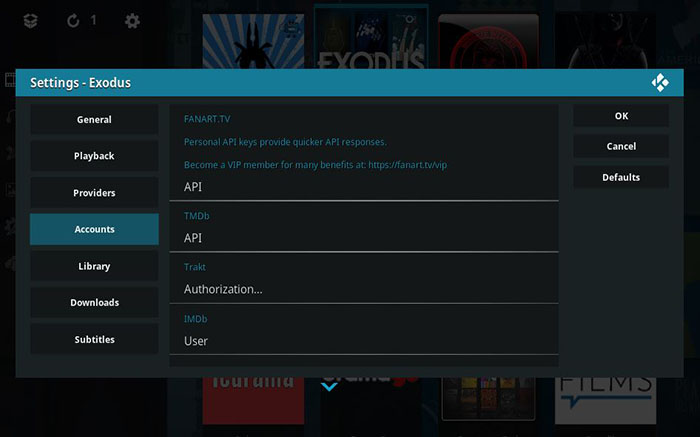 You'll see that you need to visit this service's authorization page enter the provided code. This is the same procedure that you encountered while installing the Trakt.TV Kodi addon.
Once you've entered the PIN code, Trakt.TV will begin communicating with Exodus.
Integrate Trakt.TV with SALTS
In case you managed to connect Exodus with Trakt.TV, you won't have any issues with the SALTS Kodi addon. You need to find this add-on within your Add-ons section and enter its Settings. Now go to Addon Settings, which is where you'll be able to authorize SALTS and begin using Trakt.TV within this addon.
Additional Resources
Before concluding this article, we would like to provide links to other useful sources of content on TechNadu. These can be helpful if you'd like to learn the basic about Kodi, or if you'd like to take another look at some of its less-known features. Finally, it's also important to know how to overcome technical difficulties. This is the reason why we are offering an in-depth troubleshooting guide. This will hopefully allow you to enjoy using the Trakt.TV Kodi addon without any issues.
Click on any of the following links to learn more about Kodi:
Conclusion
We hope that this article helped you learn all you need to know about this amazing service. As you can see, installing the Trakt.TV Kodi addon is an incredibly simple process. Using this addon, you will be able to build your custom lists of watched movies and TV shows and get custom-tailored recommendations. In case you really like this service, we recommend upgrading to a VIP account that brings additional features.
If you have any questions about Trakt.TV, feel free to ask us. In addition, we'll be more than glad to help with any technical difficulties you might be experiencing. Use the comments section below to communicate with us.