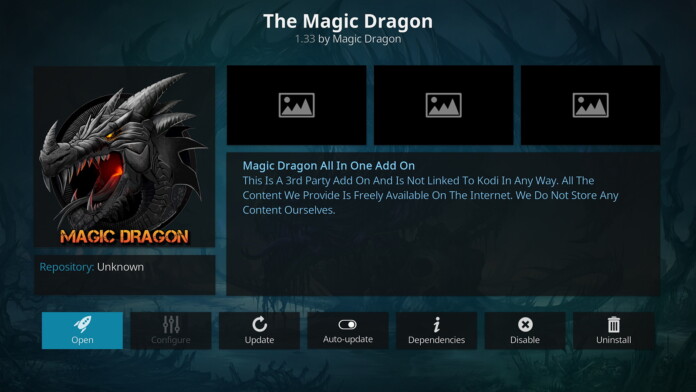 The Magic Dragon has been one of the most popular Kodi addons for more than a year now. During that time, it grew by adding new types of content and even incorporating entire addons into its offer. Today, you can use The Magic Dragon to find and play movies, TV shows, documentaries, music, cartoons, and plenty more. The only question is – how to install The Magic Dragon addon on Kodi? Well, that's why we're here to help!
Before you get to our step-by-step installation guide, we have an important piece of information. Until recently, The Magic Dragon was part of the Supremacy repository, which hosted numerous highly popular addons. However, the owner of this repository has been arrested in the United Kingdom – and this repo is no longer available. However, we have managed to find an alternative, so you can still enjoy The Magic Dragon as you normally would, without any interruptions.
Before getting started, we strictly recommend you to be safe while using Kodi. Therefore, we want you to read the We will be talking about software developed for Kodi – which is based on open-source code. However, the following software comes from unofficial third-parties. In addition, it is publicly available and free of charge. TechNadu doesn't claim any responsibility for how our readers decide to utilize the following software. Please note that we don't condone sharing pirated content and copyright infringement. TechNadu is not affiliated with the software mentioned in this article in no way. Make sure to carefully read the above-said disclaimer and ensure the proper use of the software.
disclaimer and WARNING notice found below.
Warning: Why you should ALWAYS USE a VPN with Kodi?
Here are the reasons that you should consider looking at it without SKIPPING.
Using ILLEGAL Kodi Addons are Dangerous without a VPN: Most of the Kodi users are installing the ILLEGAL Kodi addons on their system to access all the latest movies, TV shows, sports, music, and much more for FREE, than a legal Kodi addon where it has the least content in it. But do you know what? The video content on illegal addons is scraped and copyrighted material. If you are accessing them on Kodi, then your activities will be monitored by your ISP by tracking your IP and gives all the information to the government or companies if they request for it. This will land you in trouble. To stay away from this, you will have to connect to a VPN where it hides your identity by rotating your IP address while streaming Kodi content. This is how you will be safe from the prying eyes.
Bypass Geo-Restriction: As you probably know, some official addons like BBC iPlayer, NBC Sports, Hulu, IceFilms have geo-location restrictions. This also applies to other addons like Acestream which fetches the data from torrents. To unblock these restrictions, you will have to DEFINITELY use a VPN no matter what.
The above are the 2 reasons that forcing us to recommend a VPN to the Kodi users for safer streaming. In fact, after testing several VPNs for Kodi, we finally came up with a one non-stop solution and that is ExpressVPN, the top-rated Kodi VPN so far.
Limited Time Offer: For our TechNadu readers, there is a 49% OFF on ExpressVPN which includes 3 FREE Months in it.
9 Steps to Install The Magic Dragon Addon on Kodi in 2019
Before getting started, we recommend you to update your Kodi to the latest version. Also, you need to enable unknown sources within the application itself. And then, here's how to install The Magic Dragon on Kodi.
Launch Kodi and look for a 'Cogwheel' icon in the top-left corner of the screen. This will open Kodi's settings panel, which is where our journey starts.
Select 'File Manager' and then double-click on 'Add Source' on the left side on the screen. You should now see a pop-up.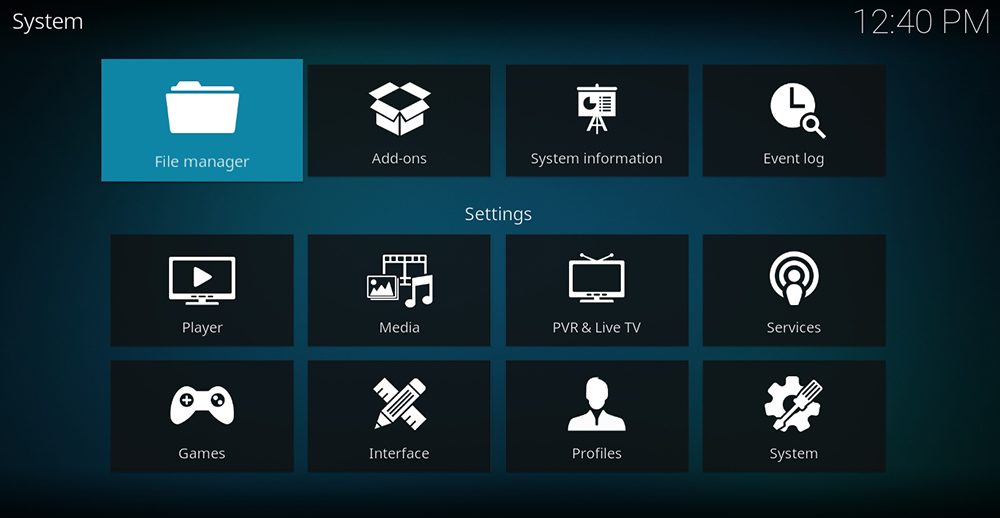 Select the first text field saying '<None>', and then input the following URL in the text field: http://repo.rubyjewelwizard.com. Click on 'OK' when done.
Rename the media source as 'RJ Wizard', and then click on 'OK.'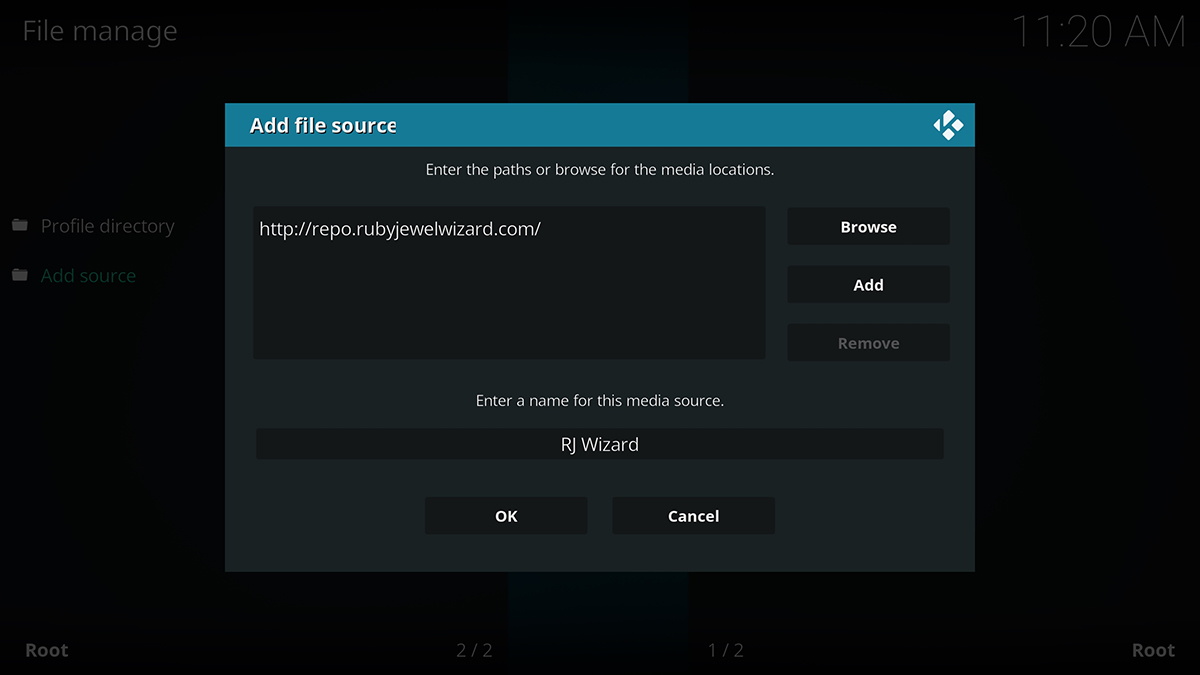 Return to the home screen and select 'Add-ons' from the left-placed menu.
Select the Open Box icon in the top-left corner, and click on 'Install From ZIP File'.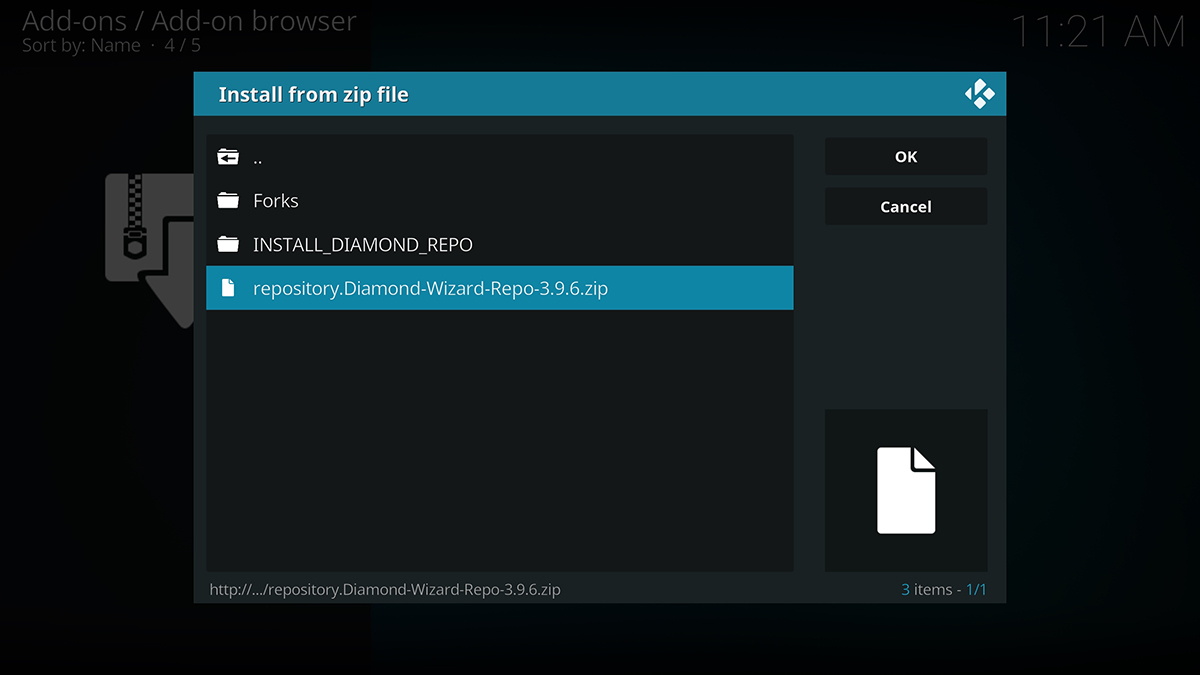 Now, navigate to RJ Wizard > Install Diamond Repo. This is where you'll find a ZIP file named 'repository.diamond-wizard-repo-X.X.X.zip', so go ahead and click on it. After a few moments, the repository will be installed and added to your Kodi.
Now, select 'Install from Repository'.
Go to Diamond Build Repo > Video Add-Ons > The Magic Dragon. Click on the addon's name. Finally, click on the 'Install' button to finalize the procedure. That's it!
Fix The Magic Error Errors (Not Working, Slow Performance & More)
Just like other Kodi addons, The Magic Dragon can sometimes encounter a problem. However, there's no need to worry as there's plenty that can be done. So, let's see how to resolve common technical issues with this Kodi addon.
The Magic Dragon Not Working? Here's What to Do!
There could be plenty of possible reasons why The Magic Dragon might not be working for you. Therefore, we first recommend you to update your Kodi to the latest version and then update the addon as well. In case that doesn't help, you'll want to check our Kodi troubleshooting guide, which is where you'll find solutions to various problems.
How to Fix The Magic Dragon's Slow Performance?
Just like other similar addons, The Magic Dragon relies on Web scrapers to search for and download video content. So, in case you're facing slow performance by the addon, this typically means that there's a problem with an external scraper.
Our recommendation would be to make sure that everything is updated on your device. Then, you can check some other addons to see if this problem is widespread. For this purpose, we recommend our central overview of the best Kodi addons.
And lastly, your ISP (Internet Service Provider) might be blocking your Kodi-related Web traffic. The only solution to this problem is to use a reliable and powerful VPN. We highly recommend ExpressVPN for this purpose.
Fix the 'Failed to Install a Dependency' Error When Installing The Magic Dragon
In case you're encountering this error, this usually means that a Kodi dependency can't be installed on its own (for some reason). Therefore, the solution is to install those dependencies manually, which is a relatively easy process.
We have a dedicated article about this issue, so here's how to fix the 'failed the install a dependency' error on Kodi.
How to Install The Magic Dragon on Firestick?
On the Web, you'll see many different instructions on how to install The Magic Dragon – and some of those rely on GitHub. However, any installation method that involves GitHub is problematic for Firestick owners. This is precisely why this article presents a universal method of installing The Magic Dragon on Kodi, across all of its supported platforms.
So, scroll up until you see our step-by-step guide, which also applies to those who have Kodi on their Firestick streamers.
We think The Magic Dragon Kodi addon is a great addition to Kodi in 2019. It adds so much entertainment to the living room that one can never be bored. We highly recommend it as we believe it should be an essential addon for any Kodi user. And also, if you are down with an error while installing the Magic Dragon addon, kindly let us know by dropping a comment. We'll try our best to assist you as timely as possible.
Lastly, we'd like to ask you to share this article online. And also, stay on top of the latest Kodi news by following TechNadu on Facebook and Twitter. Thanks!