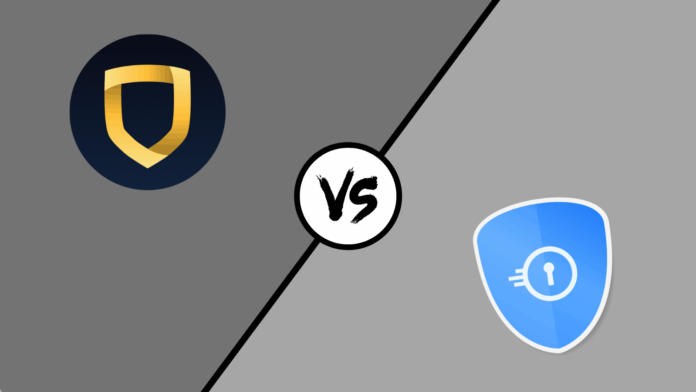 We have to say that we're not surprised to see you reading this article. If you're deciding between StrongVPN and SaferVPN, you're facing a very tough decision. These two appear the same, and even their names are variations of the same topic. However, we're here to clear any doubts – as we've spent quite some time testing them. Based on their individual reviews published on our website, we present you our StrongVPN vs SaferVPN comparison!
As you already know, in this VPN comparison, we have two VPN services with very comforting names. StrongVPN and SaferVPN both want to reassure you they'll make everything better, but in truth only one of them can come out on top. While StrongVPN is one of the oldest brands in the world of VPN services, SaferVPN is relatively new. Both of these battle for the same group of users, which is why a careful examination of their features is needed.
We have a set of criteria helping us establish a score for each VPN. Below you can see a summary of all that information. So, let's compare some of the most important information related to each of these VPN services.
| | | |
| --- | --- | --- |
| | StrongVPN | SaferVPN |
| Jurisdiction | The USA | Israel |
| Logs | No activity/connection logs. | Collects anonymized data. |
| Number of Servers | 950+ servers in 20+ countries. | 700+ servers in 30+ countries. |
| Parallel Connections | 12 | 5 |
| Encryption Standards | AES-256; OpenVPN, L2TP, SSTP, IKEv2, IPsec. | AES-256; OpenVPN, L2TP, PPTP, IKEv2, IPsec. |
| Speed Reduction | 46%, on average. | 65%, on average. |
| P2P Support | YES | YES |
| Supported Platforms | Windows, macOS, Linux, iOS, Android, routers. | Windows, macOS, Android, iOS, routers. |
| Visit | StrongVPN | SaferVPN |
To give you a good idea of the relative strengths and weaknesses of each VPN, here's a summary of individual scores of their reviews. Take a look.
| | | |
| --- | --- | --- |
| | StrongVPN | SaferVPN |
| Jurisdiction, Reputation | 5/10 | 10/10 |
| Supported Platforms | 9/10 | 7/10 |
| Installation Process | 10/10 | 10/10 |
| Prominent Features | 7/10 | 8/10 |
| Server Count | 5/10 | 4/10 |
| Ease of Use | 7/10 | 7/10 |
| Media Streaming | 6/10 | 7/10 |
| Security & Privacy | 9/10 | 10/10 |
| Speed & Performance | 5/10 | 4.5/10 |
| Customer Support | 7/10 | 10/10 |
| Pricing | 5/10 | 8/10 |
| Overall Score | 6.8/10 | 7.8/10 |
Still wondering which of these two is the better choice for you? OK, let's get our hands dirty and compare them in detail.
StrongVPN vs SaferVPN (2019) – The Ultimate Hands-On Comparison!
Finally, let's start comparing StrongVPN and SaferVPN – which we'll do by going through a series of individual aspects. We'll find a winner of each of those categories, which will help us find the best overall VPN out of this group. Let's get started.
Background, Jurisdiction & Features
Before we start talking about their features, you need to know some background info about StrongVPN and SaferVPN. Let's see from where these VPNs come, and what that means for their users.
StrongVPN: This is a US-based service, which is definitely an obstacle for those worried about their online privacy. We know that the USA is a member of the 5-Eyes Alliance, and we'll all heard plenty about mass-surveillance done by this country. On top of that, some reports have surfaced about StrongVPN using a large volume of trackers, which isn't something you'd expect from a VPN service. All in all, this VPN certainly doesn't leave a positive first impression.
SaferVPN: Then, we have an Israeli VPN service. You'd think that Isreal comes with progressive privacy-related laws, and that's true. However, this country was found to work with the 5-Eyes Alliance. Still, SaferVPN comes with the reputation of protecting users around the world, by giving free licenses to those affected by various types of censorship.
Winner: There's no need to think hard about which of these VPNs comes with a better reputation – that would be SaferVPN.
Supported Platforms & Devices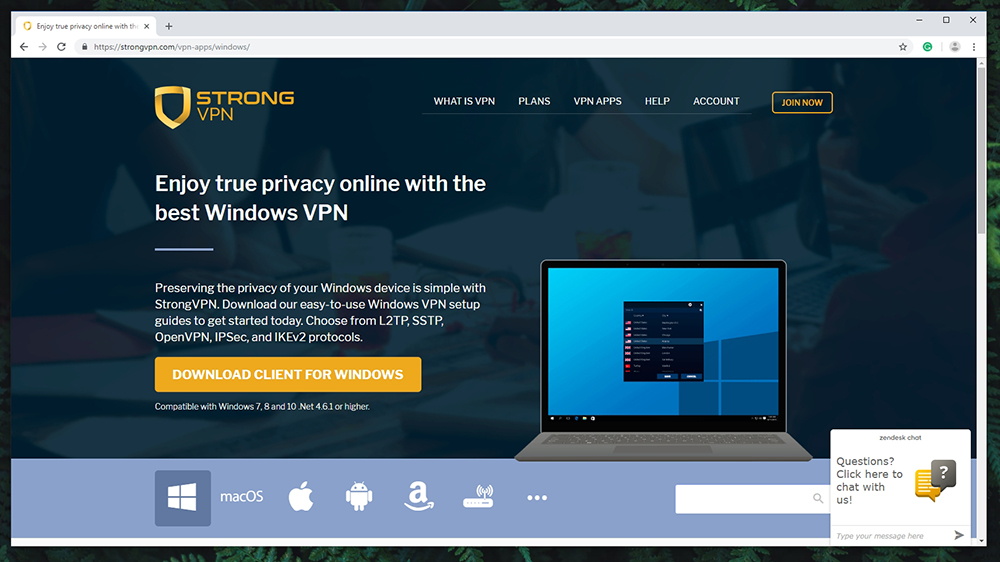 In the second category of our StrongVPN vs SaferVPN comparison, we'll be checking what kinds of platforms are supported by these VPNs. Here's what you need to know.
StrongVPN: As noted earlier, StrongVPN has been on the market for a long time now. So, it's not really surprising to see that it offers a wide range of applications. You can install it on Windows, macOS, Linux, Android, and iOS. Then, there's an app for Fire OS, Kodi, Amazon Kindle, and Chrome OS. And also, you can install this VPN on a wide range of routers, which is clearly a major benefit. However, you don't have to worry about reaching the limit of simultaneous connections, which has been increased to 12 a few months back.
SaferVPN: Then, we have another capable VPN. This one can be used on Windows, macOS, Android, and iOS. Then, there are extensions for Web browsers and there's a possibility of installing this VPN on a router. Lastly, you can use it on up to 5 devices at the same time. As you can see, this is more than what the majority of average users will need.
Winner: Both of these VPNs support a large number of platforms and devices. However, it's clear that StrongVPN is one step ahead of its competitor.
Installation & Initial Configuration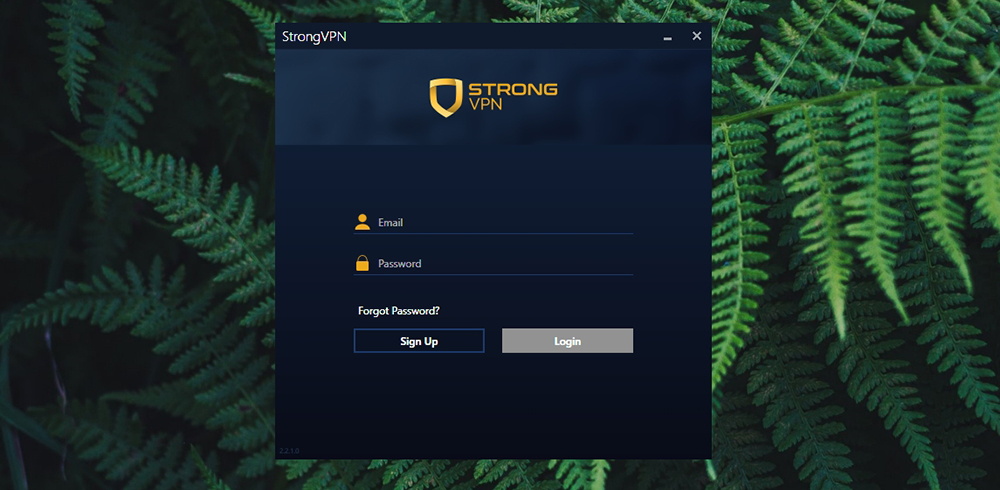 Having access to a native VPN application usually means that you can install it easily. So, with that many native apps, are StrongVPN and SaferVPN easy to install? Let's find out.
StrongVPN: Getting started with this VPN is easy. Once you sign-up, proceed to download the installation file based on your platform of choice. The application itself is lightweight, so you don't need a fast Web connection to finish this procedure. All in all, you should be ready to use StrongVPN within a few minutes of your time. And in case you want to install it on a router, this VPN offers a set of comprehensive tutorials.
SaferVPN: Interestingly enough, SaferVPN comes with an installation procedure that's close to identical to what its competitor offers. This is also a lightweight application that comes with the standard installation procedure. With this said, we're sure that even complete beginners won't have a hard time getting started with SaferVPN.
Winner: Both StrongVPN and SaferVPN can be installed by complete beginners. Therefore, we'll call it a tie when it comes to this category.
Prominent Features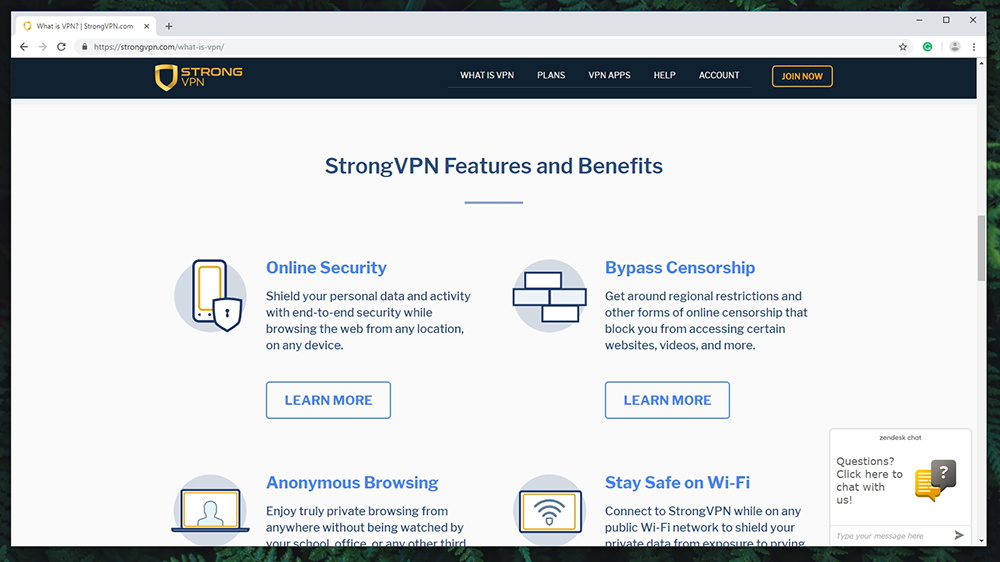 There's a certain set of features that you can expect out of any capable VPN. So, you need to check for additional and unique features if you really to find if a VPN is worth its price.
StrongVPN: This VPN employs the standard set of features to protect you against data leaks. You can count on DNS, IPv4, and IPv6 data leak protection. Then, it helps you fight against trackers found in digital ads, which is perhaps its most advanced option. Sadly, it doesn't come with any high-end options, like split-tunneling for example.
SaferVPN: As you can expect, you're protected from DNS, IPv4, and IPv6 leaks if you decide to go with this VPN. This one doesn't have split-tunneling either and it also doesn't have an ad-blocker. However, it comes with automatic Wi-Fi protection, which is great if you often connect to public or unprotected Wi-Fi networks.
Winner: Once again, it's hard to decide which of these is more powerful. However, we believe that StrongVPN takes the lead, in this case, thanks to its intelligent ad-blocker.
Server Count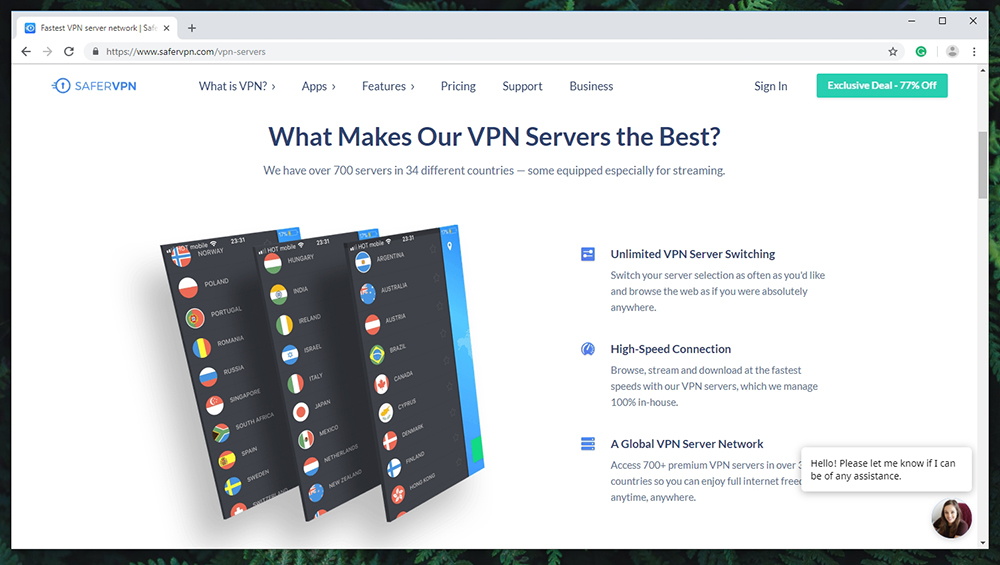 You must be wondering how many severs these VPNs bring? Don't worry, we have some concrete information for you.
StrongVPN: This VPN has about 950 servers spread across 20+ countries. However, it's important to be said here is that not many of those use the OpenVPN protocol (the most secure one). The rest of this VPN's server network uses PPTP, which is now considered compromised and won't protect your privacy.
SaferVPN: If you decide to go with SaferVPN, you can count on more than 700 servers in more than 30 countries. Even though it doesn't have as many servers as its competitor, you get to use plenty of different VPN protocols and you get reliable coverage in a larger number of countries.
Winner: Even though SaferVPN doesn't have as many servers as StrongVPN, it comes with a series of modern VPN protocols and it's present in more than 30 countries.
Ease of Use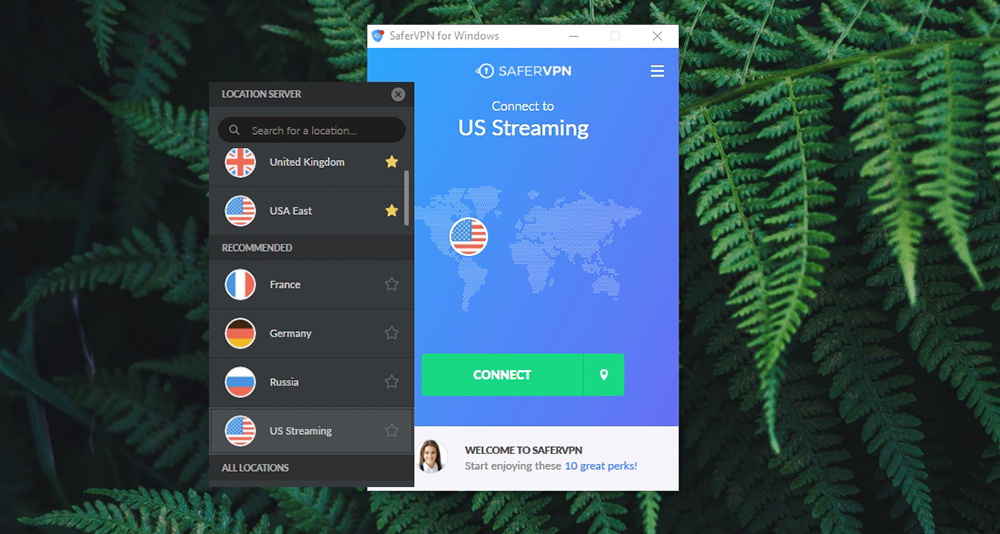 Today's VPN services don't require you to be an IT expert to use them. Instead, they're designed for average users – which means that they come with streamlined interfaces. So, let's see what these two VPNs bring.
StrongVPN: Up until recently, this VPN was known for its outdated UI. However, that is most certainly no longer the case. Today, StrongVPN comes with a highly polished interface that's really easy to use. It even allows you to fine-tune your user experience, which means that both beginners and advanced users should be happy. There are some quirks here and there, but nothing to be worried about.
SaferVPN: This VPN is designed to be as simple as possible. The home screen of SaferVPN relies on mobile-friendly elements. All of the important options are just one click away. However, there's plenty of customization behind the scenes, so we highly recommend checking this VPN's options after you install it.
Winner: There's no clear winner here. Both StrongVPN and SaferVPN should cater to inexperienced and highly experienced users as well.
Media Streaming & Torrenting Support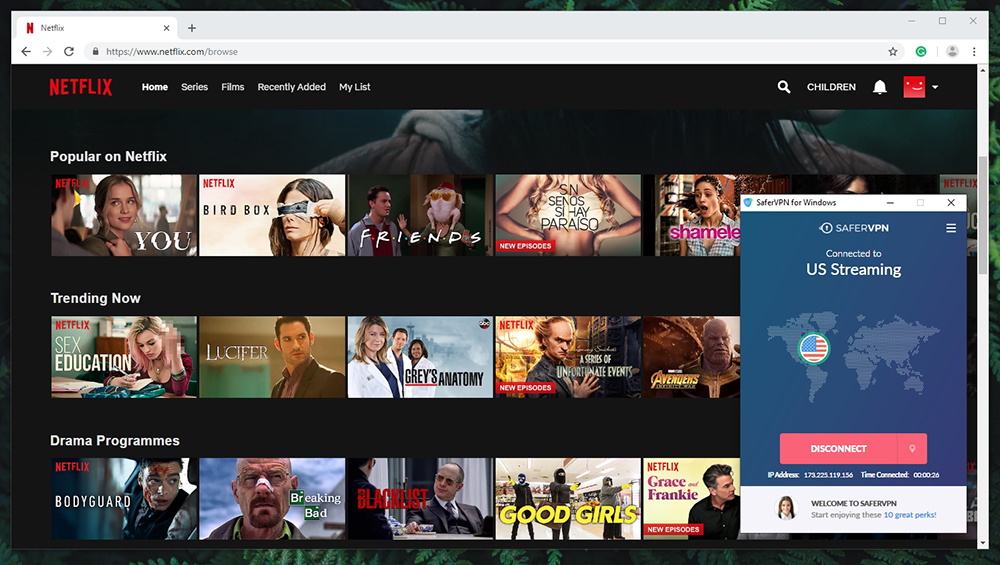 For many of you, we believe that this segment of our StrongVPN vs SaferVPN comparison is going to be the most important one. Let's see which media streaming platforms can be unblocked using these VPN services.
StrongVPN: In case you're a user of Netflix and Hulu, you'll be happy to know that you can unblock these services outside of the United States. However, as per our hands-on tests, StrongVPN doesn't work with BBC iPlayer or Amazon Prime Video. It's also worth noting that P2P traffic is supported, but keep in mind that this is a US-based VPN. With this said, we strongly recommend avoiding copyright infringement.
SaferVPN: Then, we have another VPN that can unblock the US version of Netflix. However, SaferVPN can also help you unblock BBC iPlayer and Amazon Prime Video. And in terms of torrenting, you'll find a handful of servers that support this kind of traffic – and these are located in the Netherlands, Spain, and Canada.
Winner: In case you need a really powerful VPN for streaming, you'll find better options out there. However, if we compare StrongVPN to SaferVPN, the winner is clear. SaferVPN helps you unblock more streaming services.
Security & Privacy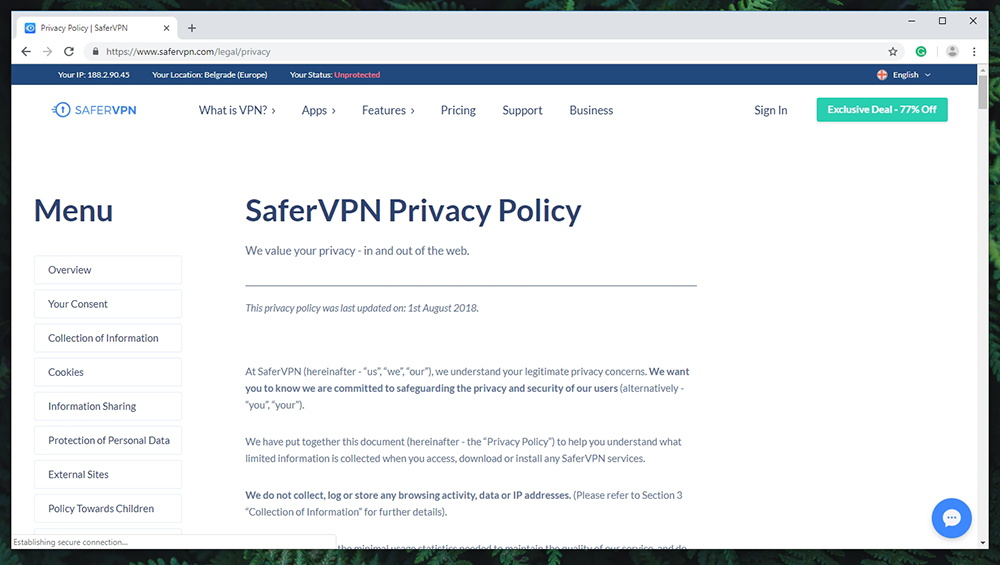 How much should you trust a VPN company? We guess in many ways it depends on what you want to do. However, you'll most definitely want a VPN that keeps no logs.
StrongVPN: This VPN uses 256-bit AES, which is the strongest type of commercially available encryption. Then, you can count on OpenVPN, IKEv2, SSTP, IPsec, and L2TP – all of which have their pros and cons. Considering that OpenVPN is on offer, you can rest assured that your privacy will be protected well. It's also worth noting that StrongVPN collects certain types of data – but none of this data can identify what you do online.
SaferVPN: Everything we said about StrongVPN in this segment applies to this VPN as well. It comes with 256-bit AES encryption complemented by an array of VPN protocols. Also, this VPN collects some anonymized data. However, this data is used to improve SaferVPN and can't be used to identify your online activity.
Winner: Once again, there's no clear winner between these two. However, we'd like to let you know that you can find no-logs VPN services out there that come with better privacy policies.
Speed & Performance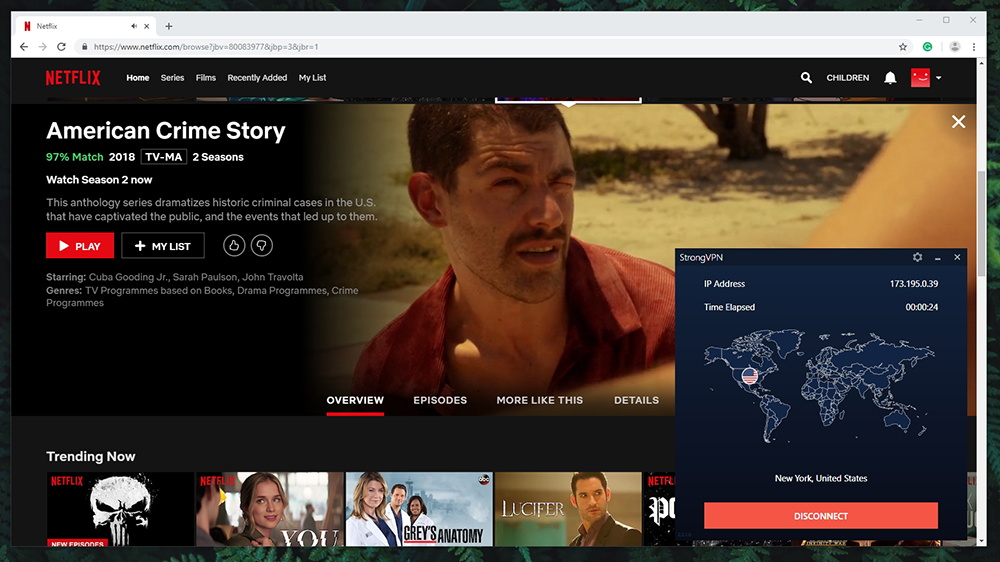 Can you rely on these two VPNs to bring throttle-free performance? We've done a round of speed tests, and here are the results.
StrongVPN: On average, this VPN slowed us down by 46%. Strangely enough, we felt noticeable throttling when connected to a nearby server, which is not what usually happens. However, this can be an indication that StrongVPN needs to work more on providing a smoother user experience.
SaferVPN: Then, we also tested SaferVPN, which slowed us down by 65% on average. As you can see, there's a drastic difference between these two VPN services. In other words, there's only one option if you care about maintaining the speed of your Web connection.
Winner: Our test results show that StrongVPN performs better than SaferVPN. However, check our article on the fastest VPNs if you want a throttle-free experience.
Customer Service
We hope that you won't face any technical issues when using a VPN. However, just like with any other type of software, things can go wrong sometimes. This is when a team of customer support agents should be ready to assist you.
StrongVPN: StrongVPN has come a long way. Many reviewers have criticized its lack of live chat and sub-par self-help resources. We can tell you that those complaints are a thing of the past now. Live chat is present and this VPN's self-help resources seem to be more helpful now.
SaferVPN: SaferVPN once again shows us that there's more room for improvement than we might think. The design of their support page is simply flawless in terms of readability and design. Anyone should have no issue quickly finding exactly what they need. Live chat is available as well as round-the-clock emails support. The guides themselves are also written very well. This is full-service at its best.
Winner: Both companies have excellent customer service offerings, but SaferVPN is as close to perfect as we've seen.
Pricing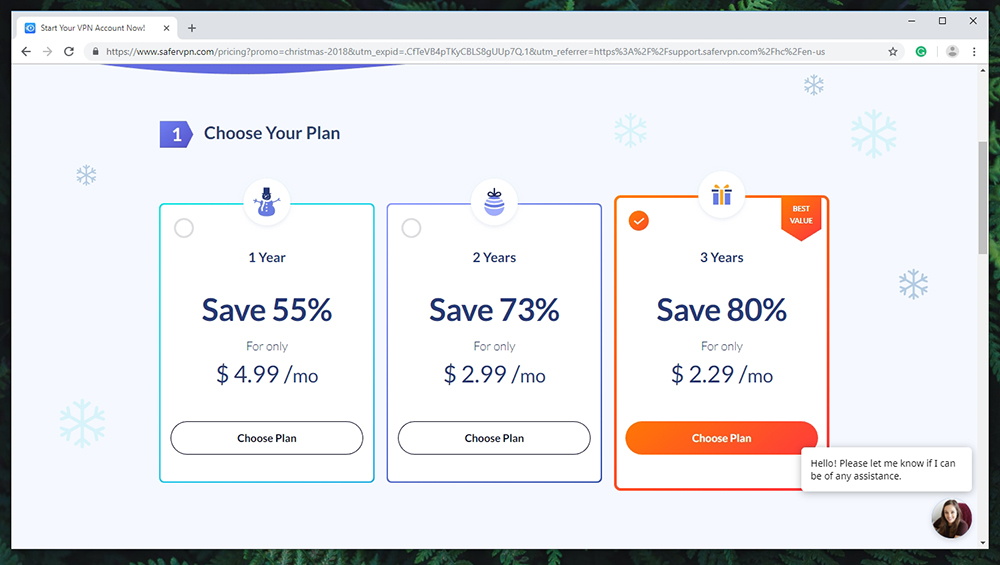 We'll conclude our StrongVPN vs SaferVPN comparing by talking about these VPNs' pricing plans. Let's see how much you'll need to pay – in addition to what kind of value these VPNs bring.
StrongVPN: If you decide to pay on a monthly basis, you'll be charged $10.00 each month. In comparison to other VPNs, StrongVPN doesn't really stand out. However, you'll find some savings in this VPN's annual plan – whose price comes down to $5.83 per month. You should also know that there's a 30-day money-back guarantee and that you can pay via credit cards, PayPal, and AliPay.
SaferVPN: The monthly price of this VPN is $12.95 – so, there's a big difference between this VPN and its opponent. However, SaferVPN is cheaper if you go for its annual plan, where the price comes down to $5.49 per month. And the price goes down if you're ready to invest in this VPN's 2- and 3-year plans. This VPN offers a 30-day money guarantee as well – but it also allows you to pay via cryptocurrencies.
Winner: We believe that SaferVPN brings more value for its price – but only if you're willing to invest in its annual plan. The option to pay via cryptocurrencies is also a nice addition.
StrongVPN vs SaferVPN – Which One Should You Pick?
It's really hard to decide between these two VPN services. However, if you've read this article carefully, you already know which option we'd recommend – and that would be SaferVPN. Without any doubt, we believe that the majority of users will be more than happy with this option.
SaferVPN is compatible with a large number of devices, you can install it within minutes of your time, and it comes with a simplistic UI. Then, it keeps your private data safe and sound and even allows you to unblock some media streaming services. So, what are you waiting for? Go ahead and subscribe to SaferVPN today!
Dear readers, this is where we end our StrongVPN vs SaferVPN comparison. If there's something else you'd like to know, make sure to post a comment below. Please share this article online if you think it's helpful – and also, follow us on Facebook and Twitter. Thanks!