More often than not, the contenders in our VPN comparisons are the best ones in their respective classes (speaking of which, here are our top-ranked VPNs). That's not the case here, in the matchup between StrongVPN and Betternet. One of these VPNs we thought was good in its individual review and the other we quite disliked, so this is hardly a prize-fight. Still, we want to know how VPNs in the same general weight class perform, so this should be quite a show. Welcome to our StrongVPN vs Betternet comparison!
StrongVPN boasts of high levels of encryption, describing itself as 'military grade'. They've also been around for ages. In addition, they're based in the USA but have taken certain measures to deal with privacy issues. Betternet is better known for providing an unlimited free VPN service. They use an innovative ad-supported model to fund such a generous offer, although in our free VPN comparison we weren't big fans of the offering. In this article, we're comparing Betternet Premium, which has a traditional pricing model.
Both VPNs will be matched up to our standard set of criteria, as detailed in the following table. So, take a quick look before we proceed.
| | | |
| --- | --- | --- |
| | StrongVPN | Betternet |
| Jurisdiction | The USA | Canada |
| Logs | No activity/connection logs. | Logs anonymized data. |
| Number of Servers | 950+ servers in more than 20 countries. | An unknown number of servers (70+ countries). |
| Parallel Connections | 12 | 6 |
| Encryption Standards | AES-256; OpenVPN, L2TP, SSTP, IKEv2, IPsec. | AES-256; OpenVPN and IPsec. |
| Speed Reduction | 46%, on average. | 10%, on average. |
| P2P Support | YES | YES |
| Supported Platforms | Windows, macOS, Linux, iOS, Android, Fire OS, routers. | Windows, macOS, iOS, Android, and Chrome OS. |
| Visit | StrongVPN | Betternet |
Next, here's another table presenting scores for individual aspects of these two services. This should help you to identify potentially problematic spots.
| | | |
| --- | --- | --- |
| | StrongVPN | Betternet |
| Jurisdiction, Reputation | 5/10 | 1/10 |
| Supported Platforms | 9/10 | 5/10 |
| Installation Process | 10/10 | 3/10 |
| Prominent Features | 7/10 | 3/10 |
| Server Count | 5/10 | 4/10 |
| Ease of Use | 7/10 | 3/10 |
| Media Streaming | 6/10 | 4/10 |
| Security & Privacy | 9/10 | 3/10 |
| Speed & Performance | 5/10 | 9/10 |
| Customer Support | 7/10 | 4/10 |
| Pricing | 5/10 | 1/10 |
| Overall Score | 6.8/10 | 3.6/10 |
Still wondering which of these two is a better choice for you? OK, let's get our hands dirty and compare them in detail. Keep on reading our StrongVPN and Betternet comparison.
StrongVPN vs Betternet – The Ultimate Comparison!
We will start our StrongVPN vs Betternet comparison by taking a look at different aspects of each VPN service. We'll start with these VPNs' background info, and we'll end with pricing plans for each service. Let's begin.
Background, Jurisdiction & Reputation
As you can see in our individual reviews of these VPNs services, we've done a background check of each of these VPNs. With this said, here's what you need to know about their origins and jurisdictions they operate under.
StrongVPN: This VPN comes from the United States, which certainly isn't ideal for VPN users. This country is a core member of the 5-Eyes Alliance, and StrongVPN's ToS (Terms of Use) leaves plenty of freedom for data logging. In addition, there were warnings in the past about this VPN's tracking aspects – which is yet another unusual thing for any VPN service. Therefore, it's safe to say that we don't recommend this VPN if you want to be 100% anonymous on the Web.
Betternet: Betternet is owned by AnchorFree, a company that also owns Hotspot Shield. This Canadian-based VPN has been often accused of hosting malware and it was hijacked by a hacker in the past. So, would you consider using this VPN to safeguard your private data? We hope that you wouldn't.
Winner: We can't say that these two VPNs are good solutions for protecting your online privacy. However, StrongVPN seems to be a slightly better option than Betternet.
Supported Platforms & Devices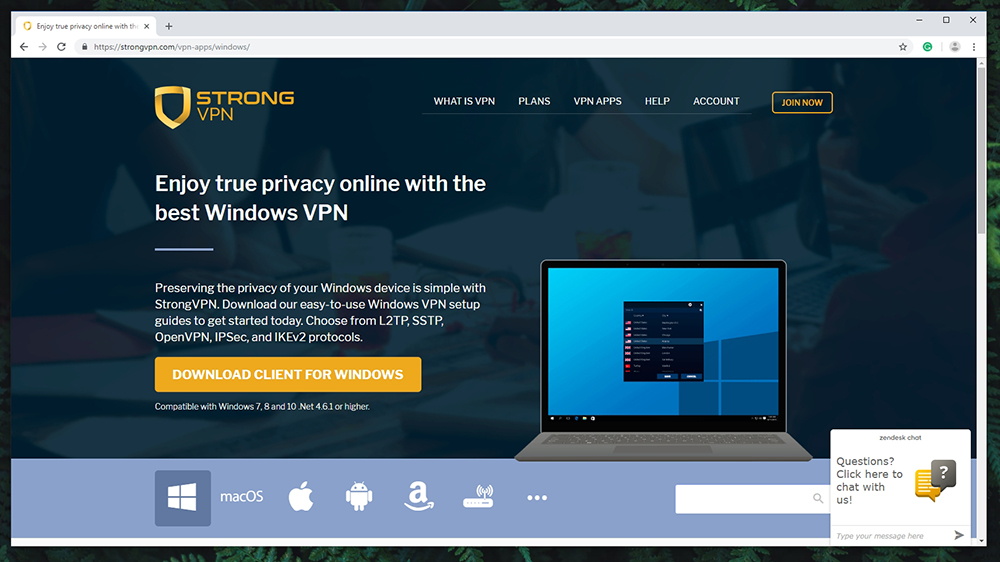 Depending on your needs, you'll want to know which devices are covered by these two VPNs. Ideally, your chosen VPN should natively support all of the currently popular desktop and mobile operating systems.
StrongVPN: You can use this VPN on a huge variety of devices. There are native clients for Windows, macOS, iOS, Android, and more. However, the best thing here is that StrongVPN supports the OpenVPN protocol. This means installing this VPN on a router is a possibility. On top of all of this, you can use StrongVPN on up to 12 devices, which is a rare thing among today's VPNs.
Betternet: You can install this VPN on your Windows, macOS, iOS, and Android. In addition, there's an extension for Google Chrome – so you can use it on Chromebook computers as well. Even though all of these apps are fully functional, they can't beat what StrongVPN offers.
Winner: Aside from supporting plenty of currently popular platforms, StrongVPN can also be installed on routers. Therefore, it easily wins in this category.
Installation & Initial Configuration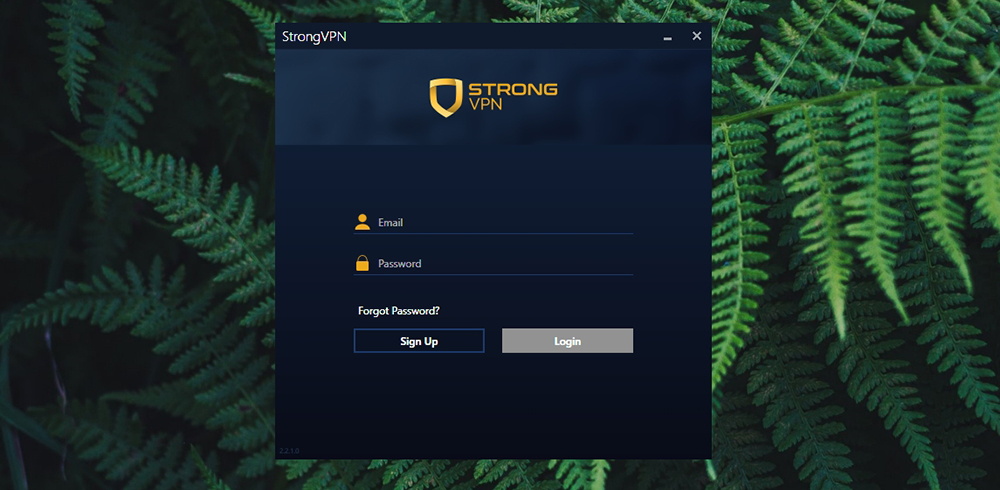 Do you only want to use a VPN on your computer, or your smartphone? Did you think about installing a VPN on a router, and protecting your entire household? Here's what you need to know.
StrongVPN: The first impression one gets of a VPN starts the very moment when you register and install the client. When it comes to StrongVPN, everything was easy-peasy. We didn't even have to log-in to get the software and it downloaded in seconds thanks to its small size. Installing the Windows client was just the usual wizardly experience.
Betternet: Betternet, on the other hand, proved to be a real pain. When you go to their site, they only really mention the free service. You are only made aware of the premium option once you actually have the client installed and run for the first time. Then, you have to wait for an activation email before the client can be switched to the premium model. This proved to be a major hassle since, for some reason, the emails just weren't coming. The codes are only valid for two hours, but like clockwork, they arrived after they had already expired. The whole experience sucked.
Winner: We had a really terrible experience with Betternet. StrongVPN provided a highly streamlined process, which makes is the winner here.
Prominent Features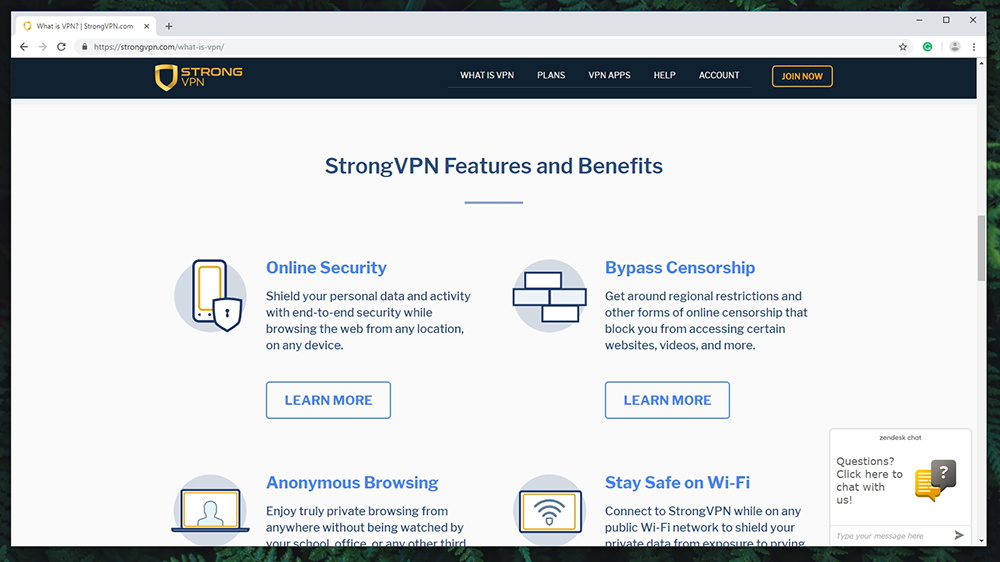 Aside from counting on encryption and keeping your personal data safe, it's wise to know about other prominent features. So, we'll discuss that in our StrongVPN vs Betternet comparison as well.
StrongVPN: This VPN's list of features would not stand out from the majority of VPNs, but next to Betternet's it looks overly generous. Both VPNs, of course, provide basic functionality such as IP hiding and encryption, but StrongVPN has much higher levels of encryption and includes a kill switch option. Also, it's worth noting that StrongVPN provides plenty of different VPN protocols, optimized for different uses.
Betternet: This is a very barebones VPN. It connects you to remote servers and it encrypts your connection. That's pretty much it. You can't really fine-tune your experience or switch between different VPN protocols. It's easy to use but it's oversimplified.
Winner: StrongVPN's average feature list easily beats out the barebones Betternet offering.
Server Count
In general, you'll want a VPN that comes with many servers – located across a large number of countries. So, let's see what these two VPNs offer.
StrongVPN: StrongVPN claims to have 950+ servers, which is OK but not the most we've seen. However, about two-thirds of these will only work on the PPTP protocol, which is obsolete and insecure. The rest run on a modern OpenVPN implementation and are fine, but this is a big issue for anyone who cares about privacy that's a big issue.
Betternet: In the case of Betternet, we have no idea how many servers they have. We couldn't find the information anywhere on their site. However, you'll get to connect to more than 70 countries – which is plenty more than what StrongVPN offers with its coverage of 20 countries. Also, we suspect that Betternet comes with plenty of 'virtual' servers, giving you a sense that its server network is bigger than it really is.
Winner: What can we say is – both of these server networks are equally unappealing in their number and quality. However, considering that StrongVPN is a more trustworthy option here, we would recommend using that VPN over Betternet.
Ease of Use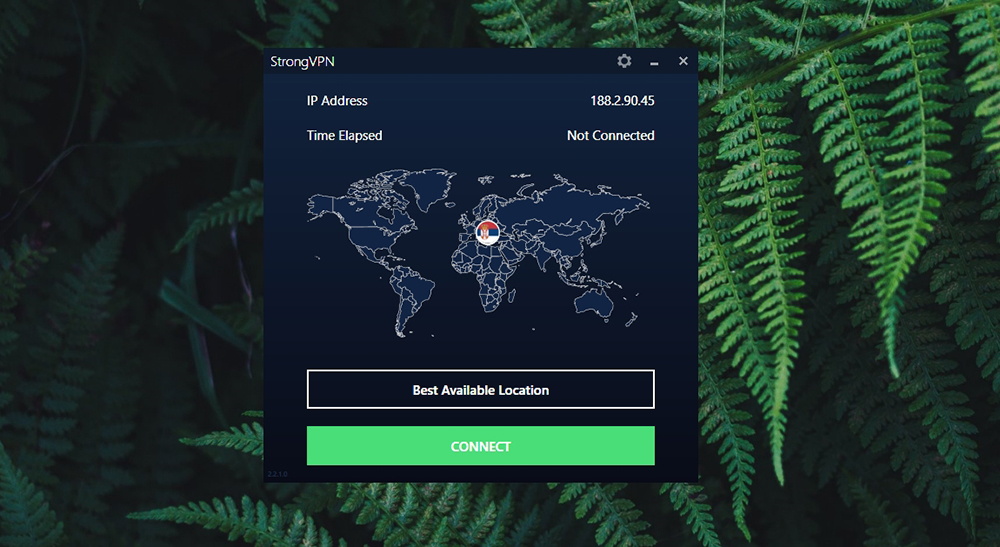 While some users like a challenge, not everyone is up for battling technical terms. Therefore, it's of the highest importance for a VPN to be as user-friendly as possible.
StrongVPN: Until a few months back, StrongVPN was characterized by an outdated UI. However, the team behind this VPN has managed to bring an update that brought its UI up to a level that you'd usually expect from today's VPN services. StrongVPN is now much easier to use and handle, even though there are still some quirks here and there.
Betternet: This VPN is designed for complete beginners and that really shows through every aspect of its UI. However, this means that a huge group of users is excluded – and we're talking about users who'd like to have deeper control over their Web connection.
Winner: Betternet comes with a very limiting UI, even though it is easy to use. StrongVPN, even though it's not perfect, is much more enjoyable for use.
Media Streaming & Torrenting Support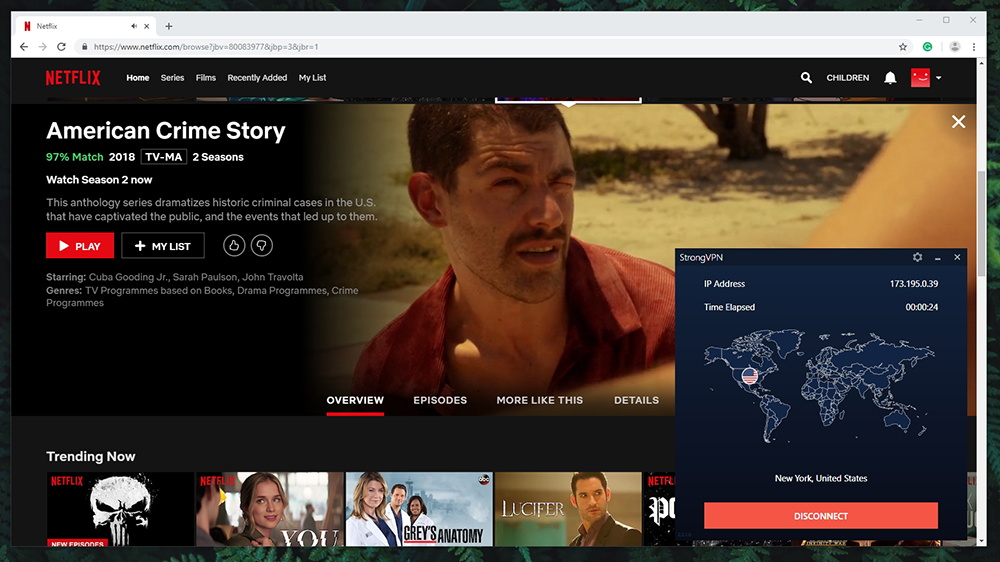 Do you plan on streaming Netflix while using a VPN? If you do, you need a VPN capable of unblocking this media streaming platform as well as a number of others.
StrongVPN: In case you need to unblock Netflix and Hulu, this VPN will help you. However, it's ineffective when it comes to services such as BBC iPlayer and Prime Video. In addition, StrongVPN supports torrenting – but note that this is a US-based VPN, after all. Therefore, make sure to avoid copyright infringement.
Betternet: As per our tests, Betternet is capable of unblocking BBC iPlayer. The same can't be said for Netflix, Hulu, and Prime Video. Also, Betternet supports P2P as well – but there's the question whether you'll manage to find a nearby server optimized for this type of Web traffic.
Winner: We don't have to think hard about choosing a winner for this category. That would be StrongVPN.
Security & Privacy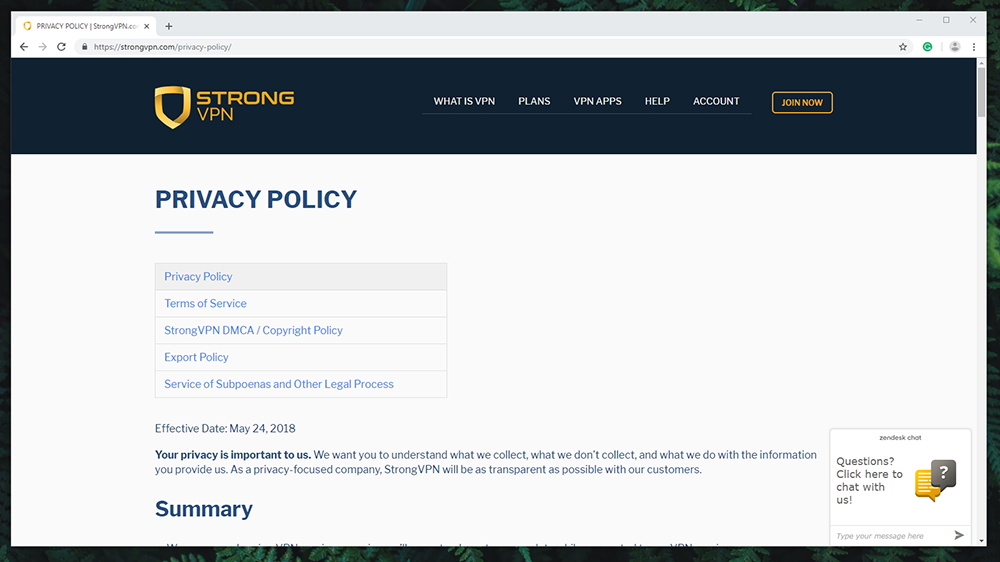 Before signing up for a subscription, you must know how your personal data is handled. Here's what kinds of security features you can expect.
StrongVPN: As you read above, most StrongVPN servers seem to run on the outdated PPTP protocol. Fine for preventing casual snooping, but anyone who wants to see your information can do it with some effort. Still, if you stick to the OpenVPN servers and make use of the killswitch function and strong encryption options, you're going to be OK.
Betternet: Betternet, on the other hand, is not OK. The connection was terribly unstable, we never knew which protocol we were actually using and there's no kill switch. That's a recipe for disaster. Even worse, the Android app has been found to contain malware in the past. Not a ringing endorsement of Betternet, we tell you.
Winner: StrongVPN has a major concern, but it is still miles ahead here. Once again, we need to highlight that we don't recommend Betternet if you're concerned about the privacy of your data.
Speed & Performance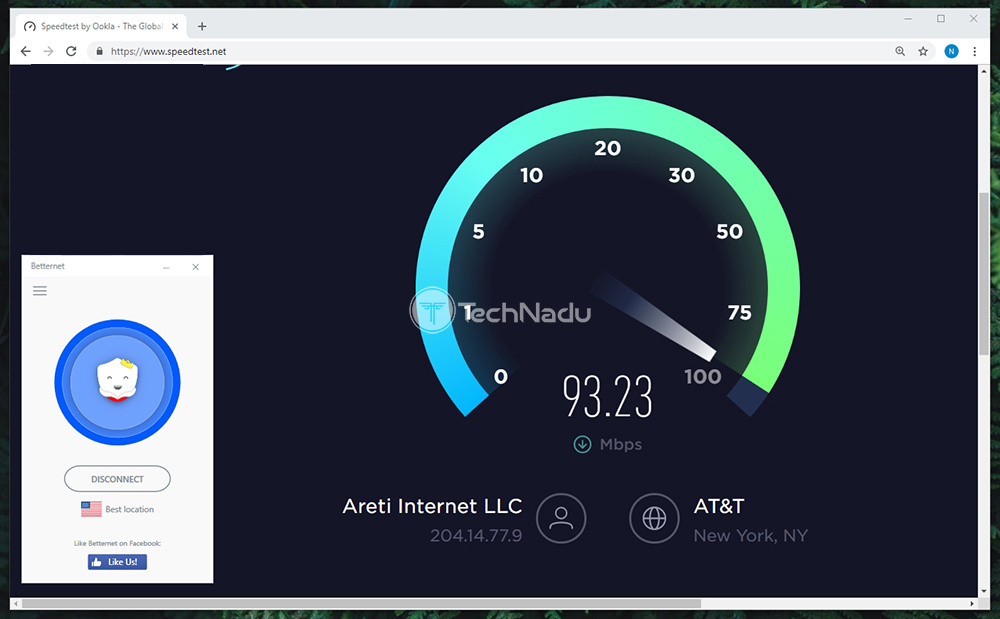 All those fancy features don't mean a thing if a VPN doesn't perform well. This is perhaps the most important segment in our StrongVPN and Betternet comparison.
StrongVPN: This VPN is being advertised as the fastest VPN on the planet. This is why we felt very excited to test it out. However, this isn't what we encountered during our speed tests. This VPN throttled us by 45%, on average – after connecting to both nearby and remote servers. Needless to say, you'll easily find better-performing VPNs.
Betternet: Surprisingly enough, Betternet didn't throttle our Web connection in a big way. On average, it slowed us down by 10%, which is an admirable result. However, let's not forget that almost any other aspect of this VPN is highly limiting.
Winner: If you only care about maintaining the speed of your Web connection, Betternet seems like a better option than StrongVPN.
Customer Service
When things go wrong (and they most certainly will at some point), you'll be happy to have a strong support team. Here's what to expect.
StrongVPN: StrongVPN has caught a lot of flack in reviews over the years for less than stellar customer service, but when we reviewed it, we found a snappy and friendly live chat service, good email support and plenty of well-written material.
Betternet: Somehow, despite costing more than StrongVPN, Betternet lacks live chat. Premium users are meant to get priority when it comes to email support. We don't know how long free users have to wait, but we waited up 72 hours to get a response to our questions.
Winner: StrongVPN has live chat, well-written content, and other types of customer support resources. Betternet doesn't stand a chance here.
Pricing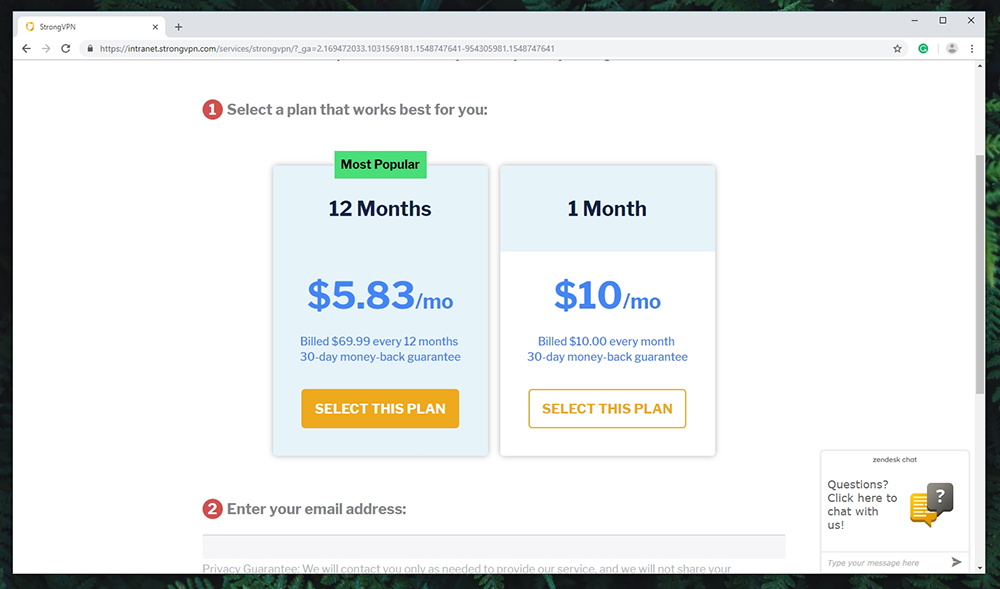 The last segment in our StrongVPN vs Betternet comparison is all about pricing. So, let's see how much you'll need to pay to use these VPNs.
StrongVPN: If you decide to pay on a monthly basis, you'll need to pay $10.00 each month. If you decide to go for its annual subscription, the price goes down to just $5.83 per month. This definitely seems like a good deal – especially since there's a 30-day money-back guarantee.
Betternet: This VPN provider will cost you $11.99 per month and $35.99 for its annual plan (which means $2.99 per month). However, this seems like a high price considering that Betternet is a barebones VPN service. On top of that, the price of this service depends on from which device you buy it from. For example, iOS and Android App Stores will sell you the annual subscription for $71.99 per year. Quite strange, right?
Winner: Betternet is clearly an overpriced service. You can't even compare it to StrongVPN.
StrongVPN vs Betternet – Which One Should You Pick?
StrongVPN is not the best VPN out there. At the same time, we could not say it's all that bad either. However, with just a little improvement here and there, it could stand shoulder-to-shoulder with the big names. Betternet, on the other hand, feels like an insult, given its price, wonky technology, and absent support. As we said in our individual review, we'd only consider it if it were a dollar a month and even then we wouldn't enjoy it.
So, make sure to check out StrongVPN on your own. We are sure you'll be happy with what this VPN offers.
Dear readers, this would be the end of our StrongVPN vs Betternet comparison. We sincerely hope that you found it to be useful, as well as that you'll share it online. And also, don't forget to follow TechNadu on Facebook and Twitter. So, let's stay in touch! Thanks.