Firstly, let's address the newbies. If you're new to Kodi and wonder what that is, it's safe to say that it's one of the most popular media players for a wide range of devices. Developed by XBMC Foundation, it's a visual treat through which you can access an array of music, movies, TV shows, and photos – all within a single platform. On top of that, Kodi comes with hundreds of highly capable add-ons, as you're about to see. We'll tell you how to unlock a new world of entertainment by using the StreamHub Kodi addon.
This year has been a fantastic year for StreamHub. While it's treated like an old weapon with some great new updates by Kodi enthusiasts, StreamHub does bring some amazing features to the table. It has a vast variety of TV shows, movies, and other types of digital content.
Disclaimer: We will be discussing software developed for Kodi – which is based on open-source code. However, the following software comes from unofficial third-parties. In addition, it is publicly available and free of charge. TechNadu doesn't claim any responsibility for how our readers decide to utilize the following software. Please note that we don't condone sharing pirated content and copyright infringement. TechNadu is not affiliated with the software mentioned in this article in no way. Make sure to carefully read the above-said disclaimer and ensure the proper use of the software.
WARNING: Before You Continue…
TechNadu recommends connecting to the Web using a VPN application. The majority of Internet Service Providers (ISPs) are able of tracking your Web browsing habits and collecting information. This kind of personal data can be forwarded to government agencies or sold to marketing companies. One of the consequences of these actions can be copyright infringement notices that some users of Kodi reported receiving. The only way to stop this from happening is to use a VPN.
VPN applications encrypt your Internet connection. As such, your personal data stay hidden and inaccessible by your Internet Service Provider.
VPN applications guard your online anonymity. A number of websites often use cookies to track your browsing habits. By altering your IP address, VPNs preserve your anonymity no matter if you visit websites or use Kodi to stream media.
VPNs unlock restricted content. Using this kind of application, your computer will receive a new IP address that points to a completely different physical location. This is how you can watch region-restricted movies and TV shows.
VPNs can improve your Internet connectivity. A reliable VPN application can de-block throttled connections and achieve better overall performance.
Based on our experience, TechNadu would like to recommend IPVanish. This has been our VPN of choice for a long time, making us happy with its features and performance.
IPVanish is capable of keeping your connection highly secure. It can also be used to watch region-restricted movies and TV shows. Finally, this application doesn't affect Internet connection speeds. On top of that, it's very affordable.
Sign up for IPVanish and try it out for yourself.
StreamHub Kodi Addon: Overview
What you maybe don't know is that StreamHub isn't a new addon. It was formerly known as Media Hub. As it's the case with many addons, it was taken over by another developer who is now in charge. As you are about to see, it brings a large library of content that contains different kinds of media. We are sure you're going to love it.
First, let's take a look at how to install StreamHub, and then we'll go over its contents. However, make sure to read the next section carefully.
Important Prerequisite
You need to make sure that your Kodi installation works with third-party addons. By default, this isn't the case. This is because there's the official Kodi Repository that contains addons approved by Kodi's creators. Still, you know that there are a lot of different third-party sources on the Web. This is the reason why we need to enable Kodi to support these addons.
Open Kodi and use the gear icon in the top-left corner. This will take you to the application's Settings;
Now navigate to 'System Settings';
In the left-placed sidebar, you will see 'Add-ons'. Make sure to pick this option;
Finally, you can find 'Unknown Sources' on the right side of the screen. Toggle this option to ON;
Kodi will display a warning, but you can go ahead and dismiss that. Double-check if you've enabled the support for unknown sources.
How To Install The StreamHub Kodi Addon?
In simple terms, to initiate the installation process of Streamhub Add-on, you need to download a third-party repository, which has the primary code of the addon. Let's take a look at the installation process of StreamHub.
Add a New File Source to Kodi
First, you need to add a new Web-based file source to Kodi. This will later help us to install the repository that contains the Streahub addon. Let's begin.
Launch Kodi on your device. Look for a gear icon at the top-left of the screen, which should be between the Power and Search icons. Click on this icon;
Once you're in the Settings menu, click on File Manager. This will take you to a new mirrored menu;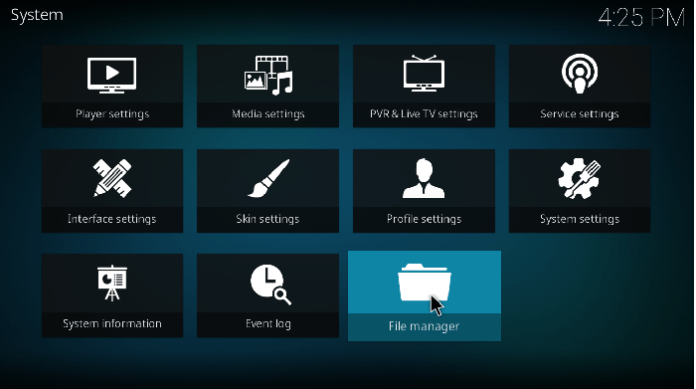 Select 'Add Source' and double-click on it. You will see a new pop-up window;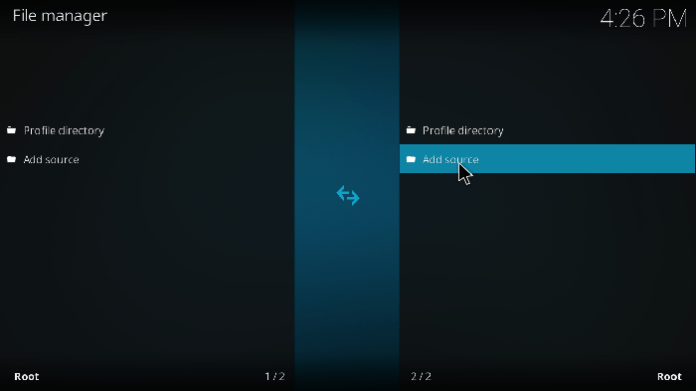 The popup menu will have two text fields as shown in the screenshot. You need to click on the message which says '<None>';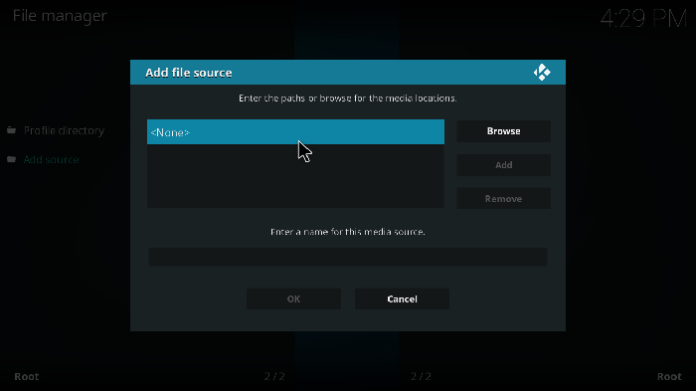 Enter the name of the media source in the lower text field. While you can name the media source as you wish, Kodi recommends to keep it to 'repository.streamhub'. To avoid any future confusion and make it easy to remember, we're naming it – 'StreamHub';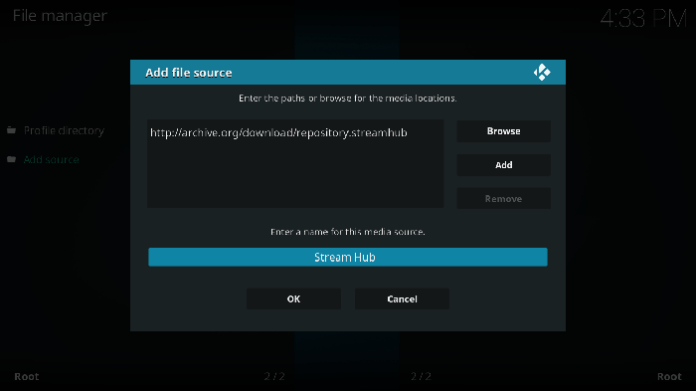 To confirm, click on 'OK' at the bottom of the pop-up menu, which will add a new file source to Kodi.
Install StreamHub Repository from Zip File
We'll now use the file source we've just added. In other words, we'll instruct Kodi to access the Web directory and install the ZIP file contained within.
Now, return to Kodi's Home Screen. Look for 'Add-ons' on the left menu panel and click on it;
In the top-left corner, you will see an open box icon. Use it;
Navigate to 'Install from Zip file' and click on it. This option lets you install the StreamHub package from the online repository;
Now, if you've done everything right, you should see a pop-up menu as shown in the screenshot. Locate Stream Hub;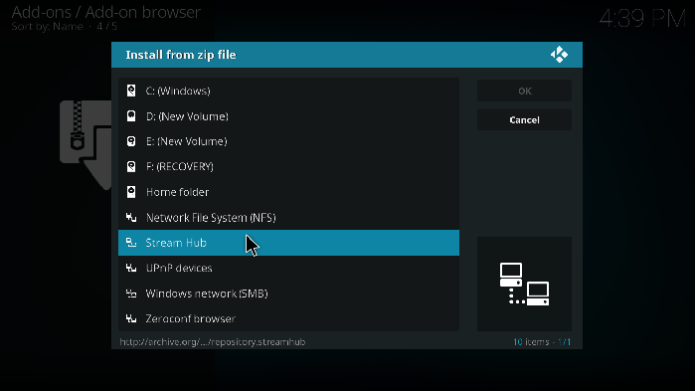 Select 'repository.streamhub.zip', which should be the only available file on the screen. Now, click 'OK' button on the right side;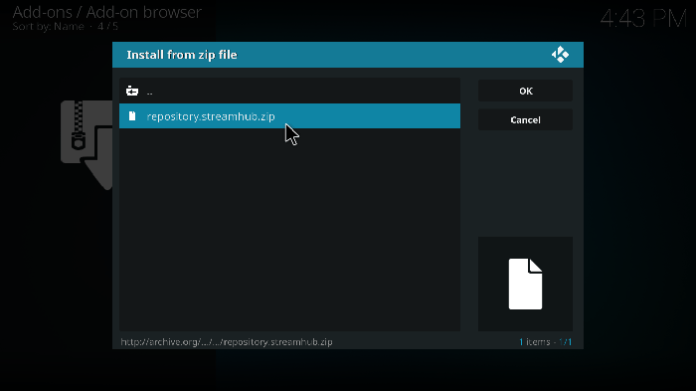 Wait until a popup in the upper-right corner appears to indicate a successful installation of the StreamHub Repository;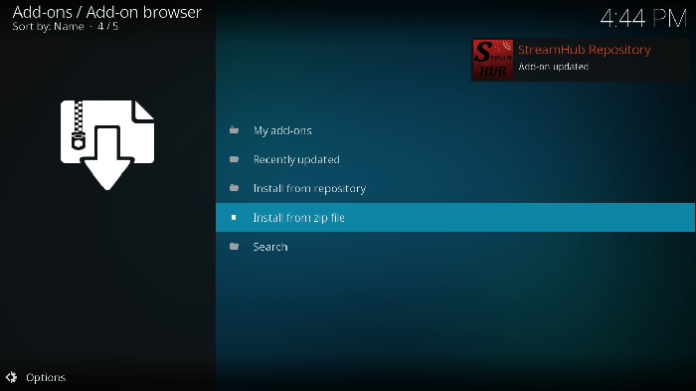 Install StreamHub Kodi Addon
Finally, all there's left now is to install the addon. You are only a few steps away from adding a valuable source of entertainment to your Kodi. Let's finish this process!
Again, go back to Kodi's main menu and select 'Add-ons'.
Click on the 'open box' icon at the top left of the screen;
Now, select 'Install from repository'. Here, you'll be able to install the StreamHub Kodi addon from the previously installed repository;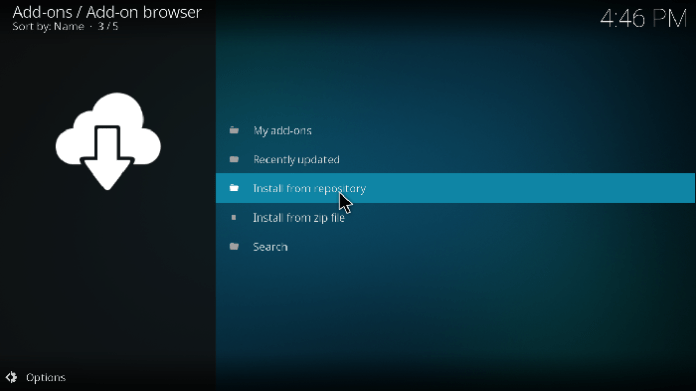 Navigate to StreamHub Repository and click on it;
Now, select 'Video add-ons' followed by selecting 'Streamhub'. After this step, you'll be directed to StreamHub's installation menu;
Navigate to 'Install' button at the bottom-right of the lower menu. This should begin the installation of this addon. The installation might take a few minutes to complete, so be patient and wait.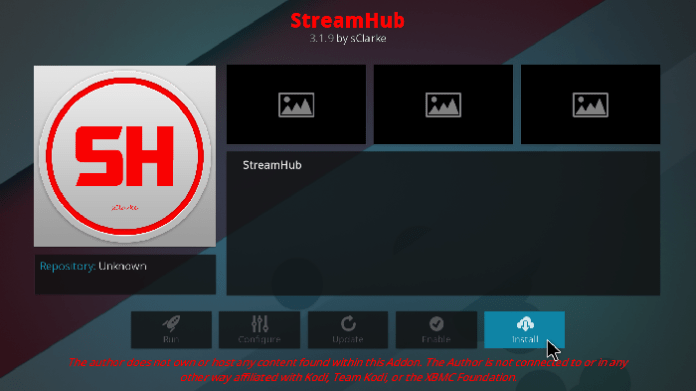 That's it. Congratulations! You've installed the StreamHub Kodi Addon successfully. To check, you can visit the Kodi's main menu and hover over the 'Video Add-ons' button. StreamHub should appear with the other video add-ons you've installed if you have installed any.
Now that you have your Add-on installed and can access a huge library of digital media, it's imperative that you know how to use StreamHub, which if you're a newbie, could be a challenge.
So, here is the basic guide to understanding all the features of the StreamHub Kodi addon.
StreamHub Kodi Addon: What to Expect?
Here, we'll mention all the significant features and sections of the StreamHub, so you can know what to expect. We hope you'll explore it on your own as well.
StreamHub Premium
This is the first option within Streamhub's interface and allows you to donate to the developer of the addon. In return, it gives you the access to Live TV and premium video content. This entirely depends on the user to opt-in, or not. While it's not necessary with plenty on offer already, it can add some extra perks. Again, entirely depends on the user.
Movies
A huge collection of movies which is clearly organized and can be filtered in many ways. It makes it easy to get to what you want. The Movies search bar has some tricks up its sleeve where you can search for movies using keywords. For say, you can get the list of all the movies by a single actor, just by searching his name. Cool, isn't it? In addition, this addon can be a great addition to your collection of movie addons for Kodi.
TV Shows
StreamHub features an enormous selection of TV shows. You can get the latest TV series, and if you're a lover of the older classics, it has that too. Just like the Movie search feature, TV Shows also has several ways to get to what you want.
Live TV
As this content category's name suggests, it lets you watch Live TV on your Kodi. It allows you to watch different TV channels and organize them into different categories of streaming services, ensuring you catch what you want to watch.It's a bit complex at the start, but once you get familiar with the interface, you'd run right into the channel you'd want to see. It's worth the initial hassle.
Kid's Corner
Now, this is where Streamhub wins the race. The popular kid shows, family movies, and YouTube gaming comprise this tailor-made section for kids. It's easy to navigate and has a bundle to offer, especially if you have kids.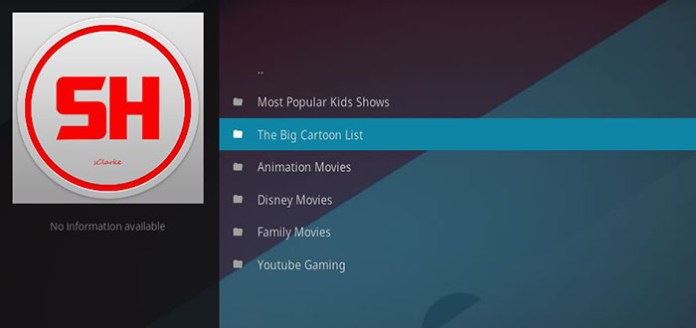 Sports
Would you like to watch the replays of sports from a variety of leagues? StreamHub offers the solution. This is a great source for all the sports lovers, where broadcasts are updated on a daily basis.
Documentary's
Is it alright if we make fun of a misspelling on the platform? But, despite a wrong spelling, it nails the function. It has a comprehensive all-in-one list of documentaries. It's easy to navigate and does what it's meant for. It flaunts 40 different genres across varied subjects. It's a very comfortable den for documentary lovers.
Anime
When they were developing StreamHub, they knew there is a big population that enjoys anime and so here it is. It features a huge collection of anime movies and TV shows, both modern and classic.
The navigation is limited to the alphabetically sorted list, which often makes it a little too hard to get to what you want. But, we all know, anime lovers are not lazy.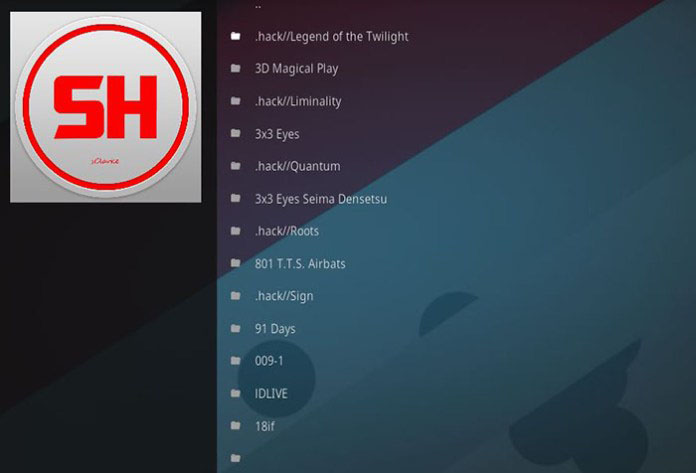 Maintenance
If you into fine-tuning, here you go. While an enthusiast can indulge in a variety of ups and downs, average users should limit themselves to 'Open Add-on Setting'. It offers you to control a variety of things including, playback quality and automatic downloads.
What's Next: Additional Resources
Before we let you go, we want you to know about other popular addons. In case StreamHub ever disappoints you, you'll know where to turn. Here are a few quick suggestions:
When it comes to watching movies and TV shows on Kodi, you should be more than happy with the SALTS Kodi addon. It brings a vast library of content that will keep you busy for a very long time;
Next, we have BoB Unleashed for Kodi. If you're interested in watching other types of content, this addon's got you covered;
Finally, we shouldn't forget to mention UK Turk Playlists. This is one of the oldest addons for Kodi – as well as one of the always popular options. Plenty of different content awaits as well as reliable performance.
Conclusion
Without any doubt, the StreamHub Kodi addon is one of the best addons at the moment. The variety of services and archived digital content is worth your addition. StreamHub is not perfect, and at times struggles to stream depending on the source, but its collection of limitless digital content makes it impossible to miss it.
In case there's anything you'd like to tell us, feel free to use the comments section below. We're always open to communication with the rest of the Kodi community. Let's talk!