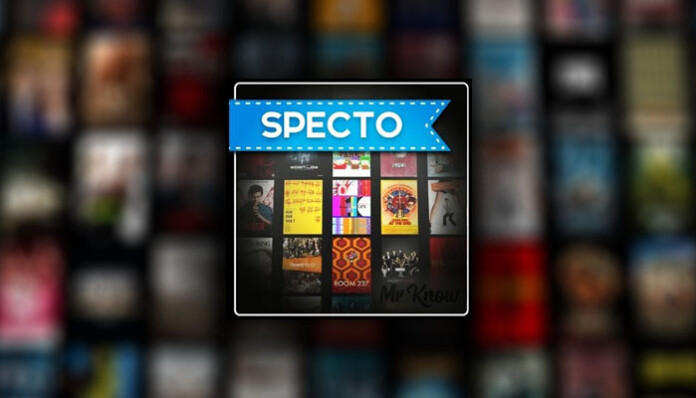 Update: The SPECTO addon is no longer available. However, there are numerous great alternatives out there. Take a look at our list of the best addons for Kodi to see some of the most popular (and trending) addons that are still fully working. Additionally, here's a list of the best movie addons as well.
Those of you who have been using Kodi for a while know all about its popular addons. Many of you have been relying on Exodus – which has been a rich source of movies and TV shows for a while now. However, since Exodus has been abandoned by its developer, leaving many of us searching for alternatives. If that's the reason you've come to this page, you've come to the right place. We'll tell you all you need to know about the Specto Kodi addon. This addon is using the same code as Exodus, making us sure you'll enjoy what it has to offer.
Disclaimer: The following software is designed for Kodi – which is an open-based software on its own. However, we will be also talking about third-party add-ons which aren't maintained by Kodi and don't come through Kodi's official channels. Still, this software is publicly available and free of charge. Therefore, we don't claim any responsibility for how our readers decide to use it. Furthermore, TechNadu doesn't condone acts such as piracy or copyright infringement. Please note that we are not affiliated with the following software in any way. Please, carefully read the above-said disclaimer and ensure the proper use of the software.
WARNING: Before You Continue…
Do you know that everything you do within Kodi might be visible to your Internet service provider? Actually, this applies to pretty much everything you do on the Web. These days, ISPs collect all kinds of personal data and share it with third parties. However, there is a way to stop this. You can use a VPN application to make sure you're using Kodi as privately as possible.
VPN applications work by rerouting all your Web traffic through an encrypted tunnel. This makes your data unreadable by your Internet service provider. Also, VPNs get you a new IP address every time you connect to the Web. This means that your online presence and your physical location are both hidden. Finally, VPNs can keep malware away from your device and let you watch previously restricted content. We highly recommend using ExpressVPN.
Signing up for ExpressVPN has never been more affordable! Instead of paying $12.95 per month, you can opt for a special promotion and get this amazing VPN for only $6.67 per month! In addition, the annual plan comes with three additional months, free of charge. Sign-up for ExpressVPN and reap the numerous benefits it offers.
Specto Kodi Addon: The Basics
If you're searching for a way to watch movies and TV shows on Kodi, Specto Fork won't let you down. It brings a large and fully-working library that contains thousands of entries. It is especially helpful right now when Exodus is giving problems to many Kodi users.
Those of you who are familiar with Exodus will feel right at home with Specto. That's because you will see a familiar menu with straightforward entries. At the moment, you will be only a few clicks away from a movie or TV show that you'd like to watch.
How to Install the Specto Kodi Addon?
The latest official version of Specto can be found within the SMASH Repository. We are going to show you how to add and install that repository, as well as how to install Specto. However, we first must make sure that your Kodi works with third-party addons. Make sure to read the following section carefully.
Important Requirement
By default, Kodi doesn't allow installation of third-party addons. Instead, it relies on a section of 'official' addons that are approved and maintained by Kodi itself. However, all you need to do is to visit the Settings and make sure that you can run any kind of addon.
Open Kodi and click on the gear icon in the top-left corner;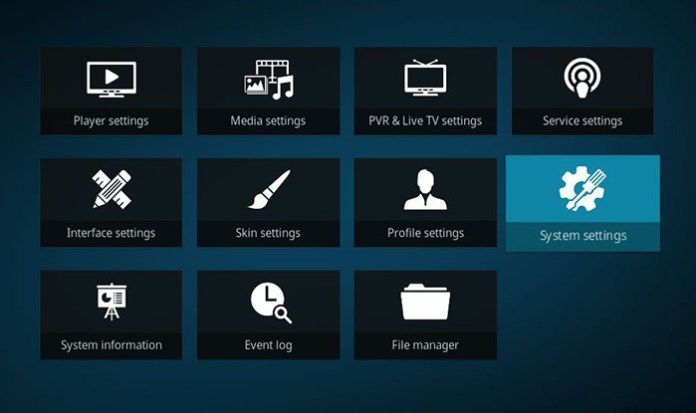 On the right side of the screen, click on 'System Settings';
Now, make sure to pick 'Add-ons' in the sidebar;
On the right side, click on 'Unknown Sources';
Kodi will show a warning against enabling the support for third-party addons. However, you can feel free to confirm your decision;
Finally, double check if you've switched the toggle next to 'Unknown Sources' to ON;
Installation Guide
Let's begin to install the Specto Fork Kodi addon by adding a new file source to Kodi. In other words, we'll instruct Kodi where to look for the SMASH Repository's ZIP file on the Web. Here's how it's done.
Launch Kodi and navigate to the app's Settings (you can use the gear icon in the top-left corner);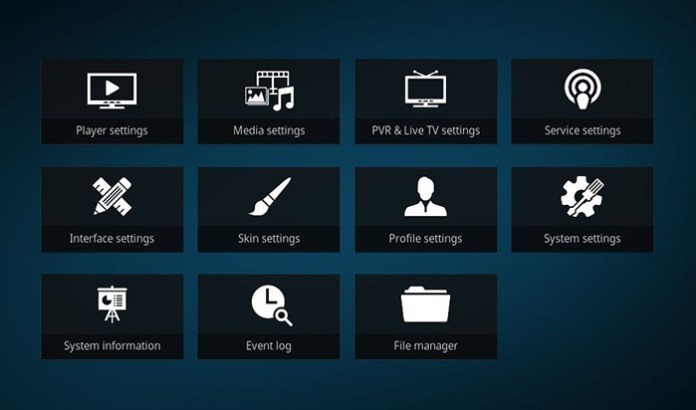 Find and click on 'File Manager';
This is where you'll see an option that says 'Add Source' on the left side your screen. Double-click on it;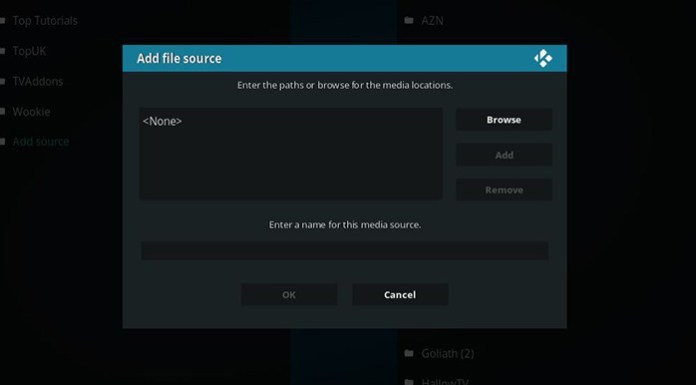 Using a newly opened pop-up, click on '<None>';
Since you'll be asked to provide a Web address, make sure to use the following one: http://mediarepos.org/kodistuff. Click 'OK' to confirm your entry;

You can also provide a name or leave it as it is. Kodi will suggest naming this file source as 'kodistuff'. You can change it to 'Kodi Stuff' if you wish;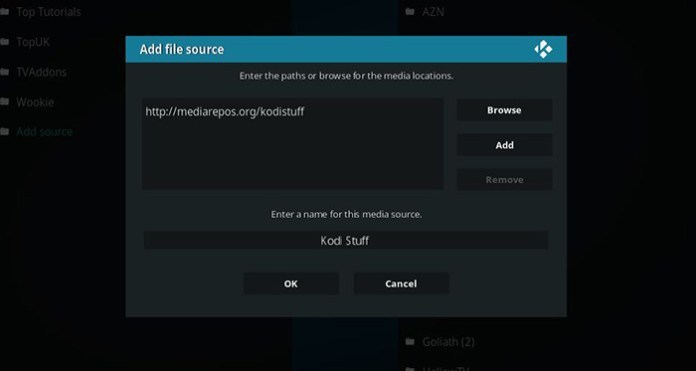 Once you've entered the URL and provided the name, all there's left is to click 'OK'. This will dismiss the pop-up.
You've successfully added a Web-based file source to Kodi. During the next few steps, we'll use Kodi to access that directory and install a ZIP file contained within.
From Kodi's Home Screen, go to 'Add-ons' in the main menu;
Now click on the open box icon, in the top-left corner;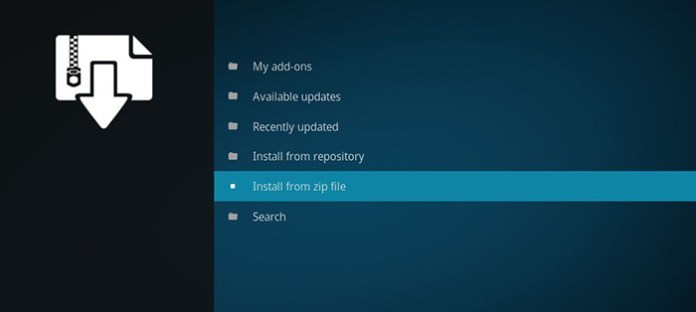 Select 'Install from ZIP file';
First, you need to find an open a directory called 'Kodi Stuff';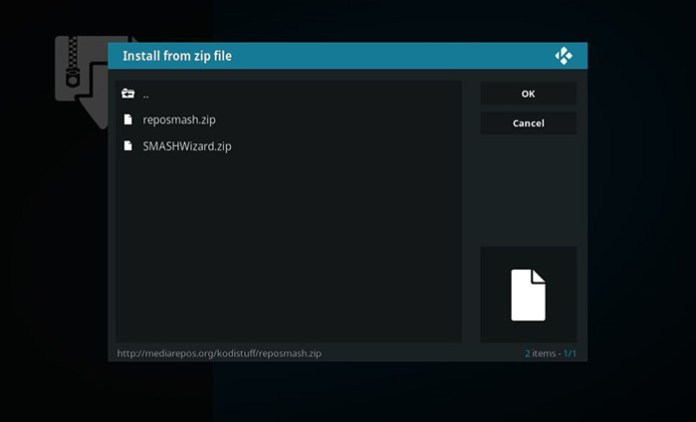 Inside, you will find a file named 'reposmash.zip'. Click on it;
Kodi will now install the SMASH Repository. Once that happens, you'll be notified in the top-right corner.
After you install the SMASH Repository to your Kodi, all there is left is to use that repository and download the Specto Kodi addon. Let's finish this procedure.
Go back to Kodi's Home Screen and open the 'Add-ons' section;
Once again, click on the open box icon in the top-left corner;
This time, you need to select 'Install from Repository';
Navigate and open 'SMASH Repo' and then open the 'Video Add-ons' folder;
This is where you should see the Specto Kodi addon. Click on its name;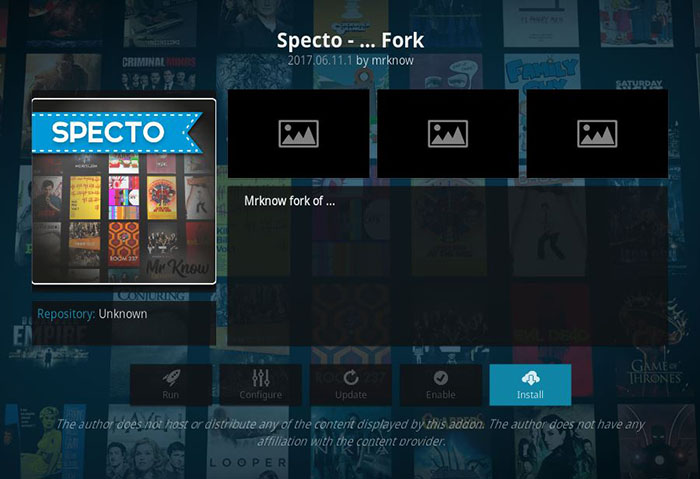 Finally, use the 'Install' button;
You're done!
Congratulations. You've installed a new addon to your Kodi that is now ready for use. You can return to the Add-ons section where you find the newly installed addon. Click on its name, and enjoy the vast content library it offers.
Specto Kodi Addon: What's Next?
Upon opening the Specto addon, you will be greeted by eight different options. As you'll see, these are mostly related to different content categories. So, it's wise to take a deeper look at what this addon has to offer.
Movies & TV Shows
The first two categories are where you'll find movies and TV shows. Each of these offers a number of ways to narrow down your choice. If you don't know what to watch, you can browse the catalog by genres, year of release, most popular, featured, recently uploaded, and in different ways.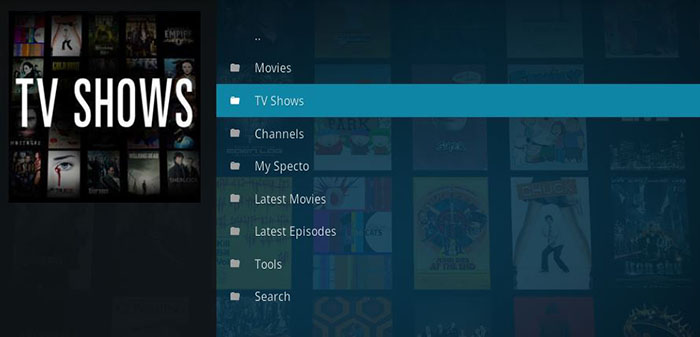 The 'TV Shows' content category brings a few unique features. For example, you can browse the content by choosing a TV network. There are 61 TV networks at the moment, making us sure you'll find something interesting here. In addition, the 'TV Calendar' lists all entries by date. If you want to watch something that was on the air last night, this is where you need to go.
Channels
To be honest, we are not sure what this content category is supposed to bring. This is because it's not working at the moment. However, we doubt that Specto was ever able of bringing live TV channels to Kodi. Either way, you should skip this one.
My Specto
You can create your own watchlists. If you find something interesting in any of the available content categories, you need to right-click on that title. Then, choose to add it to your favorites. At any moment, you can go to the 'My Specto' category and find that entry placed here. This is a nice way to keep your favorite titles in one place.
In addition, Specto offers support for services like Trakt.TV, IMDb, and Alluc. The first two can be used to create watchlists of previously watched movies and TV shows. In fact, Trakt.TV goes beyond that and offers personalized suggestions as well. You can learn more about how Trakt.TV works with Kodi by using the provided link. Additionally, we've also talked about how to use Alluc with Kodi. Alluc is a Web service that brings a large content category. It's never a bad idea to expand your reach.
Latest Movies & Latest Episodes
Using these two categories, you can quickly access recently uploaded movies. There aren't any sub-categories here. Instead, you will see a list of titles. Click on any of these and Specto will scrape the Web for available streaming links. Then, you can choose from different video quality files and play the one you want.
Tools & Search
As you can imagine, this is where you can make optimizations and search the entire addon for specific titles. We suggest fine-tuning the Specto Kodi addon and making sure it works the way you want.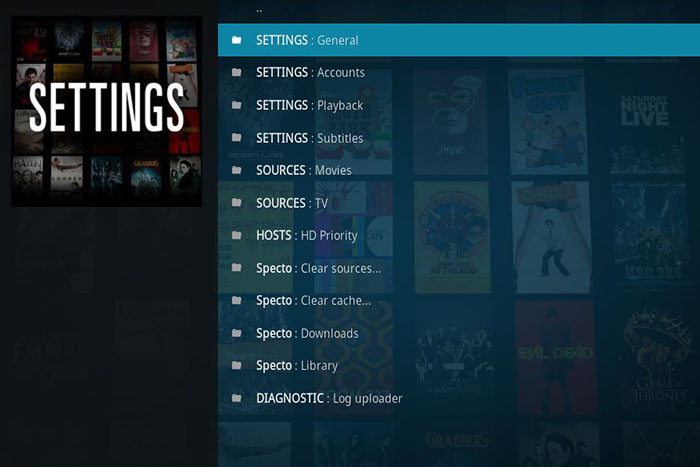 Additional Resources: What's Next?
Specto is an amazing library of movies and TV shows. Still, we can't say that you'll be able to use it without any issues. If something like that happens, you'll be happy that you've installed some alternatives. We are here to help.
To start with, we recommend installing Gurzil. This is a very similar addon to Specto in terms of what it has to offer. Gurzil can your backup solution;
Next, we have another hugely popular addon called SALTS. Since this one scrapes the Web in a different manner, you might be able to find movies unavailable in Specto;
If you've like to expand your content library, look no further than StreamHub. This addon brings additional content categories, so you can turn Kodi into your whole family's entertainment center.
Final Words
We sincerely hope that you've managed to install the Specto Kodi addon. In case of any issues, don't hesitate to post a comment below. We'll do our best to provide a solution. Also, tell us about other amazing addons you might be using?
If you want to share the news about the Specto Fork addon, share this article across social networks. Let's help other Kodi users to find this amazing addon.