SaferVPN and Betternet are both well-known VPN brands, serving numerous users around the world. Both of these come with the same set of promises of protecting your online privacy. On the outside, they might look the same – but don't let that appearance fool you. These are very different VPN services, as you'll soon find out. So, welcome to our SaferVPN vs Betternet comparison!
SaferVPN is an Israeli-based VPN service that's been around since 2013. In our individual review of their product, we were blown away by the technical prowess of this VPN. It wasn't perfect but can certainly help a specific group of users to secure their privacy. Betternet, on the other hand, is mostly known for being one of the only free VPN services that don't have any data caps. They fund their operation with advertisements via their applications. However, we'll focus on this VPN's premium plan – just like we did in our review of this VPN service.
Both VPNs are assessed according to a set of criteria, which you can see below. Take a look at the following table to learn the basics about SaferVPN and Betternet.
| | | |
| --- | --- | --- |
| | SaferVPN | Betternet |
| Jurisdiction | Israel | Canada |
| Logs | Collects anonymized data. | Collects anonymized data. |
| Number of Servers | 700+ servers in 30+ countries. | An unknown number of servers (70+ countries). |
| Parallel Connections | 5 | 6 |
| Encryption Standards | AES-256; OpenVPN, IKEv2, PPTP, L2TP/IPsec. | AES-256; OpenVPN, and IPsec. |
| Speed Reduction | 65%, on average. | 10%, on average. |
| P2P Support | YES | YES |
| Supported Platforms | Windows, macOS, iOS, Android, routers. | Windows, macOS, iOS, Android, Chrome OS. |
| Visit | SaferVPN | Betternet |
Next, we are going to list the scores of these two VPNs from their individual reviews. This will give you a better understanding of their strong and weak sides.
| | | |
| --- | --- | --- |
| | SaferVPN | Betternet |
| Jurisdiction, Reputation | 10/10 | 1/10 |
| Supported Platforms | 7/10 | 5/10 |
| Installation Process | 10/10 | 3/10 |
| Prominent Features | 8/10 | 3/10 |
| Server Count | 4/10 | 4/10 |
| Ease of Use | 7/10 | 3/10 |
| Media Streaming | 7/10 | 4/10 |
| Security & Privacy | 10/10 | 3/10 |
| Speed & Performance | 4.5/10 | 9/10 |
| Customer Support | 10/10 | 4/10 |
| Pricing | 8/10 | 1/10 |
| Overall Score | 7.8/10 | 3.6/10 |
We guess you already know which VPN you'd rather have, but if you want to see the actual knockout – read on our SaferVPN vs Betternet comparison.
SaferVPN vs Betternet (2019) – The Ultimate Comparison
Finally, let's talk about what you really want to know. We'll be comparing SaferVPN against Betternet. So, keep on reading as we dissect different aspects of these two VPN providers.
Background, Jurisdiction & Reputation
First things first – we will compare the background information we discovered about these two VPN services. Let's see where they come from, and what that means for their users.
SaferVPN: This VPN comes from Israel, a country known for assisting the 5-Eyes Alliance. However, know that there are far more privacy-invading countries out there. That's because Israel offers the Protection of Privacy Law in addition to Privacy Protection Regulations, limiting the way companies can collect your personal data. That's how SaferVPN can guarantee that your personal data will never be collected by this VPN.
Betternet: Then, we have a Canada-based Betternet, which started its life as a free-of-charge VPN service. In case you didn't know, Canada is a core member of the 5-Eyes Alliance, so there's some reason for concern. However, what's even more concerning are reports about Betternet serving malware. In one instance, a hacker managed to hijack one of this VPN's Web browser extensions, which is a clear indication of the level of trustworthiness that this VPN offers. It's easy to see the winner of this category.
Winner: We don't have to think hard about who's the winner of this category – and that would be none other than SaferVPN.
Supported Platforms & Devices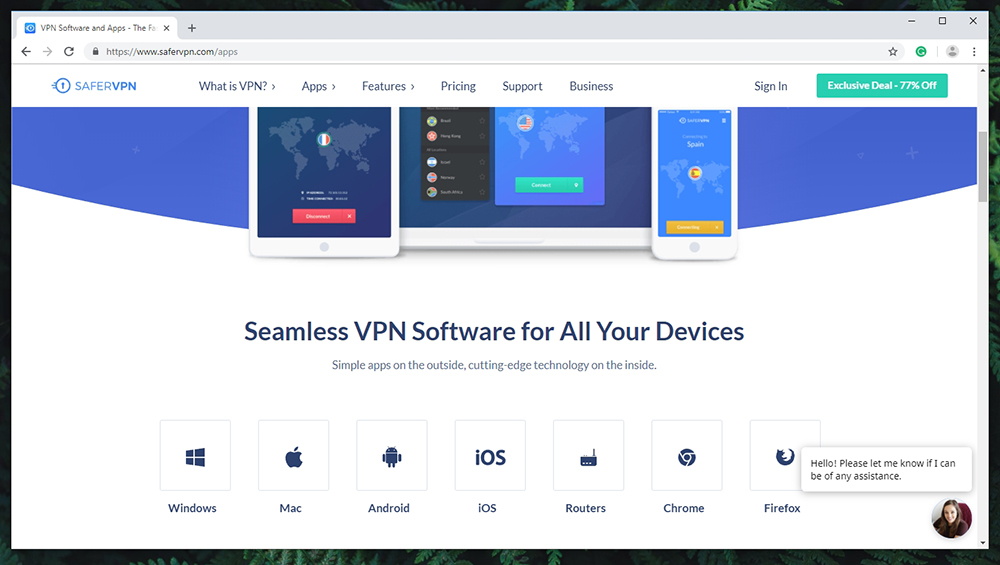 The second category of this comparison is related to supported devices. Let's take a look at which platforms are covered by these VPNs natively, or via third-party VPN protocols.
SaferVPN: Both of these VPNs have Windows, macOS, iOS, and Android clients. That covers most people, but SaferVPN also supports router-level VPN clients via OpenVPN. To be honest, we think SaferVPN should have more native clients since its main selling point is how easy the software is to use. Manual OpenVPN Setup for other platforms sort of wipes out that advantage, even though it also nice to have an option to install a VPN on a router.
Betternet: As said earlier, this VPN provider offers native apps for Windows, macOS, iOS, and Android. It's should also be noted that just like SaferVPN, you can install Web browser extensions as well. Since there's no OpenVPN support here, you can't install this VPN on other devices, including VPN-compatible routers.
Winner: Both VPNs cover mainstream platforms, but SaferVPN supports OpenVPN routers, which gives it the nod here.
Installation & Initial Configuration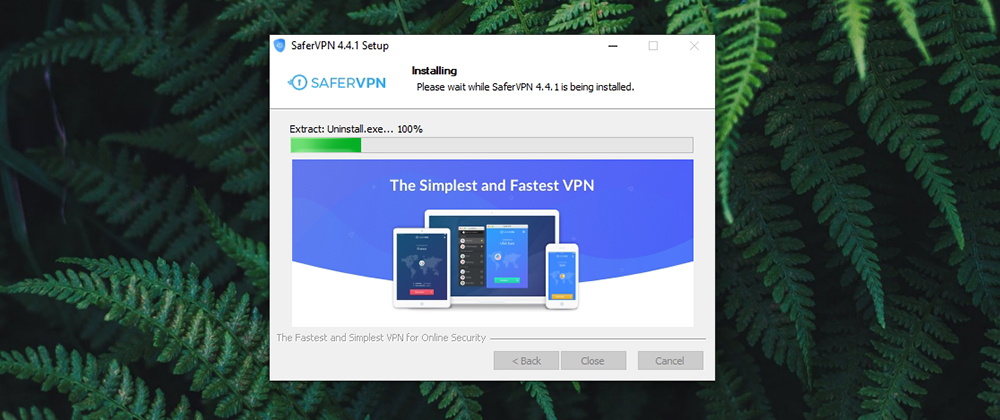 In general, today's VPNs are incredibly easy to install. Still, you also need to pay attention to more advanced installation methods, applicable to routers for example. Keep on reading our comparison to learn more.
SaferVPN: Signing up for SaferVPN could not have been easier and their motto of being the 'fastest and simplest' shines through during the process. Signing up on the site was easy and once downloaded, it was just a standard installation wizard with a few clicks before the software was installed.
Betternet: When it comes to Betternet, things were not easy at all. We went to the site looking for a place to sign up for the premium service, but all we could find were references to the free VPN and one or two mentions of the premium tier. In the end, we just downloaded the Windows client, which was also just a normal wizard installer and found the sign-up had to be done from the installer itself. Then, we had to go through a complicated code retrieval procedure to activate the premium version.
Winner: You want a VPN provider that provides smooth installation, and that is exactly what SaferVPN offers.
Prominent Features
Needless to say, every VPN offers security protocols and encryption that encapsulates your data. So, let's take a look at more advanced features of these VPNs that make them stand above the rest.
SaferVPN: SaferVPN has a proprietary auto-encryption of unsafe Wi-Fi connections, which is going to save plenty of non-technical users from nefarious activities. It also has an automatic troubleshooting system that diagnoses connection issues and works to fix them. Perfect for people who don't know PPTP from IKEv2. Then, there are some advanced features here, such as the included kill-switch. However, plenty is missing as well, including ad-blocking, anti-malware, and split-tunneling.
Betternet: Betternet's features can be summed up as: It's a VPN. It hides your IP, masks your location and encrypts your data. There's no kill switch or other 'bonus' features. Given the asking price, that's a very poor showing. All in all, we believe that Betternet is one of the most limiting VPNs out there.
Winner: SaferVPN has almost all the features you could want, with the notable absence of a few advanced options. Definitely a much better option than its competitor.
Server Count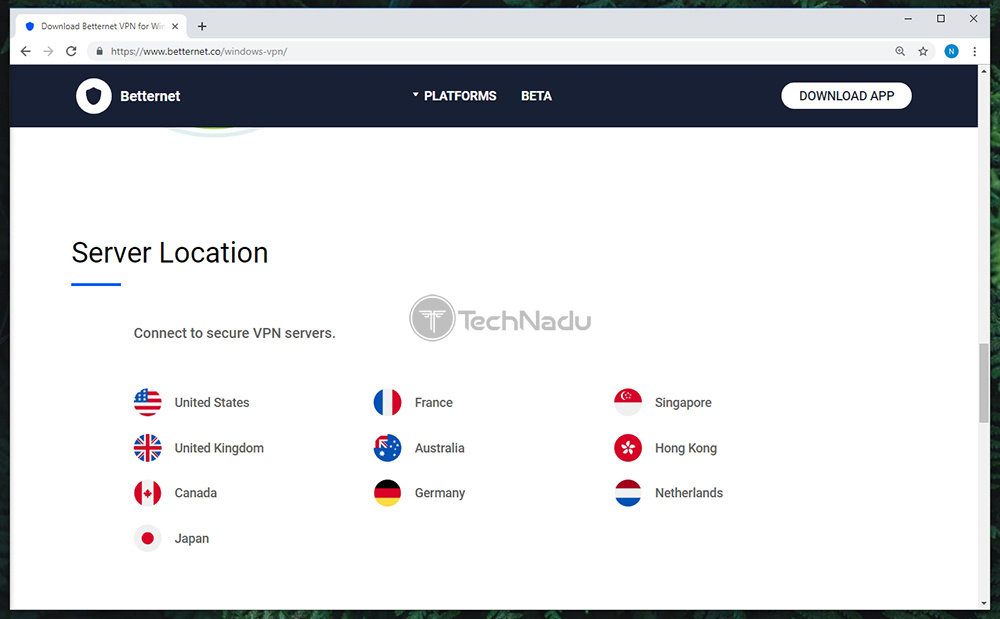 Depending on your needs, you want to have access to servers in certain countries. This lets you go over Internet censorship in your country and also allows you to unblock certain media streaming services.
SaferVPN: When it comes to SaferVPN, it has a medium-sized network boasting 700 servers. It also has a relatively small selection of international locations, with 34 countries covered. The country selection is also decently spread out, so chances are you'll find one close by, if not within the same borders as you.
Betternet: We have no idea how many servers Betternet actually has. However, we know that Betternet offers servers in more than 70 countries – which is more than what SaferVPN offers. This is one of the few categories have Betternet has a competitive advantage over its opponent.
Winner: It's true that SaferVPN will meet the needs of average home users. However, we can't hide the fact that Betternet covers more countries, which should provide better performance for users in those countries.
Ease of Use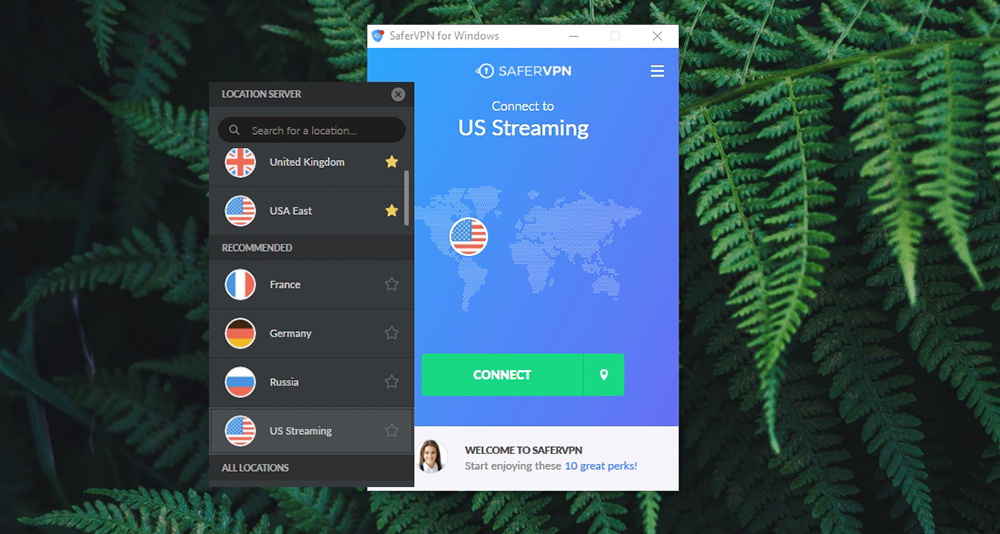 An average VPN user wants to keep their data protected without having to learn a bunch of technical terms. This is where user-friendliness comes into play. So, our SaferVPN and Betternet comparison will tell you which of these is easier to use.
SaferVPN: SaferVPN is a one-click connection solution if you want it to be. While it provides heaps of configuration, everything is explained and the stuff most people won't care about is hidden from the main interface. All in all, we believe that the majority of users won't have any problems using this VPN.
Betternet: Betternet's client is probably the best part of the whole product taken as a whole. It has a clever little face that acts as feedback on your connection status. The whole client looks pretty good and figuring out how to use it is very easy. There's only one settings screen and it just has links back to the web-page. You can't choose specific servers, but there's a location menu with the different supported countries.
Winner: Because Betternet has so little substance, it actually is very easy to use. However, SaferVPN is more usable overall since it provides just the right balance between simplicity and complexity.
Media Streaming & Torrenting Support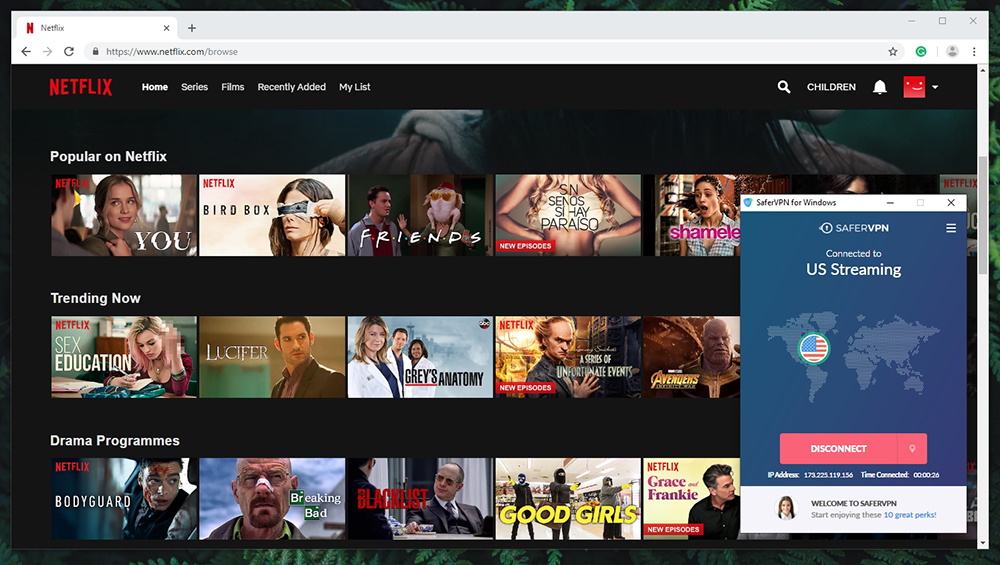 Next, we'll answer questions regarding these VPNs' media streaming capabilities. Let's see which of these can unblock Netflix and other popular streaming platforms.
SaferVPN: As per our tests, SaferVPN works with Netflix, BBC iPlayer, and Amazon Prime Video. We managed to unblock all three of those without any issues. We also tested it with Hulu, but this streaming platform remained blocked. Also, P2P traffic is supported by this VPN – by only via servers in Canada, Spain, and the Netherlands.
Betternet: Then, we have Betternet – which manages to unblock BBC iPlayer, and that's about it. No other media streaming platforms can be used with this VPN. However, it supports torrenting via all of its servers.
Winner: If you need a media streaming solution, SaferVPN seems like a much better option. And when it comes to torrenting, Betternet seems like an interesting pick since it has P2P servers in numerous countries.
Security & Privacy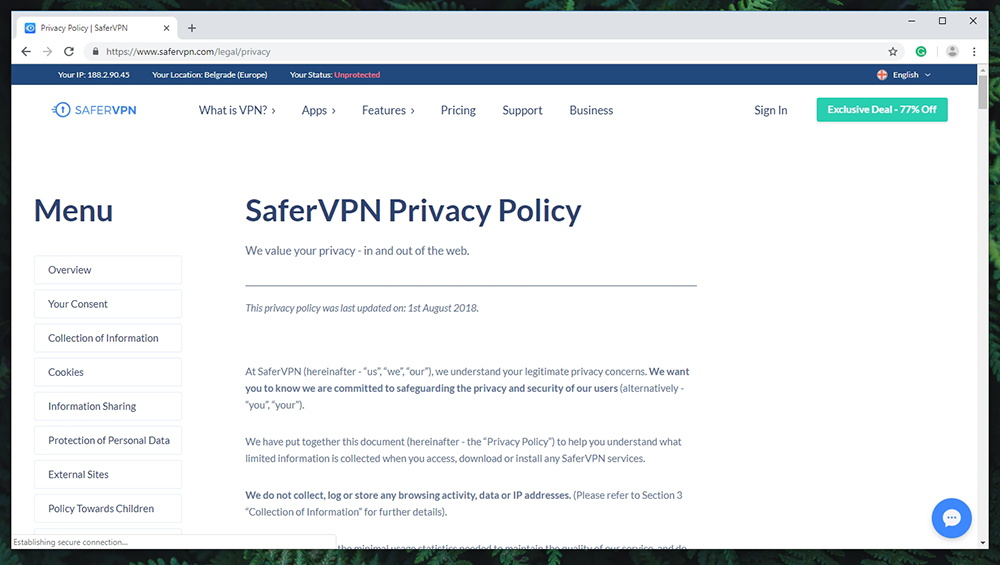 When talking about privacy and encryption, we're talking about a whole slate of security protocols. Each of those has benefits and certain downsides, forcing you to dive deep into security-related protocols. Let's take a look.
SaferVPN: SaferVPN has automatic Wi-Fi protection, strong protocols, a kill switch function and a foolproof interface that will stop security-noobs from shooting themselves in the foot. On the downside, they log detailed session info. Albeit without coupling it to you specifically. They also have clauses about what sorts of content you are forbidden from uploading (specifically 'obscene' content), which begs the question of how they'd know if they aren't watching. In other words, if you absolutely must have the maximum privacy from the outside and inside your VPN, this is not the best choice. However, it should work well for average home users, though.
Betternet: Betternet is a whole new level of bad. Not only has malware been detected in some of the mobile clients, but a combination of unstable connection and lack of kill switch destroys what little trust we had. In simple terms, this isn't a trustworthy VPN provider – and we wouldn't recommend using it if you need the best possible protection for your online privacy.
Winner: SaferVPN might have more logging than many would feel comfortable with, but Betternet has had straight-up malware in its clients.
Speed & Performance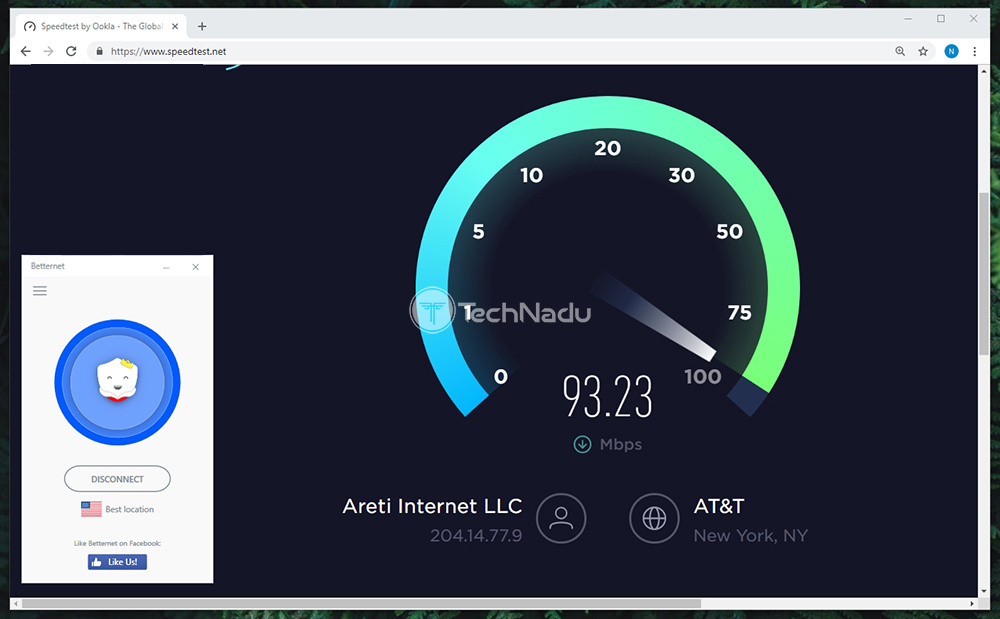 Can you expect some throttling from these VPNs, or perhaps they can even battle throttling imposed by your ISP? Let's find out.
SaferVPN: This VPN is being advertised as the only VPN that brings no speed loss. That is a very interesting statement, and we were glad to test it. As per our tests, SaferVPN slowed us down by 65% on average. There was a dramatic speed loss even when connecting to a remote server. It's safe to say that you can easily find much faster VPNs.
Betternet: During our tests, Betternet performed well. On average, it slowed us down by only around 10% – a result that puts it way ahead of SaferVPN. At least, there's something positive about this VPN service.
Winner: It's true that Betternet comes with solid performance – perhaps due to the size of its server network. SaferVPN isn't the best option if you want to maintain the speed of your Web connection.
Customer Service
When things stop working or when certain servers give you bad user experience, you need to know that a support team is watching your back. This is especially true for VPN applications, where things can go wrong from time to time.
SaferVPN: SaferVPN offers a full menu of support options. They also have great self-help material on the site that is beyond easy to understand and navigate. However, the client itself explains everything so well, we think few people need to fall back on tech support. And also, there's a live chat option on its website – so you can easily and quickly resolve any type of problem you might be experiencing.
Betternet: We ran into issues with Betternet but only got replies to our questions after 72 hours. We understand that a premium feature such as live chat is expensive to do, but Betternet is one of the least affordable VPNs out there. Therefore, they don't really have any excuse.
Winner: SaferVPN's customer service is peerless. Live chat and round-the-clock support decisively get them the win.
Pricing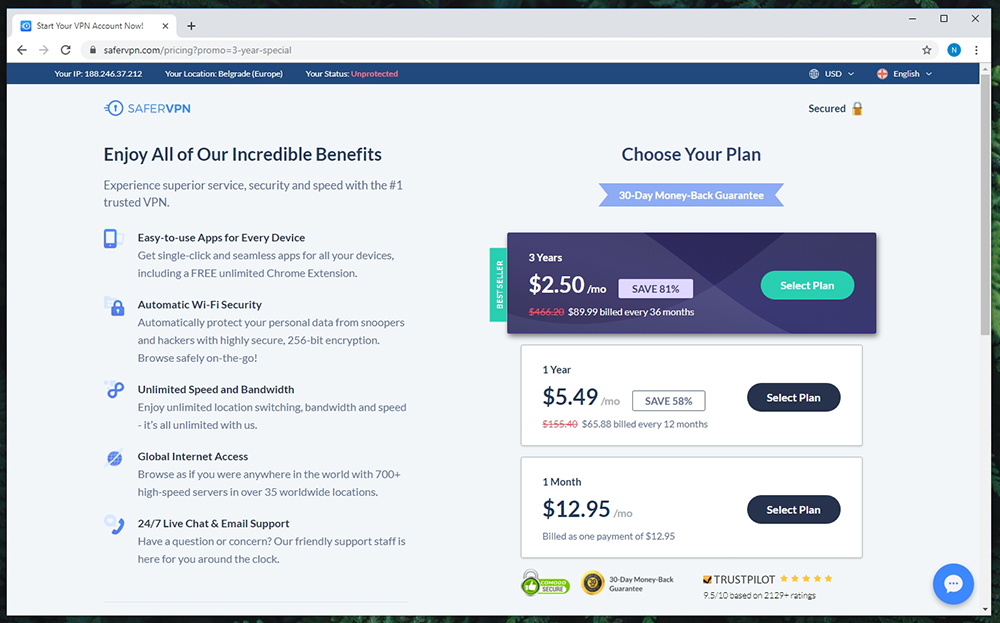 The final category of our SaferVPN Vs Betternet comparison is all about pricing. Let's take a look at how much these two VPN providers charge for their services.
SaferVPN: If you decide to go for a monthly plan, this will cost you $12.95. Going for this VPN's annual plan brings the price down to $5.49 per month. And there's even a three-year plan that brings the price down all the way to $2.50. All in all, this seems like a very interesting option, especially considering that you also have a 30-day money-back guarantee.
Betternet: This VPNs monthly plan is priced at $11.99 per month. After that, things get complicated. You can buy Betternet Premium by visiting its website for $35.99 for a year (which seems reasonable enough). However, if you do the same by using the in-app purchase option via iOS or Android, its annual subscription will cost you $71.99. Very strange, right?
Winner: SaferVPN comes with flexible pricing plans – and it also brings plenty of value for its price. We're sure you'll manage to find a plan that suits you.
SaferVPN vs Betternet – Which One Should You Pick?
This is like watching a prizefighter slap around overweight and unfit opponent. If Betternet were cheap and we mean dirt cheap to the tune of a buck a month, then we might have been much less harsh on it. However, asking one of the highest monthly fees of any VPN and then under-delivering like this is never going to go down well.
SaferVPN, on the other hand, is a delight from A-Z. We never had a single issue with it, and we never wondered what was going on with the software. As we've all known from the start, it's the winner of this comparison. So go ahead, and check out SaferVPN for yourself.
Dear TechNadu readers, this is where we end our SaferVPN vs Betternet comparison. If there's something else you'd like to know, don't hesitate to post a comment below. Please share this article online if you think it's helpful. And also, follow us on Facebook and Twitter. Thanks!