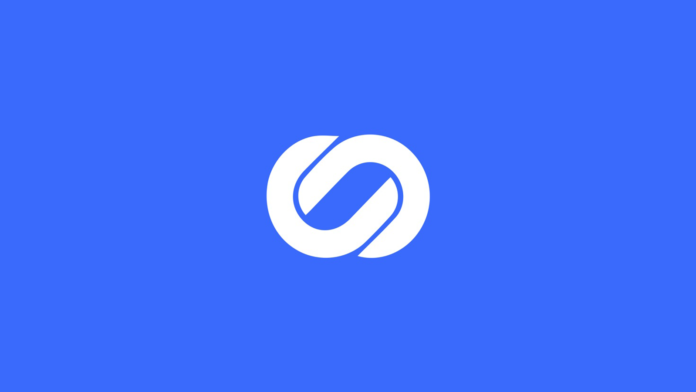 Choosing a well-known VPN brand is always a good idea. However, sometimes it's good to take your time and inspect different options. Our experience of testing dozens of VPNs so far tells us that you can easily find a hidden gem. As you can imagine, we'll see if RitaVPN is one of those VPN services. This is a relatively unknown VPN brand, and you can't find plenty of information about it online. Therefore, we felt very excited once we finally got our hands on it. So, welcome to our hands-on RitaVPN review.
Before we dive deep into various aspects and features of this VPN, let's introduce you to its main features. The following table will surely come in handy when comparing RitaVPN to its competitors. So, take a quick look.
Quick Facts
Jurisdiction
Hong Kong.
Logs
Collects anonymized data.
Number of Servers
14+ servers in 8 countries.
Parallel Connections
4
Encryption Standards
AES-256; OpenVPN.
Speed Reduction
88% on average.
P2P Support
YES (highly limited)
Live Chat Support
YES (not 24/7)
Supported Platforms
Windows, macOS, Android, and iOS.
Price
Starts at $5.42/month.
You should also know that we've tested RitaVPN by trying to access the world's most popular media streaming platforms. With this said, the following table will show you the results of those tests.
Media Streaming Support
American Netflix
NO
Hulu
NO
BBC iPlayer
NO
Amazon Prime Video
NO
Kodi
NO
And lastly, we have one more table in this introductory segment. If you need just the highlights regarding this VPN, here's our opinion after having reviewed it.
The Bottom Line
Pros
Easy to install; No data leaks were detected.
Cons
Overly simple; Small server network; Can't unblock websites; Problematic performance; Overpriced.
The Final Verdict
RitaVPN seems like a basic VPN solution – but comes overpriced. Therefore, we recommend you to spend your money elsewhere.
Our Score
4.4/10
If you want to know more about this VPN, make sure to join us as we explore numerous aspects of this VPN service. So, let's jump to our hands-on review of RitaVPN.
RitaVPN – TechNadu's Hands-On Review
We will test this VPN by checking various aspects and rating them individually. This is how we'll get the final score, helping us compare RitaVPN to its competitors. If you're like to go behind-the-scenes of this process, here's how we review VPN services.
Background, Jurisdiction & Reputation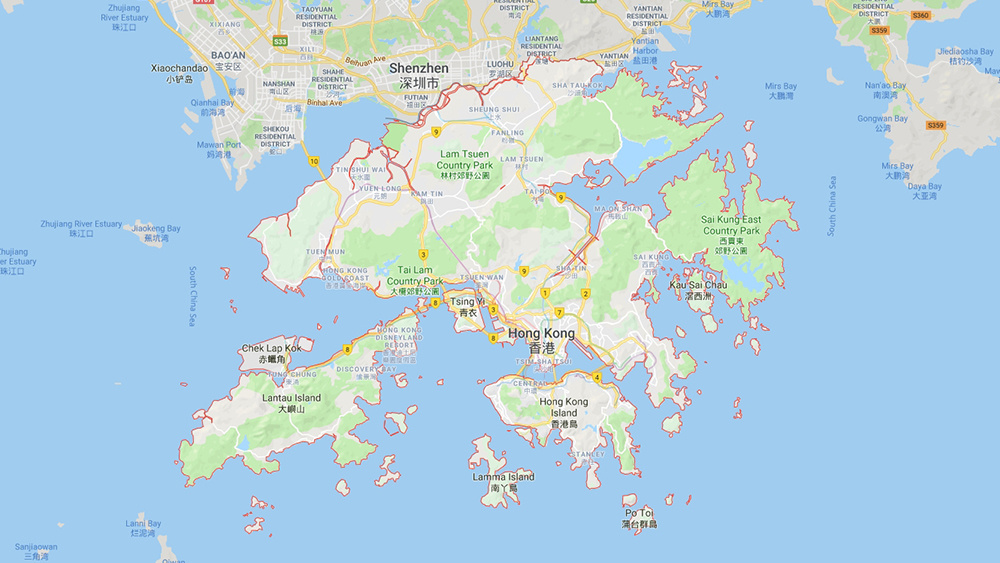 RitaVPN comes from Hong Kong and this doesn't present a problem right now. Still, you should keep your eye on what's happening in this part of the world. Our Score: 8/10.
It's important to know a bit about your chosen VPN's before you actually pay for the subscription. So, we've done some background research, and here's what you need to know about RitaVPN.
Jurisdiction & Applicable Laws
This VPN service is offered by Weikawen Technology, based in Hong Kong. First of all, you need to know that Hong Kong isn't the same as China – contrary to popular opinion. More importantly, there's a big battle going on in Hong Kong right now, with people fighting to eliminate any Chinese influence and stay out of the Great Firewall of China. We hope to see this effort succeed, but no one can tell what will happen in the future.
At the moment, we can't say that it's a problem that RitaVPN comes from Hong Kong. After all, there's a number of popular VPN that come from this independent territory, including PureVPN. However, we recommend keeping your eye on the latest developments in this part of the world. Depending on how things will develop, you might be better off choosing a VPN from some other country.
Previous Data Leaks
RitaVPN is a relatively unknown VPN, so there aren't plenty of reviews or detailed inspections of this VPN service online. In other words, there are no reports of this VPN collecting or leaking private data. This certainly leaves a positive first impression.
Supported Platforms & Devices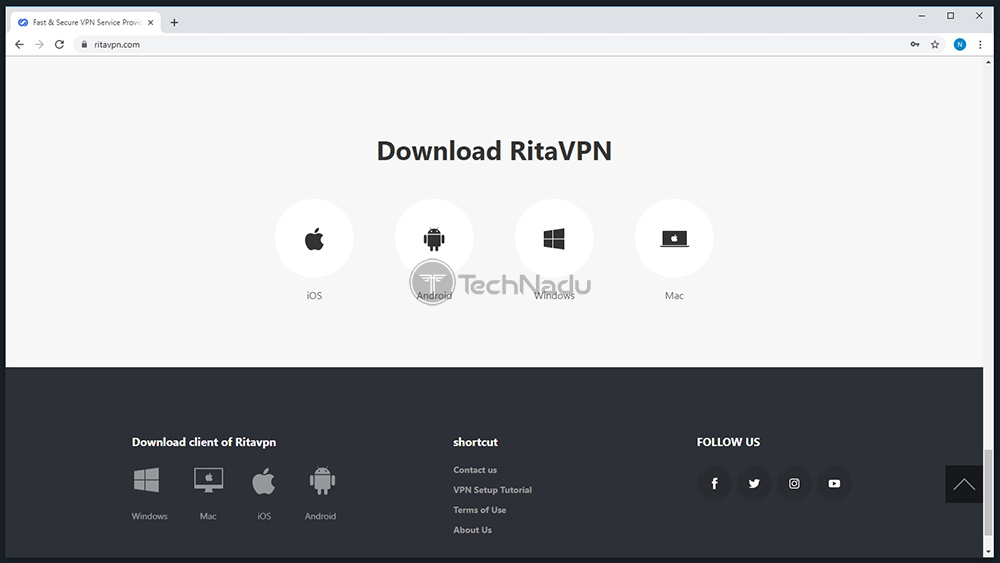 RitaVPN supports only the most popular platforms. There's no support for routers and media streaming players, or any other type of device. Our Score: 4/10.
You'll want a VPN that covers all your devices. This means that you'll need a VPN with native applications for the currently popular platforms, and beyond.
Platform Compatibility
Desktop Platforms
Windows, macOS.
Mobile Platforms
Android, iOS.
Web Browsers
N/A
Routers
N/A
Other Devices
N/A
We can see that RitaVPN is available on four platforms. By being available on Windows, macOS, Android, and iOS – this VPN covers plenty of potential users. However, it's also worth noting that many will be left out. We're talking about users of Linux, Chromebooks, FireOS, Android TV, and plenty more.
It's also surprising to note that RitaVPN can't be used on routers. Considering that it's based on the OpenVPN protocol, this should have been a possibility. In fact, OpenVPN configuration files can typically be used on a wide range of devices, which would increase the appeal of this VPN. However, that's not the case here.
And finally, note that you can use RitaVPN on up to four devices at the same time. You can install it on as many devices as you can, but there can only be four connections at a time. Considering how many native applications it brings, we think this is a generous offer.
Installation & Initial Configuration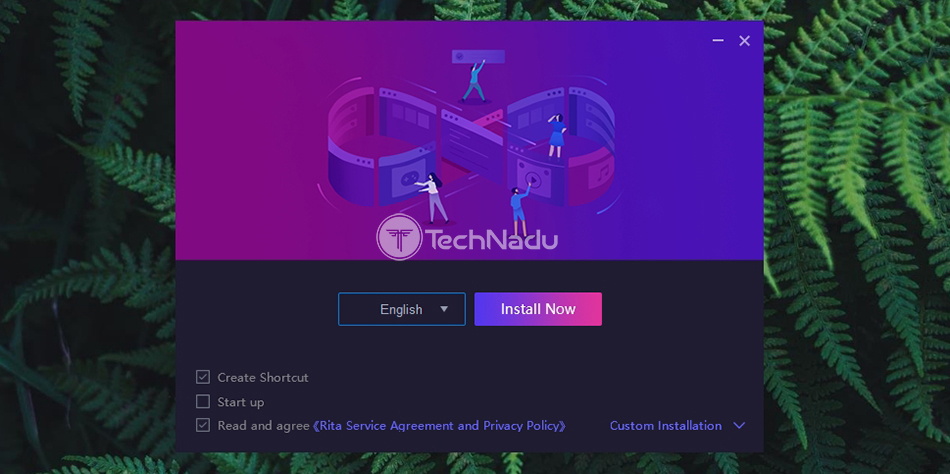 The process of installing this VPN is very simple. We're sure that even complete beginners won't have a hard time. Our Score: 10/10.
Before you can use this VPN, you need to sign-up for RitaVPN. Then, feel free to proceed and download the application you need from its official website. Once downloaded, simply double-click on the installation file to get started. We're tested this VPN on our Windows 10 machine, where the installation process went without any issues.
While installing RitaVPN, you will be asked to choose a language, and there are a few other options as well. You can choose to place a desktop shortcut, add this VPN to your start-up queue, and you'll need to agree to this VPN's terms of use. Once you set everything, it will take a few moments until the application is ready to be used. Launch it, enter your user credentials, and that's pretty much it. As soon as you open the application, it's ready to be used.
Prominent Features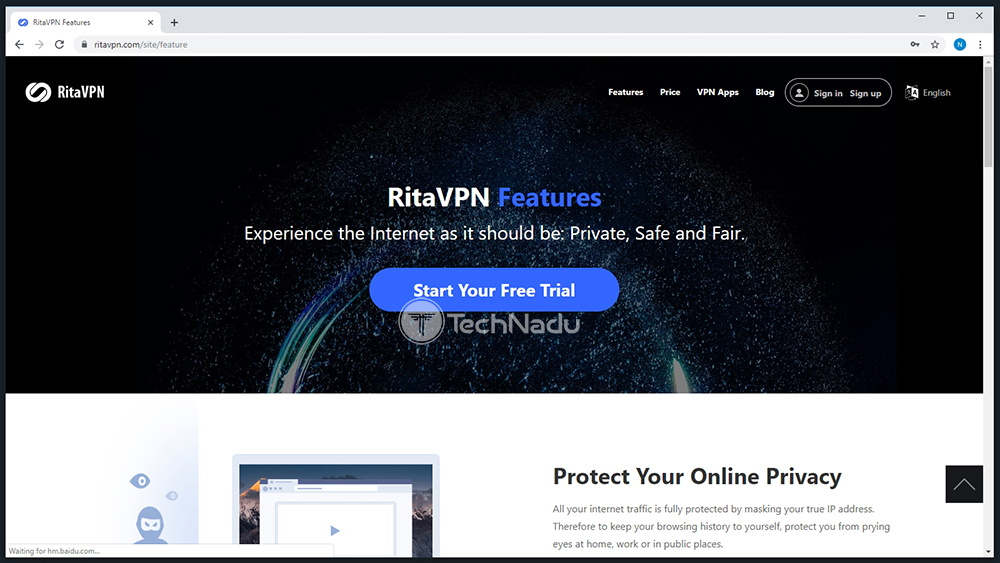 RitaVPN is a basic VPN, without any groundbreaking features. It can be suitable for average home users, but you can certainly get more for your money elsewhere. Our Score: 5/10.
You must be wondering what kinds of features you can expect out of RitaVPN. We've taken a close look at its feature list, so here's what you can expect.
VPN Features Checklist
DNS Leak Protection
YES
IPv6 Leak Protection
NO
Kill-Switch
YES
Ad-Blocker, Anti-Malware
NO
Unlimited Server Switches
YES
Unlimited Bandwidth
YES
Unlimited Data
YES
We can see that RitaVPN is a fairly basic VPN service. In terms of the basic protection against data leaks, you get DNS and IPv4 protection. To protect your IPv6 traffic, it's advised to disable this IP protocol on your device. In addition, RitaVPN claims to have a kill-switch included in its software.
There aren't any advanced features here like ad-blocking, anti-malware, or split-tunneling. This means that advanced VPN users and those who need a comprehensive set of options should look elsewhere, as this VPN won't meet their needs.
Server Count
RitaVPN is one of the VPNs with the smallest network of servers we've encountered yet, and we've tested a huge number of currently available VPNs. Our Score: 1/10.
Many VPNs are proud to showcase their server network, as this is often a valid comparative point between different VPN services. So, let's see how large is the server network of this VPN.
Server Count Info
Number of Servers
14+
Number of Locations
8
Number of Countries
14
Specific Cities Selection
YES
Unlimited Switching
YES
RitaVPN isn't willing to tell how many servers it has in its network. However, considering that you'll get to pick from 14 different locations (in 8 countries in total), we don't think this is a huge network. In fact, RitaVPN is one of the most underwhelming VPNs when it comes to the number of servers you'll get to use.
On the positive note, you can choose from different cities (nothing extraordinary though), and you get unlimited switching. Even with these benefits, RitaVPN certainly won't impress anyone.
Ease of Use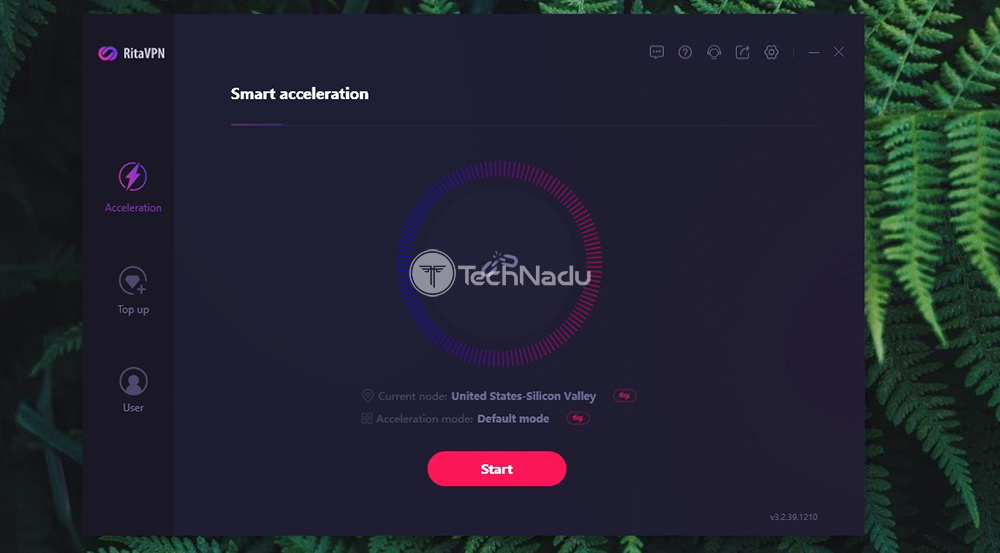 RitaVPN is relatively easy to use, once you learn the ropes. However, there are some less-than-intuitive elements and grammar mistakes throughout its UI, which doesn't leave a positive first impression. Our Score: 4/10.
The home screen of this VPN brings a nice overview of different options. And more importantly, it allows you to easily connect to a server by clicking on the 'Start' button. Of course, this will connect you to the closest server. If you'd like to select one manually, you need to click on the little green icon next to 'Node'. Once connected, you will see which node has been selected for you, without any real-time statistics. To disconnect, simply click on 'Stop'.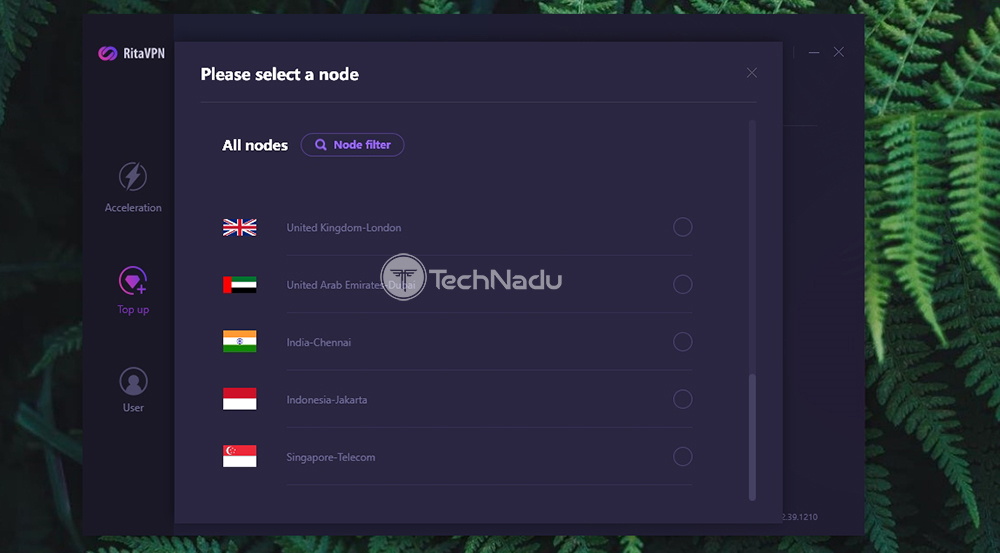 On the left side of the screen, you'll find three buttons. The 'Acceleration' button takes you to this VPN's home screen, the one you see each time you open the application. Then, there's the 'Top Up' button, which allows you to extend your subscription. And the 'User' button will take you to an overview of your account details.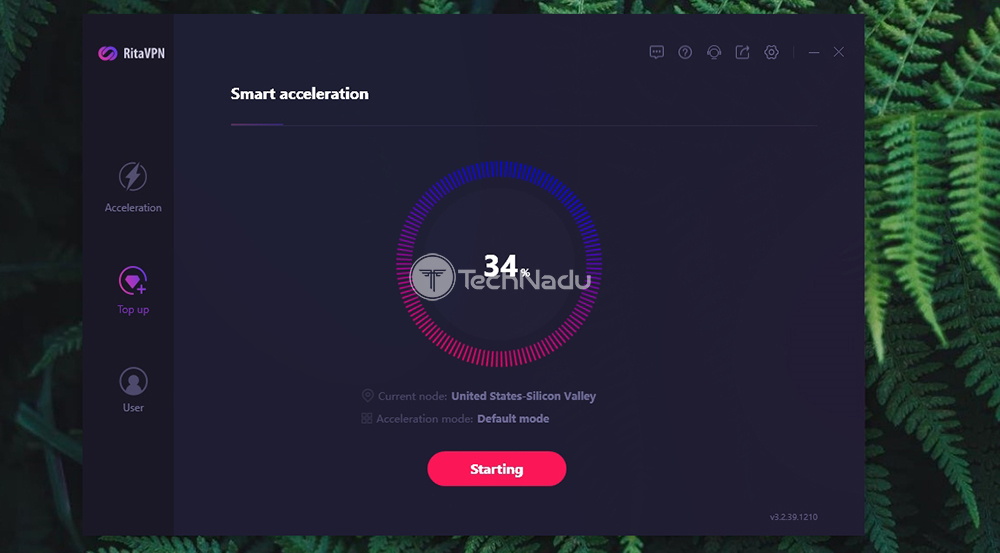 In the top-left corner, you'll find a series of very small icons. This is where you can check the latest notices, frequently asked questions (mostly about getting a refund, strangely enough), and you can also use a button that will take you to this VPN's customer support portal. Finally, there's the 'Settings' button as well, but you won't find much there. You can choose to start the application during the start-up of your system, and you can also change the UI language. That's about it – there's no way to fine-tune your user experience to optimize your Web connectivity.
Media Streaming & Torrenting Support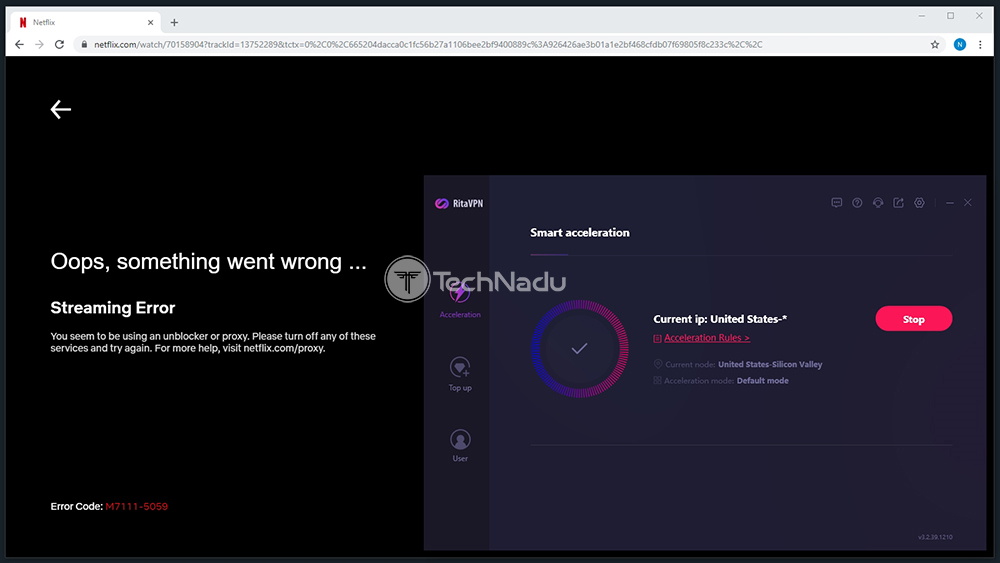 We don't recommend using RitaVPN to unblock websites or to download torrents. Pretty much any VPN can do a better job than this one. Our Score: 1/10.
We wanted to know if RitaVPN works with Netflix and other streaming services, so we tested it thoroughly. The table found below brings the results of our tests.
Media Streaming & Torrenting Support
Netflix US
NO
Hulu
NO
BBC iPlayer
NO
Amazon Prime Video
NO
Torrenting (P2P)
YES – but highly limited.
You'll find messages on RitaVPN's website claiming that it can unblock Netflix. However, that's not what our experience tells us. We were not able to unblock any of the platforms we've tested. Even though we did manage to visit the US version of Netflix, we weren't able to stream anything.
When it comes to torrenting, there's no mention of this Web activity on the VPN's website. During our tests, we did manage to download P2P files. However, the process of downloading these files was a frustrating one due to highly limited download speeds.
Security & Privacy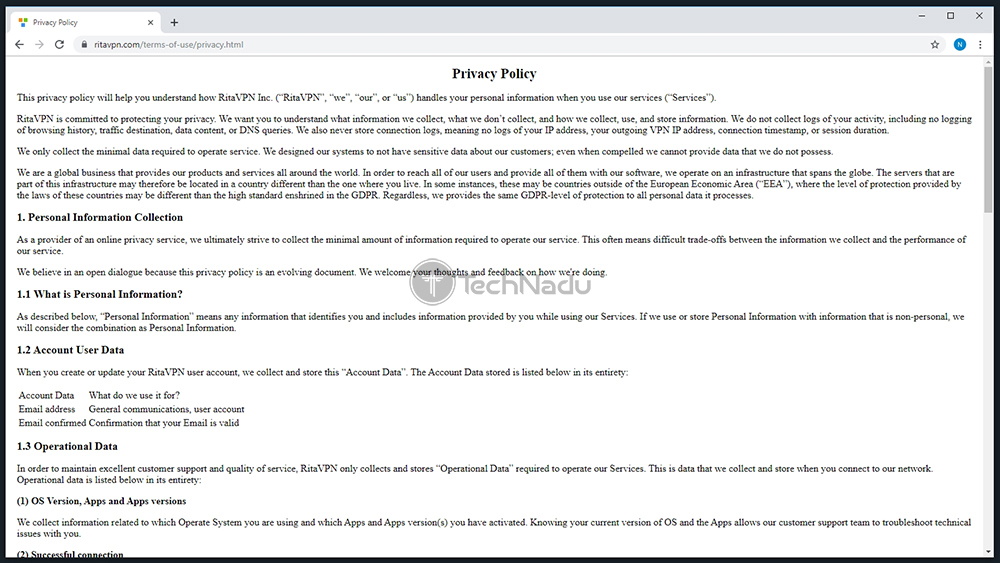 RitaVPN is capable of protecting your online privacy and your sensitive data. The only downside is that it's not the most transparent VPN out there. Our Score: 9/10.
We'll use this segment to talk about this VPN's encryption, VPN protocols, and more. The goal of this is to help you realize what kind of online data protection you can expect.
Supported Encryption Standards
It's incredibly hard to find any concrete information about this VPN's encryption and protocols. However, after taking a very deep look, we conclude that it uses AES-256. This is the strongest type of commercially available encryption. In addition, it also relies on the OpenVPN protocol, another strong feature. Of course, we'll do a DNS leak test to see if any leaks are happening in the background.
Logging Policy
Once again, finding concrete information proved to be hard. However, after plenty of digging, we managed to get to this VPN's privacy policy. Through this document, the VPN says that it collects minimal data that's needed for its operation. This includes your OS version and application version, the aggregate sum of data transferred, as well as various types of information regarding your use of the VPN. In other words, this VPN knows that you've used its services, but it doesn't know what you did online.
DNS Leak Test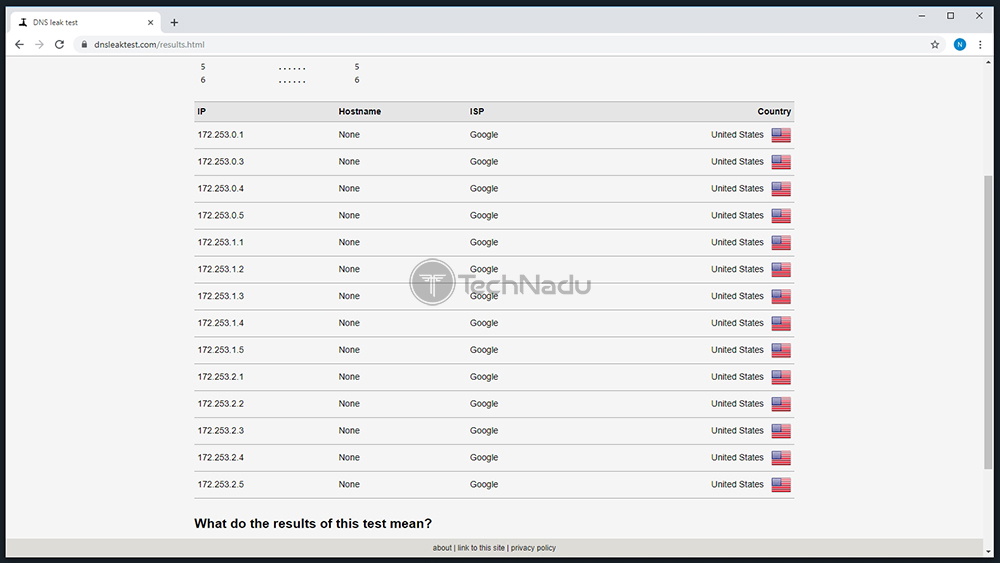 The screenshot above shows the results of our DNS leak tests. You can see that no leaks were detected, which means that RitaVPN knows how to protect your private data. All in all, it seems like a trustworthy solution.
Speed & Performance
There's nothing impressive about RitaVPN's performance. On average, it slowed us down by 88%. Once again, you should be able to find a better VPN easily. Our Score: 2/10.
Just like when testing any other VPN, we've done a round of speeds tests while running RitaVPN in the background. By combining the results of different speeds tests, we'll tell you what kind of performance you can expect.
First, we needed to establish some baseline data – done by testing the speed without having this VPN enabled. The screenshot above shows the results of the first round of speed tests. As you can see, we managed to get 94.14 Mbps for downloads and 14.68 Mbps for uploads.
Next, we tested the performance of a nearby server. We're located in Europe and we connected to a server located in the United Kingdom. During this round of speed tests, we got 12.22 Mbps for downloads and 11.98 Mbps for uploads.

And finally, we also connected to a remote server. In our case, a remote server would be any server located in the USA. This time around, we got 10.43 Mbps for downloads and 12.01 Mbps for uploads.
| | | | |
| --- | --- | --- | --- |
| | Download Speed | Upload Speed | Speed Reduction |
| Baseline Data | 94.14 Mbps | 14.68 Mbps | 0% |
| Nearby Server | 12.22 Mbps | 11.98 Mbps | 87% |
| Remote Server | 10.43 Mbps | 12.01 Mbps | 89% |
On average, this VPN slowed the speed of our Web connection by 88%. We don't have to tell you that this is a rather disappointing result.
Customer Support
There are different ways to contact this company – however, its customer support team seems unresponsive. Some self-help material is on offer as well. Our Score: 3/10.
VPNs are highly complex and technical solutions, so something can easily go wrong. This is why you need a VPN capable of helping you in a timely manner. Well, RitaVPN isn't that VPN as it comes with very limited customer support resources.
RitaVPN offers something called 'Customer Center'. However, this is where you can send an inquiry to this company, and that's pretty much it. There are also videos explaining how to install and use this VPN on all of its supported platforms. And when it comes to contacting this company, you can use a contact form, WhatsApp phone number, or send an email.
Pricing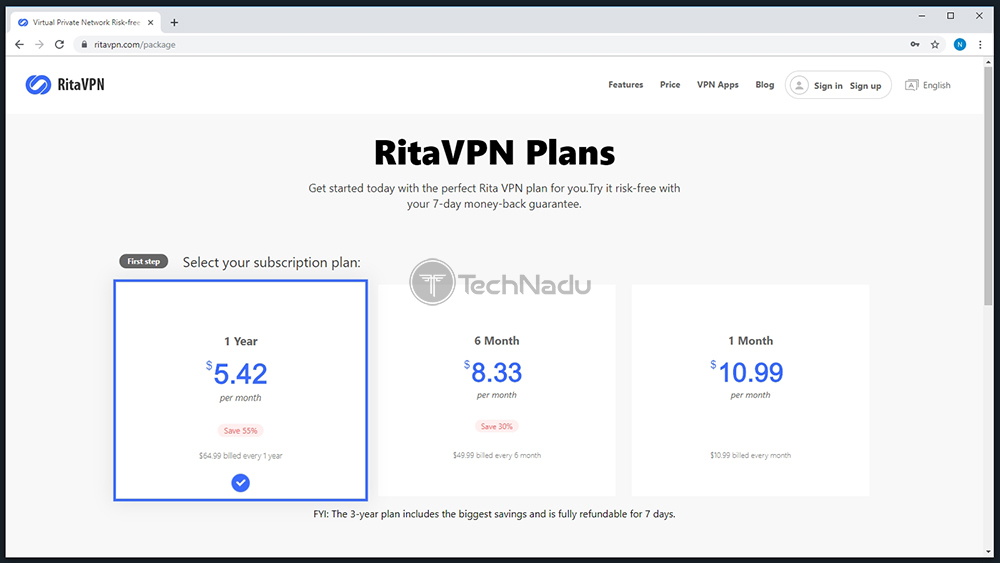 Considering everything said in this review, we conclude that RitaVPN isn't worth its price. You can get more for your money elsewhere. Our Score: 1/10.
The big question is – how much you'll need to pay for this VPN? Well, check out the following table to learn about this VPN's subscription plans.
| | | | |
| --- | --- | --- | --- |
| | Total Price | Per Month | Savings |
| 1 Month | $10.99 | $10.99 | 0% |
| 6 Months | $49.99 | $8.33 | 30% |
| 12 Months | $64.99 | $5.42 | 55% |
If you decide to subscribe to RitaVPN, the lowest amount you can pay is $5.42 per month – if you choose its annual plan. If you decide to pay on a monthly basis, the price is $10.99. Therefore, we conclude that RitaVPN is far from being affordable. Also, it comes with a 7-day money-back guarantee. And finally, you can pay via credit cards, PayPal, and Alipay.
After everything said in this article, we conclude that RitaVPN isn't worth its price. You can find plenty of other VPN services that bring more, while also being more affordable.
Do We Recommend RitaVPN?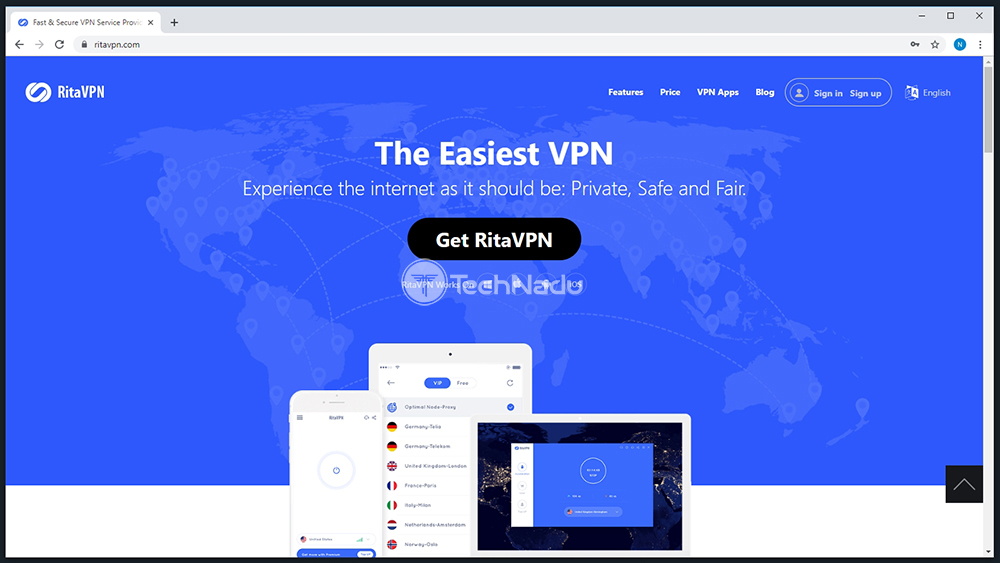 The answer is obvious – we don't recommend RitaVPN. Even though it can protect your private data, there are many obstacles to using this VPN. In the end, it's not worth its price – and spending a bit of time researching online will lead you to a number of VPN services that bring much better value for their price.
PROS: Easy installation; Relatively easy to use; Good (but basic) data protection.
CONS: Limited set of features; Incredibly slow performance; Can't unblock Netflix; Limited customer support; Overpriced.
OUR SCORE: 4.4 out of 10!
If you need more information about RitaVPN, the provided link will help you get to its official website. However, we're sure you'll want to expand your search. If that's so, here are the best VPNs right now.
In case you liked this review, we'd like to ask you to share it on the Web. And to stay on top of the latest VPN-related coverage, don't forget to follow us on Facebook and Twitter.