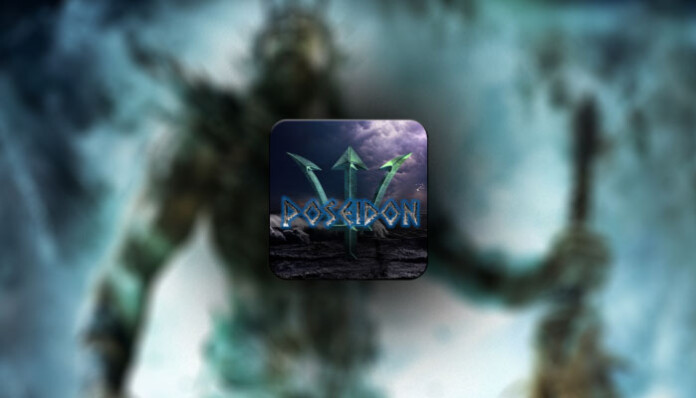 Update: The Poseidon addon is no longer available. However, there are numerous great alternatives out there. Take a look at our list of the best addons for Kodi to see some of the most popular (and trending) addons that are still fully working. Additionally, here's a list of the best movie addons as well.
The Poseidon Kodi addon is one of the oldest addons that still works without any issues. It became hugely popular during the era of Kodi 'Jarvis' (version 16.0 of Kodi). However, the addon still fully works because it has been updated to support the latest official version of this home theater software. You can rely on this addon when it comes to movies and TV shows – since it brings a huge library of this type of content. Let's take a closer look at how to install the Poseidon Kodi addon.
Disclaimer: We will be discussing software developed for Kodi – which is based on open-source code. However, the following software comes from unofficial third-parties. In addition, it is publicly available and free of charge. TechNadu doesn't claim any responsibility for how our readers decide to utilize the following software. Please note that we don't condone sharing pirated content and copyright infringement. TechNadu is not affiliated with the software mentioned in this article in no way. Make sure to carefully read the above-said disclaimer and ensure the proper use of the software.
WARNING: Before You Continue…
Do you know that everything you do within Kodi might be visible to your Internet service provider? Actually, this applies to pretty much everything you do on the Web. These days, ISPs collect all kinds of personal data and share it with third parties. However, there is a way to stop this. You can use a VPN application to make sure you're using Kodi as privately as possible.
VPN applications work by rerouting all your Web traffic through an encrypted tunnel. This makes your data unreadable by your Internet service provider. Also, VPNs get you a new IP address every time you connect to the Web. This means that your online presence and your physical location are both hidden. Finally, VPNs can keep malware away from your device and let you watch previously restricted content. We highly recommend using ExpressVPN.
Signing up for ExpressVPN has never been more affordable! Instead of paying $12.95 per month, you can opt for a special promotion and get this amazing VPN for only $6.67 per month! In addition, the annual plan comes with three additional months, free of charge. Sign-up for ExpressVPN and reap the numerous benefits it offers.
Poseidon Kodi Addon: The Basics
Addons for Kodi can be quite unpredictable at times. As you know, they come free of charge since they are based on Kodi – which is open source software on its own. What this means is that their developers usually volunteer when it comes to building and maintaining their software creations. As you can expect, this is why they get abandoned at times. However, this is where their 'open source' nature comes into play – since other developers might take them over.
When it comes to Poseidon, this addon is based on another hugely popular addon called Exodus. This has been the most widely used addon until several months ago. However, a few months back, Exodus' developer decided to no longer support this addon. Once again, Poseidon's popularity was on the rise. Since Kodi users are looking for viable alternatives to Exodus, the addon we'll talk about in this article is a very interesting option.
How to Install the Poseidon Kodi Addon?
There is a reason why Poseidon is fully-working even after all this time. That's because you can install it from a repository called Soulless Builds. Poseidon is exclusive to this repository – which is an important requirement for keeping the addon alive. We'll teach you how to access that repository can keep this addon automatically updated.
Important Note
Before we proceed to install Poseidon, we need to make sure that your Kodi supports such installation. Kodi is incredibly versatile and works with more than a dozen of different kinds of addons. However, that's not the case by default. Here's how to edit Kodi's settings and make the application work with just about any third-party addon.
While Kodi is open, click on the gear icon in the top-left corner;
Now, you should find yourself within the application's Settings;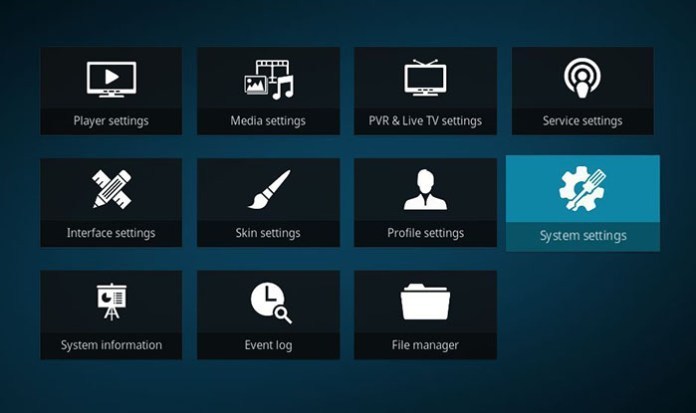 Click on 'System Settings';
Then, make sure to select 'Add-ons' in the left-placed sidebar;
On the right side of the screen, click on 'Unknown Sources';
Kodi will display a warning message, but feel free to confirm your decision;
Finally, double-check if a toggle next to 'Unknown Source' is switched to ON.
Installation Guide
We'll teach you to install the Poseidon Kodi addon by accessing the Soulless Builds repository. First, you need to add a new file source that's going to be Web-based. Let's begin the procedure.
Open Kodi and go to Settings (by clicking on the gear icon in the top-left corner);
Now click on 'File Manager';
On the left side of the screen, double-click on 'Add Source' and you'll see a pop-up;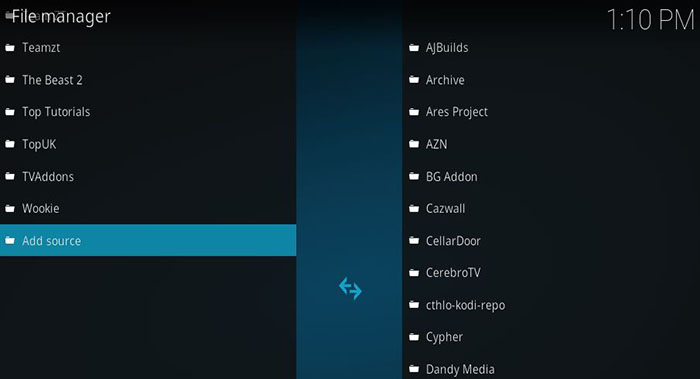 Within the pop-up, click on '<None>';

Now provide a name for your source. You can name it 'Soulless Builds';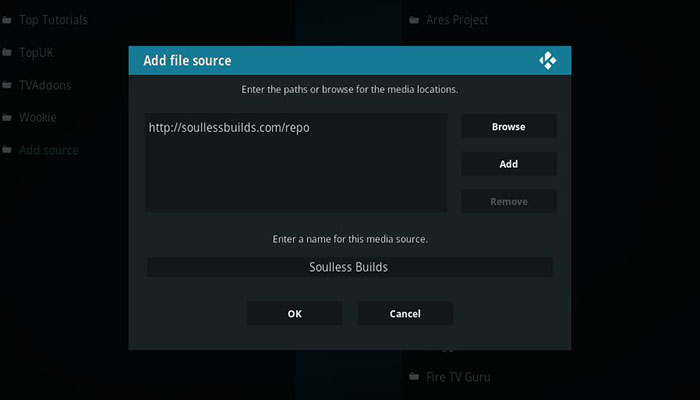 Finally, hit 'OK' and the pop-up should disappear.
Now that you've added a new file source, we'll now use Kodi to access that file source and install a ZIP file. This ZIP file contains installation files of the Soulless Builds. Keep on reading.
Go back to Kodi's Home Screen by pressing the backspace button on your keyboard;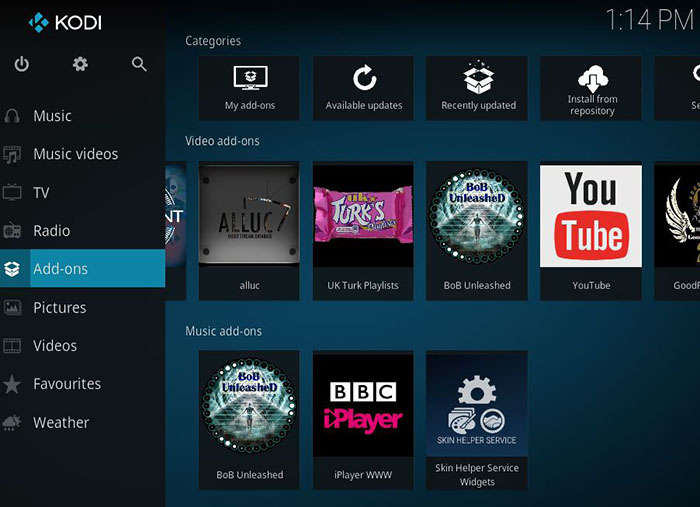 Now click on 'Add-ons' in the main menu;
Next, click on the open box icon in the top-left corner;
Make sure select 'Install from ZIP file';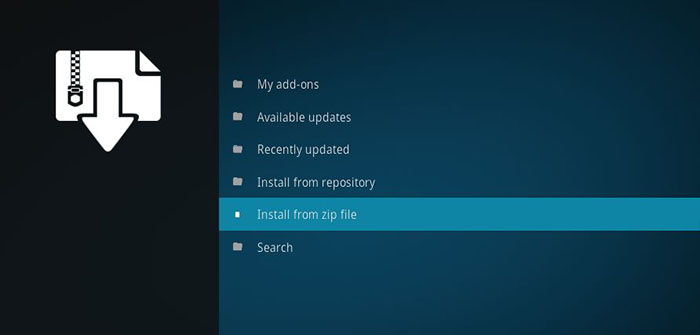 Using a newly opened pop-up, find a folder (directory) named 'Soulless Builds';
Inside, you will see a single ZIP file named 'repository.soulless.zip' followed by the version number. Click on this ZIP file;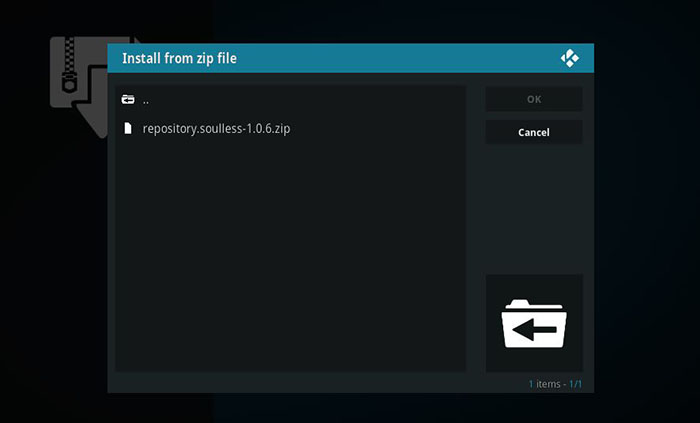 Wait a few seconds and you'll be notified that you can now use the repository.
By now, you've done all the hard work. All there's left for us is to access the previously installed repository and install the Poseidon Kodi addon. Let's finish this process.
From Kodi's Home Screen, click on 'Add-ons' in the main menu;
Now click on the open box icon once again;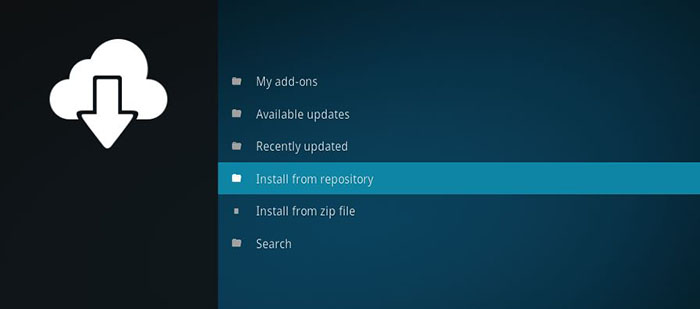 This time, select 'Install from Repository';
This is where all your installed repositories are located. You need to open a folder named 'Soulless Repo';
Next, open the 'Video Add-ons' folder and this is where you'll find Poseidon;
Click on the addon's name;
Finally, use the 'Install' button.
Congratulations! You've installed the Poseidon Kodi addon and you can now access its library of content. To find and open Poseidon, you need to go to the Add-ons section of Kodi. You'll see its icon there. Simply click on it – and you're in!
Poseidon Kodi Addon: What to Expect?
When it comes to Poseidon, you can expect thousands of movies and TV shows. In addition, you can expect multiple links per every title – so you'll always have a working one. Let's take a closer look at this addon.
Movies & TV Shows
The first two categories you'll see in the main menu are Movies and TV Shows. By entering any of them, you can find sub-sections used to filter the content. For example, you can browse the catalog by genres, actors, directors, or by using the search option. If you don't know what to watch, you can simply open recently released movies or TV shows, and go from there. However, recently released movies can be opened from Poseidon's main menu, as you'll soon see.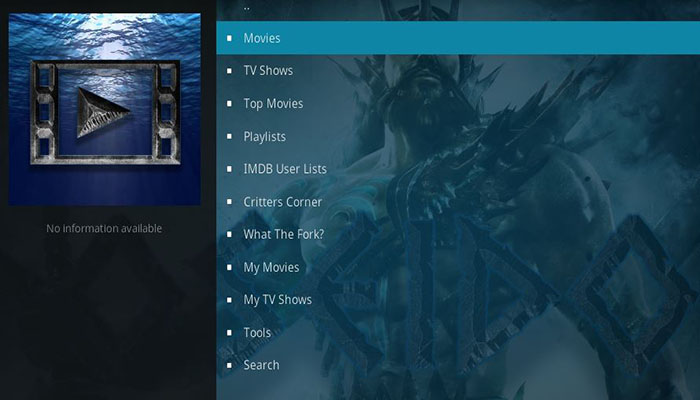 Top Movies & Playlists
At the moment of writing this article, there are sixteen sub-sections to this content category. In addition, this category is unique to Poseidon – and comes as an interesting way to browse the content catalog. The same applies to the sub-section called 'Playlists'. This is where you'll find 60 lists of themed movies and TV shows.
You can count on lists like Top Action Movies, Greatest Horror Films of All Time, or Top Animated. If you can't find anything interesting, you can't go wrong if you select 'IMDb Top 1000'.
IMDB User Lists & Critters Corner
These categories follow the same path at the two previously mentioned. Combined together, they provide more than 70 lists of movies based on different kinds of criteria. As you can see, Poseidon is really trying its best show showcase its content library.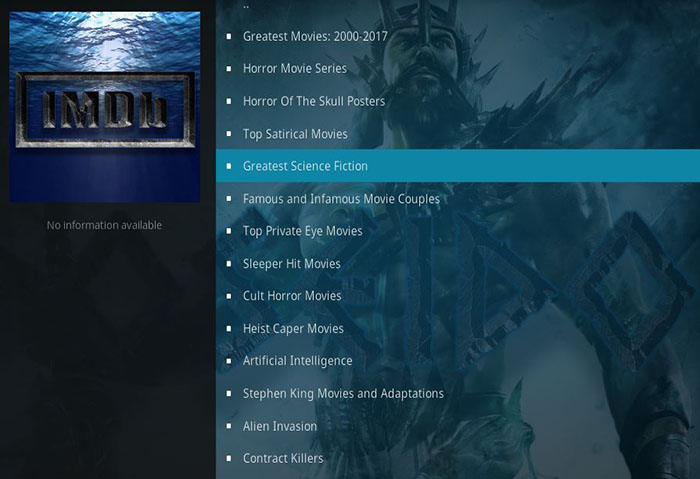 What The Fork?
This category serves as an addon within the Poseidon Kodi addon. If you can't find something interesting in Poseidon's main library, this one might be of help. This is especially true for non-English content and European-made TV shows. Either way, you can also count on currently popular and trending content.
My Movies & My TV Shows
By integrating your Trakt.TV or IMDb accounts, you can create your own custom lists. To use third-party services with Poseidon, you need to go to 'Tools' – located in the main menu. This is where you can find a list of supported services. We have written about using Trakt.TV with Kodi, so you can check out that article if you'd like to know more.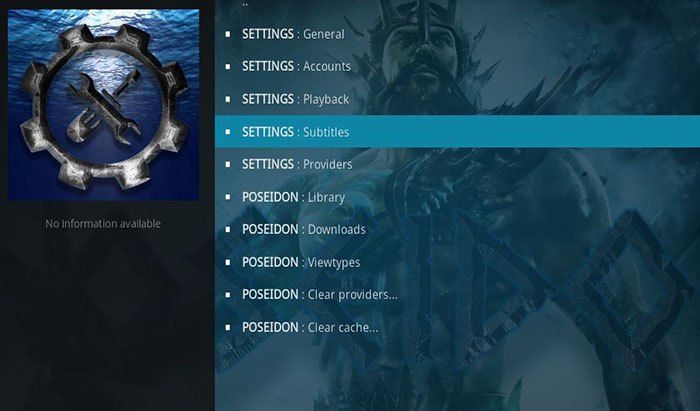 Tools & Search
Finally, we have arrived at the two final categories on the main menu. You can visit the Tools section to fine-tune your user experience or delete junk files. This can be very helpful if you're struggling with free space on your device.
As you can imagine, you can use the search tool to enter search queries. This is how you can find movies and TV shows by entering their titles.
What's Next: Additional Resources
Even though we hope Poseidon is here to stay, it's never a bad idea to have a few alternative addons installed. This way, you're covered no matter what. Here are our quick suggestions.
When it comes to Exodus forks, Poseidon is a true example of a well-working addon. However, you can also try out the Gurzil addon. You will find a similar user experience and a similar content library;
If you're looking for something a bit different, there's the StreamHub for Kodi. This addon goes beyond movies and TV shows and brings other types of content. This includes cartoons, documentary films, and more;
Finally, we'd like to provide one more option for those who want an all-in-one addon. GoodFellas 2.0 is one of the most content-rich addons out there. It covers everything from HD moves up to sports programming.
Final Words
Hopefully, you've installed the Poseidon Kodi addon by now. We hope you're enjoying numerous movies and TV shows this addon brings. In case you have any issues, let us know in the comments section below.
If you'd like to spread the word about this amazing addon, why not share this article on social networks?