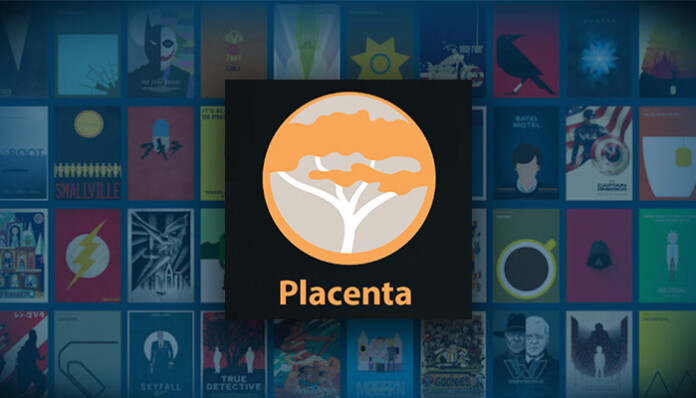 Update: This addon is no longer functional. Mr. Blamo, the man who created and distributed Placenta, has decided to seize his work related to Kodi. However, there are numerous alternatives our there, so check out the best addons for Kodi right now.
A couple of months ago, the entire community of Kodi users was shocked to hear that Exodus has lost its developer. In the meantime, several quality-made Exodus forks have appeared, with Incursion leading the pack. The goods news is that a few days ago, Exodus was republished by another developer. This means that you can install and use it just like before. Still, this doesn't mean that you shouldn't have an alternative. That's why we'll talk about the Placenta Kodi addon, a new Exodus fork.
Before getting started, we strictly recommend you to be safe while using Kodi. Therefore, we want you to read the We will be talking about software developed for Kodi – which is based on open-source code. However, the following software comes from unofficial third-parties. In addition, it is publicly available and free of charge. TechNadu doesn't claim any responsibility for how our readers decide to utilize the following software. Please note that we don't condone sharing pirated content and copyright infringement. TechNadu is not affiliated with the software mentioned in this article in no way. Make sure to carefully read the above-said disclaimer and ensure the proper use of the software.
disclaimer and WARNING notice found below.
Warning: Why you should ALWAYS USE a VPN with Kodi?
Here are the reasons that you should consider looking at it without SKIPPING.
Using ILLEGAL Kodi Addons are Dangerous without a VPN: Most of the Kodi users are installing the ILLEGAL Kodi addons on their system to access all the latest movies, TV shows, sports, music, and much more for FREE, than a legal Kodi addon where it has the least content in it. But do you know what? The video content on illegal addons is scraped and copyrighted material. If you are accessing them on Kodi, then your activities will be monitored by your ISP by tracking your IP and gives all the information to the government or companies if they request for it. This will land you in trouble. To stay away from this, you will have to connect to a VPN where it hides your identity by rotating your IP address while streaming Kodi content. This is how you will be safe from the prying eyes.
Bypass Geo-Restriction: As you probably know, some official addons like BBC iPlayer, NBC Sports, Hulu, IceFilms have geo-location restrictions. This also applies to other addons like Acestream which fetches the data from torrents. To unblock these restrictions, you will have to DEFINITELY use a VPN no matter what.
The above are the 2 reasons that forcing us to recommend a VPN to the Kodi users for safer streaming. In fact, after testing several VPNs for Kodi, we finally came up with a one non-stop solution and that is ExpressVPN, the top-rated Kodi VPN so far.
Limited Time Offer: For our TechNadu readers, there is a 49% OFF on ExpressVPN which includes 3 FREE Months in it.
Everything You Need To Know About Placenta Kodi Addon in 2019
In the world of Kodi addons, forks are common addons. Since Kodi is an open source software, developers are free to exchange code to speed up the process of software creation. This is the reason why many addons look alike. The same applies to Placenta, which looks close to identical to the original Exodus. Still, this addon added a couple of new content categories and took things in its own direction. That's why we believe you're going to enjoy using it.
Since this is a third-party addon, we first need to know where to find it. You will find different versions of Placenta scattered around several popular repositories. However, the latest official version is in a repo called Mr.Blamo.
Important Note: Before we continue, there's one important thing you need to know. You need to make sure that your Kodi installation allows the installation of third-party addons. You might be surprised to hear this but this isn't the case by default. Don't worry, there is a simple solution to this obstacle.
All you need to know is do is to enable unknown sources in Kodi. Please use the provided link and follow our short and informative guide. Then, keep reading this article.
12 Steps to Install Placenta Addon on Kodi
Now, let's talk about what you really want to know – and that is how to install the Placenta Kodi addon. Let's jump right in, shall we?
Launch Kodi and click on the Gear icon (top-left corner);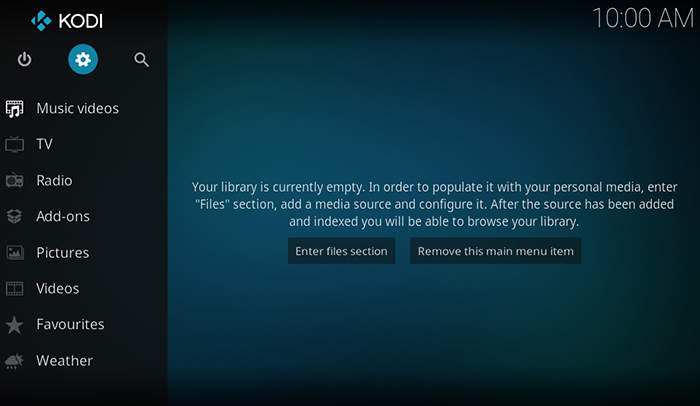 On the left side, double-click on 'Add Source';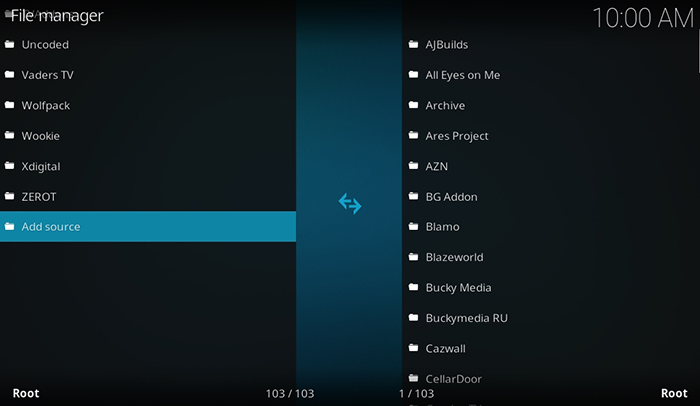 At this point, you should see a pop-up window. You need to click on '<None>' and you'll be asked to enter a URL. Use the following one: http://repo.mrblamo.xyz/ and click 'OK';
Highlight the box at the bottom of the pop-up window and rename the source to 'Blamo'. Hit 'OK' to dismiss the window;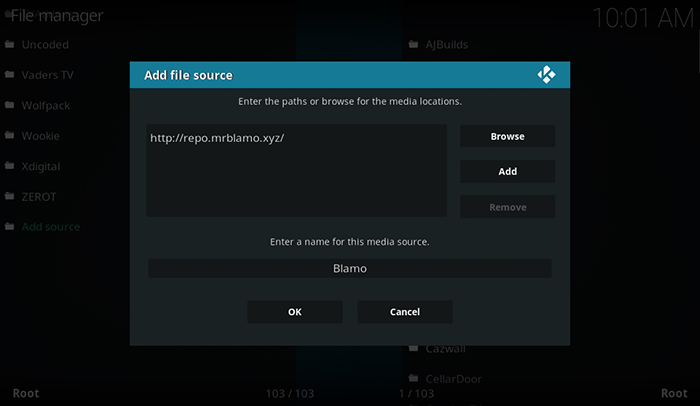 Return to Kodi's home screen by pressing the backspace key. Then, click on 'Add-ons';
Take a look at the top-left corner and click on the Open Box icon;
Select 'Install from ZIP file';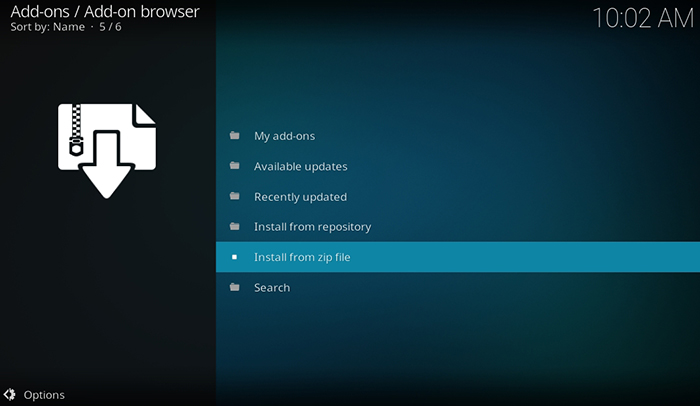 Now open the Blamo directory, and then click on the file named 'repository.blamo-x.x.x.zip'. Wait a few moments until this repository installs;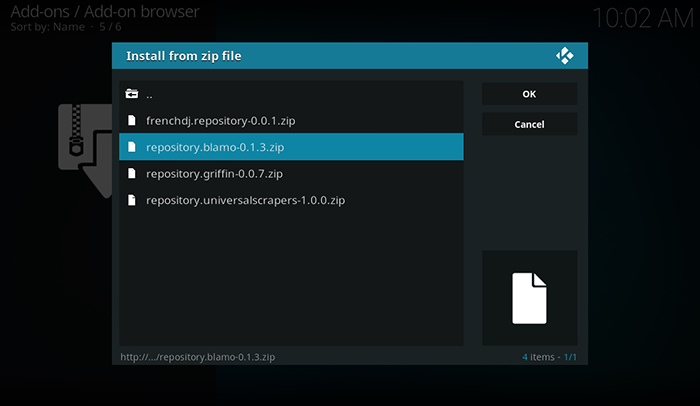 Next, select 'Install from Repository';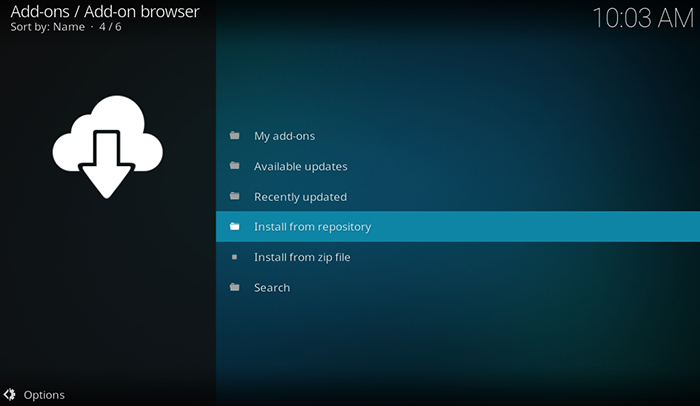 Navigate to Blamo Repo > Video Add-ons > Placenta. Click on the addon's name;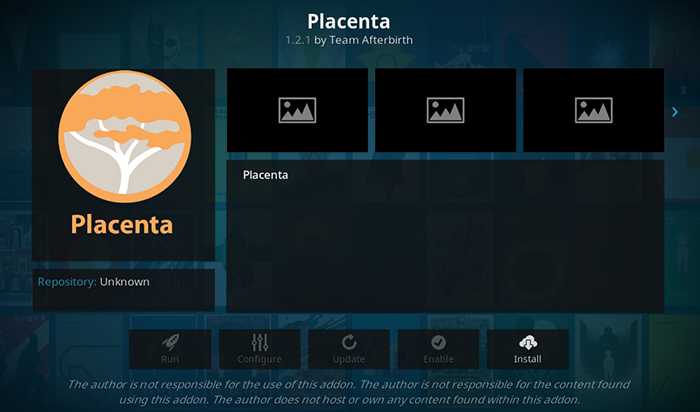 To finish the procedure, click on the 'Install' button.
Upon installation, you will be able to find Placenta in your Add-ons section. Enjoy!
What to Expect from Placenta Addon?
We want to make sure that you're using Placenta to its full extent. This is the reason why we want to include a guided tour as well. Take a look at the content categories found within this amazing addon.
News and Updates: The very first item in the main menu brings the latest information about Placenta. You can check it out to see if some categories don't work, or if there's maintenance planned.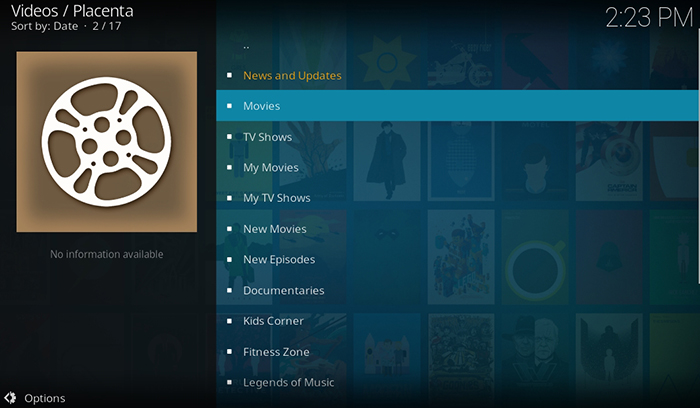 Movies: The general movies category brings all the movie titles currently present. When you open it, you'll get to filter the selection based on different criteria. For example, you can browse genres, languages, most popular titles, etc.
TV Shows: Very similar to the previous category, this one brings all the available TV shows. Once again, there is a set of 17 sub-categories to help you navigate to something you'd like to watch.
My Movies / My TV Shows: You can set up your Trakt or IMDb account and sync all your lists back and forth. Once you do that, these titles will appear in these two categories. To connect your personalized account, right-click on Placenta's icon and select 'Settings'.
New Movies / New Episodes: Pretty self-explanatory, don't you think? The most recently added files will appear in these categories.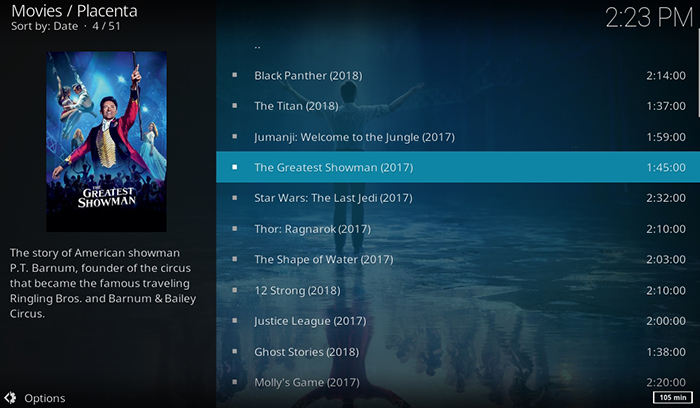 Documentaries: It's great to see Placenta including educational movies as well. There are 25 different categories to choose from, covering health, history, nature, biographies, and even conspiracy theories.
Kids Corner: You can expect to find cartoons here. However, this category was a hit-and-miss when it comes to working titles. Hopefully, we'll see more cartoons included in the future.
Fitness Zone: Now, this is something you won't find in the original Exodus. There are around 50 different options to choose from, covering different sports and workout videos.
Legends of Music: This category was made in honor or recently deceased music legends like Leonard Cohen, Prince, Leon Russell, and others. You can listen to their music or watch recorded performances.
Podcasts: If you're into podcasts, you'll find them here. These are supplied by two sources: PodBay and PodcastOne. Each of these brings a comprehensive set of sub-folders.
Channels: This option should bring the latest movies that were on air recently. However, this is a non-working part of the Placenta Kodi addon. Hopefully, we will see a viable fix soon.
Tools / Search: The final two options can be used to search for something specific, or to dive deep into Placenta's settings.
This is where we end our article on the Placenta Kodi addon 2019. We sincerely hope that you've managed to install this addon, and that you enjoy using it. In case of any issues, don't hesitate to let us know by using the comments section below.
Finally, please share this article on Facebook and Twitter and help us spread the word about Placenta with other Kodi users. Thank you!