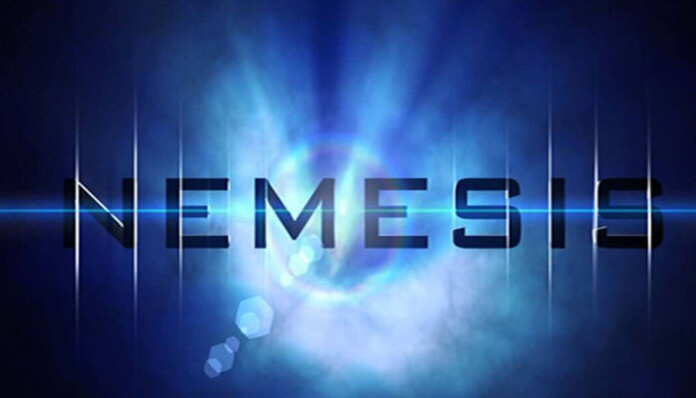 Update: Unfortunately, Nemesis is no longer among the Kodi addons that we recommend using. Due to technical issues and its inability to find fully-working links, we recommend you avoid using this addon. However, there's no need to worry as plenty of fully-working alternatives await. You'll find all the information you need in our central 'Kodi Addons' article.
Kodi is an open-source and completely free-of-charge, multi-platform home theater software that has been of great use to numerous Kodi users around the world. Right from watching cable-free TV, free movies, extending to free TV Shows – Kodi allows you to access all of those privileges. Not to mention, Kodi comes without any setup fees, monthly charges, or unwanted ads/pop-ups. On top of that, you get to use third-party addons. We are about to take a look at one of the most popular options – the Nemesis Kodi addon.
If you ask Kodi users what they like the best about this application – they will point you to popular Kodi addons. In general, you don't need to use addons if you have a large collection of media, locally stored. However, media streaming always sounds like an interesting option. As you are about to see, addons for Kodi collect thousands of sources all over the Web. They serve as 'scrappers' that bring you streamable media. In addition, they tend to specialize in certain kinds of content. For example, there are movie addons or Live TV addons. Many of these bring the highest possible video quality.
Before getting started, we strictly recommend you to be safe while using Kodi. Therefore, we want you to read the We will be talking about software developed for Kodi – which is based on open-source code. However, the following software comes from unofficial third-parties. In addition, it is publicly available and free of charge. TechNadu doesn't claim any responsibility for how our readers decide to utilize the following software. Please note that we don't condone sharing pirated content and copyright infringement. TechNadu is not affiliated with the software mentioned in this article in no way. Make sure to carefully read the above-said disclaimer and ensure the proper use of the software.
disclaimer and WARNING notice found below.
Warning: Why you should ALWAYS USE a VPN with Kodi?
Here are the reasons that you should consider looking at it without SKIPPING.
Using ILLEGAL Kodi Addons are Dangerous without a VPN: Most of the Kodi users are installing the ILLEGAL Kodi addons on their system to access all the latest movies, TV shows, sports, music, and much more for FREE, than a legal Kodi addon where it has the least content in it. But do you know what? The video content on illegal addons is scraped and copyrighted material. If you are accessing them on Kodi, then your activities will be monitored by your ISP by tracking your IP and gives all the information to the government or companies if they request for it. This will land you in trouble. To stay away from this, you will have to connect to a VPN where it hides your identity by rotating your IP address while streaming Kodi content. This is how you will be safe from the prying eyes.
Bypass Geo-Restriction: As you probably know, some official addons like BBC iPlayer, NBC Sports, Hulu, IceFilms have geo-location restrictions. This also applies to other addons like Acestream which fetches the data from torrents. To unblock these restrictions, you will have to DEFINITELY use a VPN no matter what.
The above are the 2 reasons that forcing us to recommend a VPN to the Kodi users for safer streaming. In fact, after testing several VPNs for Kodi, we finally came up with a one non-stop solution and that is ExpressVPN, the top-rated Kodi VPN so far.
Limited Time Offer: For our TechNadu readers, there is a 49% OFF on ExpressVPN which includes 3 FREE Months in it.
Everything You Need To Know About Nemesis Kodi Addon in 2019
If you're out there in search of a mega-solution on video streaming, your search ends with Nemesis. This addon offers a collection of different types of media that you've been dreaming about. We don't know about you, but we are sure that this is the addon you don't want to be without. If you decide to try it and get the experience yourself, use our guide to help you download and install it.
Ever since it was released, this addon was contained within a repository called Stream Army. Aside from this addon, this is where you'll find other interesting options. Therefore, make sure to try those out as well.
Important Note: Prior to installing the Nemesis addon in 2019, you need to make sure that your Kodi works with third-party addons. You will be surprised to hear that this isn't the case by default. As a safety measure, you need to visit Kodi's settings and allow any addon to be installed.
Essentially, what you need to do is to enable 'Unknown Sources' on your Kodi. This is a very quick process and we're sure you'll manage to do it just fine. Use the provided link for more information.
15 Steps to Install the Nemesis Addon on Kodi
Since the Nemesis Kodi addon can't be found within the official Kodi repository, we will need to access the Stream Army repository, where it's located.
Open Kodi and navigate to Settings. Use the gear icon in the top-left corner, just under the application's logo;
Now click on 'File manager', as shown below;
Double-click on 'Add Source', on the left side of the screen;
A pop-up should now appear, named 'Add file source'. Double click on '<None>' and you'll be asked to enter a new URL;
Now proceed and enter the following URL: http://streamarmy.co.uk/repo/. Next, hit the 'OK' button;
Give it a name that will help you to identify it in a couple of steps. You can name it 'Stream Army'. Click 'OK' once again;
You should now see a new folder, named Stream Army. This means that you've added this source to Kodi – but you now need to install it;
Return to the home screen of your Kodi and select the Add-ons button from the main menu;
Upon opening the Add-ons page, you should see an open box icon at the top-left corner of the page. Click on this icon;
Next, select the 'Install from zip file' option;
Using a newly opened pop-up, navigate to 'Stream Army'. Click on this item to open it;
Finally, double-click on the file named 'repository.streamarmy-x.x.zip'. Wait until you see a notification that the repository has been successfully installed;
To install the Nemesis Kodi addon, click to open 'Install from repository'. This is where you should see a list of your installed repositories. Open the Stream Army folder, as shown below;
Next, click to open Video add-ons folder, as illustrated;
While in the 'Video Add-ons' folder, find Nemesis and click on its name. You should see an overview of this addon. Finally, click on the 'Install' button in the bottom-right corner.
Wait for up to a minute for the Nemesis add-on files to download and install on Kodi. If this is your first time installing an addon, this process might take a while. Once finished, you should see a notification of successful installation in the top-right corner of your screen.
That's it! Hopefully, you've successfully installed the Nemesis Kodi addon. You can return to Kodi's Home Screen, open the Add-ons section and your new addon should be waiting there. Click on its icon to launch it.
What to Expect From Nemesis Addon?
You've downloaded and installed the Nemesis Kodi addon. So, you might be wondering what is next? First, let's take a look at what this addon offers and why it's unique in comparison to its competition.
Sports Zone is using several different content suppliers. In the majority of cases, the Infinity Sports will bring everything you need. There are also some dedicated sections for football (soccer).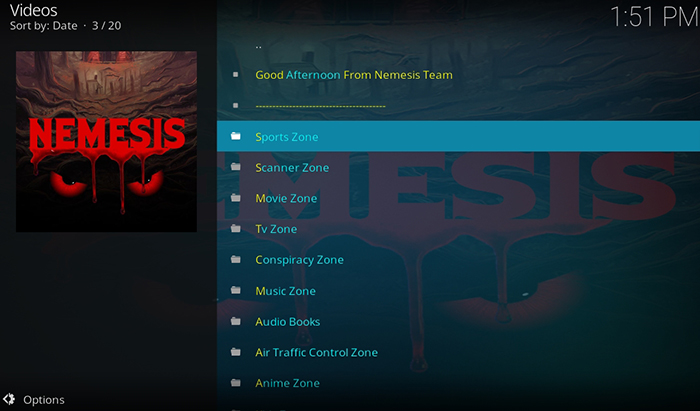 Scanner Zone brings live streams of police dispatch feeds. As such, this option is unique when it comes to Kodi addons. Select a state, or check out the 25 most popular.
Movie Zone brings a nice selection of movie separated into different categories. Nemesis is one of the rare addons that bring 4K and even 3D movies as well.
TV Zone comes with a nice selection of live TV channels from all around the world. In addition, you can tune to a number of CCTV camera feeds.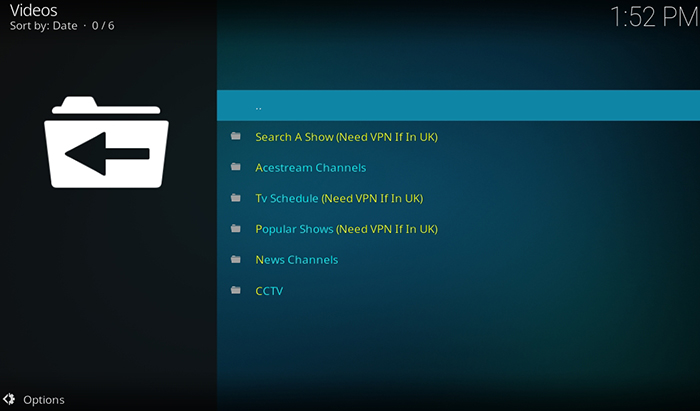 Conspiracy Zone brings documentaries. We were having problems with this content section since it something works and sometimes doesn't.
Music Zone isn't only about music streaming. Aside from playing the top lists, you can watch concert replays as well.
Audio Books is a very interesting option that we didn't find anywhere else. You get to filter down your search by typing a topic.
Air Traffic Control Zone seems to be broken at the moment. We are sure it sounds interesting to listen to airport communications, it seems like you'll have to wait for this option to work once again.
Anime Zone is the go-to place for every fan of Japanese anime. A sizeable collection awaits.
Kids Zone comes with numerous collections of both old and new cartoons. However, you will have to search by letter, which isn't the most intuitive way to filter your choices.
Adult Zone, as its name implies, provides content suitable for mature audiences. You will have to set up a password first thought.
Request Zone is the final option on the home page of the Nemesis Kodi addon. You will get to see a few items in here but most of these are there for testing purposes.
We can all agree by now that Nemesis is a one of a kind add-on built for Kodi. Thanks to its awesome features, Nemesis has already hit the streets of Kodi as a major game changer in the world of add-ons. Just having Nemesis add-on installed on your Kodi is already enough when it comes to video streaming.
If you'd like to add something, feel free to post a comment. We'd love to hear what you have to say. Also, let us know if you have any alternatives for this amazing addon?