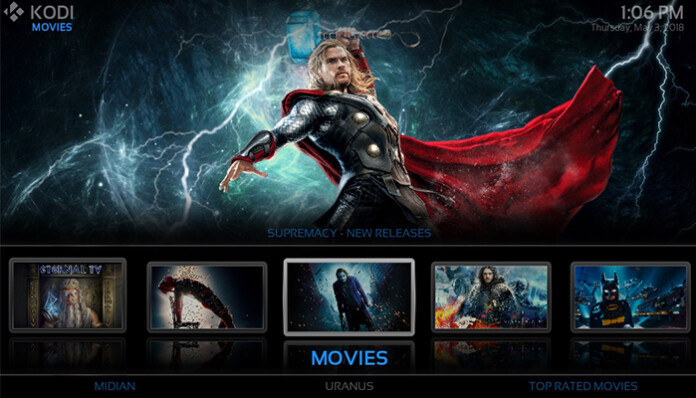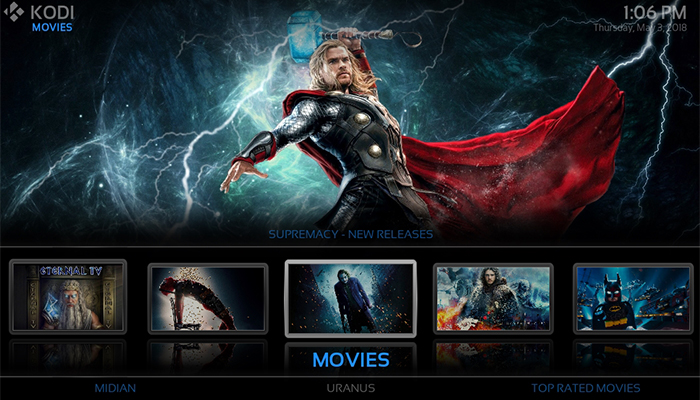 In the community of Kodi users, Misfit Mods is a well-known name. This is a repository of numerous builds that can completely transform the way you use Kodi. Since new builds can be found often in this repository, we have decided to take another look. This is how we encountered the KHAOS build and we're sure you're going to love it. So, here's everything you need to know about the KHAOS Kodi build.
Before getting started, we strictly recommend you to be safe while using Kodi. Therefore, we want you to read the We will be talking about software developed for Kodi – which is based on open-source code. However, the following software comes from unofficial third-parties. In addition, it is publicly available and free of charge. TechNadu doesn't claim any responsibility for how our readers decide to utilize the following software. Please note that we don't condone sharing pirated content and copyright infringement. TechNadu is not affiliated with the software mentioned in this article in no way. Make sure to carefully read the above-said disclaimer and ensure the proper use of the software.
disclaimer and WARNING notice found below.
Warning: Why you should ALWAYS USE a VPN with Kodi?
Here are the reasons that you should consider looking at it without SKIPPING.
Using ILLEGAL Kodi Addons are Dangerous without a VPN: Most of the Kodi users are installing the ILLEGAL Kodi addons on their system to access all the latest movies, TV shows, sports, music, and much more for FREE, than a legal Kodi addon where it has the least content in it. But do you know what? The video content on illegal addons is scraped and copyrighted material. If you are accessing them on Kodi, then your activities will be monitored by your ISP by tracking your IP and gives all the information to the government or companies if they request for it. This will land you in trouble. To stay away from this, you will have to connect to a VPN where it hides your identity by rotating your IP address while streaming Kodi content. This is how you will be safe from the prying eyes.
Bypass Geo-Restriction: As you probably know, some official addons like BBC iPlayer, NBC Sports, Hulu, IceFilms have geo-location restrictions. This also applies to other addons like Acestream which fetches the data from torrents. To unblock these restrictions, you will have to DEFINITELY use a VPN no matter what.
The above are the 2 reasons that forcing us to recommend a VPN to the Kodi users for safer streaming. In fact, after testing several VPNs for Kodi, we finally came up with a one non-stop solution and that is ExpressVPN, the top-rated Kodi VPN so far.
Limited Time Offer: For our TechNadu readers, there is a 49% OFF on ExpressVPN which includes 3 FREE Months in it.
All You Need To Know About KHAOS Kodi Build in 2019
Taking close to 240MB of disk space, this is a medium-sized build. This is good news for owners of media streaming devices that run Kodi. It's not the lightest one but it's not the heaviest one either. Instead, it brings just the right balance of dynamic elements, smooth animations, and plenty of useful addons.
Once installed, the KHAOS Kodi build brings numerous content categories. It covers everything from sports, music, movies, up to cartoons. As such, it provides something for every member of your family.
As we said earlier, KHAOS is included in the Misfit Mods addon. This means that we first need to install this addon and then proceed to install KHAOS. Don't worry if this sounds complicated; we'll guide you through every step of the way.
Before we can continue, we have an important piece of information. So, make sure to carefully read the following segment.
Important Note: If this is your first time installing an unofficial Kodi addon, you must enable unknown sources on Kodi. This is a very simple security measure designed to prevent you from third-party addons. Since it's often associated with piracy, developers of Kodi wanted to take action against this type of activity. However, all you need to do is to visit the application's Settings and make a small adjustment. The entire process is explained in our guide.
14 Steps to Install KHAOS Build on Kodi
Finally, let's begin installing the KHAOS Kodi build. To make this process as simple as possible, we have included step-by-step instructions along with screenshots. Here's how it's done.
Open Kodi and visit the application's Settings (via the Gear icon in the top-left corner);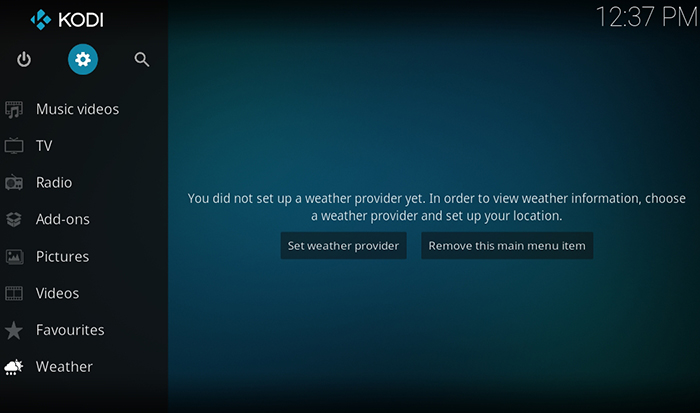 Next, launch the 'File Manager';
Double-click on 'Add Source' on the left side of the screen. At this moment, you should see a pop-up;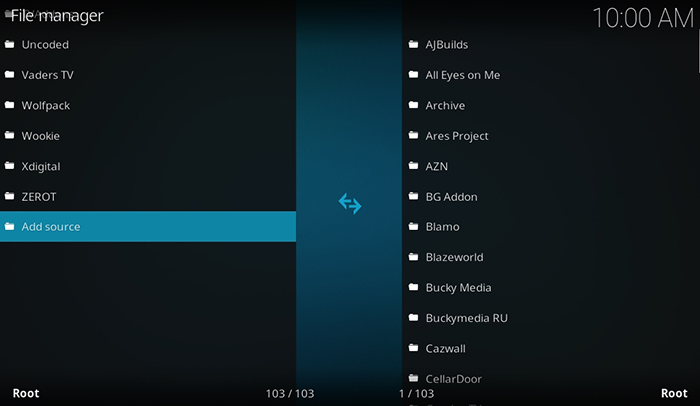 First, click on '<None>' and Kodi will ask for a URL. You need to use the following Web address: http://misfitmods.com/mmwiz/repo/. Click 'OK' to confirm the entry;
Provide a name as well. Type in 'Misfit Mods' and dismiss the pop-up by clicking on 'OK';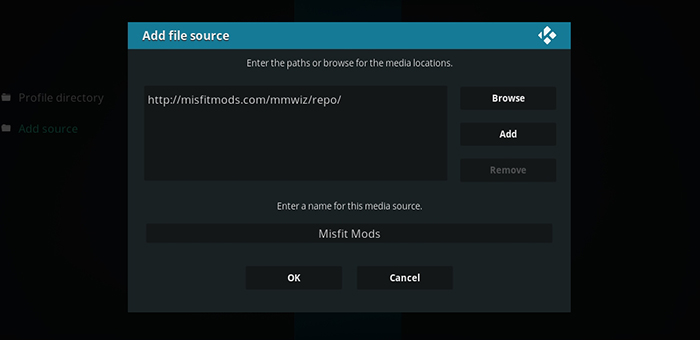 Return all the way to Kodi's initial screen. Then, select 'Add-ons' from the main menu;
Use the Open Box icon, placed in the top-left corner;
Choose to 'Install from ZIP file';

Using a newly opened pop-up, navigate to the Misfit Mods directory. Then, click on the file named 'plugin.program.misfitmods-x.x.zip'. It might take several minutes until this addon installs, so be patient. You'll be notified once that happens;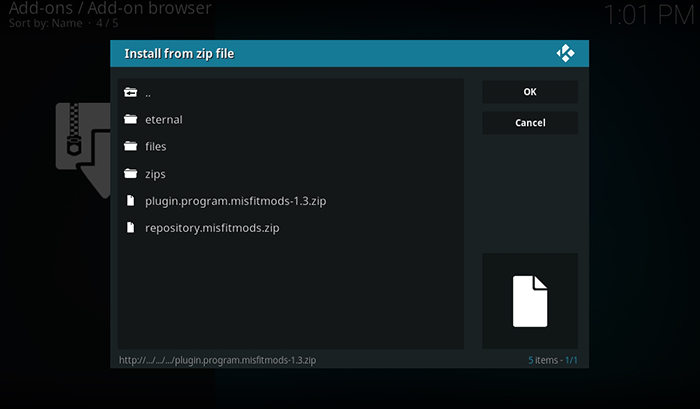 Upon the completed installation, you'll see several dialog boxes. You can feel free to dismiss these since we'll install the build manually.
Return to the Add-ons section and select 'Program Add-ons'. Then, open the Misfit Mods Wizard;
Select 'Builds' and then scroll down and select 'KHAOS'. As you'll see, there are two links in case one of these doesn't work;
Finally, select 'Fresh Install' so that KHAOS can be installed from scratch. Confirm your decision and wait until the files are downloaded and installed;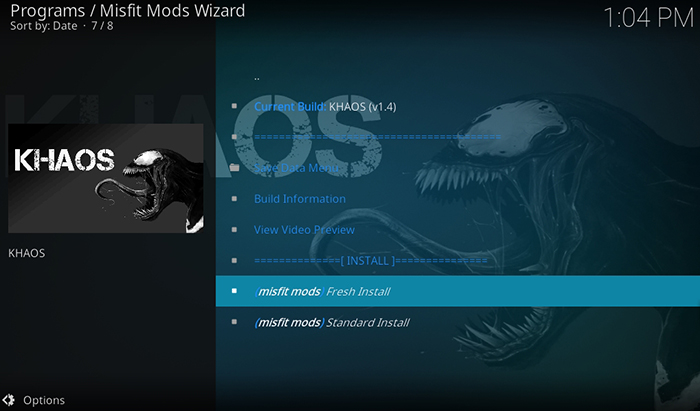 Make sure to choose to 'Force Close' Kodi. The application will shut down, so you can relaunch it. Welcome to the KHAOS Kodi build!
What to Expect from KHAOS Kodi Build?
Plenty of various types of content await, so we'll go over the main menu. Before we proceed, we'd like to add that you can navigate both upwards and downwards from the main menu, so make sure to check out all of the available sub-categories. Here's a quick overview:
Movies: The first thing you're going to see when you open Kodi is the Movies section. The KHAOS build relies on a number of unofficial and official movie sources. To get to the latest releases, go upwards from the main menu and you'll see a series of movie posters. Selecting any of these will trigger the build to start searching the Web for streams.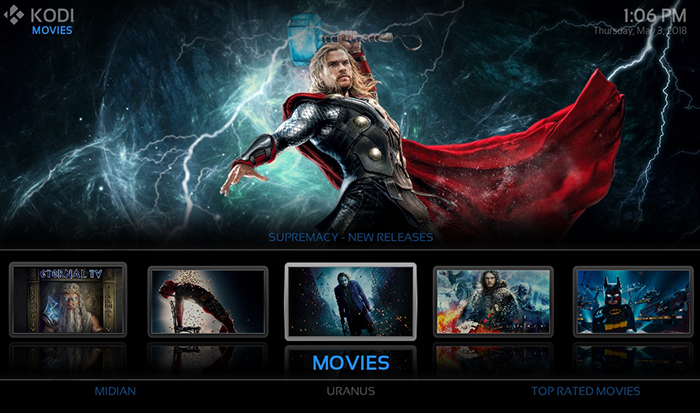 TV Shows: Fans of TV shows won't be disappointed as well. This also goes for fans of services like Netflix and Crackle. Make sure to take a look at sub-categories found at the bottom of the screen to narrow down your options.
Kids Room: When it comes to children-friendly content, there are many ways to keep your kids entertained. First, there are 24/7 cartoon live streams, songs for kids, and on-demand videos as well.
Horror & Comedy: We don't see often builds showcasing different genres on the main menu. However, the KHAOS Kodi build has decided to do just that. So, if you're a fan of horror movies or comedies, make sure check out what's on offer.
Man Cave: This section is all about action movies and superhero films. There is also a category dedicated to documentaries, which might be misplaced here. After all, documentaries aren't only for male viewers, right?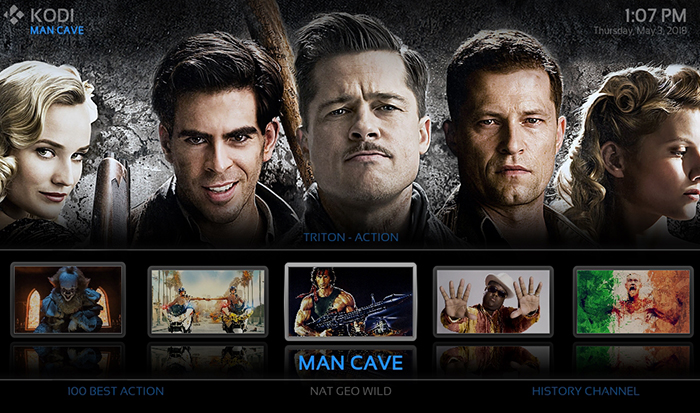 Urban: The name of this category might be a bit misleading. In general, it's about movies made by African-American directors.
Sports: Next, we have sports. Without a second doubt, this is one of the most popular sections of this build. It combines many different addons to bring you a streamlined experience of watching live events and on-demand videos.
Music: This category isn't only a replacement for Spotify. It also brings live and on-demand concerts and music videos.
Fitness: The name says it all. This is where you can check out workout videos. Also, this can be a good place to seek inspiration if you can't force yourself to go to your gym more regularly.
System & Power: All kinds of options and customizations await here. We'd like to highlight that you can use a 'shutdown timer' if you use Kodi on your TV before going to sleep.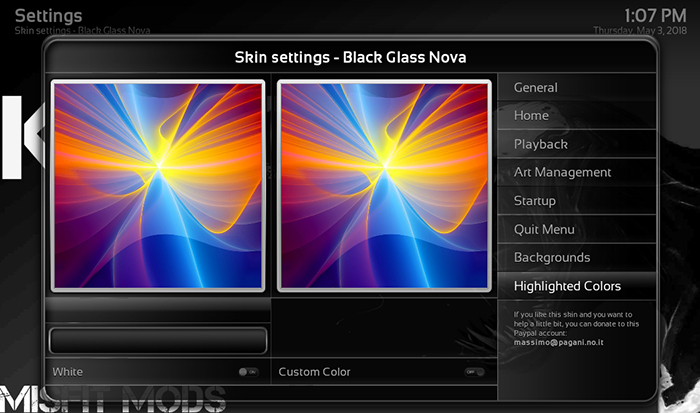 Live TV & Eternal TV: Even though Live TV addons are usually a hit and miss, KHAOS is trying to fight that with official Kodi addons. One such addon is Pluto TV, a free Web service that lets you watch a selection of TV channels.
Real Debrid: And finally, there is a section dedicated to Real Debrid files. In case you're a subscriber, this is where you can take advantage of the service.
Dear Kodi fans, that would be all when it comes to the KHAOS Kodi build. If you have additional questions, don't hesitate to post a comment below. We'll do our best to respond in a timely manner.
And finally, please share this article on Facebook and Twitter if you think it could help others as well. Thanks!