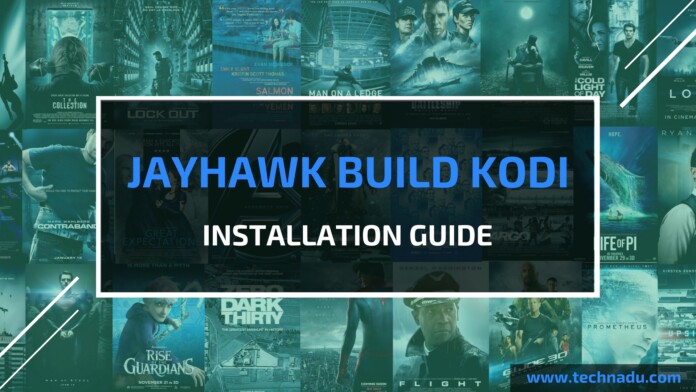 Developed by Jayhawk Media, Jayhawk Kodi Build is a great addition to the already blooming platform. It upgrades Kodi to what it always should have been—an absolute entertainment hub. People often switch to a paid service, like Netflix and Vudu, to get the curated digital content on one accessible platform. But, what If you can access all that goodness of paid services with all the perks, but for free?
That's right!
Jayhawk Build provides a variety of digital content for FREE. True that there are other builds on Kodi that has similar features, but Jayhawk build has come a long way. While other builds still struggle to keep their features intact, Jayhawk shines for its reliability. When compared to its contemporaries, Jayhawk Kodi build is far more stable, and hardly faces any crashing errors.
Here we have penned down a step-by-step guide to installing Jayhawk Build on your Kodi device. So, let's start and taste all the goodies.
Disclaimer: We will be discussing software developed for Kodi – which is based on open-source code. However, the following software comes from unofficial third-parties. In addition, it is publicly available and free of charge. TechNadu doesn't claim any responsibility for how our readers decide to utilize the following software. Please note that we don't condone sharing pirated content and copyright infringement. TechNadu is not affiliated with the software mentioned in this article in no way. Make sure to carefully read the above-said disclaimer and ensure the proper use of the software.
WARNING: Before You Continue…
A certain portion of Kodi users is at risk of receiving copyright infringement notices from their Internet Service Providers (ISPs). The truth is that many ISPs are capable of tracking your Web browsing habits and report different kinds of behaviors to authorities. In addition, it is known that ISPs collect personal information and sell this data to advertising agencies. Still, this can be stopped. We recommend using a VPN when watching content on Kodi.
A VPN is your defense against malicious attacks.This kind of application encrypts your Internet connection and makes it highly secure. If you connected to the Web using an open Wi-Fi network, a VPN is the only way to ensure your protection against digital attacks.
VPNs keep your personal data safe.As we said above, this addresses any concerns regarding data collection by ISPs. If you want to stop your ISP from collecting and possibly selling data about your Web browsing habits, this is the way to go.
VPNs are used to access region-locked content.When it comes to enjoying content on Kodi, this is perhaps the most important thing. Quite often, you'll encounter content that is locked to a certain geographical region. Using a VPN, you automatically change your IP address that is used to trace your whereabouts. With a new IP address, you can change your location digitally and watch previously locked content.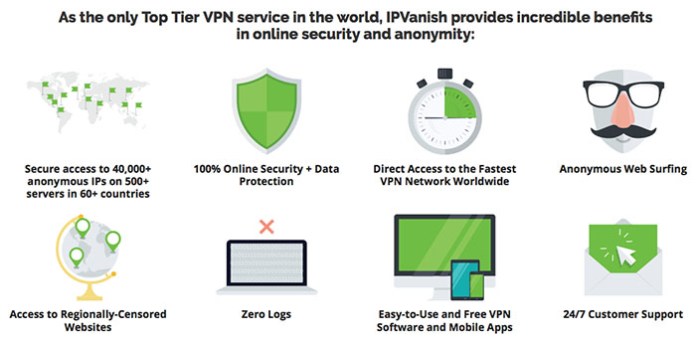 All of the above said benefits can be found within IPVanish. This application encrypts your Internet connection, keep your computer and your personal data safe, and breaks through censorship and locked content. On top of that, this VPN application doesn't throttle the speed of your Internet connection, which is often the case with this type of software.
Download IPVanish today. You can start using it for as low as $6.95 per month which is a fair price considering the numerous benefits this application brings.
Jayhawk Build Kodi: The Basics
This Media build has two functional builds in it; Jayhawk 4-K17 and Jayhawk X-17. While the former build serves its purpose and delivers curated movies, tv shows, live tv and sports-related content; the latter opens the gate for adult content. X-17 version includes adult add-ons. One who enjoys uncensored content should build their nest around X-17.
How to Install the Jayhawk Build on Kodi?
In this guide, we've penned down the instructions only for Jayhawk 4-K17, though the instructions for installing Jayhawk X-17 are almost same. Let's go through the procedure but first, there is something important you need to know.
Important Prerequisite
If one tries to install the add-ons from unknown sources, Kodi by default doesn't accept it. This filter is put in place for the security of the platform from tangy sources. While we recommend to keep it off during the usage, we're temporary turning it off for the installation. Do not worry, we test the sources before we recommend them and this is just another example. Let's turn it off.
Launch Kodi and locate a gear icon on the top-left of the screen. Click on it.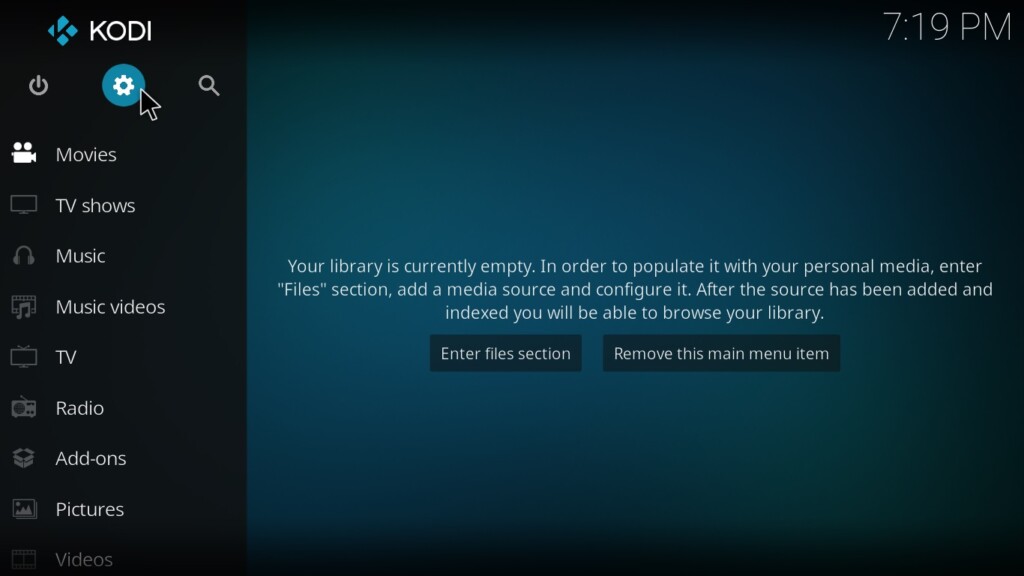 Navigate to System Settings available in the Menu tray. Select it;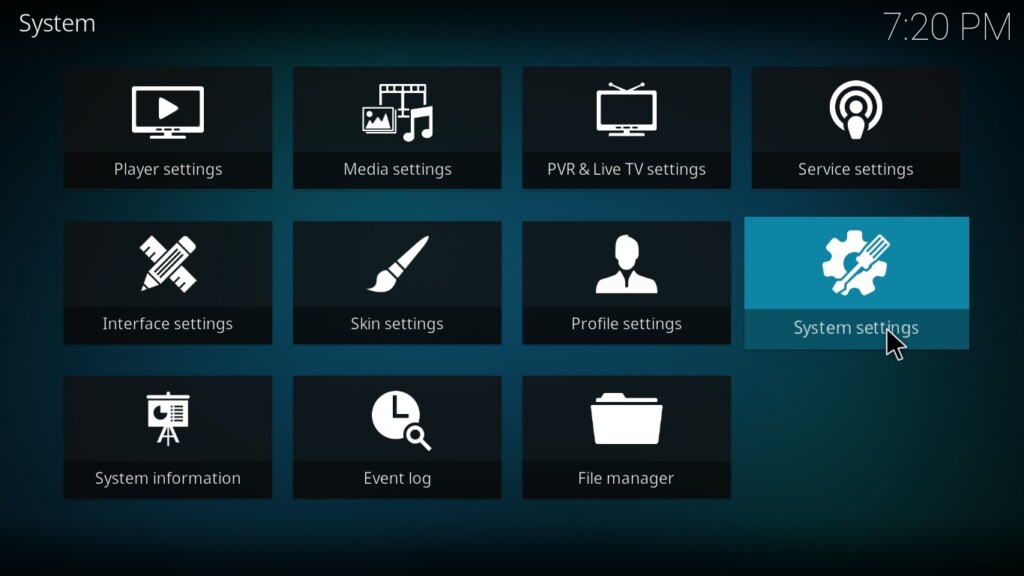 Click on Add-ons on the menu on the left;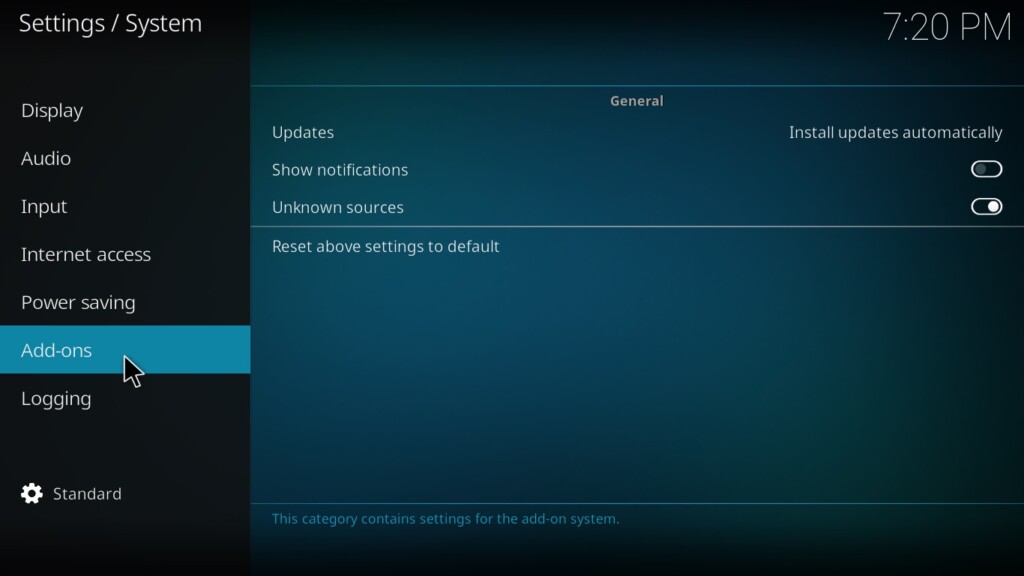 Locate two toggle buttons on the right spread. Click on the second button, 'Unknown sources'.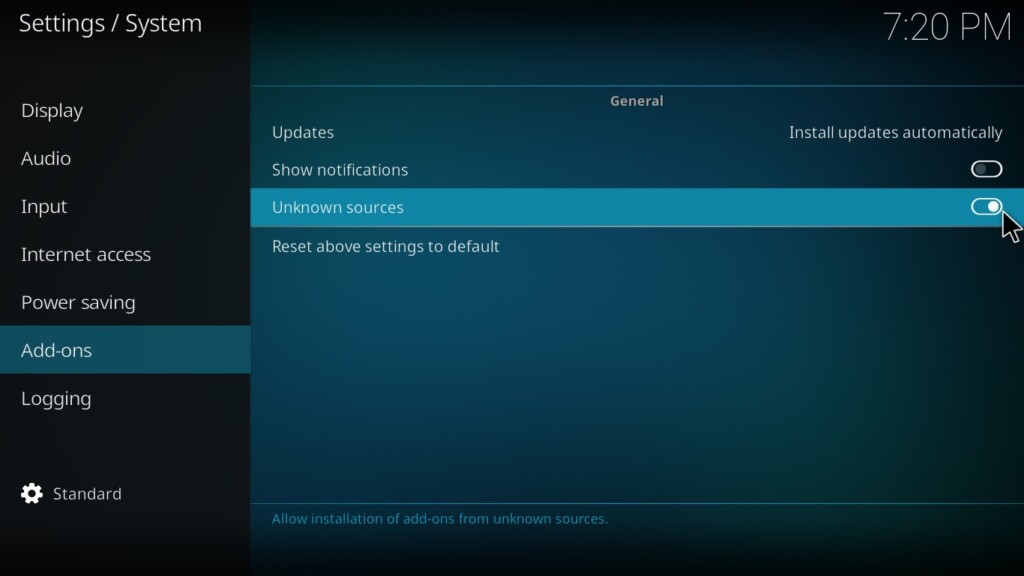 A warning pop-up will appear. Ignore it to accept the installations from unknown sources.
Installation Guide
Go back to System menu. Click on File Manager to access the source list.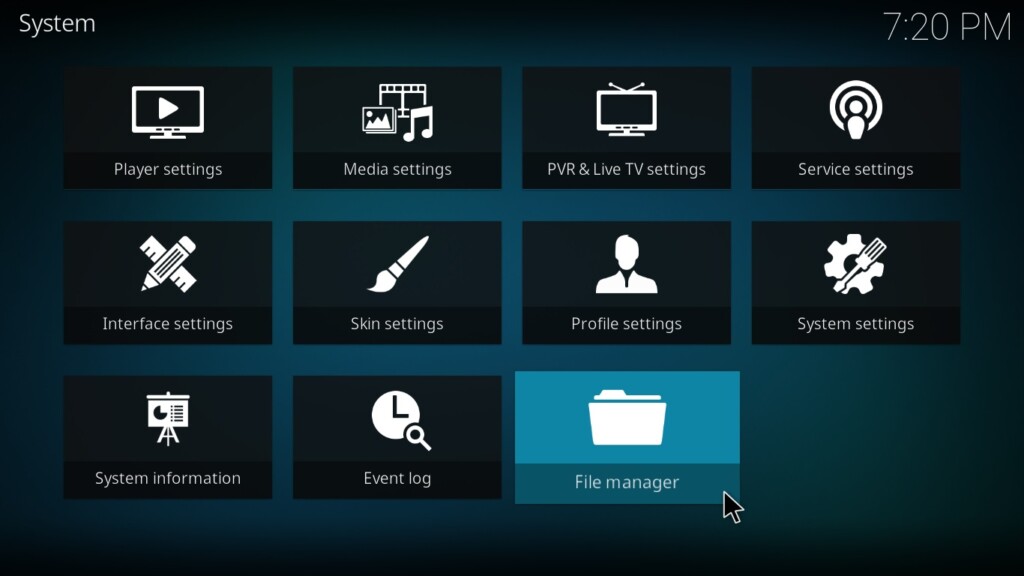 Select 'Add Source'. Double-click on it to add a new source.
A popup will appear with two text fields. First, click on the top text field '<None>';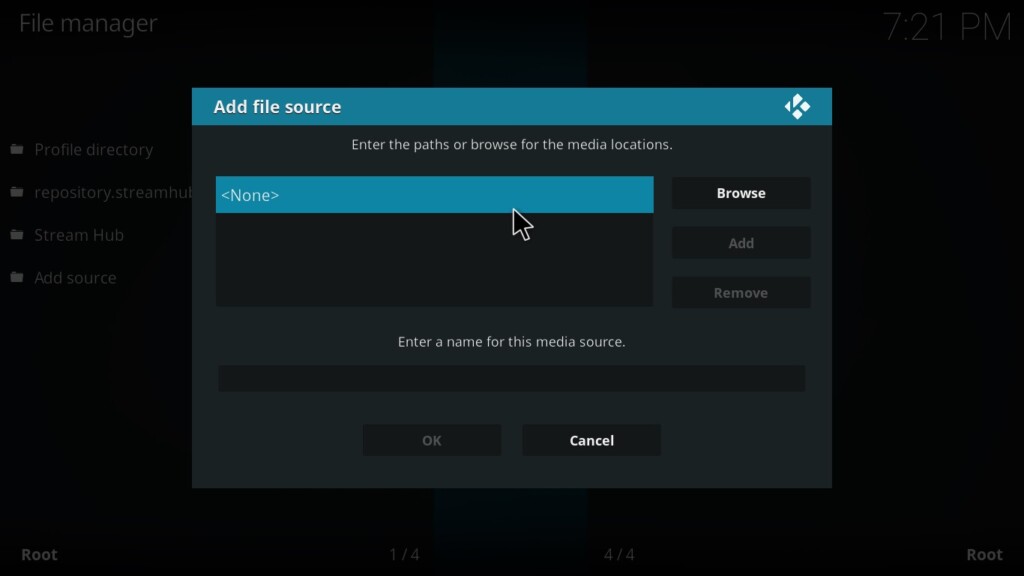 Second, rename the media source to 'Jayhawk' in the lower text field.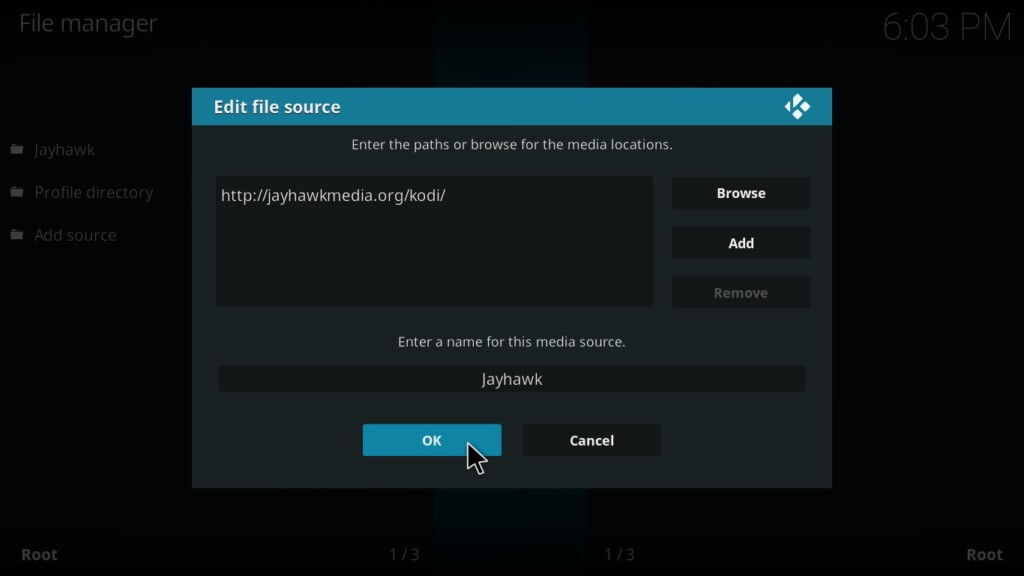 Confirm it by clicking on 'OK' to add a new file source to Kodi.
Now, you have downloaded the Jayhawk Repository, which we will install to access all the goodies in it.
Return to Kodi's home screen. Select 'Add-ons' and click on it.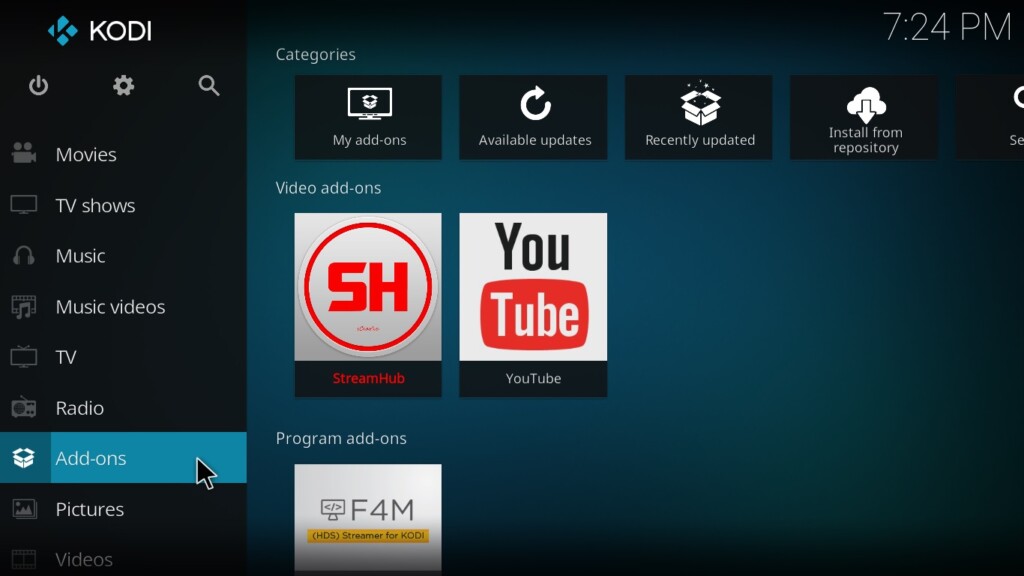 Click either on 'Enter add-on browser' or 'open-box icon', both will take you to the next menu.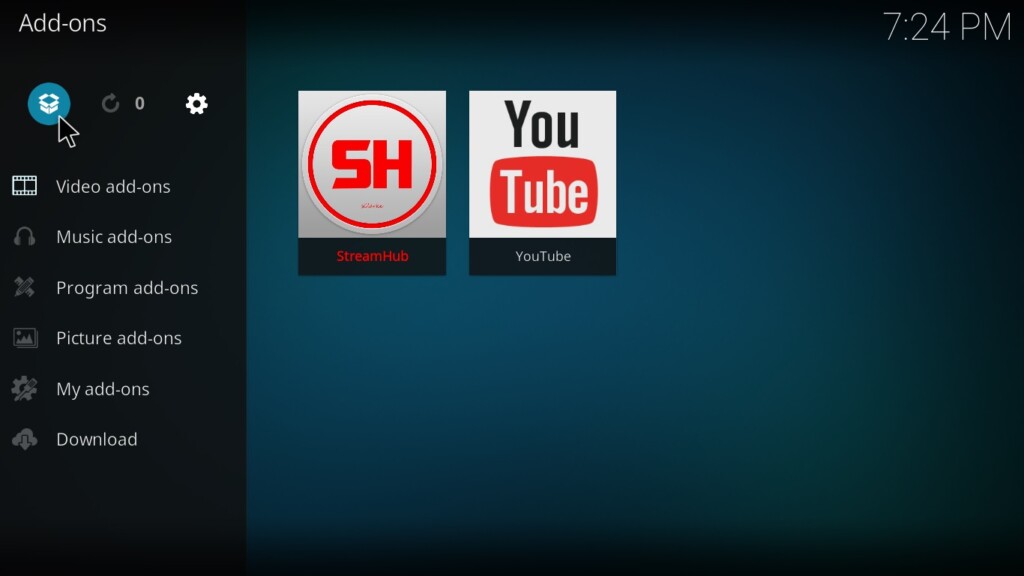 Locate 'Install from Zip file' on the right spread and click on it.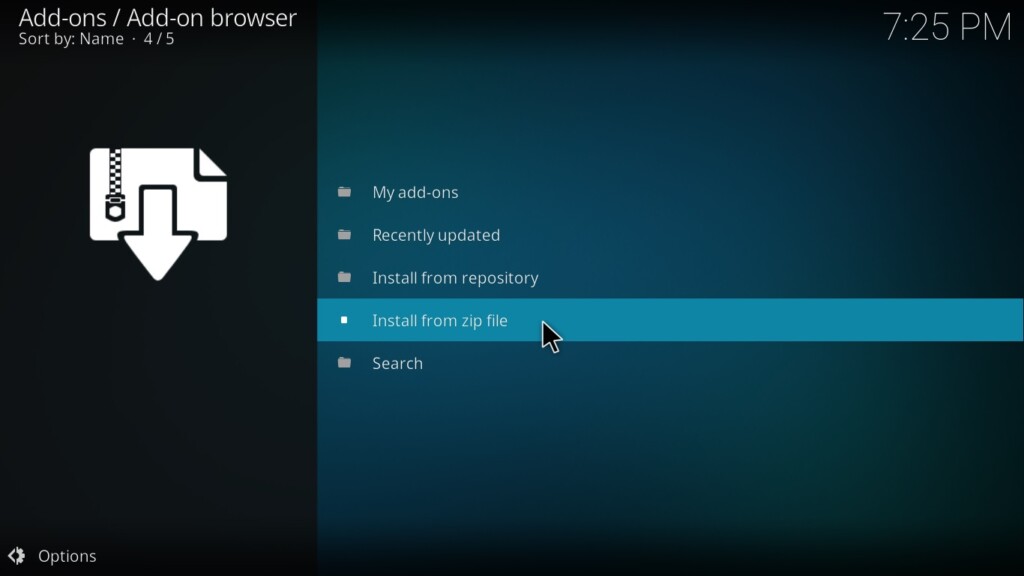 A popup will appear on the screen. Navigate to Jayhawk and click on it.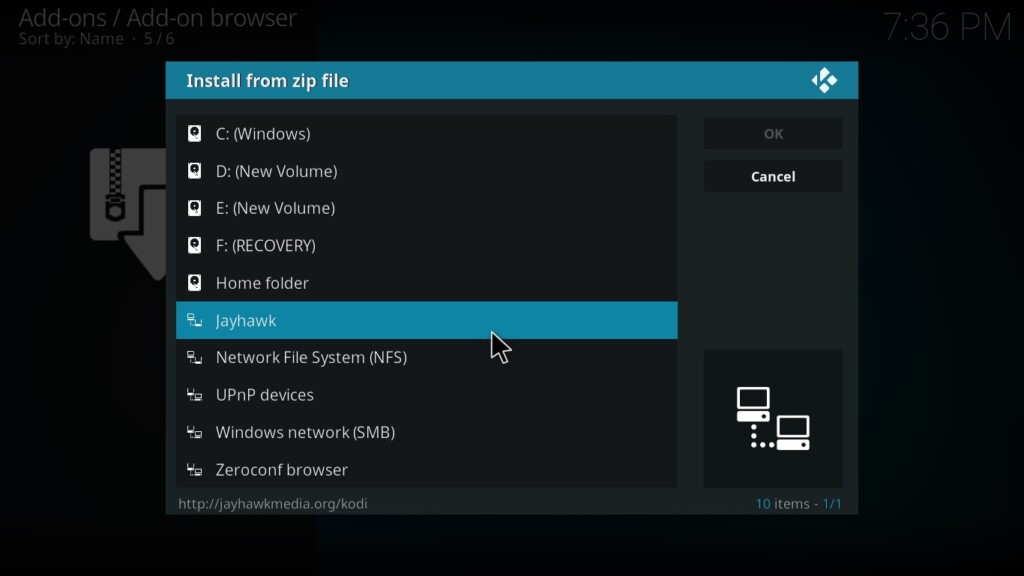 Now select 'plugin.program.jayhawkwizard.zip' and click 'OK' to confirm the repository installation. This installs the Jayhawk repository on Kodi.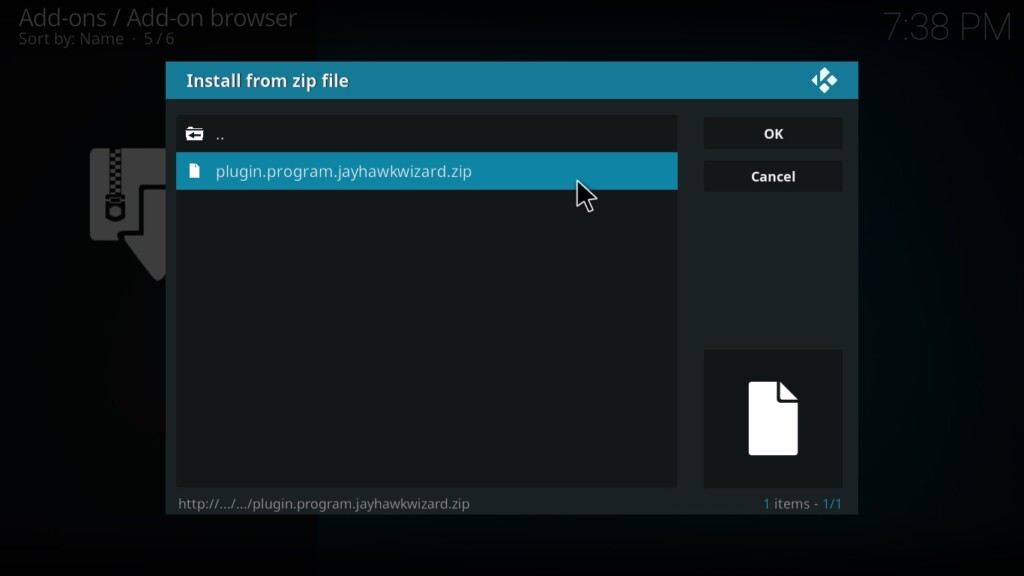 Now, wait for a popup in the upper-right corner, saying Jayhawk Media Wizard Add-on installed. This might take up to a minute, so be patient. By this, you have successfully installed Jayhawk Media Wizard.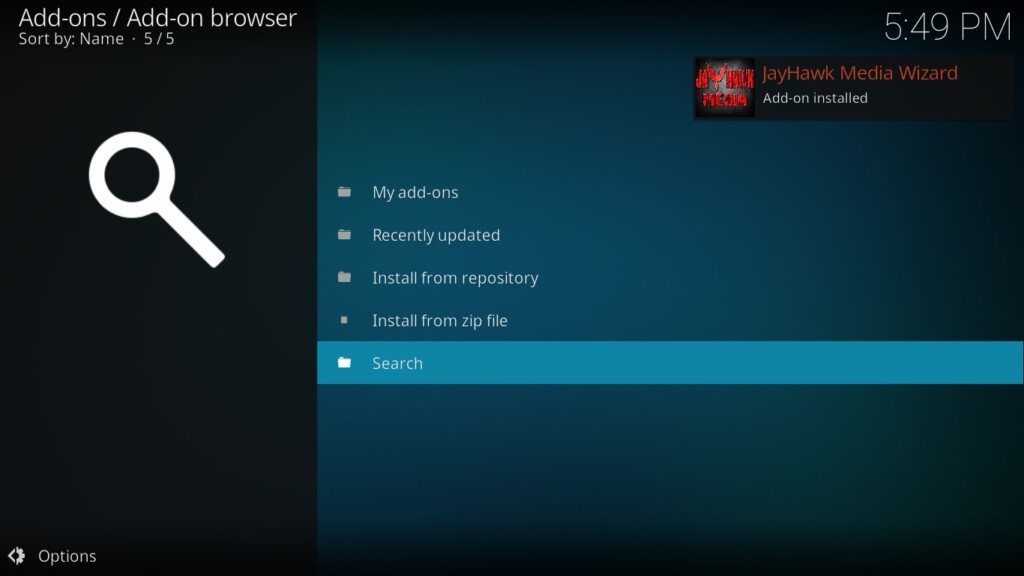 Proceed to Kodi's main menu and click on 'Add-ons.' Now Select Program Add-ons from the list.
Locate Jayhawk Media Wizard and click on it.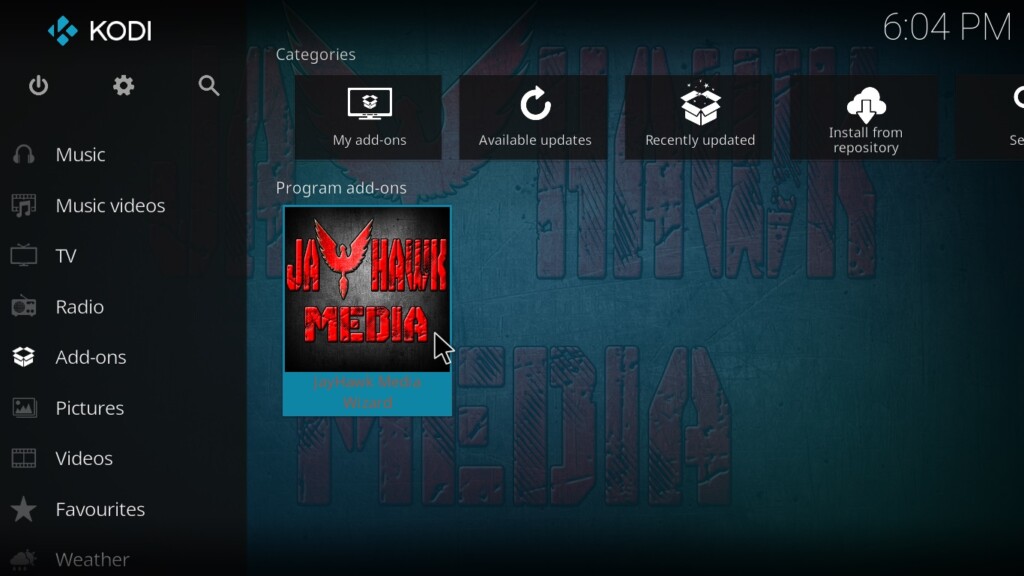 Go to the Open icon at the bottom left of the screen and click on it.
Locate the Jayhawk Media – Krypton Builds Menu and select it.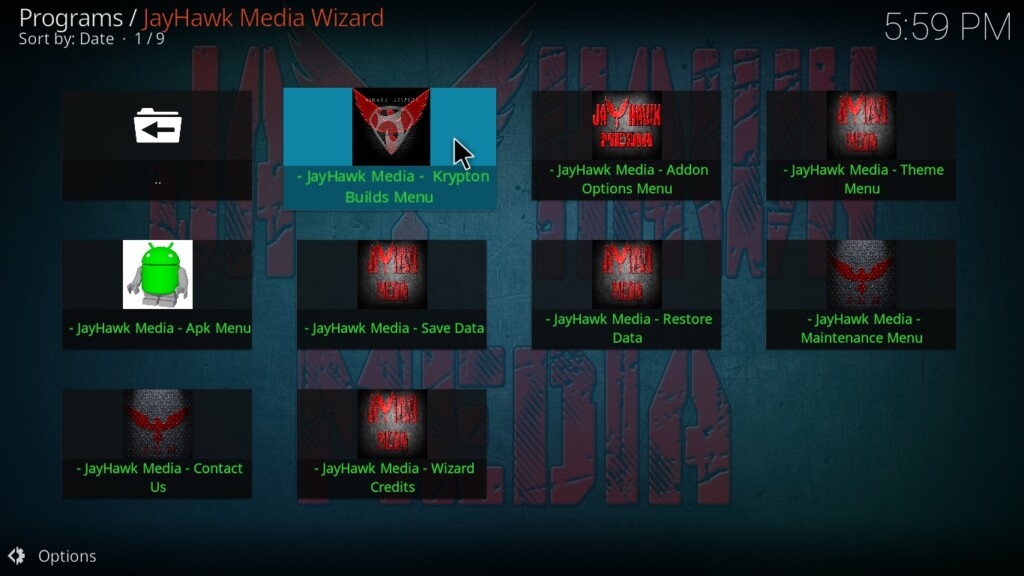 Click on Hawk's Master Build! v1.0.3 to install the Jayhawk 4-K17 Build. Or click on Hawk's Master Build-Adult- v1.0.3 for the build with adult add-ons.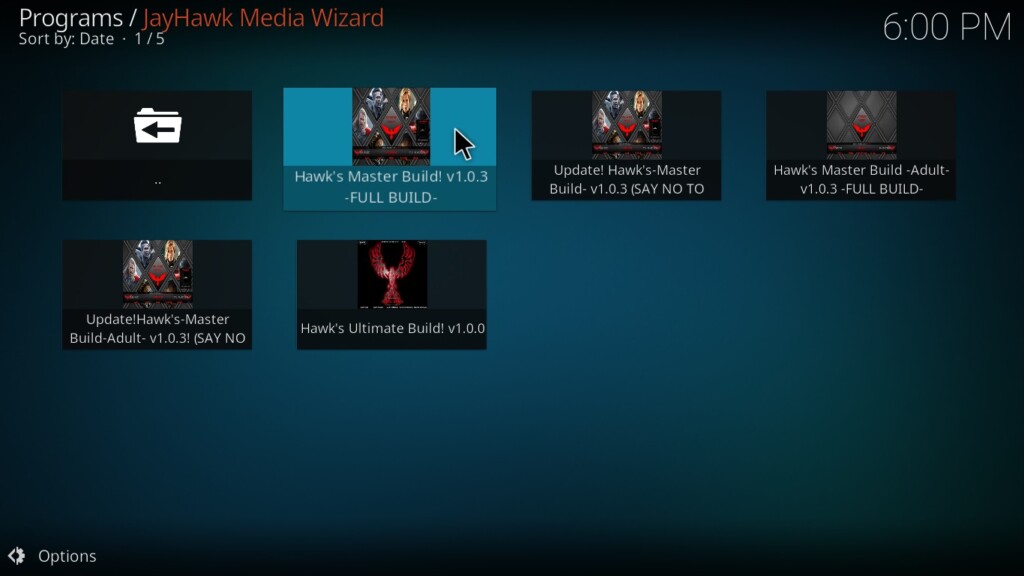 A couple of popups will appear on the screen. Deny the offer by clicking on 'Remind me later' and then click on No to run a Fresh Start.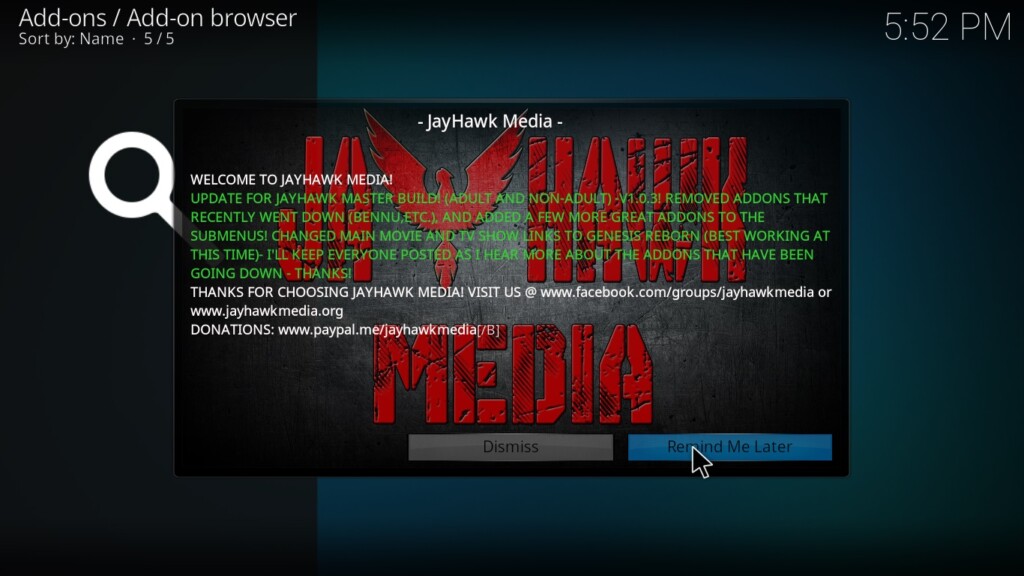 This will start the installation process. Wait until Jayhawk Media gets installed. It might take some time, so be patient.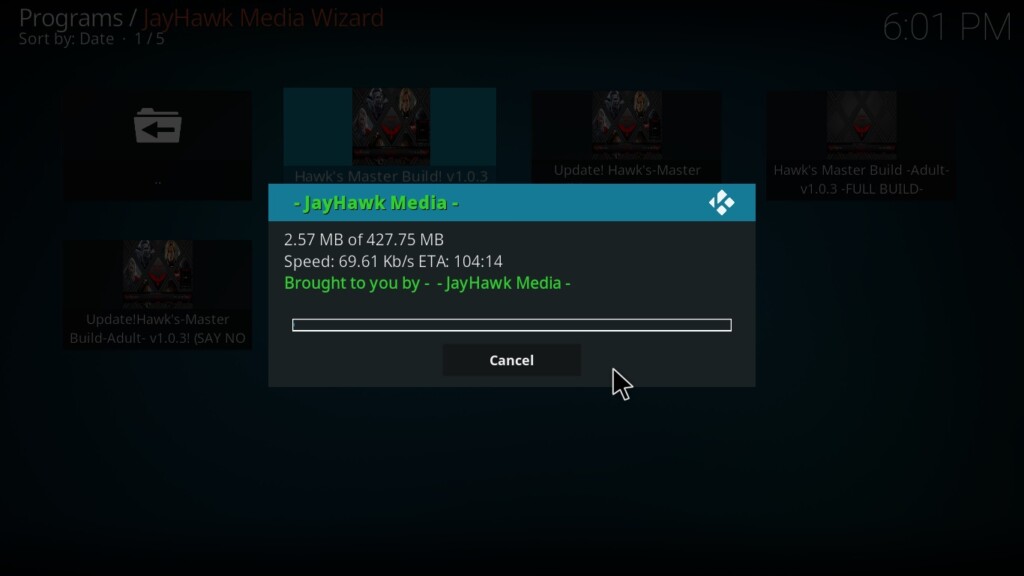 When the download completes, click on Ok.
Now, Kodi will ask your permission to force close itself. Click 'Yes Close' to force close it.
After the installation, restart Kodi to finish the procedure.
Congratulations! You've successfully installed Jayhawk Bild for Kodi.
Jayhawk Build Kodi: What to Expect?
Kodi forums are filled with Jayhawk Build's praise, declaring its splendor. It has a reputation for delivering what a Kodi user possibly wants, and it gets better when you find that Jayhawk Build is completely customizable. Yay!
To ensure that a user utilizes Jayhawk Build for Kodi to its full extent, Jayhawk Media provides multiple customizing and features right from the start. When you enter in Jayhawk Media Wizard, you'd be presented with multiple options; Krypton Builds Menu, Addon Options Menu, Theme Menu, Apk Menu, Save Data, Restore Data, Maintenance Menu, Contact Menu and Wizard Credits. While not all the options are equally important, each of them has its own objective to complete. The better news is they are organized into sophisticated categories which are pretty easy to navigate. Let's go taste the good stuff and go through its major categories.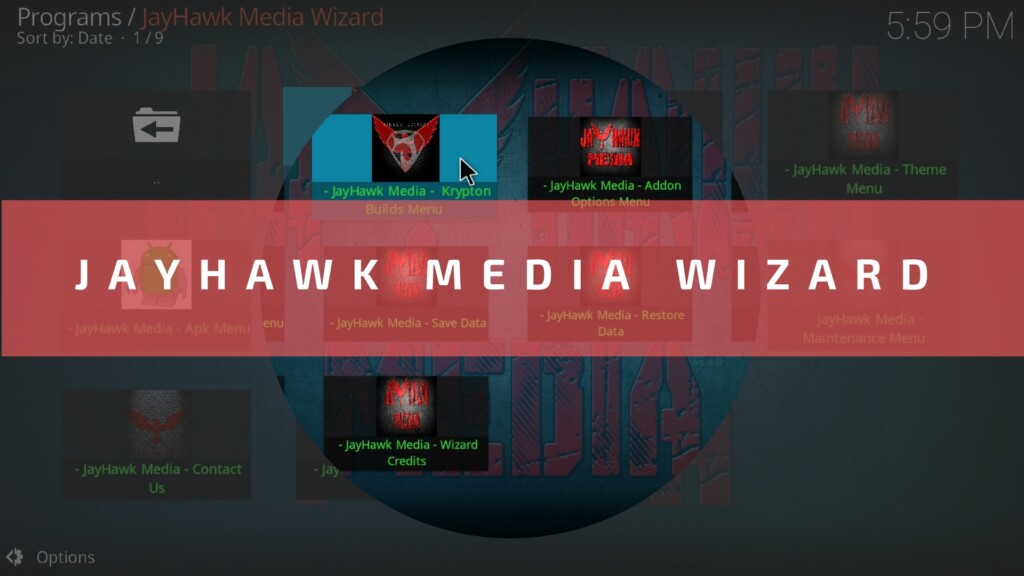 Krypton Builds Menu
This option is why we are here. It has all the Jayhawk builds for Kodi including the one with adult content – Hawk's Master Build-Adult V1.0.3-Full Build. The entire spread offers five options; the primary Jayhawk Master Build and its updated Build for the same, the adult build and its updated Build, and the previous version of Jayhawk Build for Kodi, version 1.0.0.
Addon Options Menu
This option gives some useful add-ons to enhance the interface of Jayhawk Build for Kodi. If you already aren't in love with the existing interface, and willing to modify it, this option will help you. It has a Panel widget add-on for both the primary build and the adult build and an add-on to turn-off the autoplay, again, for both the builds. There is one more add-on, Adult Live IPTV, for the adult Jayhawk Build. If you're into it, go for it. We aren't judging!
Theme Menu
Everyone likes to personalize what they use and this option is a functional proof that Jayhawk knows the importance of personalization. There are some good themes to turn and curve the colors and looks. Try them! Look for what suits you, and leave the rest for the others.
APK Menu
This section gives out Jayhawk Media Center application for Android devices. The application is available in two versions, the latest (17.2) and the previous (16.1). If you like what Jayhawk Media Build has to offer, get it on your mobile too, why not?
Others
There are other five options; Save Data, Restore Data, Maintenance Menu, Contact Menu and Wizard Credits, but has nothing major to offer, other than tune-up and data restore settings. Also, in contact menu, you'd find the mediums on which you can communicate with the developers. That's it!
What's Next: Additional Resources
With time, Jayhawk Build for Kodi has grown and matured into a stable platform–on which you can trust. With its massive collection, no doubt it's an interesting build to stream movies, tv-shows, music and sports-related content. But, as we easily get bored with what we have, resonating with inert human nature, it's safe if we suggest you other biggies of digital content. Here are our top picks;
Deliverance: There is nothing better to recommend than Deliverance Kodi Add-on to a die-heart fan of sports. Sports lovers can rely on this add-on for their highlights and live broadcasts.
Maverick TV: There are several options when it comes to all-in-one addons. There is a big list, but what almost always tops those list is Maverick TV Kodi add-on with its seamless functionality.
Flixanity: We can't deny the fact that there are enough people on the platform who just want to watch movies in high definition and pass out on their couch. To them, we recommend Flixanity Kodi addon.
Final Words
Jayhawk Build for Kodi is undeniably a great addition to the platform. Today, if you install this build on your Kodi device, it'd be the best decision for the day. There was an old proverb that said—quality doesn't come with the quantity. We think we need to show those old souls Jayhawk build for Kodi and prove them wrong. Sometimes, quality can come with quantity and this is a functional proof of it.
You can share your thoughts about Jayhawk build in the comment section. In case, you face any error during the installation, comment below to let us know. We're always here to help. Also, if you found this guide useful, kindly share it on social media. Let's help!