Yes, CyberGhost VPN is definitely a good choice for gaming. It has multiple servers in 91 countries that reduce ping time and help you bypass geo-restrictions to access any game you want.
Alongside, CyberGhost works on all gaming platforms, including PlayStation, Xbox, Nintendo, and supports parallel connections. So, you can play different high-graphics games on all of your supported devices while staying protected from DDoS attacks or swatting. 
Hence, whether you're trying to find bot Lobbies in Warzone or just want to stream your gameplay safely, you need CyberGhost VPN. Even if you're not a pro player and getting defeated by the opponents due to frequent lags and delayed gameplay, this VPN will help you with low latency to make a comeback in every match you play. 
There are more reasons why CyberGhost is considered one of the best gaming VPN services available at present. Go through our complete guide to learn them all. 
Does CyberGhost VPN Support Gaming?
Yes, CyberGhost VPN supports gaming. In fact, it enhances your gaming experience with maximum speed and security that you need to take down the other players in a match.
No matter if you're playing your hand in an online poker event, want to excel in battle royale matches, or just win the race in a game like iRacing, CyberGhost VPN will help you do it smoothly. 
Not only speed, but this VPN also masks your real IP and location to keep your identity hidden on the web. So, you can bypass any kind of network surveillance and play your favorite game, even on an office or school Wi-Fi. 
What Makes CyberGhost VPN Good for Gaming?
CyberGhost VPN has many perks that offer you an uninterrupted gaming experience. Starting from low ping time to dedicated IP on all servers, every feature works together to make CyberGhost VPN completely compatible with the most popular games. 
Here we've provided a list of key features that make CyberGhost one of the best choices for gaming. Have a look.
High-Speed Servers
As mentioned, CyberGhost VPN has thousands of servers in 91 countries, and it is constantly adding new servers to its network to provide users with better reach. That's why you always get multiple options while connecting to a VPN server in your preferred location. 
This way, you can ensure low ping and latency no matter what game you're playing. All you have to do is, pick the nearest VPN server to the game server to make sure your traffic travels without any packet loss and you get maximum speed in return. 
Unlimited Bandwidth
Many VPN providers claim to offer unlimited bandwidth these days. But they actually allot a certain amount of data usage on all servers that eventually limit data for all connected users. 
But, CyberGhost VPN servers provide truly unlimited bandwidth. So, no connected user faces interruptions even while accessing high-quality game files. Along with that, you get to enjoy long hours of gaming sessions without facing any lag or freeze. 
Advanced Protocols
CyberGhost VPN uses three different protocols, i.e., OpenVPN, IKEv2, and WireGuard. All these protocols offer the best protection to your gaming traffic. But you need to choose the right protocol depending on what device you're using. WireGuard is so lightweight that it fetches the response to your query in seconds and works best with Windows PC and smartphones.
In turn, you get to experience high-speed gaming no matter what network you're using. On the other hand, OpenVPN works as a concrete shield when you bypass geo-blocks to access your favorite game. And the IKEv2 protocol ensures macOS users can also have the same gaming experience.
Top-notch Security
CyberGhost VPN uses military-grade encryption to make your traffic data unreadable to third parties. It ensures your data is turned into a ciphertext that any random tech geek can't decode.
That's why your connection always stays secure no matter what network you're using. In fact, nobody can recognize your gaming traffic, including your ISP and network admin. So, you face absolutely zero network throttling irrespective of how long you're playing.
No-Log Policy
CyberGhost VPN follows a strict no-log policy and keeps publishing transparency reports for user satisfaction. Under this policy, the provider never tracks your browsing activity.
Also, your browsing history doesn't get stored on its servers. So, neither your ISP nor the government can ever know what you are doing online.
Multi-Platform Support
CyberGhost VPN works on multiple platforms that enable you to play different games on all of your devices. Yes, you can install CyberGhost VPN on Windows, macOS, Android, iOS, along with all gaming platforms. 
CyberGhost VPN offers Smart DNS technology that helps you spoof your location on VPN non-supported devices without actually installing a VPN on them. However, you can always install this CyberGhost VPN on a VPN router and share the connection with your gaming consoles to have maximum security. 
VPN Kill Switch & Leak Protection
VPN kill switch along with DNS and IP leak protection are some of the most important features that every VPN should offer on all supported devices. Both these features are available on CyberGhost client apps.
However, the network kill switch is important because it stops the traffic flow whenever the VPN connection drops. And, in case of leak protection, it ensures your ISP or network admin can't identify your real IP when the VPN gets disconnected. If you like to have quick matches while connected to public Wi-Fi, these features are going to safeguard your personal details. 
24X7 Live Chat Support
This VPN renders 24x7 customer support services that resolve your issues promptly.
If you ever face any issue with your VPN speed, reach out to the support team to continue with fast-paced gaming. Even if it's not speed and you have some other queries, get those answered by the Support team.
How to Use CyberGhost VPN for Gaming?
1. First, Visit the CyberGhost VPN subscription page.
2. Next, hit the Get CyberGhost VPN button and choose a subscription plan on the next page.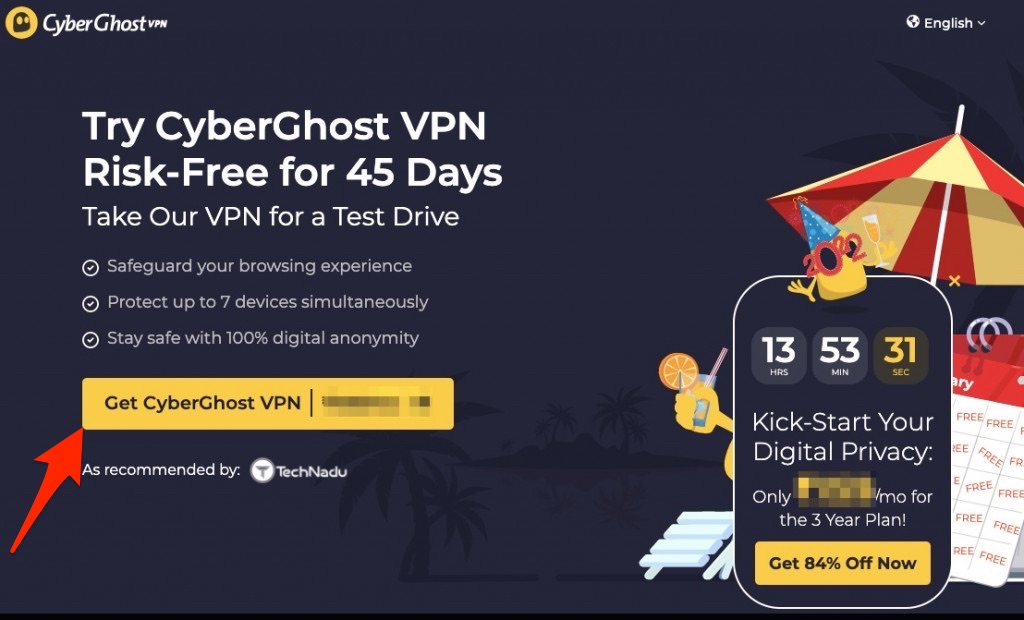 3. Then, submit your required details to complete the purchase. 
4. Once done, you'll receive a confirmation email.
5. Visit the CyberGhost official website next and hit the My Account button from the top right corner.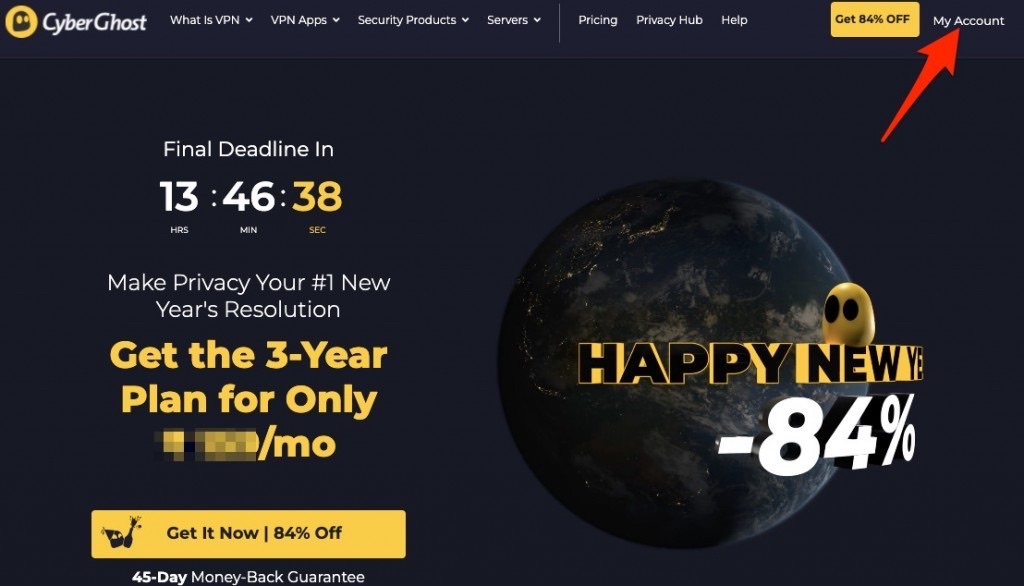 6. On the next screen, enter your Username and Password to Log in.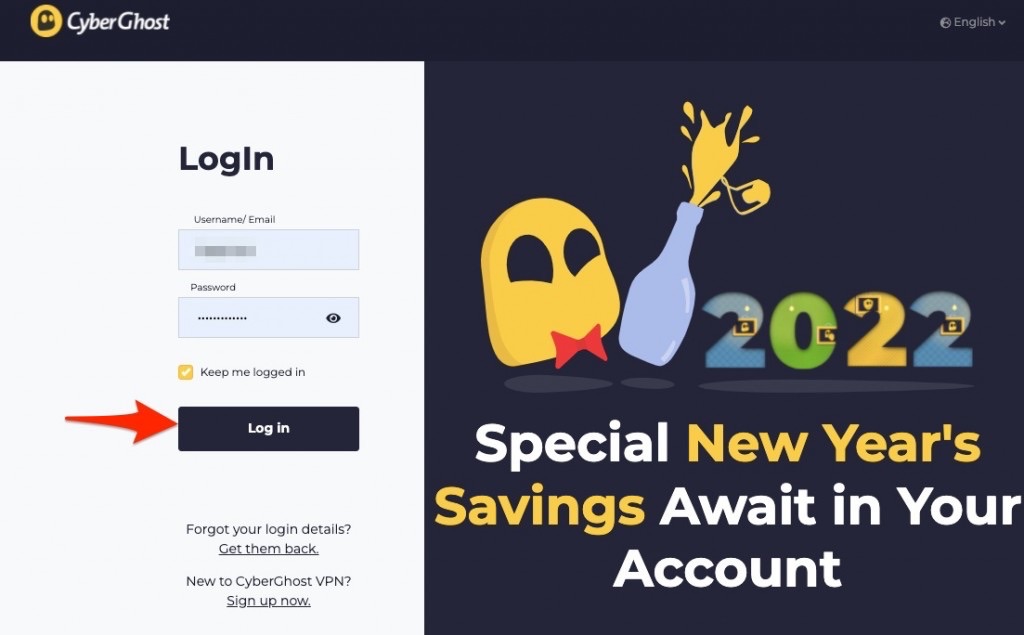 7. When you access your dashboard, navigate to Download Hub and download the CyberGhost setup file for the device you want to use for playing.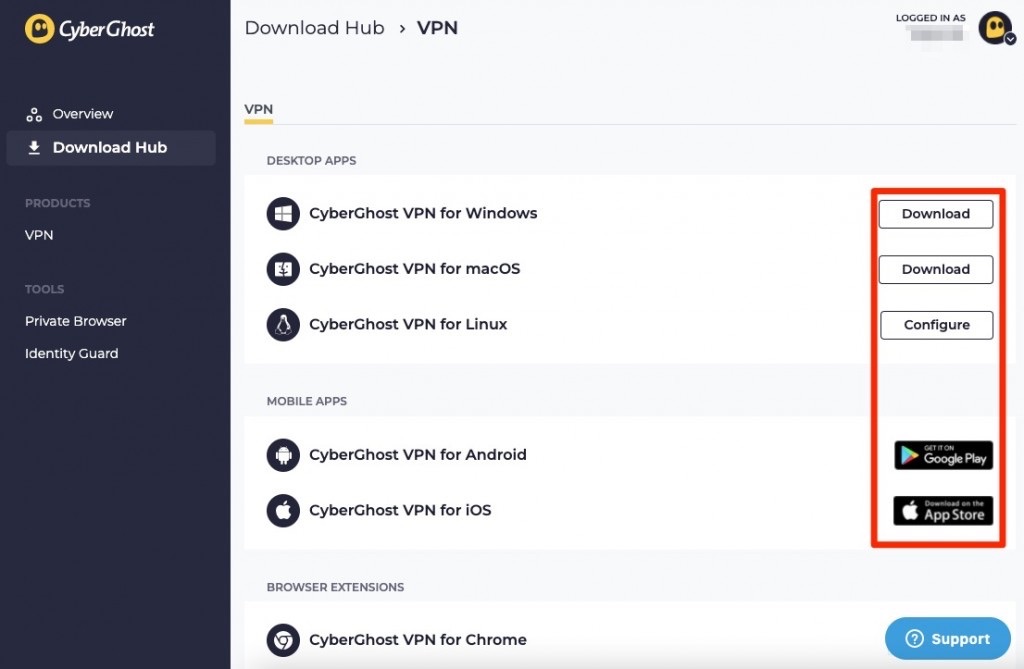 8. Once CyberGhost installation is done, expand your app interface and move to the Select Server section.
9. Choose All servers from there and double-click on the server that's located in your preferred country.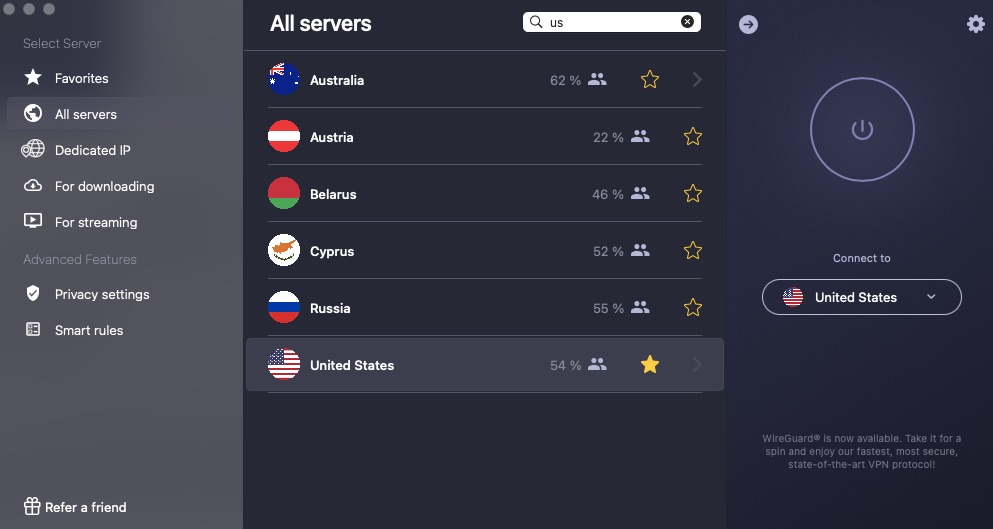 10. Now, your status will turn into connected, and you can easily access the game you want.
If you're using a gaming console, you have to share your VPN connection from the router. For that, each time you want to change your server location, you have to download a new OpenVPN configuration file from your CyberGhost online account.
Further Read: How to Download, Install, & Use CyberGhost VPN
Is CyberGhost VPN Safe & Legal for Gaming?
Yes, CyberGhost VPN is safe and legal to use for gaming. If you're traveling to a country like China that has stringent network laws, you may have to be a little cautious while using a VPN. 
But that won't lead you to face any consequences as CyberGhost VPN offers all the security measures required for keeping you anonymous on the web. 
That's all! Now you know whether or not CyberGhost VPN is a good choice for gaming. If you still have any queries, drop us a comment through the below button. And, if you want to know about all the benefits of using CyberGhost VPN, check our complete review. Thanks for reading!