When choosing between different VPN brands, it's natural to go for those with a long history of helping their users secure their online privacy. And even though VPNs have been in use for a few decades now, we've only just recently begun seeing hugely popular commercial VPN brands. With this said, we're sure that many of you haven't heard about IronSocket before. However, this brand has a long history, as it started its life back in 2005. Of course, plenty has changed during the last 14 years and the Web is no longer the same as it used to be. With this said, we'll be doing a deep review of IronSocket VPN to check whether this service is worth the money.
First of all, you should know that IronSocket has two services. You can use its 'DNS Proxy' free of charge, which gives you the ability to unblock a number of media streaming platforms. However, this technology still leaves all your personal information exposed on the Web. Then, there's 'IronSocket VPN' (premium priced) – which we'll review in this article. By using 'IronSocket VPN' you get the needed protection for your Web data along with the 'DNS Proxy' feature for unblocking websites.
Before we start talking about different aspects of this VPN service, we'd like to introduce you to IronSocket first. That's why we've prepared three handy tables for our introductory segment, so make sure to take a quick look.
As you most probably know, many VPNs are capable of unblocking websites and media streaming services. With this said, we've done a round of tests and here are the results.
The final table in our introductory segment is here to give you an overview of the most prominent pros and cons to using this VPN service. If you don't have the time to read this entire article, we're sure you'll find it to be helpful.
Finally, join us as we explore IronSocket VPN in-depth. We promise that by the end of this article, you'll know all there's to know about this VPN service.
IronSocket VPN – TechNadu's Hands-On Review
Wondering about how we review VPN services? Well, we have a uniform structure that ensures we get objective results when testing each VPN. To learn more about this process, make sure to click on the provided link.
Background, Jurisdiction & Reputation
IronSocket VPN comes from Hong Kong. It's a descendant of HideMyNet.com, which launched all the way back in 2005. Our Score: 9/10.
Just like other types of business entities, VPNs also must respect the laws of their home country. Since VPNs handle personal data, you'll want to make sure that someone else isn't forcing your VPN to collect more than what's absolutely needed.
Jurisdiction & Applicable Laws
Interestingly enough, IronSocket VPN is a direct successor to HideMyNet.com, which was a proxy service allowing its users to hide their IP and unblock a few websites. HideMyNet launched in 2005 and according to its founder, Thomas Sensel, it had thousands of subscribers in more than 100 countries. Then, in 2013, IronSocket VPN launched and replaced HideMyNet – bringing numerous changes along the way.
Initially, HideMyNet was based in the United States of America. However, founder and former CEO of this Web proxy service recognized the importance of moving its VPN business outside the US borders. Just in time for the launch of IronSocket, it was announced that HideMyNet had been bought and acquired by 'Pusa and Daga, Hong Kong Limited'. With this said, it's clear that IronSocket comes from Hong Kong, which is considered to be a safe haven for VPN providers. It's not part of the 14 Eyes Alliance and it doesn't share its laws with China (contrary to the popular opinion). However, China's influence over Hong Kong should not be underestimated (in the long run).
Previous Data Leaks
We are happy to say that we couldn't find any reports about IronSocket leaking data or suffering a data breach. This means that this company knows how to handle your sensitive information and to protect it from getting into the wrong hands.
Supported Platforms & Devices
IronSocket brings only a native Windows application. This means that you'll need to configure it manually on any other platform and VPN routers. Our Score: 2/10.
Ideally, you want a VPN service offering native apps across the board. That's because the easiest way to get started with a VPN is by installing and then using their native applications. So, here's what IronSocket offers.
As you can see, IronSocket currently offers a single native application – designed for Windows. By using this application, you can utilize this VPN service as well as its DNS Proxy feature (using the same UI). When it comes to other platforms, you need to use third-party solutions to make use of IronSocket.
In terms of MacOS, Android, and iOS – you can use the OpenVPN application to manually apply this VPN's OpenVPN protocol configuration. Even though IronSocket says that they're building native applications for all those platforms, we've been waiting on these apps for 5+ years now. Therefore, there's no valid excuse for not bringing these applications to their users.
Finally, you should know that IronSocket is compatible with VPN routers as well. Tech-savvy users will be happy to know that by installing this VPN on a router, they get to use a single empty slot. And also, you can use this VPN on up to 3 devices at the same time.
Installation & Initial Configuration
On Windows, the installation is very simple. However, you need to configure IronSocket manually on other platforms, which can be somewhat tedious to do. Our Score: 3/10.
As you can expect, you first need to get an IronSocket subscription. During the sign-up process, you'll need to enter your email address and create a password. Once the sign-up procedure is done, you can either log-in to your account or simply download the app from its official website (for Windows). Installing the application is simple and it takes only a few moments before you start using IronSocket.
Since this VPN has no native apps for MacOS, iOS, Android, and other platforms, you'll need to use a third-party solution. In general, you can install the OpenVPN application on your device. Then, return to your user account on the IronSocket website to see how to set up this application. This method works and you'll get to encrypt your Web connection by connecting to various servers – however, this can never replace a highly polished native VPN application.
Prominent Features
IronSocket covers the basic features quite well, designed to protect your privacy. However, you won't find any advanced or unique features here. Our Score: 6/10.
You must be wondering what kinds of features you'll get with this VPN? Is IronSocket a basic VPN, or perhaps it's made for advanced users? Let's find out!
We can see that IronSocket covers the basics well. You get DNS leak protection as well as IPv4 leak protection. Also, your IPv6 traffic is protected – but we believe this protocol to be disabled on the servers offered by IronSocket. This means that there's no true IPv6 filtering, but you'll get the next best thing.
When it comes to more advanced options, IronSocket offers a kill-switch designed to prevent your data from being exposed if a secure connection becomes unstable. There are no split-tunneling, ad-blocking, or methods of fighting against trackers or malware. Therefore, we think of IronSocket as a basic VPN service without any bells or whistles.
We shouldn't forget to mention that IronSocket is actually a 2-in-1 VPN solution. Aside from the standard VPN features, it comes with Smart DNS, HTTP, and SOCKS5 proxies. These are designed to unblock websites (media streaming services, primarily) and they don't protect your private data.
Server Count
IronSocket comes with one of the smallest server networks we've seen yet. It's spread across 38 countries and (luckily) you can connect to individual units. Our Score: 3/10.
So, how many servers does IronSocket offer? We've taken a close look at its list of available servers, so here's what you need to know.
IronSocket comes with a very limited server network, consisting of 90 units spread across the planet. To put things into perspective, we need to say that top-rated VPNs come with 3,000 to 5,000 servers – so you can see what you're dealing with in terms of IronSocket. Still, we think that average home users should be happy with 90 servers on offer, even though this typically means that you can expect heavy throttling.
It's also worth noting that you can connect to specific cities. However, make sure to visit the application's settings to enable this option. If you don't do that, you'll get to connect to specific countries only (and IronSocket will automatically find the most suitable server).
Ease of Use
Even though it comes with an outdated UI, IronSocket is easy to use. Even advanced users are going to like the level of fine-tuning this VPN offers. Our Score: 8/10.
IronSocket comes with a very simple (rudimentary, even) interface. Upon launching the application, you will see three tabs at the top: VPN, DNS Proxy, and IP Whitelist. These are three equally useful parts to this VPN solution, so let's see what can be done using each of those.
VPN: This is where you need to enter your username and password. Then, select a server from the dropdown menu, and finally hit the 'Connect' button. It takes around 30 seconds for the secure connection to be established, and you'll see when that happens. IronSocket offers real-time stats, so you can see the duration of your connection, how much bandwidth you're spent, and other useful information.
DNS Proxy: If you just want to unblock websites, you can use the IronSocket DNS Proxy. Select the location of two proxies and use the 'Enable' button. After a few moments, new proxies will be applied and you'll get to unblock your favorite geo-restricted websites.
IP Whitelist: You'll want to whitelist your IP address to be able to use IronSocket up to its full extent. This is done by creating a client token on the IronSocket official website and this feature allows you to whitelist your IP by using DNS, HTTP, or SOCKS5 proxy.
To dive deeper into this application, click on the cogwheel icon in the top-right corner. This will open a settings panel with five tabs on the left-hand side. Here's a quick explanation of each of these tabs.
Application: This tab lets you run IronSocket on system startup, change from 'simple' to 'advanced' modes related to its VPN and DNS Proxy functionalities, and change how the application behaves.
VPN Settings: When it comes to VPN settings, you can choose to connect on startup, and enable several highly useful options including DNS leak protection, drop protection, and the application's kill-switch.
OpenVPN & L2TP/PPTP: IronSocket offers an easy way to fine-tune your experience by altering OpenVPN, L2TP, and PPTP settings. We suggest you dive into these options only if you know what you're doing.
About: The name says it all – this is where you can check which version of IronSocket you have installed on your Windows PC.
IronSocket doesn't bring the most polished UI out there. In fact, it brings one of the most outdated UIs we've seen for a long time now. However, it gets the job done. We also liked the fact that some fine-tuning is available, which is what more advanced users want.
Media Streaming & Torrenting Support
IronSocket is a capable solution for unblocking media streaming websites. It also supports torrenting – but in a limited form. Our Score: 9/10.
One of the biggest selling points of IronSocket is its 'DNS Proxy' service – designed to help you unblock media streaming websites. We've tested this feature with the world's most popular streaming platforms, and here are the results.
IronSocket is truly a capable solution for media streaming. We managed to unblock Netflix, Hulu, BBC iPlayer, and Amazon Prime Video – in addition to a whole slate of other websites. According to the IronSocket website, this service works with 200+ streaming services. However, you can unblock all those websites via 'DNS Proxy' offered by IronSocket, a feature that can be accessed free of charge. This means that media streaming unblocking can't be attributed to this VPN's set of features, which is actually one reason less to pay for this tool.
It is also worth noting that IronSocket offers a small selection of P2P-friendly servers. However, we strongly recommend you stick to legal torrent files and avoid copyright infringement. All of these actions are against this VPN's 'acceptable use guidelines' document.
Security & Privacy
Even though IronSocket comes with capable VPN protocols – it also collects plenty of information. Not recommend for privacy-conscious individuals. Our Score: 5/10.
Let's not forget that the main goal of any VPN is to protect and safeguard your personal data. As this is done via different types of encryption and VPN protocols, we'll check that side of IronSocket.
Supported Encryption Protocols
IronSocket offers three VPN protocols. There's OpenVPN, which is the safest protocol right now. It runs on 1,024-bit encryption – which means that no one will be able to 'read' your data. Then, there's L2TP backed up by 256-bit AES. And finally, there's PPTP protocol (the least secure option) that is based on 128-bit encryption over 'GRE' protocol #47.
In case you need the best possible protection for your Web data, we recommend using OpenVPN – and luckily, this protocol is offered by IronSocket on all of its supported platforms.
Logging Policy
On the official IronSocket website, you'll find plenty of marketing messages saying that this VPN collects no data. More precisely, the website says that IronSocket collects no PII information, they don't use your information in any purpose other than to offer you their VPN services – and they don't sell or trade your PII information. However, this company's privacy policy paints a somewhat different picture.
By using the IronSocket website and its VPN service, plenty of PII information is collected. This includes your IP address, your email, password, details about your subscription choices, time and date of each session, the IP used for each session, as well as the information related to your bandwidth and data spending. This information is stored for a 'limited period of time, usually 72 hours'.
If you truly care about your privacy, you need to get a certified 'no logs' VPN. Sadly, IronSocket isn't such a VPN provider.
DNS Leak Test
We're pleased to report that we found no DNS leaks. As you can see from the image above, IronSocket hides your true information and displays your virtual information only. This means that third parties will only see your 'fake' IP address, hostname, country of origin, and other information.
Speed & Performance
In general, IronSocket VPN comes with fast, smooth, and fluid performance. It's not the fastest VPN out there, but it's quite competitive in this aspect. Our Score: 7/10.
You're surely wondering what kind of performance you'll be getting? Well, we've checked the speed of several IronSocket servers, and here are the results.
First and foremost, we needed to establish some baseline data for this comparison. This included testing the speed of our Web connection, without having IronSocket VPN enabled. As you can see, we managed to get 6.92 Mbps for downloads and 3.15 Mbps for uploads.
The next round of testing included checking the speed of a nearby server. We used IronSocket to connect to a server in one of our neighboring countries (we're based in Europe, by the way). Here are the results – we got 4.76 Mbps for downloads and 1.78 Mbps for uploads.

Finally, we also connected to a server located in the USA (which is a remote location in our case). This time around, we got 3.96 Mbps for downloads and 2.37 Mbps for uploads. To make sense of all those numbers, we'll present them neatly through the following table.
We'll end this segment by saying that IronSocket slowed us down by 37% on average. You can easily find a number of VPNs that come with better performance. However, in terms of its speed, IronSocket an above-average VPN.
Customer Support
Despite not offering a live-chat feature on its website, IronSocket comes with plenty of resources that can answer all your questions. Our Score: 8/10.
When buying any premium-priced digital product (or a subscription), you need to pay special attention to what kind of customer support you'll get. This is especially true for VPN services, as these are highly technical solutions. So, here are all the ways that IronSocket can assist you.
First and foremost, there's a group of helpful written resources. This includes a nice range of frequently asked questions and there's also a handy series of installation guides. Then, IronSocket allows you to learn about different aspects of this service to make it work for you the best it can. This means checking out both VPN and DNS Proxy setup guides as well as guides for unlocking different media streaming services.
Finally, there's a contact form on the IronSocket website. You can use it to contact the customer support team and open a new ticket. As you can see, the only thing that's missing here is live chat.
Pricing
Even though IronSocket comes with affordable pricing via different subscription plans, we can't say that it brings plenty of value. Our Score: 4/10.
At the moment, IronSocket comes with 3 subscription plans. They all have the same set of features – and their difference is in their duration and price. So, here's a handy overview.
By getting the monthly subscription to IronSocket, you'll pay $6.99 per month. However, there are some hefty savings in the annual subscription plan. This one allows you to subscribe to IronSocket for only $4.16 per month, letting you save 40%.
Even though paying $4.16 per month doesn't sound like a lot, we have to say that we're disappointed by the overall value this VPN brings. It's biggest selling point is website unblocking (media streaming platforms, in particular) via 'DNS Proxy' – which comes free of charge. This means that you'll be paying for encryption and getting your Web data protected. For the price of $4.16, you can easily find VPNs that offer plenty more.
It's important to note that you can pay via credit cards, PayPal, and Bitcoin. If you seek anonymity (but don't want to use a cryptocurrency), you can even pay via gift cards. And finally, please note that IronSocket comes with a 7-day money-back guarantee.
Do We Recommend IronSocket VPN?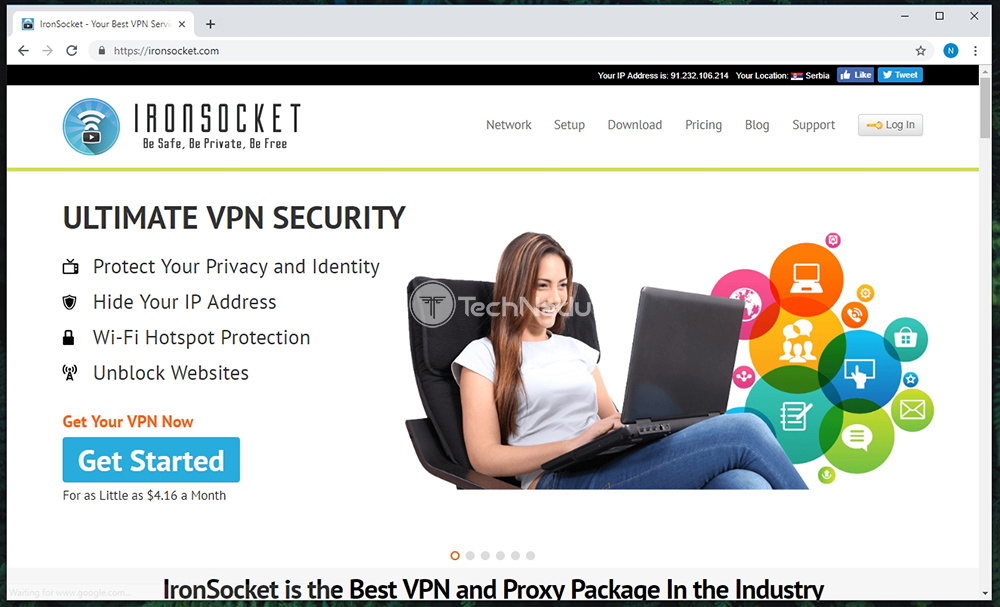 In general, we can recommend IronSocket to average home users interested in media streaming. The biggest obstacle to using this VPN is the lack of native applications. More advanced users seeking total online privacy can find numerous better options out there.
PROS: Unblocks plenty of websites; Great for media streaming; Reliable performance; Secure VPN protocols; High-end encryption.
CONS: Overly small server network; Logs PII information; Supports Windows only (natively); Somewhat outdated UI; Missing live-chat.
OUR SCORE: 5.8 out of 10!
In case you're intrigued by this VPN, make sure to check out additional information about IronSocket. The provided link will take you to this VPN's website. And if you'd like to explore other options, you can read our articles on the best VPN for streaming as well as about the best VPNs overall.
In case you liked this review, we'd like to ask you to share it on the Web. And to stay on top of the latest VPN-related coverage, don't forget to follow us on Facebook and Twitter.