No matter if you're looking for a general live TV streaming service or if you're after a capable sports-focused option, Hulu + Live TV will meet your needs. This is one of the most popular services of its kind – which comes with a significant restriction. It's true – this platform doesn't work outside the USA. However, that is something you can change, and we're going to show you how that's done. So, here's how to watch Hulu + Live TV outside the US in 2021.
Where Is Hulu + Live TV Available? 
Just like the regular Hulu on-demand library, Hulu + Live TV is available in the United States only. At this time, this streaming service is not available elsewhere, and that also includes US territories and US military bases. 
We'd also like to note that while Hulu plans an international launch this year, the same will not happen with its Hulu + Live TV division. Obtaining broadcast rights for US channels to be live-streamed across the world is a vast undertaking, which is why we believe that Hulu + Live TV will remain exclusive to the USA for a while longer.
How to Watch Hulu + Live TV Outside the US – (While Traveling / If You're Subscribed)
First, let's explain how to access Hulu + Live TV from outside the US if you already have a subscription. This will allow you to watch Hulu from abroad while traveling.
Important
Unfortunately, you can't subscribe to Hulu + Live TV if you're outside the US. For that purpose, you need a payment method associated with a US bank or other financial institution. That's why you need an existing Hulu + Live TV subscription for the following procedure to work. 
1. You need a VPN first, so we highly recommend subscribing to ExpressVPN. 
2. Once you get to the VPN's website, click on 'Get ExpressVPN.'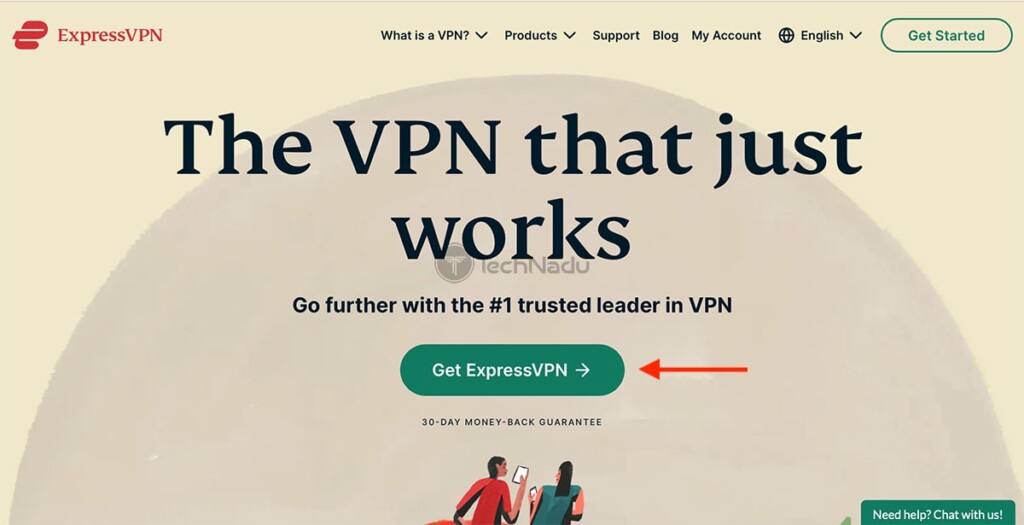 3. Pick a subscription (long-term ones come with significant savings).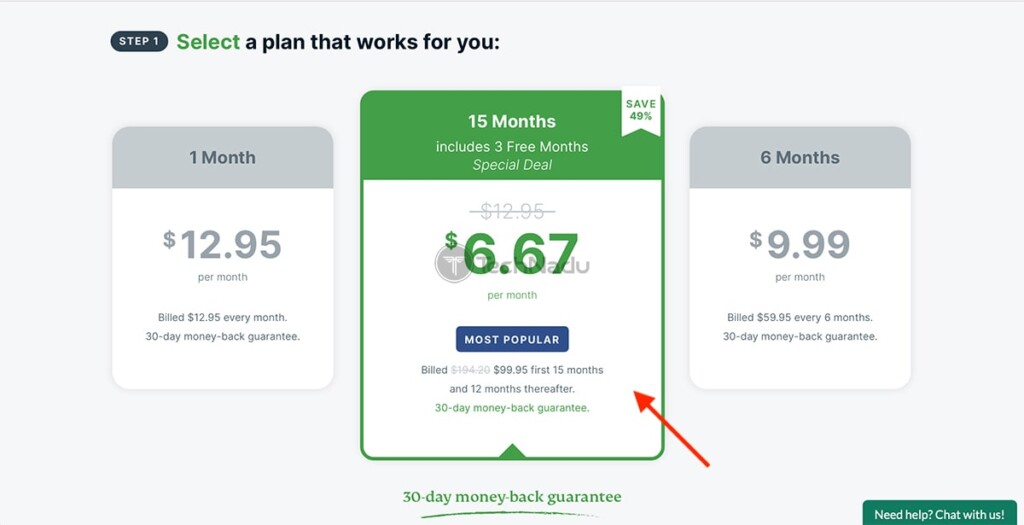 4. Then, provide your email address and pay for the chosen subscription plan.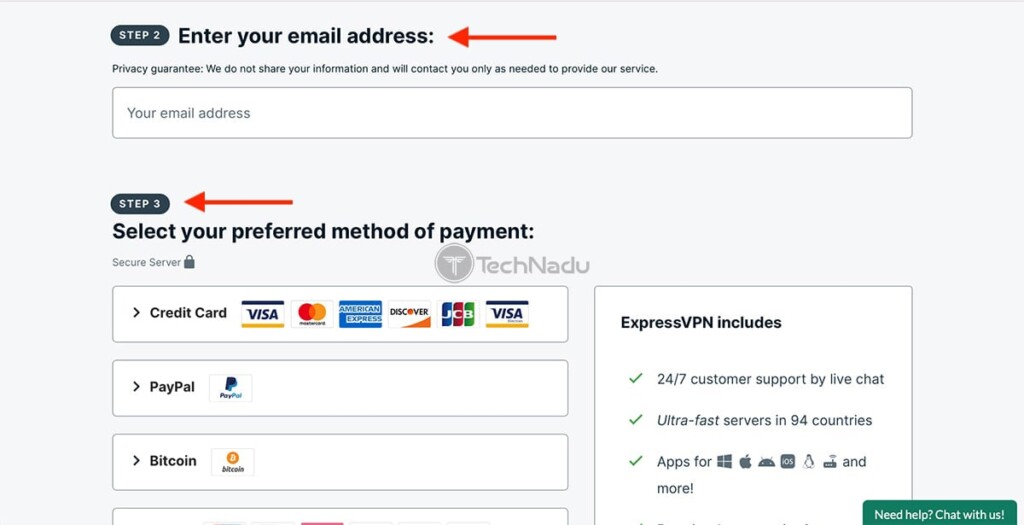 5. Once done, ExpressVPN's team will send you an email confirming your subscription. 
6. This is when you can proceed to set up ExpressVPN on your device.
Tip
The link we've provided just above will take you to our central guide to setting up ExpressVPN. Keep in mind that you need to have this VPN app on the device you'll use to access Hulu. If you plan to use multiple devices for that purpose, install ExpressVPN on all of those. 
7. Then, launch ExpressVPN and go through its initial set-up. 
8. At this moment, you should be looking at ExpressVPN's (red-colored) home screen. 
9. Click on the button below the ON/OFF switch to access all of ExpressVPN's servers. 
10. Pick 'United States,' and then select any server found in this country. 
11. Wait until you get connected. ExpressVPN's interface will now turn green. 
12. Finally, access Hulu + Live TV on your device (via its app(s) or website). 
Know that ExpressVPN must be enabled in the background for as long as you plan on streaming Hulu + Live TV. And also, ExpressVPN doesn't have a bandwidth limit, so you can use it all the time – especially if you want to encrypt and protect all your Web data. 
Important
Even though you can't subscribe to Hulu + Live TV from outside the US, that's not the case with Hulu's "standard" on-demand library. So, if you still want to access movies and TV shows offered by this streaming service, here's how to subscribe to Hulu from anywhere.
What's the Best VPN for Hulu + Live TV in 2021? 
Very few VPNs will help you unblock Hulu + Live TV outside the United States. After plenty of research and testing, the following are your best options right now. 
FAQ
Can I Watch Live TV via Hulu While Traveling?
Yes, you are free to access Hulu + Live TV away from home. However, if you're outside the US, the only option you have is to use a VPN. On top of that, you need to perform a mobile check-in every 30 days by visiting your Hulu account (on a computer or mobile browser) and clicking on 'Set or Change Home.' Make sure to learn more about Hulu's 'Home Network' rules.
How Many Streams Do I Get with Hulu + Live TV?
Hulu + Live TV subscribers can access the service from two devices at the same time. In case you'd like to go over that limit, you can buy Hulu's 'Unlimited Screens' add-on, priced at $9.99 per month. With that add-on, you can access Hulu + Live TV on an unlimited number of devices connected to your 'Home Network.'
Can I Install the Hulu App Outside the USA?
Yes, you can install Hulu's app on any device - and that applies to Android and iOS devices as well. However, the only requirement is to have access to the US version of Google's Play Store or Apple's iOS App Store. So, you need a Google or Apple account with a US address (anyone can do that, from any corner of the world).
Can I Pay for Hulu + Live TV Outside the US?
To use Hulu + Live TV outside the USA, you need to have an active subscription. In other words, you need a payment method associated with a US bank. You can't pay via gift card or by adding (prepaid) funds to your Apple ID or Google ID. 
Can Hulu + Live TV Detect VPN Services?
Yes, Hulu + Live TV is designed to detect VPN services. That's the reason why the majority of VPNs don't work with this streaming service. We recommend relying on proven and tested VPNs instead, such as ExpressVPN. 
Can Hulu + Live TV Block My Account Because of a VPN?
Checking Hulu's Terms & Conditions reveals that you can't use any type of software that alters your access to this streaming service. Therefore, in theory, you should not use a VPN. However, there are no reports of indications of Hulu users being banned for using a VPN. So, you should be safe, at least for now. 
Are VPNs Fast Enough to Stream Hulu + Live TV Abroad?
Hulu + Live TV requires at least 8Mbps for a reliable viewing experience. Therefore, if your Web connection speed is limited to at least 20Mbps, you should have no problem using a VPN to watch Hulu + Live TV outside the US. Make sure to learn how to speed up your VPN connection.
Can I Use a Free VPN to Unblock Hulu + Live TV?
The answer is – no. You won't find a single free VPN that can reliably unblock Hulu + Live TV. That's because free VPNs are restricted in terms of their bandwidth, which isn't the case with their paid counterparts. That's why we recommend using ExpressVPN to access Hulu + Live TV from abroad.
Do you have any questions about watching Hulu + Live TV outside the US? If you do, make sure to post your comment just below. And lastly, thank you for reading!